You'll love how quick and easy this crepe batter recipe is! Everything you need to know about how to make crepes, plus ideas for both sweet crepes and savory crepes.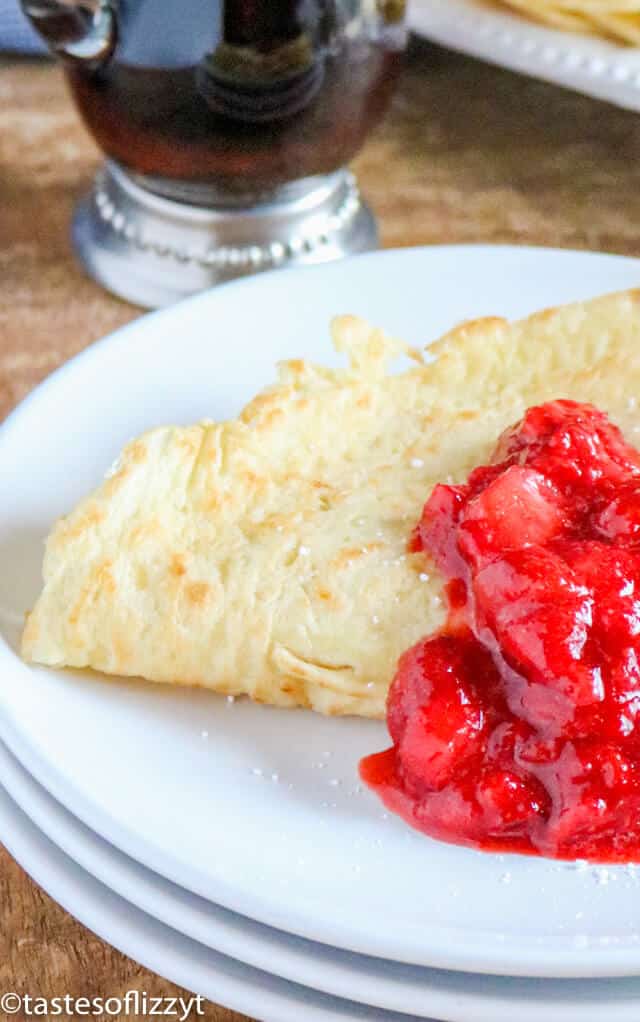 How to Make Crepes
About two years ago I visited a creperie for the first time. It was a little restaurant on Anna Maria Island that was known for their authentic crepes. They seriously had crepes with just about any filling you could imagine! I love taking a basic recipe and turning it into something sweet or savory, chocolatey or fruity…all depending on my mood for the day. Today we're talking all about crepes!
What is the difference between a pancake and a crepe?
Pancakes and crepes are both traditional breakfast recipes. Pancakes are fluffier and thicker than crepes because they have a rising agent (either baking soda or baking powder) in them. Crepes are thin and do not rise at all.
How to Make Crepes
Making crepes is very similar to making pancakes. Mix the dry ingredients together in one bowl. Mix the wet ingredients in another bowl. Combine them and beat until the mixture is smooth.
You do not have to have a crepe maker to make crepes! Simply get a skillet hot on the stovetop and spray it with cooking spray. Use a ladle or measuring cup to pour in batter. Use a spoon to spread the liquid (it will be very thin) or tip the pan around so that the crepe batter runs all over the pan. Similar to pancakes, heat the batter just until it starts to bubble on top. Because the batter is so thin, it won't take long.
Use a thin spatula to flip the crepe over and cook for not much more than a minute. It won't take long for the crepe to be cooked through so watch it closely.
The amount of crepes you get will depend on how big you make the crepes.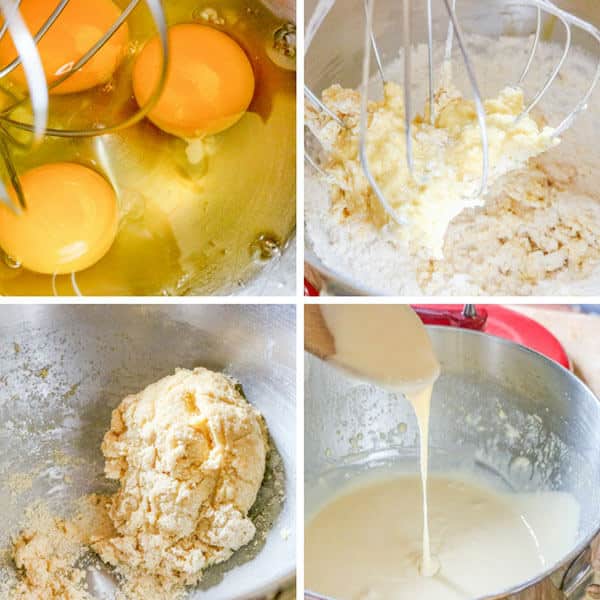 Crepe Fillings
One thing I love about crepes is that they are so versatile. This recipe calls for just a touch of sugar which makes them lightly sweet. You can leave out the sugar if you'd like, but the recipe as written works well as both sweet crepes and savory crepes.
Sweet Crepes
Fruit (Bananas, strawberries or pineapple
Cannoli Cream
Whipped Cream
Nutella and Bananas
Apple Pie Filling
Mascarpone Cheese
Greek Yogurt (your favorite flavor..and add fruit!)
Cream Cheese Filling
Peaches and Cream
Use crepes to make a cake, layering crepes and frostings
Savory Crepes
Meat & Spinach (either chicken or steak is great)
Smoked Salmon
Pulled Pork
Scrambled eggs, ham, bacon, sausage
Sausage Gravy
Ground beef, salsa, Mexican cheese, avocado
4 Cheese (choose your favorites!)
Toppings for Crepes
Tools to Make Crepes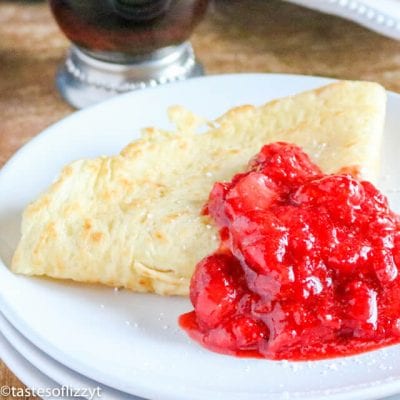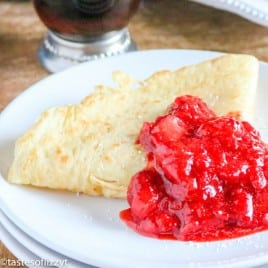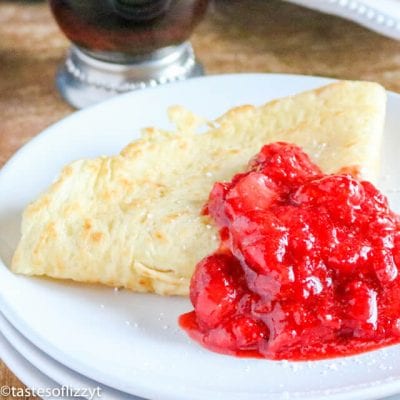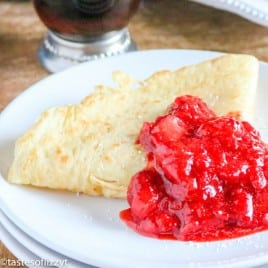 How to Make Crepes
You'll love how quick and easy this crepe batter recipe is! Everything you need to know about how to make crepes, plus ideas for both sweet crepes and savory crepes.
---
Ingredients
1

cup

all-purpose flour

2

teaspoons

sugar

1/4

teaspoon

salt

2

large

eggs

(room temperature)

1/2

cup

water

(room temperature)

1/2

cup

2% milk

(room temperature)

2

tablespoons

melted butter
Instructions
Place the flour, sugar and salt in a medium bowl. Whisk together.

In another bowl, whisk together the eggs, water, milk and melted butter.

Slowly pour the egg mixture into the flour, beating on low speed with a mixer until you've added all of the liquids and the mixture is smooth.

Cover the bowl with the mixture and let it rest for 20 minutes.

Heat skillet over medium low heat and spray lightly with cooking spray. Pour out a small amount of batter and spread it around with a wooden spoon or spatula. You can also lift the pan and gently tilt it to spread the batter around the bottom of the pan. You want the crepes to be thin.

Lightly cook on the first side. The crepe is ready to flip when the top starts to bubble lightly (similar to a pancake), and a spatula can slide under the crepe easily. Cook on the second side.

If you'd like, you can store the batter in the refrigerator for several days and cook the crepes as you need them.

Fill or top the crepes with whatever you'd like!

Recipe makes 6-10 crepes depending on size made.