Kung pao chicken is a fun to say and full of flavor dish that is often overlooked on menus. It's a sweet meets spicy dish that is filled with tender chicken, peppers, peanuts, and more!
Asian take out is a must on crazy busy nights, but sometimes, you just want to make it at home. Just like with our Asian BBQ glazed chicken breasts, General Tso's chicken, and our teriyaki chicken, this kung pao chicken recipe is easy to make and super flavorful!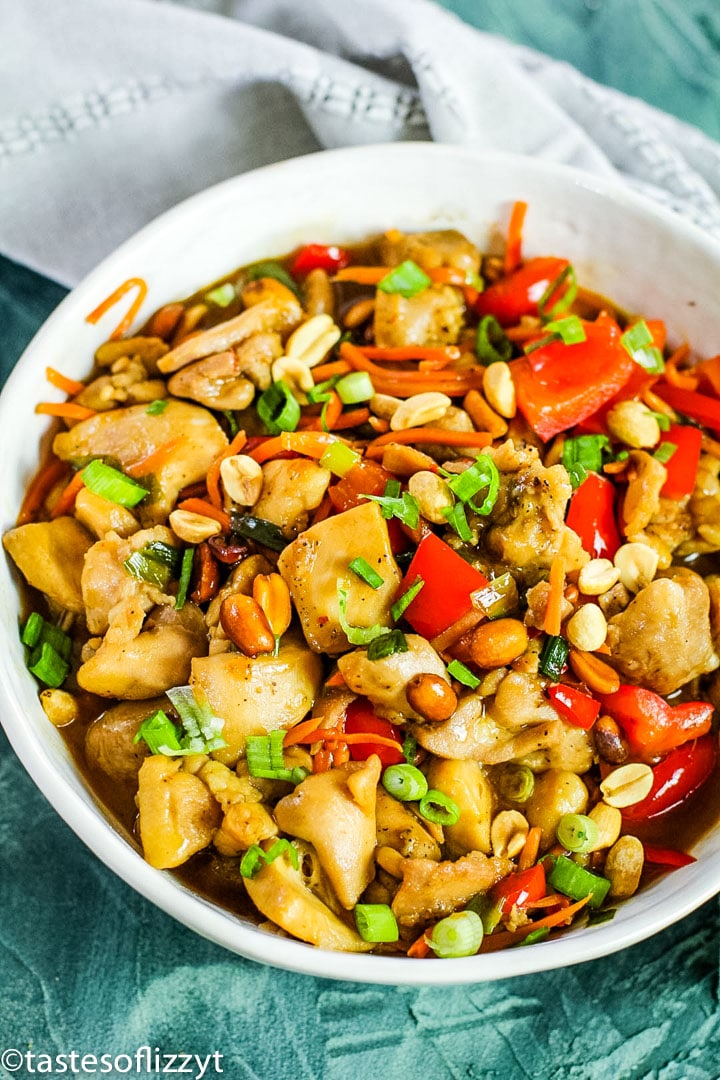 Although years ago I used to love having recipes that I could throw in the slow cooker in the morning, I've lately realized that it is also important to have quick dinners I can throw together at the last minute. This chicken dish with peanuts is one the whole family can get behind. It's our own version of a classic Asian chicken dish and I hope you love it.
What is Kung Pao chicken?
Kung pao chicken is a sweet and spicy chicken stir-fry dish that is made with roasted peanuts, tender chicken thighs, red bell peppers, carrots, and either chili paste or whole dried red chili peppers.
Where is kung pao chicken from?
Originally this chicken recipe is from China, but it has taken the world by storm, and you can find it on almost any Chinese takeout menu with each restaurant making its own change with vegetables.
Try an authentic kung pao chicken recipe!
Does kung pao chicken have peanuts?
Yes, this chicken uses unsalted raw peanuts that is quickly roasted in a wok with oil, and removed before cooking the rest of the dish. Including peanuts to your recipe gives it a beautiful crunch that makes the dish.
How To Make Kung Pao Chicken At Home
Making this Chinese chicken recipe at home does require a few ingredients, but the stir-fry method makes it an easy dish to create.
First, you marinate your chicken with cornstarch, black pepper, and soy sauce. The cornstarch amount we use is minimal, so it's not like a General Tso's chicken that is deep fried before cooking. Cornstarch gives it a light coating and helps with thickening the sauce.
While your chicken is marinating, it is important to make your sauce. You want your flavors to infuse for as long as possible, and this also makes everything easier for an easy chicken recipe.
To make this quickly, you'll roast the peanuts, remove the peanuts, brown the chicken thighs, and then add in your kung pao sauce with the vegetables. Return the peanuts to the sauce, and stir-fry the chicken for a few more minutes until the chicken is cooked through.
**Pro Tip: Chicken thighs are the preferred cut of meat for kung pao chicken since chicken thighs are tender and don't dry out as quickly as chicken breasts would. But you're welcomed to use chicken breasts if desired.**
How To Make Kung Pao Chicken Sauce
To make the sauce, you need to mix together soy sauce, sesame oil, rice wine vinegar, brown sugar, and the chili pepper paste.
Once you mix your ingredients for the sauce together, add in your vegetables. Chopped red peppers, thin sliced carrots, a lot of people use leeks, and a generous amount of chives, you leave it to sit until it's time to add to your stir-fry.
How To Thicken Your Sauce
Once your chicken is cooked, to thicken your sauce, you will make a slurry of 1 teaspoon of cornstarch and 1 teaspoon of water. Mix it together in a small bowl to remove any lumps and then you'll add it right into the pan. Mix it gently and your chicken sauce will thicken, especially if you give it a minute or two.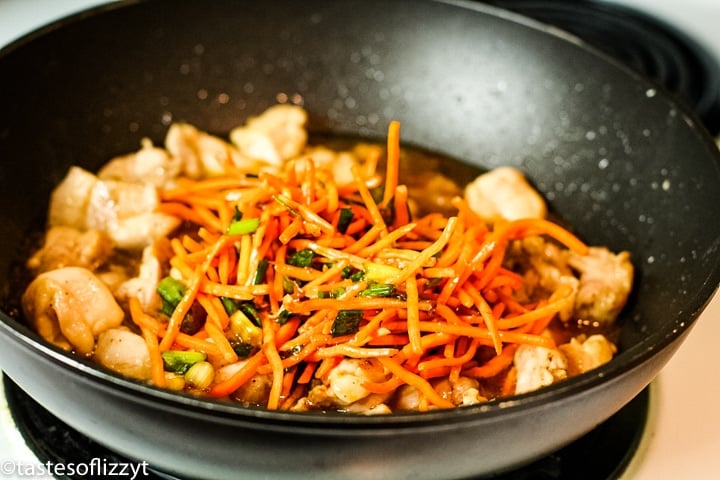 What should I serve with Kung Pao Chicken?
White rice is the go to side dish to serve with this chicken, but you can also serve it with a Chinese fried rice, noodles, or zoodles for the ultimate low carb kung pao chicken dish.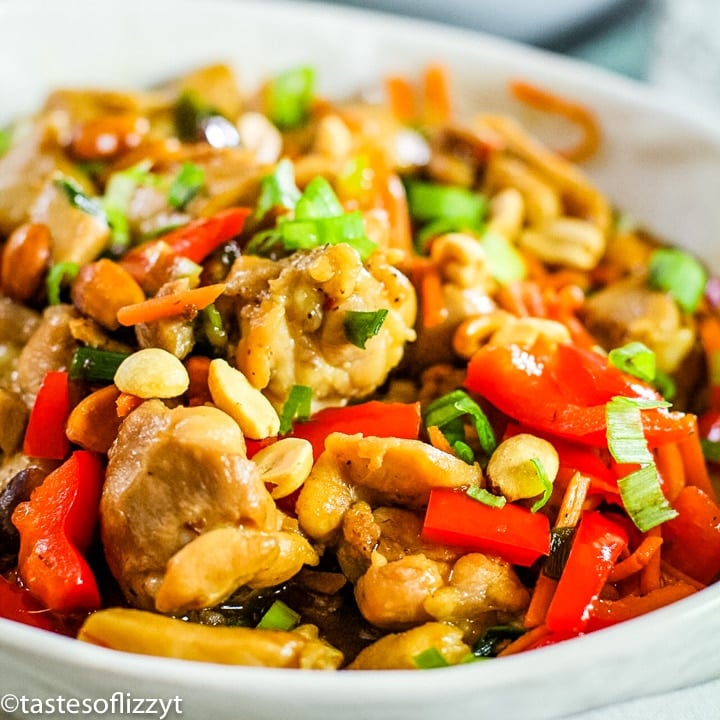 Other Chicken Recipes
You can use a traditional skillet to make this recipe, but we think this hammered wok is beautiful!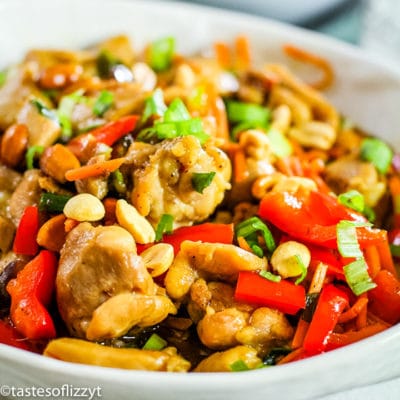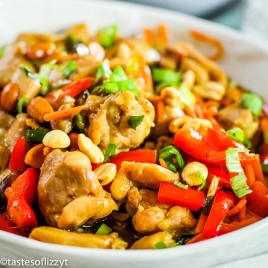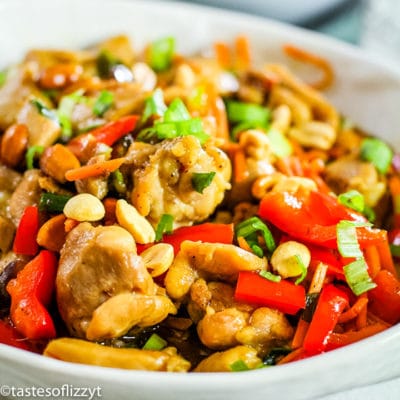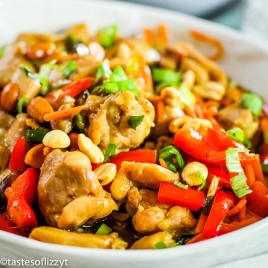 Kung Pao Chicken
Kung pao chicken is a fun to say and full of flavor dish that is often overlooked on menus. Kung pao is a sweet meets spicy dish that is filled with tender chicken, peppers, peanuts, and more!
---
Ingredients
2

pounds

boneless skinless chicken thighs

(cubed)

½

teaspoon

ground black pepper

5

tablespoons

soy sauce

(divided)

2

teaspoons

cornstarch

(divided)

2

tablespoons

olive oil

(or peanut oil)

4

ounces

unsalted peanuts

3

tablespoons

sesame oil

1

ounce

roasted chili pepper paste

(or as desired)

2

teaspoons

rice wine vinegar

2

tablespoons

brown sugar

4

green onions

(chopped)

2

cloves

garlic

(chopped)

1

cup

shredded carrots

1

red bell pepper

(chopped)

1

teaspoon

water
Instructions
In a large bowl coat chicken with pepper, 1 tablespoon of soy sauce, and 1 teaspoon of cornstarch. Toss together and set aside.

Warm oil over medium high heat in a large wok. Add in peanuts. Cook until they a nice golden color, about 2 minutes. Remove the peanuts, but reserve the oil.

Add in chicken to the wok with the reserved oil. Cook and stir for 5-6 minutes until it is a beautiful brown color on the outside.

Next, add remaining ingredients, including the peanuts. Don't yet add the remaining cornstarch and teaspoon of water).

Cook until sauce reduces and chicken is well done. (Adjust heat if necessary so the sauce and chicken do not burn.)

Once sauce has reduced and chicken has cooked through, make a slurry in a small bowl with 1 teaspoon of water and 1 teaspoon of cornstarch. Add mixed slurry to the wok and gently stir. Allow to cook an additional minute before shutting off the heat.

Serve over white rice.
Notes
The calories shown are based on the recipe serving 6, no rice included. Since different brands of ingredients have different nutritional information, the calories shown are just an estimate. **We are not dietitians and recommend you seek a nutritionist for exact nutritional information.**
Nutrition
Calories:
440
kcal
|
Carbohydrates:
13
g
|
Protein:
35
g
|
Fat:
27
g
|
Saturated Fat:
4
g
|
Cholesterol:
143
mg
|
Sodium:
991
mg
|
Potassium:
658
mg
|
Fiber:
2
g
|
Sugar:
6
g
|
Vitamin A:
4300
IU
|
Vitamin C:
28.4
mg
|
Calcium:
45
mg
|
Iron:
2.3
mg