Extremely moist with flecks of vanilla bean and prevalent honey notes, this Cream Cheese Pound Cake is perfect for snacking and even holiday gift giving!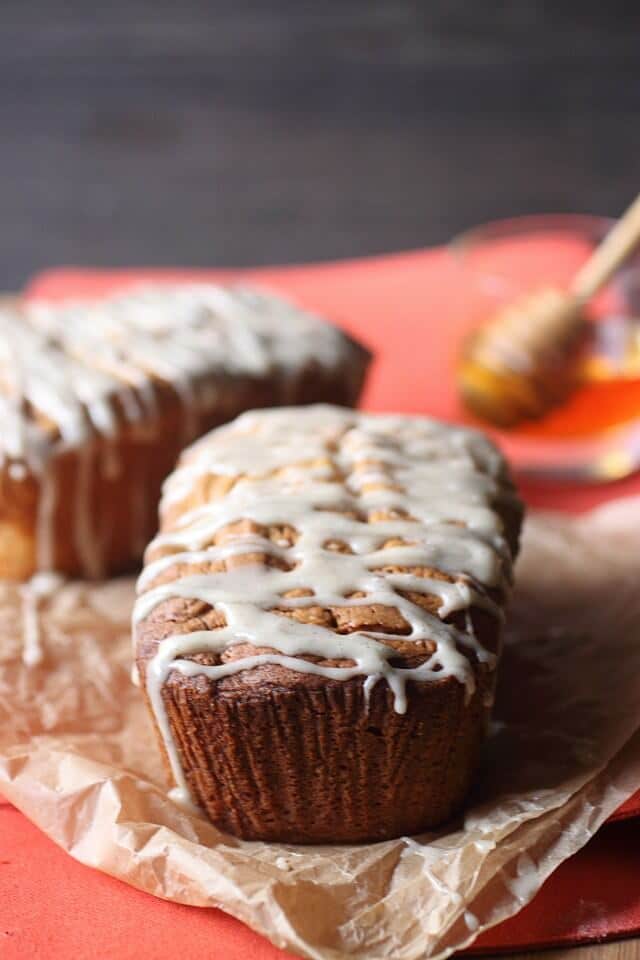 Cream Cheese Pound Cake
Holy smackers, Batman – We are two weeks away from what I consider Round 1 – Aka – Thanksgiving! I'm wearing leggings this year, as I do every single year. There's stretch in leggings, and the probability of someone spending the rest of their holiday season wearing an eye patch over a popped button significantly lowers.
Really. I'm just trying to help my family out. Because real Talk – I'm going to eat my weight in roast pork shoulder and side dishes. My kids will have to roll me home.
Now, let's talk dessert and these Mini Cream Cheese Honey Vanilla Pound Cakes! I wasn't always a baker. In fact, prior to 2006 I had three desserts in my baking arsenal.
Three.
In order.
Flan – 'Cause I'm Latina. Flan is the Latino version of crème caramel. Except for the eggs, everything comes out of a can. I'd make it once or twice a year and always (always!) had to call my cousin because I'd forget how many eggs were in flan. Incredibly easy to make, it was the dessert I always brought to parties and holiday get-togethers.
Betty Crocker boxed cake mix. Always chocolate, always once a year. And only because Mr. M.O.B. would BEG me to bake a cake. Any cake.
Chocolate chip cookies from the back of the Nestle Tollhouse chip bag. Which – And I have baked many cookies since – maintain are the best chocolate chip cookies in existence. I didn't own proper measuring tools back then (old school Latinos don't measure, we eyeball) and those cookies were STILL the bomb.com.org.net.dotdotdot
After 2006 baking consumed my life. I realized I was a natural at taking sugar, butter, flour, eggs, and turning them into magic. And this is what these Mini Cream Cheese Honey Vanilla Pound Cakes are. Magic. The combination of cream cheese and butter make these cakes moist and tender. They're like little pillows flecked with vanilla bean and prevalent honey notes. Mmm. I wish I had a slice right now.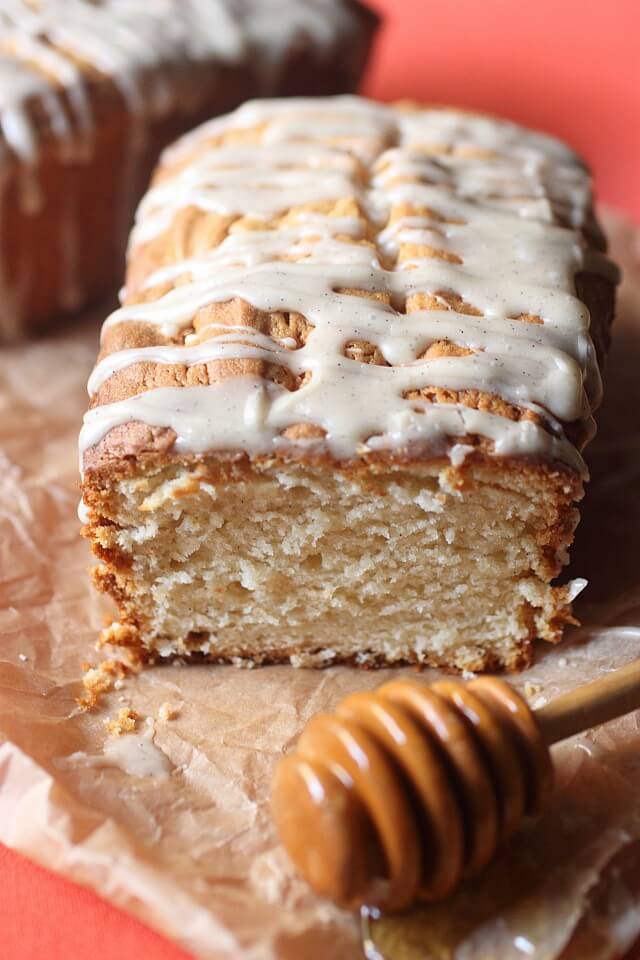 Super-duper easy to prep, the batter makes enough for three mini pound cakes or one large loaf. And because there is so much cream cheese and butter here – Even if you overbake it a little bit, these cakes remain moist. It's a truly magical experience.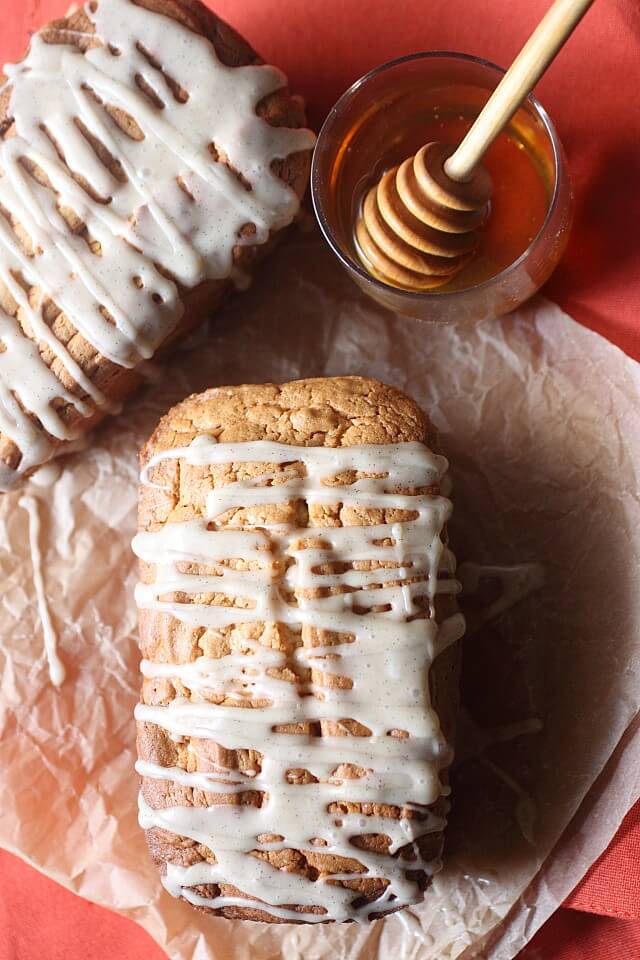 The vanilla honey glaze is optional but truly recommended, as it ties these cakes together. Like a gift. So if you're kinda of sick of pumpkin and want to bring something outside the proverbial Thanksgiving box to your dessert table, this is it.
Really. Trust me. You won't regret it.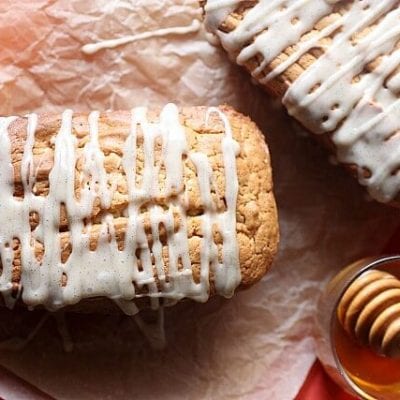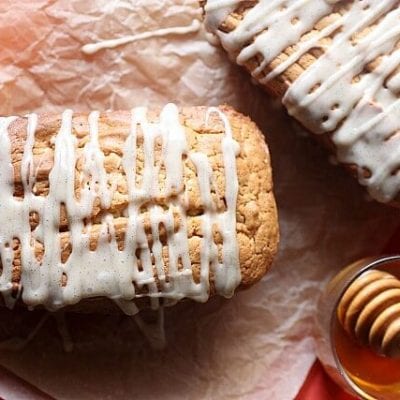 Cream Cheese Pound Cake
Extremely moist with flecks of vanilla bean and prevalent honey notes, this Cream Cheese Pound Cake are perfect for holiday giving!
Total Time
1

hour
10

minutes
---
Ingredients
2

cups

all-purpose flour

spooned then leveled

1 1/2

teaspoons

baking powder

1/2

teaspoon

salt

8

ounces

cream cheese

at room temperature

3/4

cup

unsalted butter, at room temperature

1 1/2

cups

granulated sugar

4

large

eggs

2 1/2

teaspoons

vanilla bean paste

4

tablespoons

honey
Honey Vanilla Glaze
1

cup

confectioners' sugar

1

tablespoon

honey

1 1/2

teaspoons

vanilla bean paste

1-2

tablespoons

milk
Instructions
For the cake:
Place a rack in the center of the oven and preheat to 325 degrees F. Butter three (3) 5" mini loaf pans or one 9"-inch baking pan and dust with flour. Shake the excess flour and set aside.

In a medium bowl, whisk together flour, baking powder, and salt. Set aside.

In the bowl of an electric stand mixer fitted with a paddle attachment, cream together butter and cream cheese. Stop the mixer as needed and scrape down the bowl to make sure the butter and cream cheese are evenly incorporated. Add the granulated sugar to the butter and cream cheese mixture, and beat on medium speed until smooth and creamy, about 3-4 minutes.

Stop the mixer and once again scrape down the sides of the bowl. Over medium/high speed, beat in eggs one at a time, making sure to incorporate after each addition. Stop the mixer and scrape down the sides of the bowl as necessary. Beat in vanilla bean paste and honey. Reduce the mixer speed to low, and add the dry ingredients all at once. Beat until the dry ingredients are fully incorporated.

Spoon batter into the prepared pans and bake for 50-60 minutes, or until a skewer or cake tester inserted in the center comes out clean, or with just a few tiny crumbs. Remove cakes from the oven and allow to cool in the pans for about 5 minutes. Invert the cakes onto a wire rack to cool completely before glazing. As the cakes cool, prepare the glaze.
For the glaze:
In a small bowl, combine the confectioners' sugar, honey, vanilla bean paste and milk. Whisk with a fork until combined. At this point you can adjust as needed, adding more confectioners' sugar for a thicker glaze or more honey. Drizzle or pour honey vanilla glaze over cooled cakes.
Nutrition
Calories:
523
kcal
|
Carbohydrates:
72
g
|
Protein:
6
g
|
Fat:
23
g
|
Saturated Fat:
13
g
|
Cholesterol:
136
mg
|
Sodium:
341
mg
|
Potassium:
154
mg
|
Sugar:
52
g
|
Vitamin A:
840
IU
|
Calcium:
69
mg
|
Iron:
1.7
mg