Orange vanilla bean Easter Bunny Cupcakes with a hint of citrus, piled high with a deliciously sweet frosting and topped with cute marshmallow rabbit ears (that sort of resemble kitten ears). These cupcakes are not only a fun kiddie activity, but a tasty one too!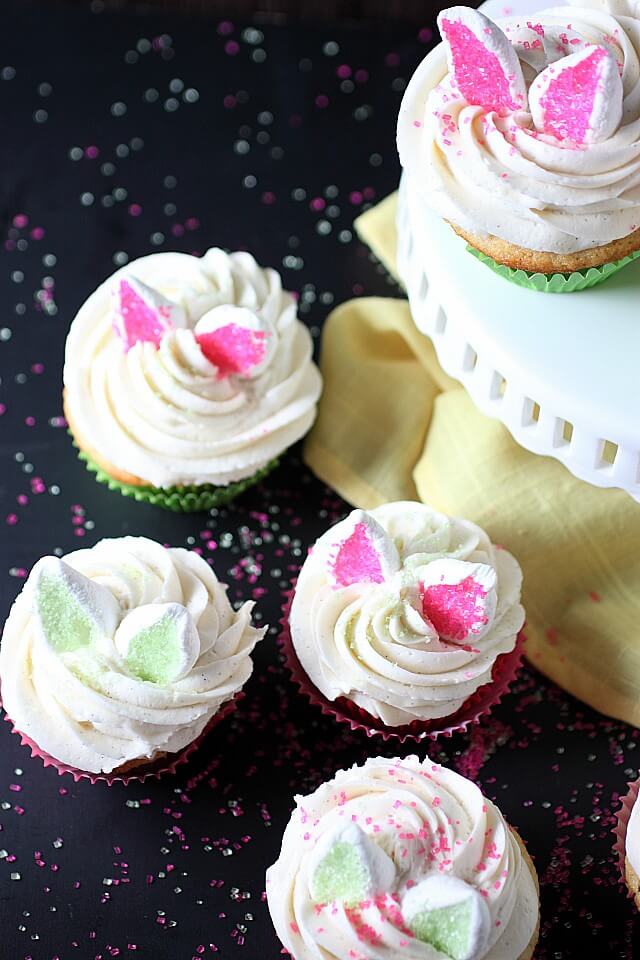 Hi there! It's Angela from Mind Over Batter. Easter is almost here! I have to admit, I'm not very traditional when it comes to Easter. I've never baked a hot cross bun, we don't do Easter dinner, we don't go to church (I'm sorry!).
In my house we're sort of what I'd like to call "Target Traditional". We don't follow the true traditions of Easter, instead we dress up (and don't really go out), dye eggs, eat our weight in jellybeans, and since it's Sunday, I always cook a big dinner.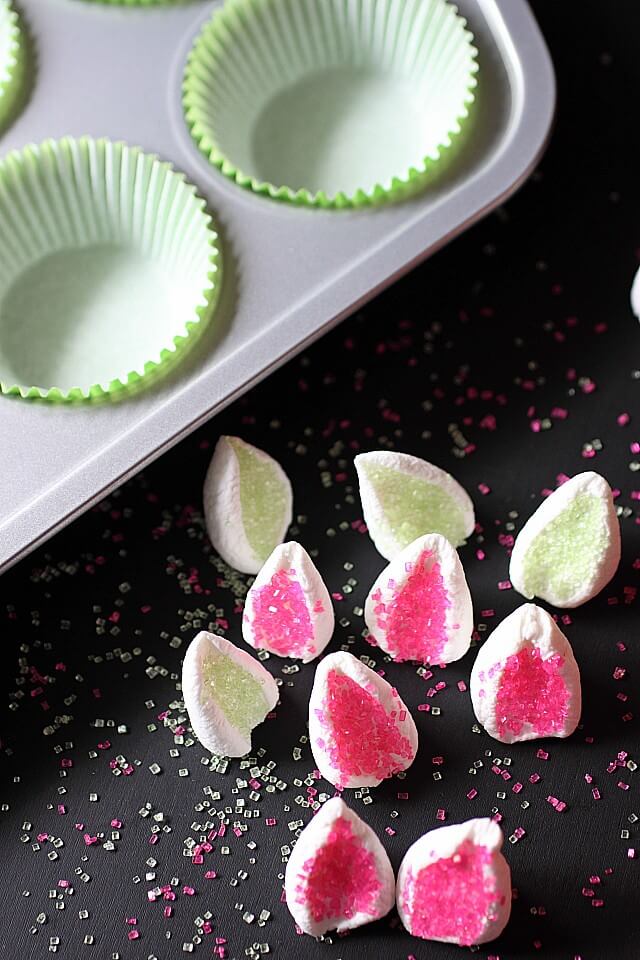 Now that my Moonbug is a little older, she's taken quite an interest in cooking and baking. About a month ago she made an omelet all by herself and now holds the self-proclaimed title of "Amateur Intermediate Chef".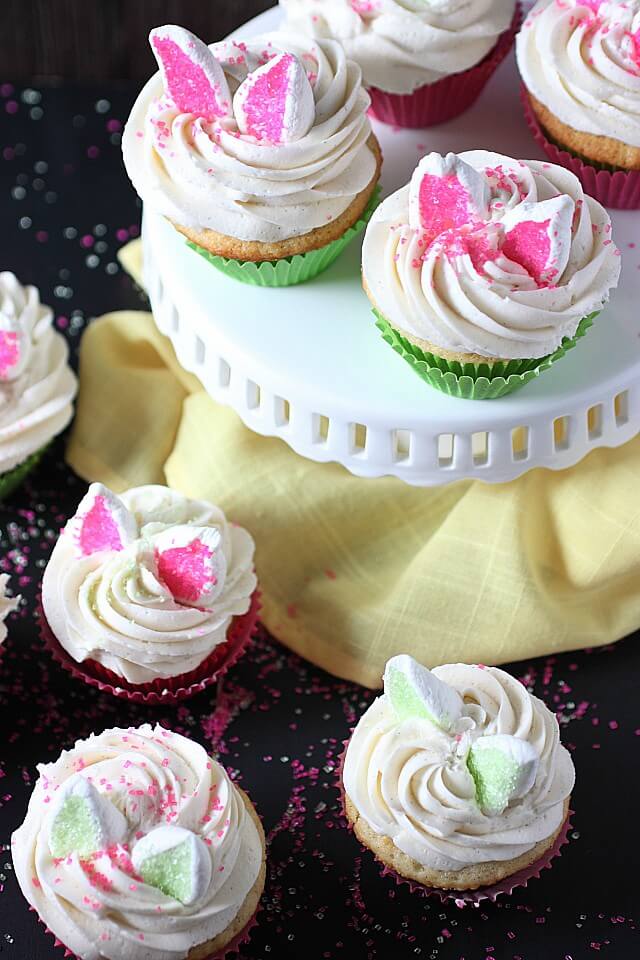 So in the spirit of our "Target Traditional" Easter, we purchased a bunch of pastel, egg dying kits, jellybeans (which she ate, by the way), edible grass (which she ate, by the way), some sanding sugar (which she tried to eat), and this past Sunday we set forth to bake some cupcakes.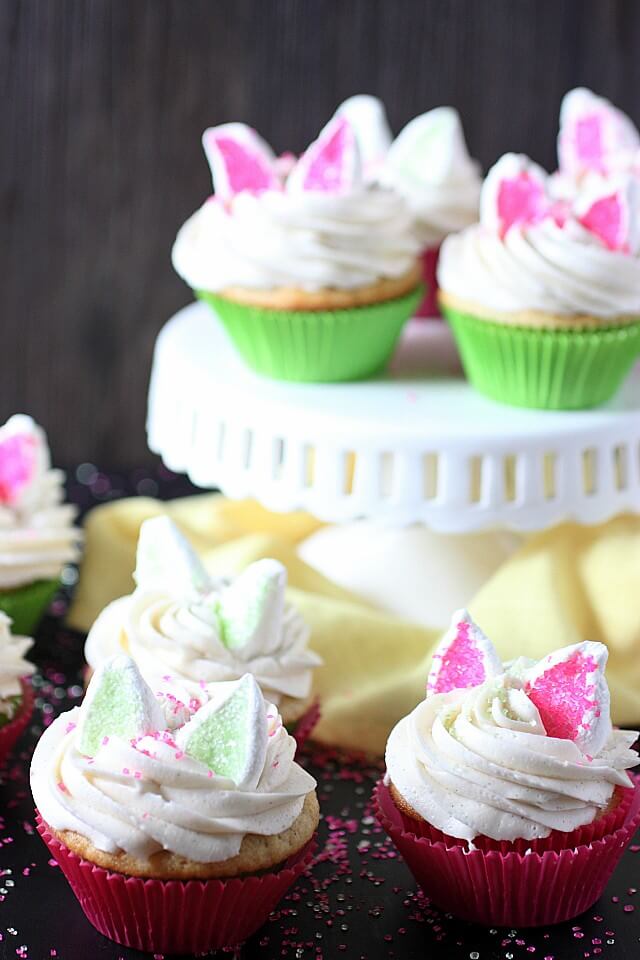 I wanted us to make something fun so we chose these Easy Bunny Cupcakes we found on Pinterest. It's a great tutorial. Seek it out.
We baked a batch of vanilla bean cupcakes, enhanced with a bit of tangerine zest and orange flower water. If you don't have orange flower water, just use a bit of orange oil. My Moonbug helped (cracking eggs, scooping batter into cupcake liners) and decided to drop the "Amateur" from her self-proclaimed title.
Sigh…. Kids…
The cupcakes are delicious. Very moist, with flecks of vanilla bean, and a light citrus flavor. We ate at least 6 between us. OK, I ate four by myself.
We chose an orange vanilla bean American buttercream, which is basically a sugar grenade piped decoratively onto a cupcake. I cut the sweetness a bit by adding heavy cream to the frosting, but it is a seriously sweet situation. It does pipe beautifully, as you can see. If you're not down with sweet frosting, you can use a frosting of choice. I won't get mad. Just make sure it's enough to pipe 18 cupcakes.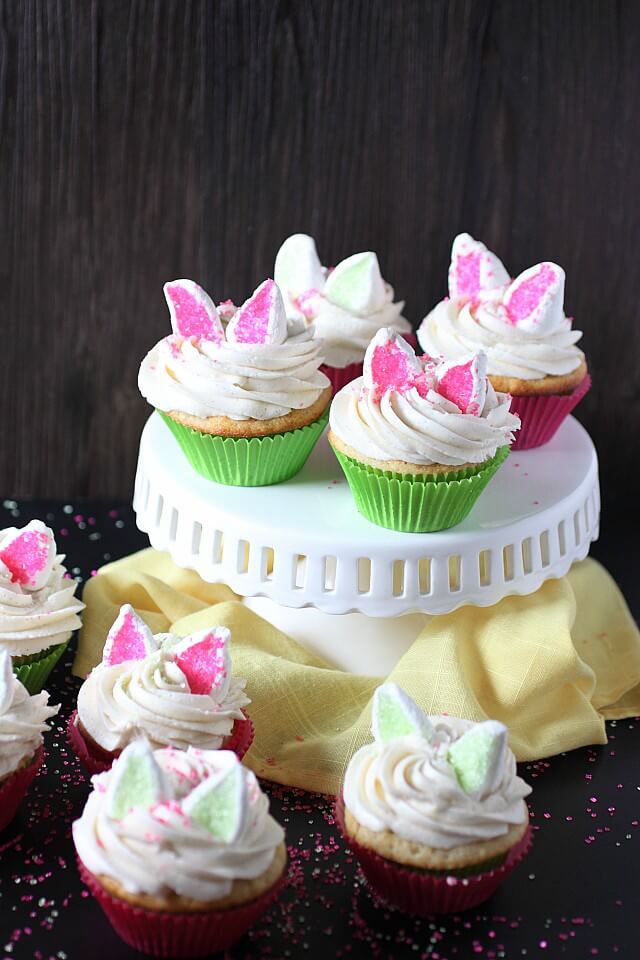 As the cupcakes cooled we made our Bunny Ears. Except, Well, I'm not very good at these things and The Moonbug is only 7, so our Bunny Ears resemble kitten ears. But that was fine by us. We had a good 'ol laugh about it. We had a blast piping frosting onto cupcakes and topping them with our bunny ears, that, let's be real, are really pastel kitten ears.
This weekend we dye eggs. Let's hope they resemble eggs and not kittens when we're done!
Easter Bunny Cupcakes
Vanilla bean Easter Bunny Cupcakes with a hint of citrus, piled high with a deliciously sweet frosting and topped with cute marshmallow rabbit ears
Ingredients
For the bunny ears:
18

large

marshmallows

1/2

cup

pink sanding sugar

1/2

cup

green sanding sugar
For the cupcakes:
1

tablespoon

baking powder

2

cups

all-purpose flour

spooned then leveled

1

teaspoon

salt

1 1/4

cup

buttermilk

1

tablespoon

vanilla bean paste

1/8

teaspoon

tangerine zest

1/4

teaspoon

orange flower water

3/4

cup

unsalted butter

1 1/4

cup

granulated sugar

2

large

eggs
For the frosting:
1/2

cup

vegetable shortening

1/2

cup

unsalted butter

softened

Large pinch of salt

4-5

cups

confectioners' sugar

1

tablespoon

vanilla bean paste

1/4

teaspoon

flavoring of choice

I used orange flower water

3

tablespoons

milk

1 1/4

cup

heavy cream
Instructions
Prepare the marshmallow Bunny ears:
Snip each marshmallow in half diagonally and dip the cut side on the sanding sugar. Set aside.
Bake the cupcakes:
Preheat the oven to 350° Fahrenheit. Line two muffin tins with cupcake liners.

I a medium bowl, combine all-purpose flour, baking powder, and salt. Whisk quickly to combine and set aside.

Combine the buttermilk, vanilla bean paste, tangerine zest, and orange flower water in a measuring cup. Mix well to combine and set aside.

In a bowl of an electric mixer fitted with a paddle attachment over medium/high speed, cream butter and sugar until light and fluffy, about 3-4 minutes. Stop and scrape the mixer to incorporate ingredients. Add the eggs one at a time, beating well after each addition. Stop the mixer once more and scrape to incorporate ingredients.

Reduce the mixer speed to low. Starting and ending with the flour, alternate adding the flour and buttermilk mixtures to the creamed butter mixture. Mix over low speed until moistened. Remove from mixer and fold a couple of times to ensure all the dry flour bits are incorporated into the batter.

With a cookie scoop, scoop batter onto cupcake liners, leaving a little over ¼ inch of space. This will allow the batter room to expand.

Place in the oven and bake for 18 minutes, or until a tester (or wooden skeweplaced in the center of a few cupcakes comes out clean or with a few moist crumbs.

Remove cupcakes from the oven and allow to cool completely before frosting. While cupcakes are cooling, make the frosting.
Make the frosting:
In a stand mixer fitted with whisk attachment, cream the butter and shortening until combined, about 1-2 minutes.

Reduce the speed to low and add salt, followed by the confectioners' sugar one cup at a time, scraping down the sides of the mixer to incorporate.

Add the vanilla bean paste, flavoring, and milk. Increase the speed to high and mix until light and fluffy, about 3-5 minutes.

Add the heavy cream in three parts, ensuring it thickens completely before adding additional heavy cream. Mix until light and fluffy, about 30 seconds or so.

Place the frosting in a piping bag fitted with either a flower or round tip. Pipe frosting onto each cupcake and top with marshmallow bunny ears. Sprinkle additional sanding sugar on the cupcakes, if desired.
Notes
Cake recipe adapted from Wonky Wonderful
Nutrition
Serving:
128
g
|
Calories:
440
kcal
|
Carbohydrates:
76
g
|
Protein:
3
g
|
Fat:
15
g
Cake recipe adapted from Wonky Wonderful