Your family will love these savory hand pies! Mashed potatoes, sausage and cheese is baked inside flaky pie crust for the ultimate handheld dinner.
Mashed potatoes are a staple in our house. Sometimes it is hard to keep enough on hand. I always imagine the different recipes I could make with the leftovers, but the kids DEVOUR them. Bob Evans Mashed Potatoes make it easy to create mashed potato based recipes that your family will love!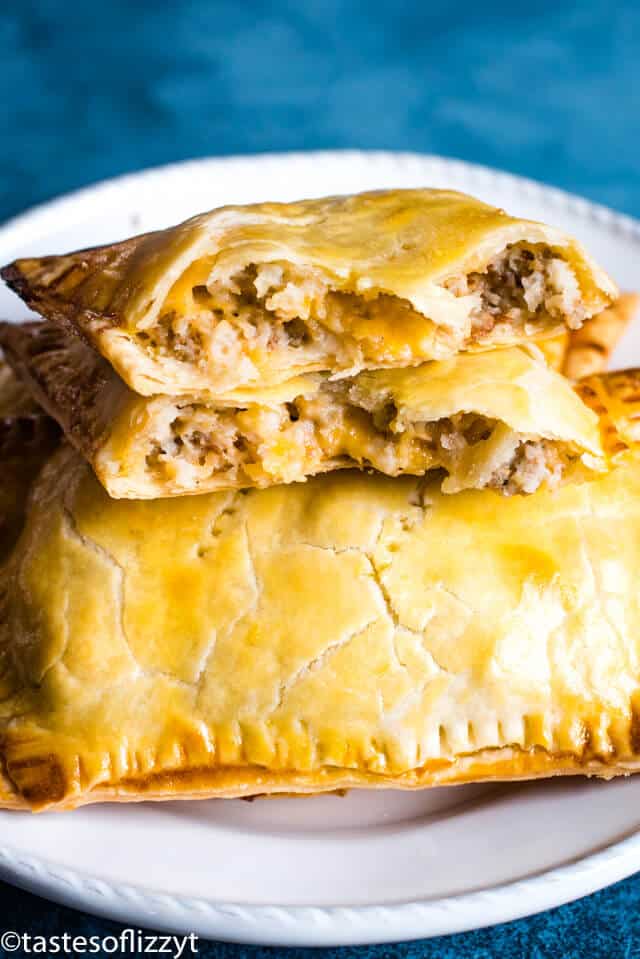 Thank you to Bob Evans Farms for sponsoring this post. As always, I only support brands I love and all opinions are my own.
The little pies we're sharing today are such comfort food! The guys in our family love these little pies…and what's not to love? Garlic mashed potatoes, cheddar cheese and sausage…all wrapped inside the flakiest pie crust.
What are hand pies?
Hand pies are just what they sound like: hand held pies! They can have either sweet or savory fillings and can be shaped in circles, rectangles or semi-circle shapes. They are easy for dinners or snacks on the go and you can fill them with virtually anything!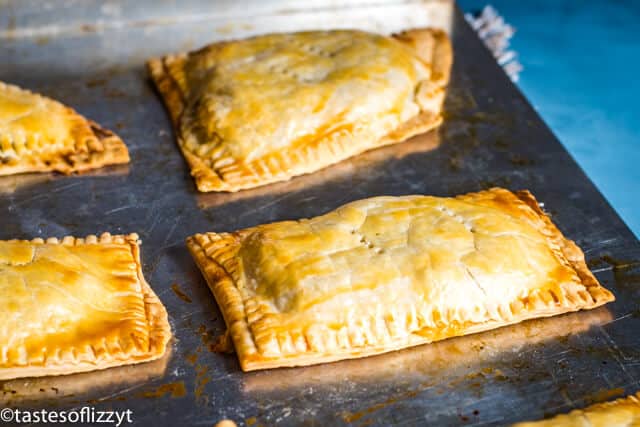 How do you bake hand pies?
Here are some hints on making hand pies:
We start this recipe with 1 pound of Bob Evans breakfast sausage. If you happen to have leftover sausage from a weekend breakfast, this a great way to use that sausage up. If there are no leftovers, it only takes about 10 minutes to brown one pound of Bob Evans breakfast sausage. And it is perfectly flavored for these sausage hand pies.
After you've browned the potatoes, add in Bob Evans Garlic Mashed Potatoes. I chose garlic because our family LOVES garlic. You could use a different flavor of Bob Evans potatoes if you'd like, but the garlic gives the little pies a pop of flavor!
Next add in shredded sharp cheddar cheese. We like to buy a block of cheese and shred it ourselves. But for a shortcut, use pre-shredded cheese.
The only spice we add in is ground mustard. Ground mustard has a warm, fresh flavor and cuts down on the richness of the pies.
After you've mixed the filling, it's time to prepare the pie crust. You can use your favorite homemade pie crust recipe if you'd like, or use store-bought pie crust.
If you make homemade pie crust, make as much as you would in order to make two double pie crusts. (Or buy 2 boxes of refrigerated pie crust.)
Roll the pie crusts into a rectangle shape.
For each rolled rectangle, cut each in half horizontally, then make 2 cuts vertically to make 6 equal pieces. (Each single crust will make 3 pies for a total of 12 pies).
Scoop about ⅓ cup of filling onto a cut piece of pie crust and spread the filling to within about 1/2″ from the edges. Place another piece of pie crust over the top. Use a fork to press the edges together.
If the dough is too floury and isn't pressing together to make a pocket, dip your finger in water and run your finger along the edges of the pie dough before placing the second piece of dough on top. The water should help the dough to stick together.
Use a fork to poke holes in the top of the hand pies.
Place them on a baking sheet and brush the top with a mixture of egg and milk. This gives them a lovely golden brown color.
Then the pies are ready to bake!
What temperature do you bake hand pies at?
We bake our hand pies at 400º Fahrenheit. A nice, hot oven will help keep the crust flaky and golden brown in color.
Can you make hand pies ahead of time?
Yes! You can make up these savory hand pies in advance. Simply roll out, fill and seal the pastries. Then loosely cover with plastic wrap and refrigerate until you are ready to bake them.
Can you freeze hand pies?
You can also freeze the hand pies before they are baked. Simply wrap them well in plastic wrap and foil. Freeze for up to 3 months. When you are ready to bake, unwrap the hand pies and place them on a baking sheet. Heat then oven and then bake the meat pies. You'll want to plan an extra 5-10 minutes for baking frozen pies. Add 5-10 minutes as needed until they are baked through.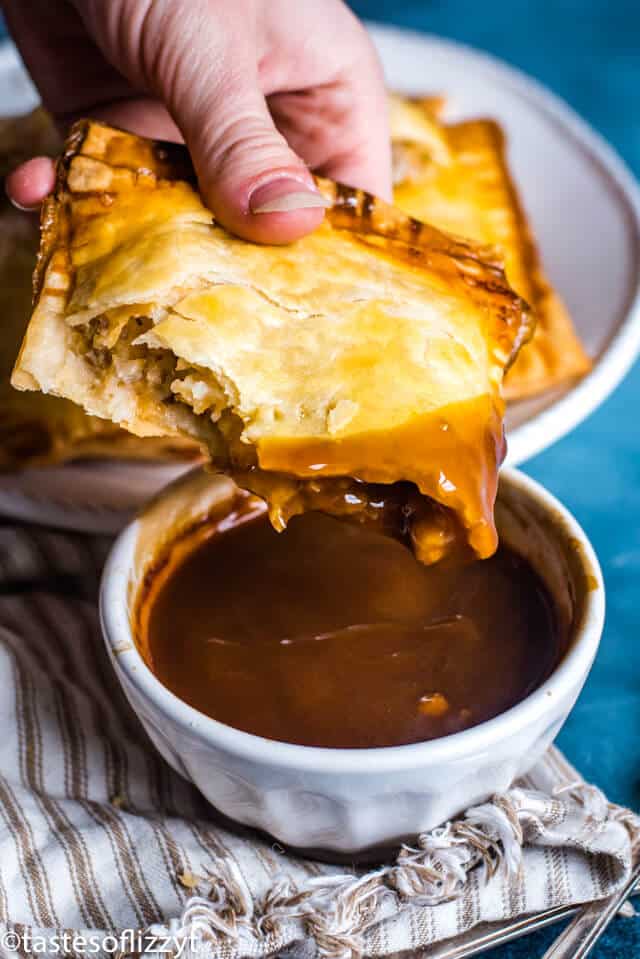 What goes with hand pies?
These flaky pies go well with a side of vegetables. You can choose your family's favorite vegetables or even a side salad. Serve them with a side of fruit, too!
My kids love heating up leftover pies for snacks or even for breakfast. They are so versatile!
Be sure to check out Bob Evans Farms website and Pinterest for more recipe ideas using their delicious side dishes. You can also follow them on Facebook and Instagram.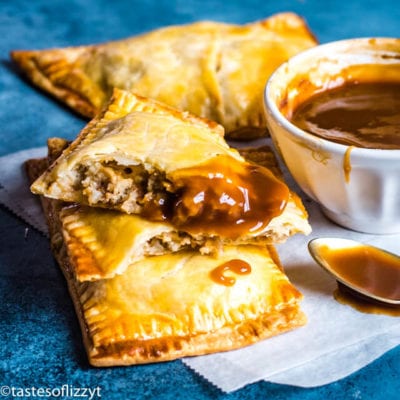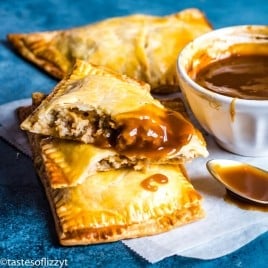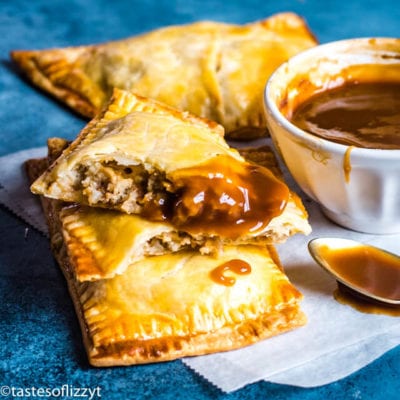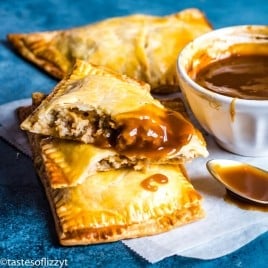 Potato Sausage Hand Pies
Your family will love these savory hand pies! Mashed potatoes, sausage and cheese is baked inside flaky pie crust for the ultimate handheld dinner.
---
Ingredients
1

pound

Bob Evans Original Sausage

24

ounces

Bob Evans garlic mashed potatoes

1

cup

shredded sharp cheddar

1/4

teaspoon

ground mustard

2

boxes refrigerated pie crusts

(14.1 ounces each)

1

large

egg

1

tablespoon

milk

1

cup

beef gravy

(for dipping, optional)
Instructions
Brown the sausage in a skillet over medium heat. Drain well.

In a bowl, mix together the sausage, mashed potatoes, cheese and ground mustard.

Unroll one pie crust on a lightly floured surface. Gently roll the circle into more of a rectangle shape.

Cut the pie dough rectangle into 6 equal rectangles.

Spoon about ⅓ cup of mashed potato mixture onto three of the rectangles that you cut. Spoon the mixture out to about ½ inch of the sides of the dough.

Place the remaining dough rectangles overtop the potato mixture, matching the edges.

Use the tines of a fork to press the edges together all around the rectangle.

Use the tines of a fork to poke a few holes in the top of the hand pie to vent.

Place the hand pies on a non-stick baking sheet.

Repeat with the remaining 3 pie crusts to make a total of 12 hand pies.

Make an egg wash by whisking the egg and milk together in a small bowl

Brush the top of the hand pies lightly with the egg mixture.

Bake at 400 degrees Fahrenheit for 25 minutes.

Serve warm with warmed beef gravy for dipping.

Store in an airtight container in the refrigerator.
Notes
The calories shown are based on the recipe making 12 hand pies, with 1 serving being 1 hand pie. Since different brands of ingredients have different nutritional information, the calories shown are just an estimate. **We are not dietitians and recommend you seek a nutritionist for exact nutritional information.**
Nutrition
Calories:
494
kcal
|
Carbohydrates:
39
g
|
Protein:
14
g
|
Fat:
30
g
|
Saturated Fat:
10
g
|
Cholesterol:
52
mg
|
Sodium:
581
mg
|
Potassium:
407
mg
|
Fiber:
3
g
|
Vitamin A:
145
IU
|
Vitamin C:
6.8
mg
|
Calcium:
105
mg
|
Iron:
4.1
mg