Learn how to make the most tender Smoked Pork Tenderloin. No marinating needed! Our sweet & spicy dry rub infuses the best flavors.
Get ready for a delicious dinner with our easy-to-follow Smoked Pork Tenderloin recipe that delivers both sweetness and spice. Our pantry staple dry rub, blending brown sugar with a mix of spices, ensures the pork is flavorful every time. No marinating needed!
This article will discuss the advantages of a dry rub, how to choose the perfect pork tenderloin, the importance of removing the silver skin, and how to make this flavorful pork tenderloin into a meal that is sure to impress.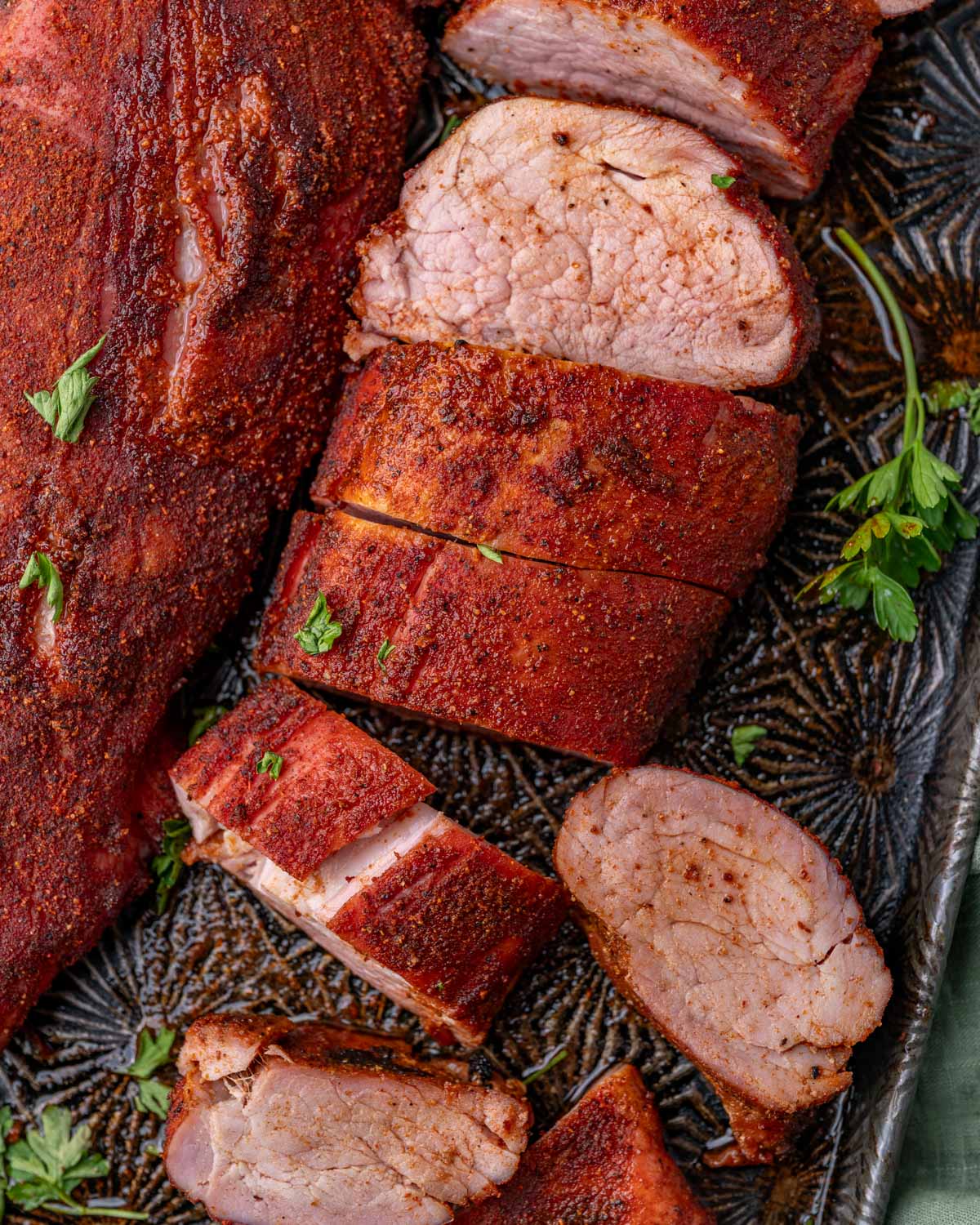 Thanks to the Ohio Pork Council for sponsoring this post and allowing us to share this pork chop recipe. Ohio has more than 3500 family pork farms that raise enough pork to feed more than 25 million people.
About this Smoked Pork Tenderloin Recipe:
Flavor: The flavor in this recipe comes from the sweet & spicy pork rub. There is a zesty punch of spices from the chili powders, cayenne pepper and paprika, paired with the caramel undertones of dark brown sugar.
Texture: When cooked to the correct temperature, this pork is succulent. No dry pork around here! You can easily tear the pork apart with your fingers and let it melt in your mouth.
Method: This recipe is developed for use in a smoker. It is tested with a Traeger pellet smoker, however the method should be the same with any smoker. Prep time is 15 minutes and the pork smokes for about 1 ½ to 2 hours.
Benefits of a Dry Rub
When preparing any cut of meat, many find themselves asking, "Should I marinate or use a dry rub?" The answer is that both have their benefits, but here's why a dry rub works for this recipe:
No Waiting Time: Unlike marinades, which often require hours to days of soaking, dry rubs can be applied minutes before cooking, ideal for quick dinners.
Crust Formation: A good dry rub forms a flavorful crust on the meat when cooked or smoked, adding an extra layer of texture. Marinades don't offer this because they are adding moisture.
Marinades often contain an acid such as citrus juices or vinegar to tenderize the meat (as in our baked pork loin) . Pork tenderloin, however, is a tender cut of meat as it is. There's no need to tenderize it more, and if cooked to the correct internal temperature, it will be fork tender every time.
How to Choose a Pork Tenderloin
I stock up on pork tenderloin when it is on sale in our grocery store. They often have a "Buy One Get One for $1" deal that is unbeatable. Stock that freezer!
Here's what to look for:
Color: Look for a tenderloin that is pinkish red in color. It should not be too pale.
Marbling: Look for pork that has even marbling, or small flecks of fat, throughout it. Marbling is what adds flavor, so you want those even white flecks. Pork tenderloin is as lean as boneless, skinless chicken breast so there won't be much marbeling.
Packaging: Ensure that the packaging is intact without any tears and there should not be an excess of liquid in the package.
Ingredients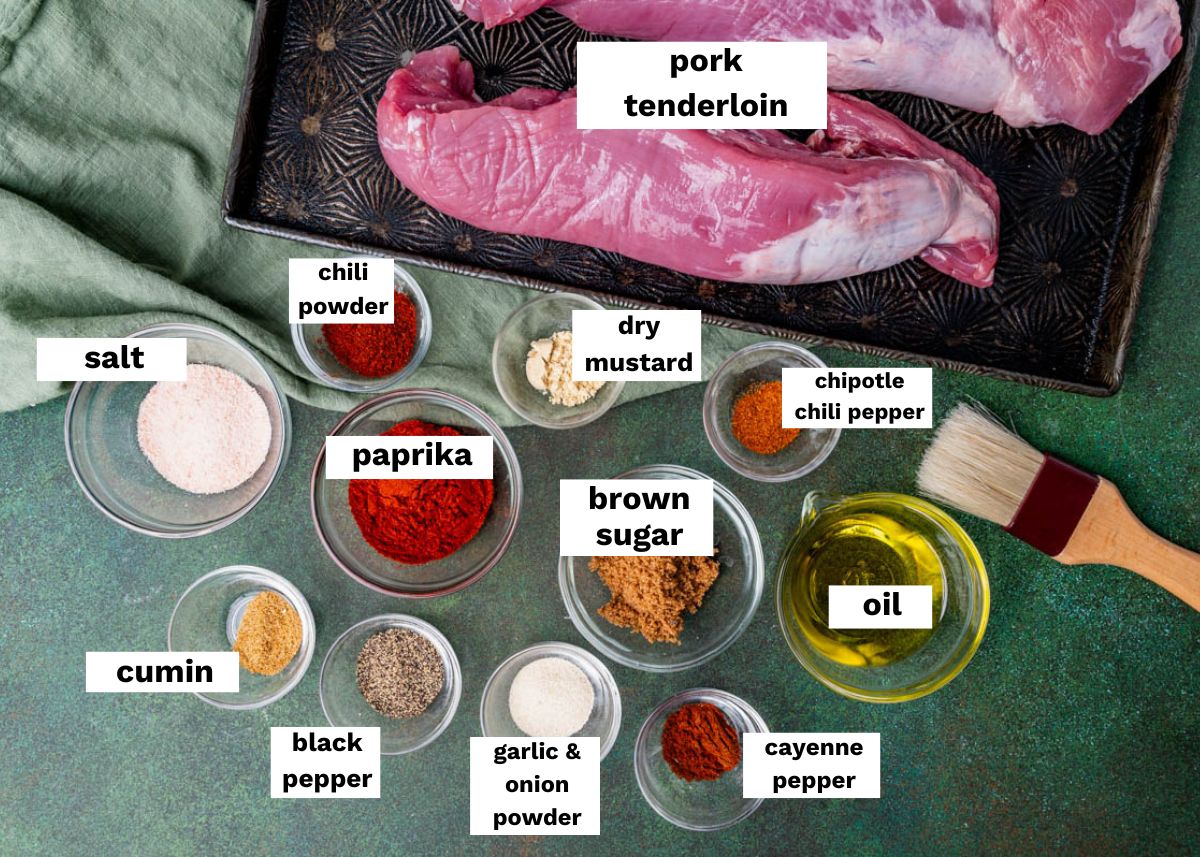 Pork Tenderloin: I used one package of pork tenderloin, which includes two pieces of meat. It's a total weight of 2-3 pounds.
Olive Oil: Olive oil seals in moisture and also gives the rub something to stick to.
Dark Brown Sugar: Dark brown sugar has a rich caramely flavor that I prefer in this dry rub mix. Light brown sugar works in a pinch.
Seasonings: Most of these seasonings are pantry staples. If you don't have chipotle chili powder, use ancho chili powder or simply a little more paprika.
What is silver skin?
If you buy pork tenderloin or any larger cut of meat, it will often have a silvery patch of "skin" on a small section of it. This is called the "silver skin". Although it may look like that marbely fat that infuses flavor to the meat, it's actually a very tough connective tissue that will not melt when heated.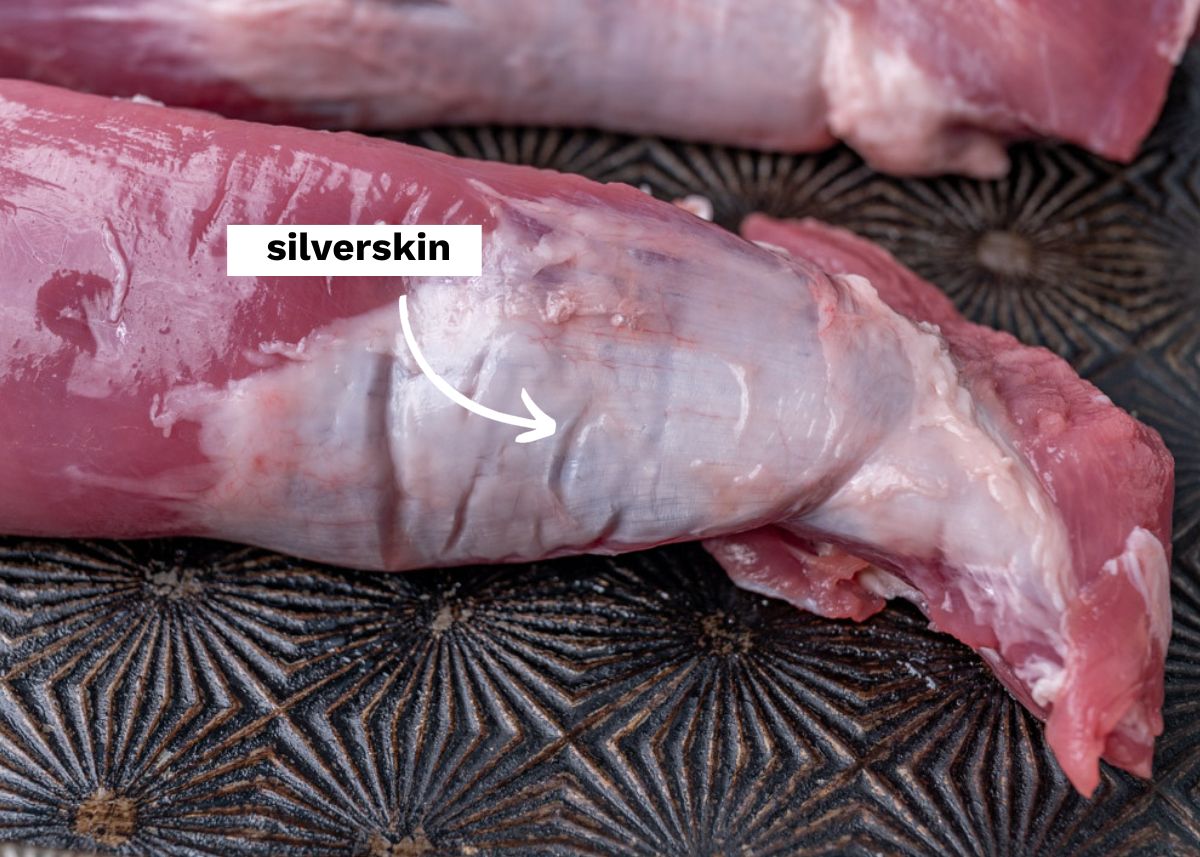 Because it is so tough, it's best to remove the silver skin from the pork so that every bite is perfectly tender. Plus, it's hard for the spice rub to get through that skin so by removing it, flavor also gets infused in every bite.
How to Remove Silver Skin
Thankfully, it is simple to remove the silver skin from the cuts of meat. Simply take a sharp knife and work to slide it under the skin, then pull down to cut it off.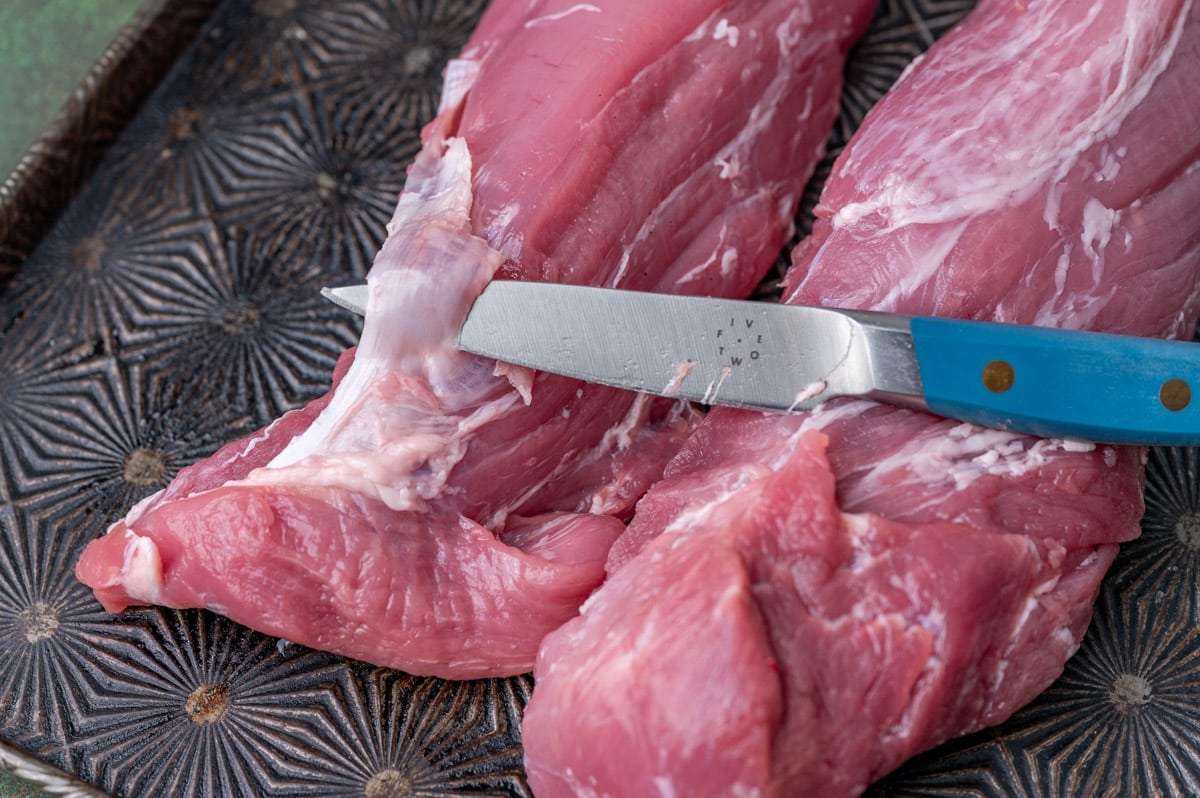 This won't take long, but does take more than one cut to remove all of the skin. Don't skip this step. It really makes a difference in flavor and texture.
How to Make Smoked Pork Tenderloin
Prepare. Prepare the pork by removing the silver skin. Then get the smoker ready and allow it to preheat for 15 minutes while you make the spice blend.
What wood or pellet flavor is best?
I prefer a sweet flavor to the wood chips or pellets when smoking pork. Apple or cherry is great, but if you want a stronger flavor, use hickory.
Mix the spices. In a small bowl, mix together the spices. This is a spice blend that I make a bulk batch of and keep on hand for Boston butts, pulled pork and this pork tenderloin.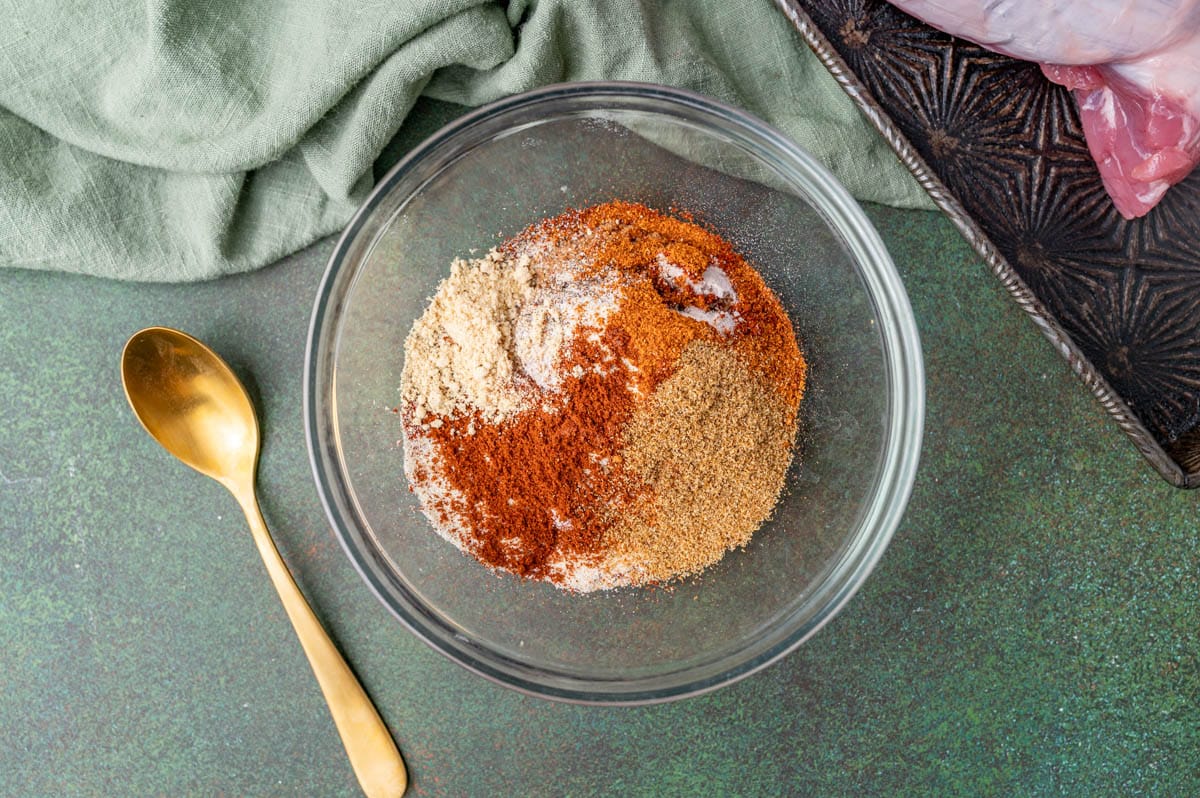 Season the pork. After the silver skin is removed, pat the pork dry with paper towels. Brush the pork lightly with olive oil, then rub the spice mix on all sides of the tenderloin.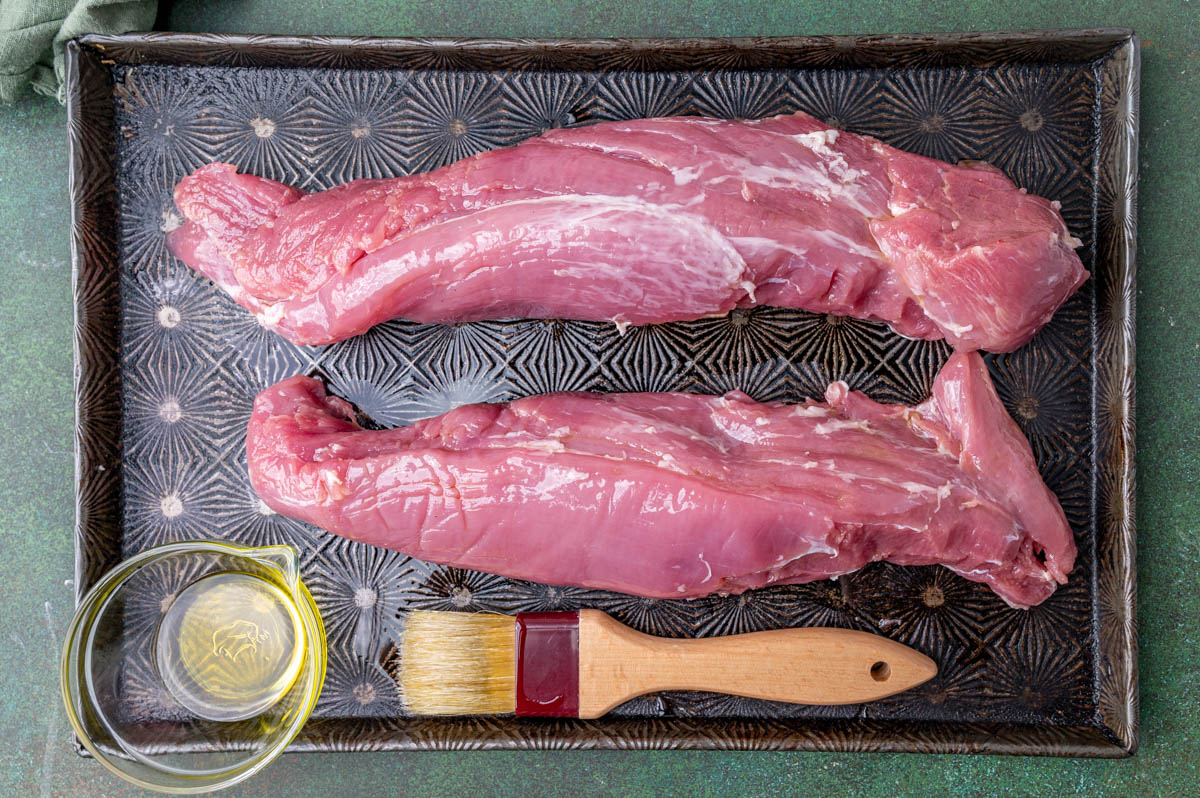 Smoke the pork. Place the pork tenderloins on the grill grates of the smoker and close the lid. Smoke for 1 ½ to 2 hours until the internal temperature of the pork reaches 145ºF.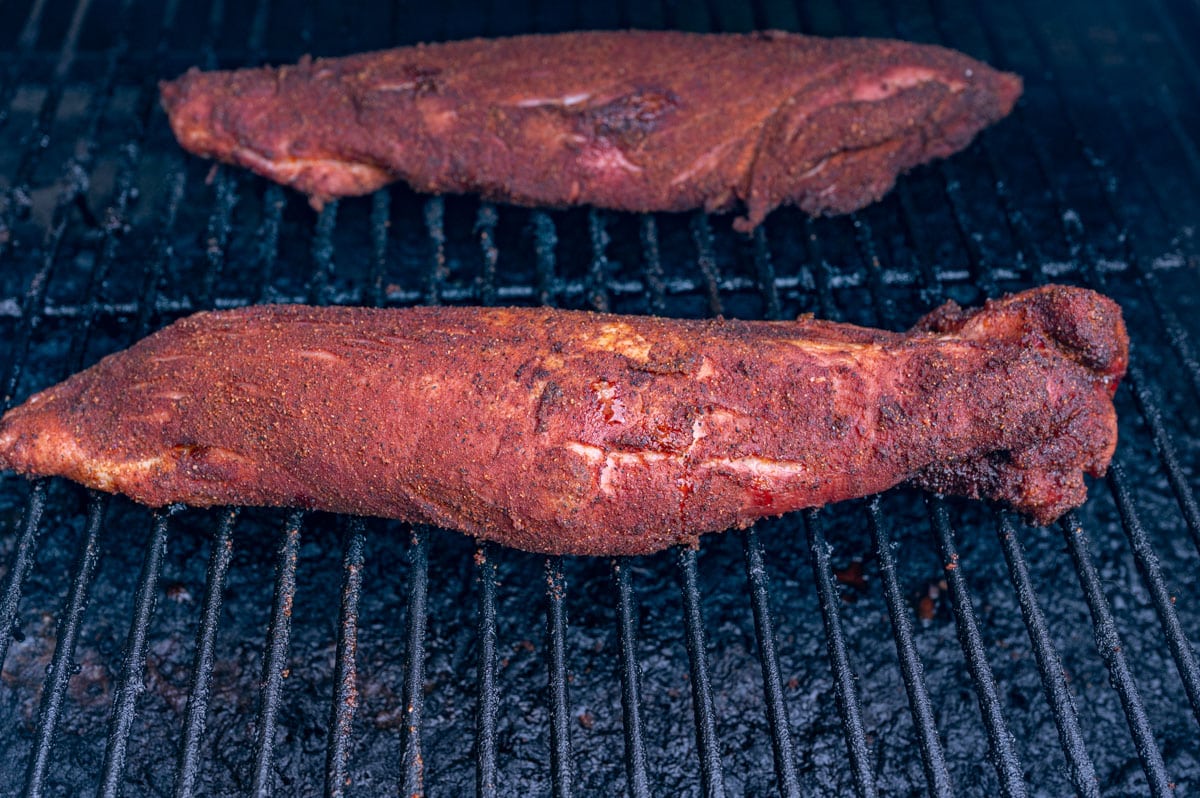 Rest. Allow the pork to rest for 5 minutes before slicing and serving. This seals in the juices.
The Best instant read Thermometer
We LOVE our Thermoworks ThermaPen to quickly test meat temperatures. This probe thermometer is AMAZING.  Get it here.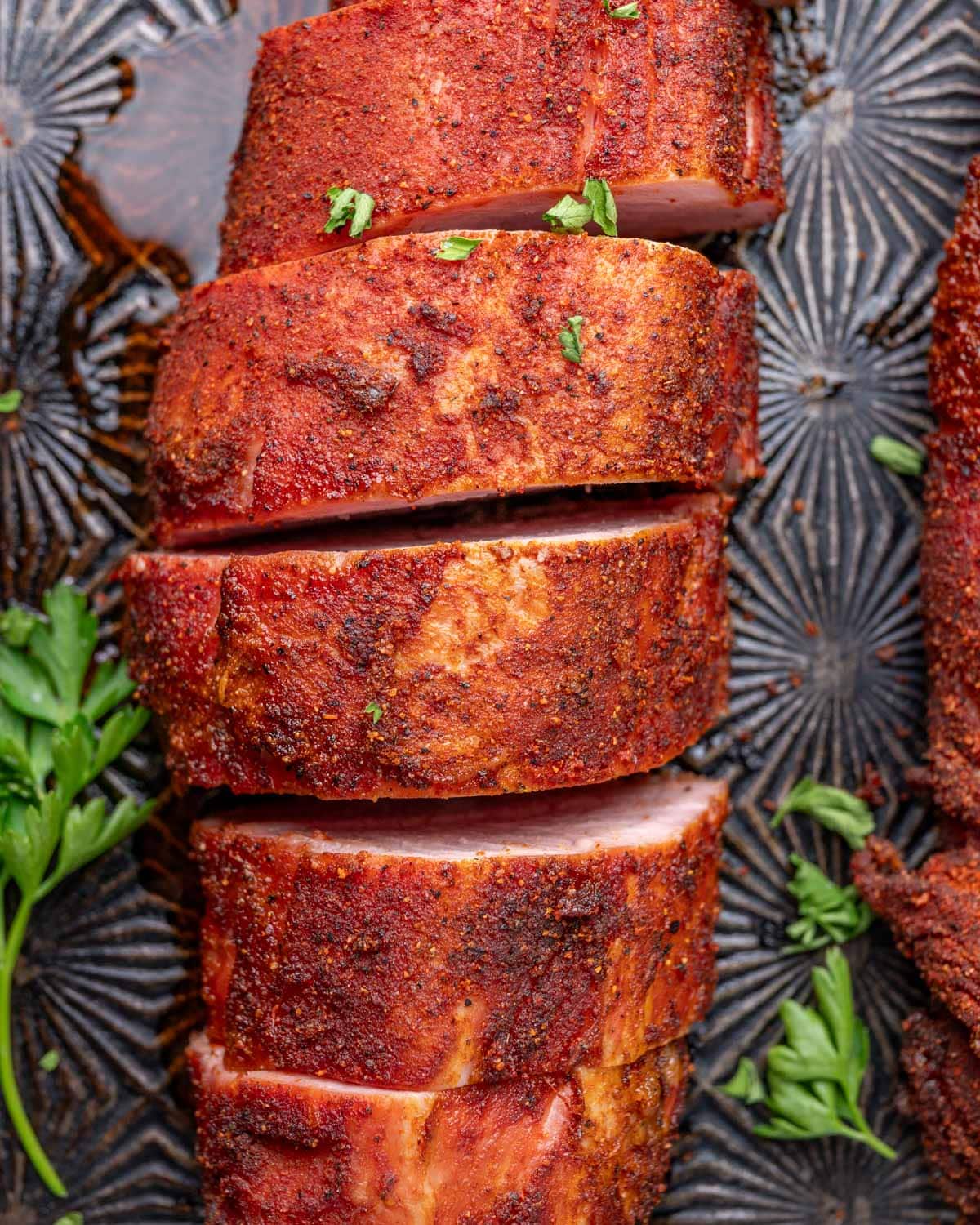 Make it a meal.
Here are our favorite side dishes
Roasted Vegetables: A medley of seasonal vegetables such as bell peppers, zucchini, broccoli, and carrots, roasted with olive oil, salt, and pepper, offers healthy side that complements the smokiness of the pork.
Creamy Mashed Potatoes: Mashed potatoes with butter and cream cheese serve as a comforting side to the tenderloin.
Coleslaw: A tangy coleslaw salad with shredded cabbage, carrots, and a creamy dressing adds freshness to smoked meat.
Cornbread: A slice of moist sour cream cornbread provides a slightly sweet contrast to the spiciness of the pork. It's a mus-have side for barbecue enthusiasts.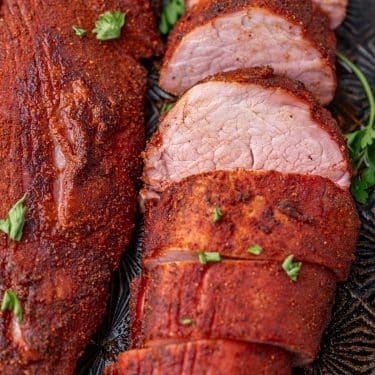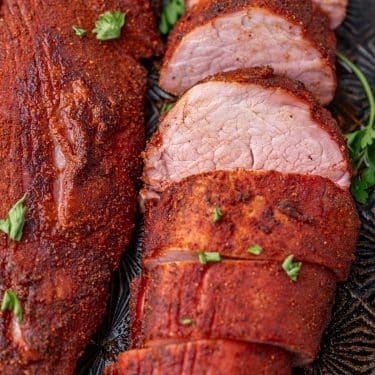 Smoked Pork Tenderloin
Learn how to make the most tender Smoked Pork Tenderloin. No marinating needed! Our sweet & spicy dry rub infuses the best flavors.
Total Time
2

hours
15

minutes
---
Ingredients
2-3

pounds

pork tenderloin

¼

cup

olive oil
Sweet & Spicy Rub
2

tablespoons

smoked paprika

14 grams

1 ½

tablespoons

dark brown sugar

17 grams

1

tablespoons

sea salt

18 grams

1 ½

teaspoons

black pepper

4 grams

1 ½

teaspoons

chili powder

3 grams

1 ½

teaspoons

onion powder

4 grams

1 ½

teaspoons

ancho chili pepper

4 grams

¾

teaspoon

cayenne pepper

1 gram

¾

teaspoon

cumin

1 gram

¾

teaspoon

dry mustard

1 gram
Instructions
Trim the silver skin off of the pork tenderloin and any excess fat. Pat the pork dry with paper towels. Set on a large plate or pan. Brush all sides of the pork lightly with olive oil.

2-3 pounds pork tenderloin

,

¼ cup olive oil

In a small bowl, whisk together all of the ingredients for the rub.

2 tablespoons smoked paprika

,

1 ½ tablespoons dark brown sugar

,

1 tablespoons sea salt

,

1 ½ teaspoons black pepper

,

1 ½ teaspoons chili powder

,

1 ½ teaspoons onion powder

,

1 ½ teaspoons ancho chili pepper

,

¾ teaspoon cayenne pepper

,

¾ teaspoon cumin

,

¾ teaspoon dry mustard

Sprinkle the spice rub on all sides of the pork tenderloin and rub it in gently.

Set the smoker to 225ºF and preheat for 15 minutes.

Place the pork tenderloins on the grill grates of the smoker and close the lid.

Smoke for 1 ½ to 2 hours until the internal temperature of the pork reaches 145ºF.

Take the tenderloins off the grill and let them rest on a plate for 5 minutes before slicing and serving.

Serve with bbq sauce if desired.
Notes
Refer to the article above for more tips and tricks.
The calories shown are based on the recipe serving 8, with 1 serving being ⅛ of the pork tenderloin. Since different brands of ingredients have different nutritional information, the calories shown are just an estimate. **We are not dietitians and recommend you seek a nutritionist for exact nutritional information. The information in the nutrition box are calculated through a program and there is room for error. If you need an accurate count, I recommend running the ingredients through your favorite nutrition calculator.**
Nutrition
Calories:
218
kcal
|
Carbohydrates:
5
g
|
Protein:
24
g
|
Fat:
11
g
|
Saturated Fat:
2
g
|
Polyunsaturated Fat:
2
g
|
Monounsaturated Fat:
7
g
|
Trans Fat:
0.04
g
|
Cholesterol:
74
mg
|
Sodium:
941
mg
|
Potassium:
531
mg
|
Fiber:
1
g
|
Sugar:
3
g
|
Vitamin A:
1303
IU
|
Vitamin C:
1
mg
|
Calcium:
21
mg
|
Iron:
2
mg
Frequently Asked Questions
How do I store any leftover smoked pork tenderloin?
Leftovers should be wrapped tightly in aluminum foil or placed in an airtight container. Refrigerate for 3-4 days.

I also have frozen smoked pork when we aren't able to eat it in time. Freeze for up to 2 months.
What's the best method for reheating the pork without drying it out?
Reheat leftovers in the oven at a low temperature, around 275ºF, until warmed through. Low and slow is the key here.

If you need something quick, Alternatively, you can also slice the pork and warm it in a skillet with a splash of butter or oil to keep it moist.
Can I use the dry rub on other meats?
Absolutely! This versatile rub works well with chicken, beef, or even fish. Adjust the amount based on the meat's size and personal flavor preference.
I don't have a smoker; can I still make this recipe?
Yes, you can replicate the smoky flavor by using a smoky seasoning like liquid smoke or smoked paprika in the rub. Then, roast the pork in the oven or grill it outdoors, though the flavor will be different from authentic smoking, but is still absolutely delicious. Just watch that internal temperature!