A buttery, super easy homemade pie crust holds a filling of sweetened vanilla strawberries and milk chocolate chips. This Strawberry Chocolate Galette may sound fancy, but it's the easiest dessert you'll make this summer!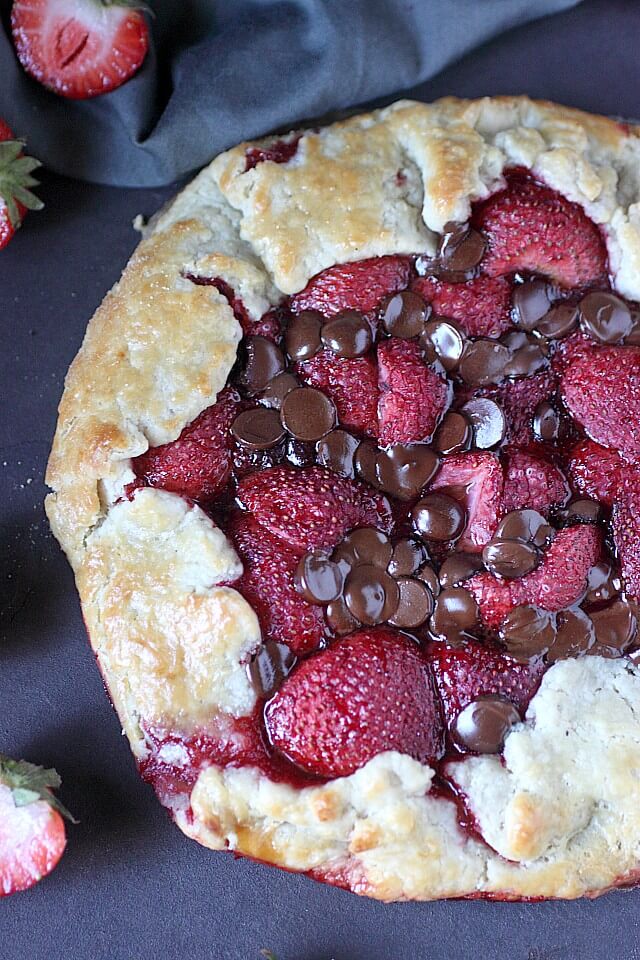 STRAWBERRY CHOCOLATE GALETTE
Hi. I brought you a pie. It's a galette, really. Galette is just a fancy schmancy French word for rustic free-form pie. Sometimes we like to say fancy things.
I make galettes all summer long using seasonal fruits. During summer months, we tend to toss baking to the wayside and embrace no-bake desserts and ice cream. Do you still crave a nice baked dessert? Do you still crave a nice baked dessert? Don't you sometimes crave pie? I crave pie.
This is precisely why this Strawberry Chocolate Galette is perfect.
Galettes are both like and unlike pie.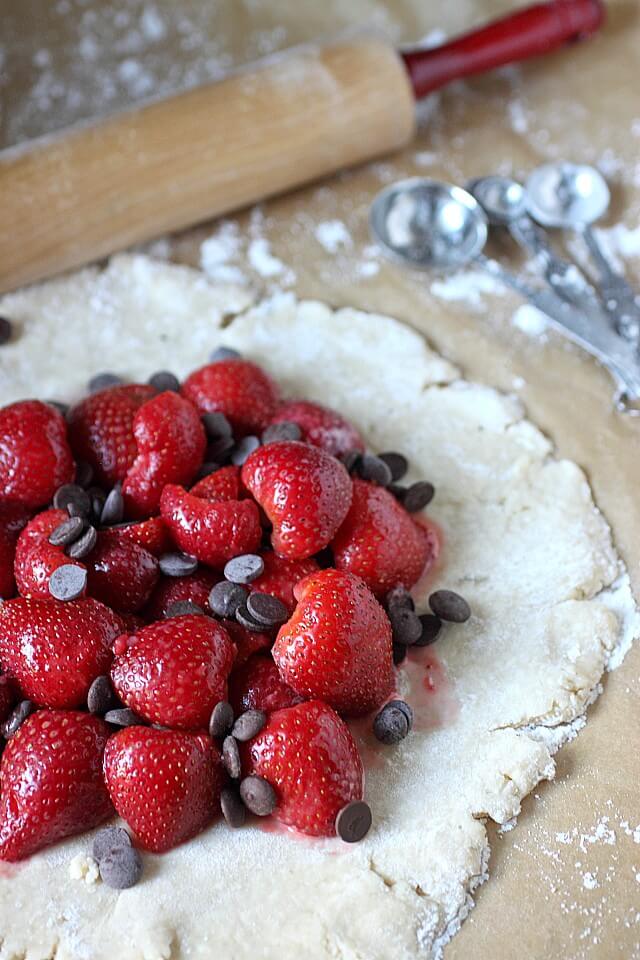 There's a pie dough. I know, I know – Pie dough can be a super pain the in the tushy. All the mixing, rolling, crimping, dealing with these super-hot temperatures. I get it. It's a pain. What if I told you this pie dough takes less than five minutes to make? Mmm-hmm – That's right. Less than five minutes.
Making this galette dough is all about having super cold butter. I like to place my butter in the freezer for at least an hour prior to making dough. While I'm deep cleaning the bathroom, or folding my dreaded laundry pile – butter freezes.
Ingredients are measured and less than twelve pulses later, I have a pie dough which I wrap and place in the freezer to chill for a bit. This was no more, no less than five minutes.
Easy, right?
As my dough chills, I slice and macerate some strawberries. Macerating is adding sugar to fruit to bring out the fruit's best flavor. I also added vanilla extract here. Again, minutes.
Once the fruit is macerated I drain it of its syrup. A little cornstarch is added and I mix it with some chocolate chips. I used semi-sweet chocolate chips, but I wholeheartedly recommend milk chocolate chips here.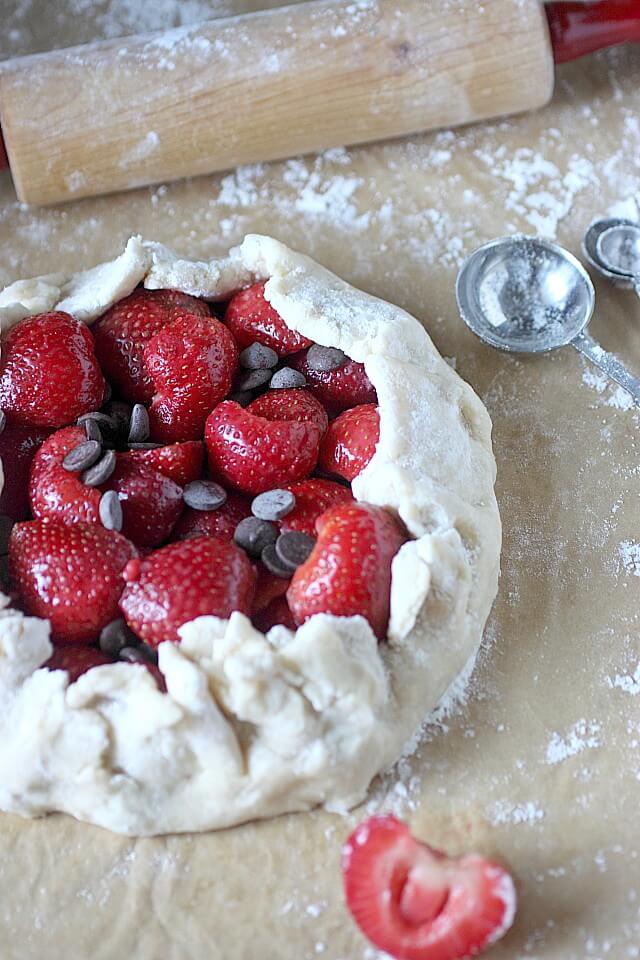 Now here comes the fun part – Galette making!
Are you ready?
It's exciting!
Grab your pie dough from the freezer. Now roll it into something that resembles a circle. It doesn't have to be perfect. It could even resemble something close to a square. Doesn't matter!
Now place the strawberry chocolate mixture in the center of this circle/square, leaving a border of pie dough. Now fold the border over the fruit, pleating as you go. Again, not perfect.
That's it. Well… there's an egg wash a sugar sprinkle, and of course you must bake it. But that's it.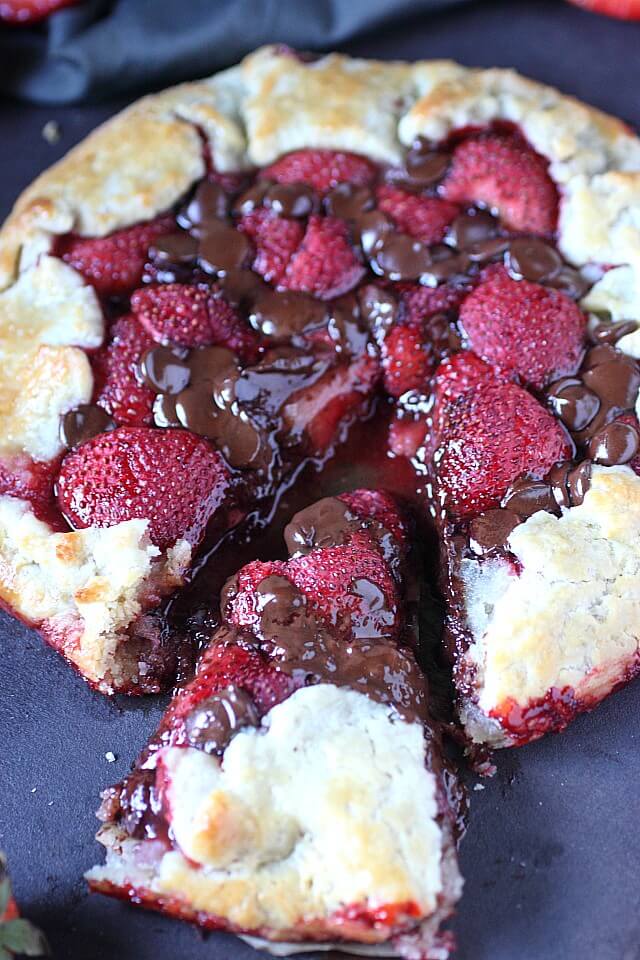 Now you have a galette!
Which is really pie. That tastes like strawberry and melted chocolate. Without all the high maintenance pie work.
I suggest a large scoop of ice cream.
Happy Summer!
Strawberry Chocolate Galette
A buttery, super easy homemade pie crust holds a filling of sweetened vanilla strawberries and milk chocolate chips. This Strawberry Chocolate Galette may sound fancy, but it's the easiest dessert you'll make this summer!
Ingredients
For the macerated Strawberries
2 ½

cups

medium sized strawberries

hulled and sliced in half

3

Tablespoons

granulated sugar

1

tablespoon

vanilla extract

2

teaspoons

cornstarch

½

cup

milk chocolate chips
For the pie crust:
1 ¼

cup

all-purpose flour

spoon then leveled

½

teaspoon

salt

3

Tablespoons

Granulated sugar

½

cup

1 stick unsalted butter, very cold and cut into ½ inch cubes

Ice water - 2-4 tablespoons

1

egg

beaten

Granulated sugar

for sprinkling

Vanilla ice cream for serving

optional
Instructions
Macerate the strawberries:
In a medium bowl, combine strawberries, sugar, and vanilla extract. Stir to combine and allow to macerate until the sugar dissolves and the fruit softens. Drain the fruit of its syrup. Discard syrup or use for another use. Sprinkle the cornstarch over the strawberries and mix to combine. Add the chocolate chips. Place in the refrigerator until ready to use.
Make the pie crust:
About an hour before you plan to make your pie crust, place the butter cubes in the freezer. The colder the butter, the better your chances of achieving a nice flaky crust.

Once your butter is sufficiently chilled – Place the flour, salt, and sugar in a food processor. Pulse about 5 times until flour, salt, and sugar are combined. Add the butter cubes and pulse until the mixture resembles coarse meal, about 12 pulses total. You should be left with quite a few pea size pieces of butter.

Remove ice from your water, if any – And add 2 tablespoons of water to the food processor and plus 2-3 times. Add water 1 tablespoon at a time, pulsing with each addition. The mixture should just barely clump together at this point, yet have a crumbly look to it. Test by pinching some of the dough and if it comes together, then it's ready to use. If not, keep adding one tablespoon of water at a time, giving it 2-3 pulses each time. I've made this crust many times and it's never taken more than 4 tablespoons of water. Make sure you don't add too much; otherwise your crust won't be flaky.

Turn the crumbly dough over a lightly flour surface and gather it into a rough circle. Handle the dough as carefully as possible so as not to activate too much gluten which can toughen your pie crust. Your pie crust should be dotted with gorgeous pieces of butter. Lightly sprinkle flour over surface of the dough. Cover the dough with plastic wrap and place in the refrigerator for at least one hour to chill. If using the dough another day, place in the freezer. When ready to use, defrost it in the refrigerator overnight. Dough keeps well in the freezer for about a month
Assemble and bake the galette:
Preheat the oven to 350 degrees Fahrenheit and set a large cookie sheet on your counter. Tape the corners of a rectangular sheet of parchment paper on your counter and lightly flour it.

Remove the pie dough and the strawberry/chocolate mixture from the refrigerator. Turn the dough onto the lightly floured rectangle of parchment paper. Lightly sprinkle the top with flour and with a rolling pin, roll a circle that's roughly 12-14 inches in diameter and about 1/8 of an inch thick, giving the dough a quarter turn as you roll. To make sure the dough doesn't stick underneath, lift the dough every couple of turns and lightly sprinkle with flour underneath as needed. If your circle doesn't turn out perfect, that is OK. We're not going for perfection here. Place the dough in the refrigerator for about 15 minutes.

After 15 minutes or so remove the pie dough, from the refrigerator. Sprinkle the strawberry/chocolate mixture in the center of the pie dough, patting it down a bit, leaving about a 2-inch border of pie dough. Fold the border over the strawberry/chocolate mixture, pleating the edges as best you can. Again, it doesn't have to be perfect. The center of the galette should remain open with the fruit exposed. Remove tape from sides of parchment paper and carefully transfer the parchment with the prepared galette onto the cookie sheet. Brush the edges of the galette with beaten egg and sprinkle the surface with granulated sugar.

Place cookie sheet in the oven and bake until the edges of the galette are a nice golden brown, about 25-30 minutes.

Remove galette from the oven and allow to cool slightly, about 5 minutes. Slice and serve with vanilla ice cream if desired.
Nutrition
Calories:
1659
kcal
|
Carbohydrates:
139
g
|
Protein:
10
g
|
Fat:
117
g
|
Saturated Fat:
72
g
|
Cholesterol:
421
mg
|
Sodium:
2099
mg
|
Potassium:
60
mg
|
Fiber:
2
g
|
Sugar:
130
g
|
Vitamin A:
3275
IU
|
Calcium:
156
mg
|
Iron:
1.9
mg
You might also like:
Caramelized onion and gruyere Galette