Cinnamon Crunch Braided Bread
Panera has nothing on this bread recipe! Soft, homemade bread makes up the base of this cinnamon crunch braided bread. Homemade cinnamon chips fill the inside and it's topped with a cinnamon crunch streusel.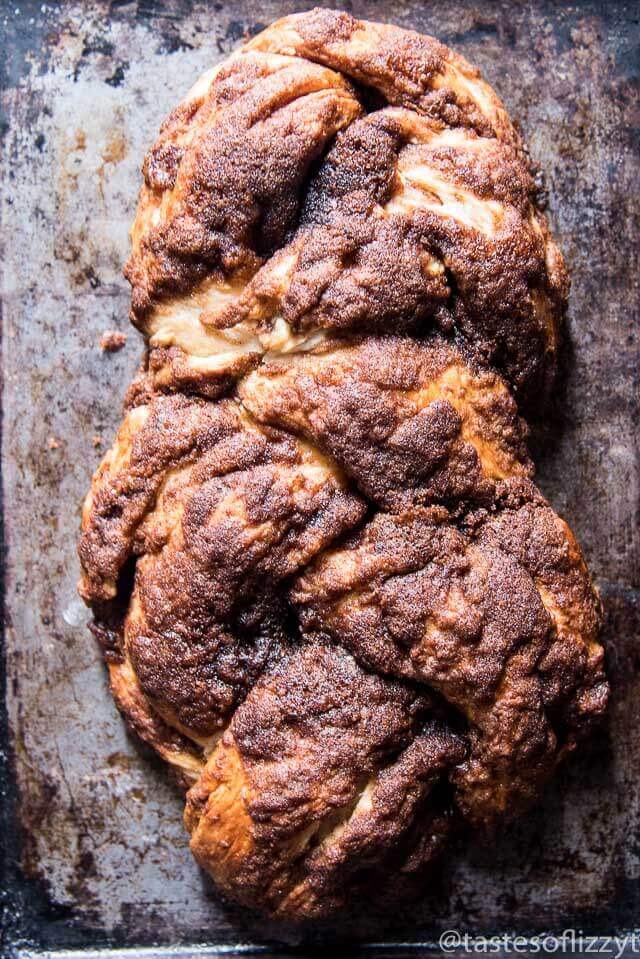 I was reading an old post recently that was talking about how excited we were for the winter weather. I kept thinking, why in the world was I so excited about the cold? You can't go outside without bundling up, sometimes it's too cold to even open your garage door, and then sometimes it's so cold your front door is frozen shut. This has all happened to me this past winter season. But now it's summer. Summer means warmth, no school, warmth, running, warmth, picnics, warmth, my birthday, and warmth.  Doesn't it sound great?! I know it does.
Even though summer is upon us, that doesn't mean you can't bake homemade bread. Rain, snow or shine, biting into this braided bread makes me want to run around, whatever the weather, jumping with joy.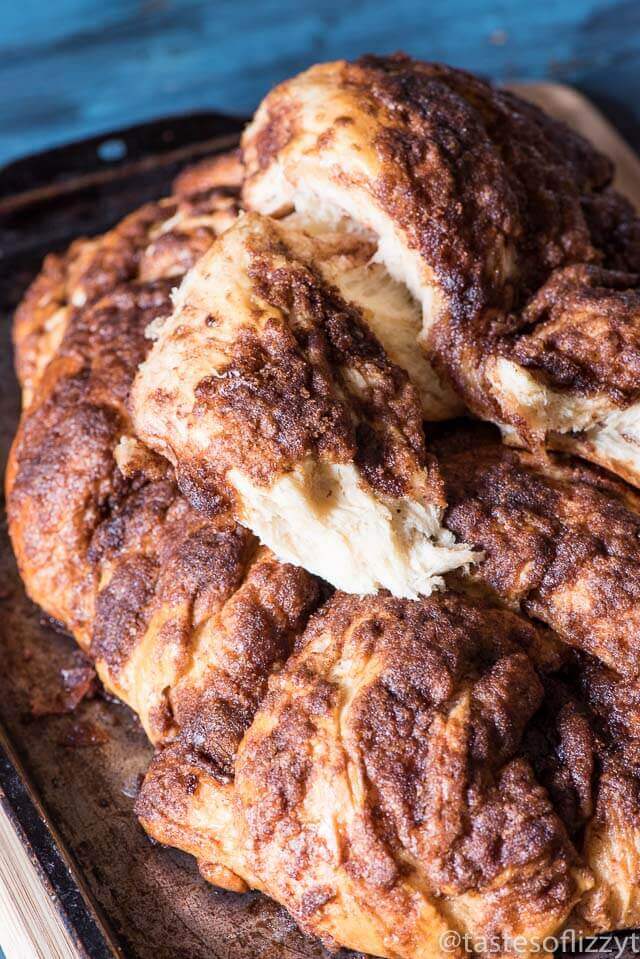 So this braided bread is similar to the pumpkin pie knots we made and is the same basic bread recipe as this bread that we LOVE so much. The wonderful difference is that there are homemade cinnamon chips kneaded inside and a cinnamon streusel on top. Yup, pretty much glorified cinnamon braided bread. This braided bread is completely homemade and is very simple to make.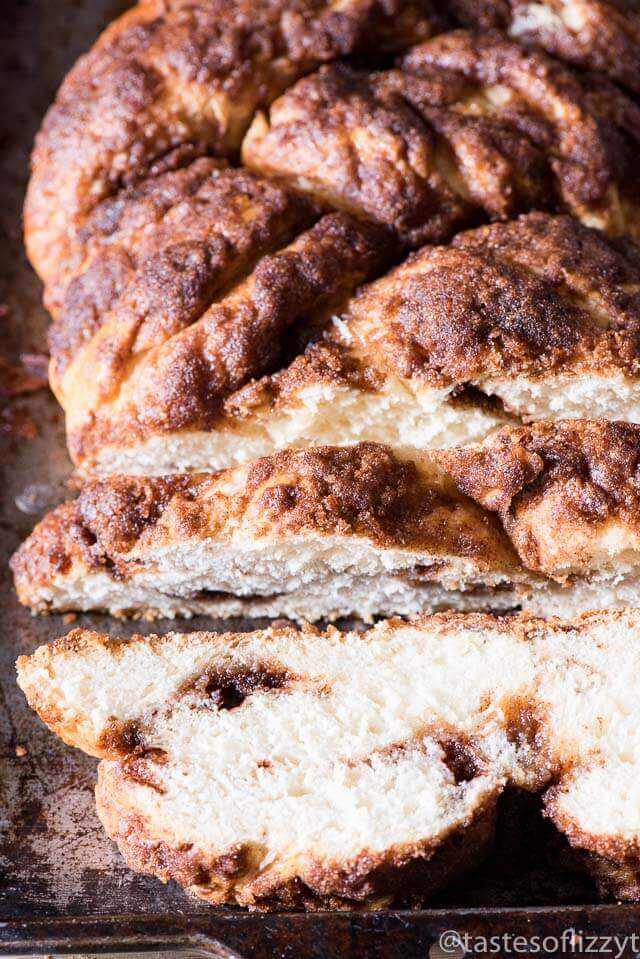 To make this cinnamon braided bread recipe, you'll mix up the dough just as we explained in over in the egg twist bread post.  After the dough rises, you'll follow these steps:
-Split the dough in half.
-Knead ½ cup homemade cinnamon chips into each one. Homemade cinnamon chips are the BEST, because they melt right in there and makes everything soft and sugary. They really are a must for this recipe. Make a double batch up ahead of time and store them in a Ziplock bag so you're ready when the cinnamon craving hits.
-Divide the halves of dough each into three sections.
-Press the three sections on the top together and simply braid them together gently, and secure the ends. Then do the same thing with the other half.
-Put the egg wash on the bread loaves, and spread on the cinnamon streusel.
-Let the loaves rise again, and then bake them.
And then EAT them!!! That's the best part.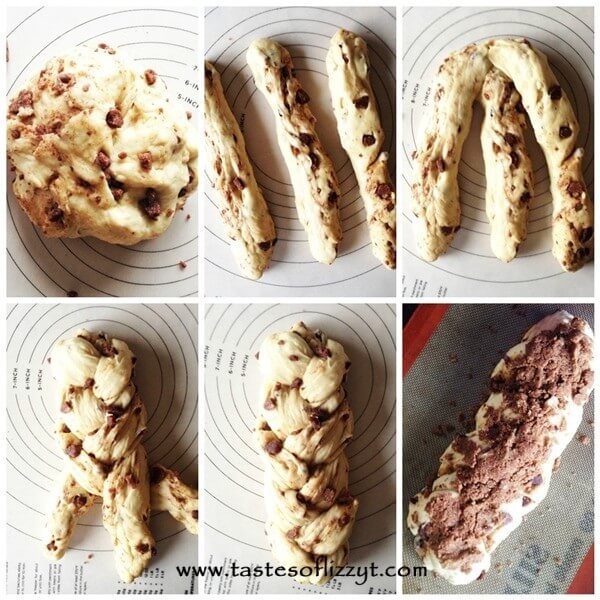 This braided bread is worth the bit of time that it takes to make it. It might be tortuous awaiting the dough to rise and you might need to sneak a little cinnamon chip while you're waiting. But when it finally comes out of the oven and you spread butter all over it, watch it melt and take your first bite…Mmmmmm!!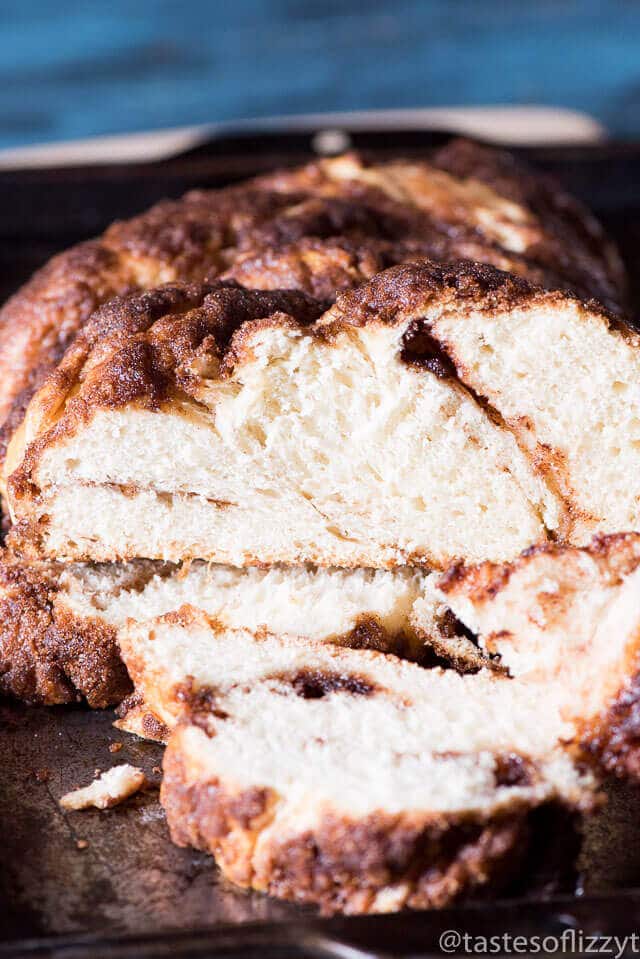 Just look at that soft, warm, cinnamon-crusted bread. Surprise your family so that when they walk in the kitchen they smell this delicious cinnamon-y bread waiting for them to devour.
So stop reading, start baking. It's definitely worth it!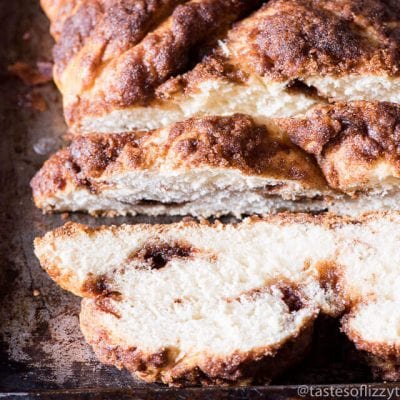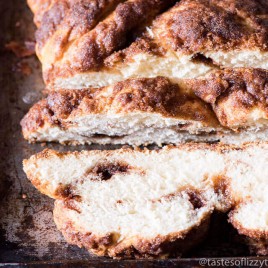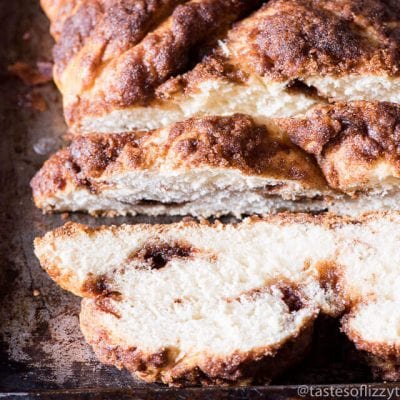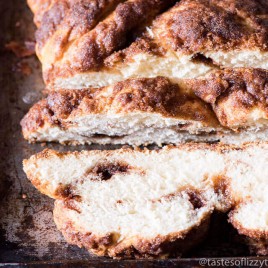 Cinnamon Crunch Braided Bread
Panera has nothing on this bread recipe! Soft, homemade bread makes up the base of this cinnamon crunch braided bread. Homemade cinnamon chips fill the inside and it's topped with a cinnamon crunch streusel.
Total Time
2

hours
25

minutes
---
Ingredients
1

cup

warm milk

1/2

cup

white sugar

1/2

teaspoon

salt

1

package

Red Star active dry yeast

2 ¼ teaspoons

3

large

eggs

one kept out to brush on top of bread

1/2

cup

butter

softened

4 1/2

cups

all-purpose flour

plus extra for kneading

1

cup

homemade cinnamon chips

1

large

egg

for brushing on top of the loaf
[b]Cinnamon Streusel:[/b}
4

tablespoons

cold butter

1/2

cup

brown sugar

2

teaspoons

cinnamon
Instructions
Warm the milk in a bowl in the microwave for just about 1 to 1½ minutes until it is warm. Add in the sugar and salt, then stir the mixture. Allow it to sit until it is warm, but not too hot (if you have a thermometer, it should measure about 105-110 degrees in order to proof active dry yeast). Add 1 package (2 ¼ teaspoons) of yeast right to this milk. Allow the yeast to proof for about 5 minutes. It should get nice and frothy.

Add the softened (almost melted) butter and 2 eggs. Stir this well until it is all blended together.

Gradually add in the flour,1 cup at a time. Add in the last ½ a cup and start to knead the dough with your hands until the last ½ cup of flour is incorporated in. Turn the dough out onto a floured surface and continue to knead the bread for about 7 minutes until it is smooth and elastic. Add a bit more flour as you need to during kneading. The dough should still feel sticky, but it will not stick to your hands. During needing, I added less than ¼ cup of additional flour. If you add too much flour, your bread will be dry.

Place this dough in a greased bowl and cover it. Allow the dough to rise in a warm place until it has doubled, about 1 hour.

Split the dough into two balls. Knead ½ cup of homemade cinnamon chips into each dough ball. They made be hard to stick in initially, but as you work the dough, they'll stick. Split each dough ball into three pieces. Roll those 3 pieces out into a snake about 12" long. Braid the three ropes together and tuck/pinch the ends so that the braid does not come undone. Place each braid on a greased baking sheet.

Beat the remaining egg and brush the tops of the loaves with this. This is what gives the bread such a lovely golden color!

In a small bowl, combine the butter, brown sugar and cinnamon for the streusel. Continue to cut in the butter until the mixture is in coarse crumbs. Split this mixture between the two loaves, patting the sugar on top of the braids.

Cover the loaves and allow the dough to rise for another ½ an hour, then bake the bread dough for 25 minutes in a 350 degree oven.

Allow the bread to cool for 10 minutes, then slice and serve with butter or cinnamon butter.
Nutrition
Calories:
265
kcal
|
Carbohydrates:
38
g
|
Protein:
4
g
|
Fat:
10
g
|
Saturated Fat:
6
g
|
Cholesterol:
48
mg
|
Sodium:
83
mg
|
Potassium:
56
mg
|
Fiber:
1
g
|
Sugar:
16
g
|
Vitamin A:
290
IU
|
Vitamin C:
0.1
mg
|
Calcium:
40
mg
|
Iron:
1.5
mg
Do you love cinnamon as much as we do? Find more recipes here.
Find our other sweet and savory bread recipes here.
Follow our Cinnamon Heaven Pinterest board!
Follow Tastes of Lizzy T's board Cinnamon Heaven on Pinterest.