Lucky Charms French Toast
Tastes of Lizzy T participates in affiliate advertising programs. We may earn a commission when you make a purchase through links on our site.
Is Lucky Charms your favorite cereal? Make this Lucky Charms French Toast for a fun twist on an old favorite. Don't forget the marshmallow cream topping!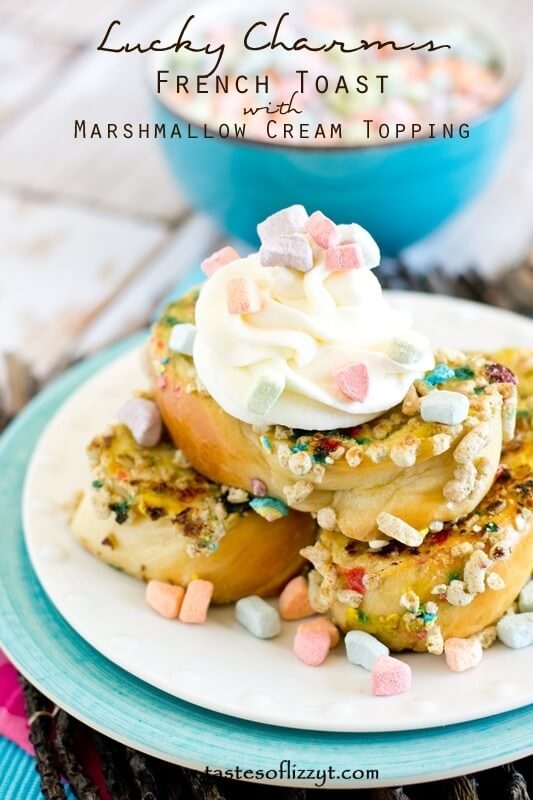 When you look at this picture, what does it tell you? Does it shout: Healthy?
Or happy?
Probably not healthy.
But definitely happy!! We try to eat healthy and do good a lot of the time. Our weakness? Well, we have a lot of weaknesses. But one of my biggest weaknesses is Egg Twist Bread (or these Italian Easter Rolls). Mom's weaknesses are anything with rich, cream cheese frosting. Well, that's kind of my weakness too. Mom and I share a lot of loves!
But what gets my dad weak in the knees? Lucky Charms!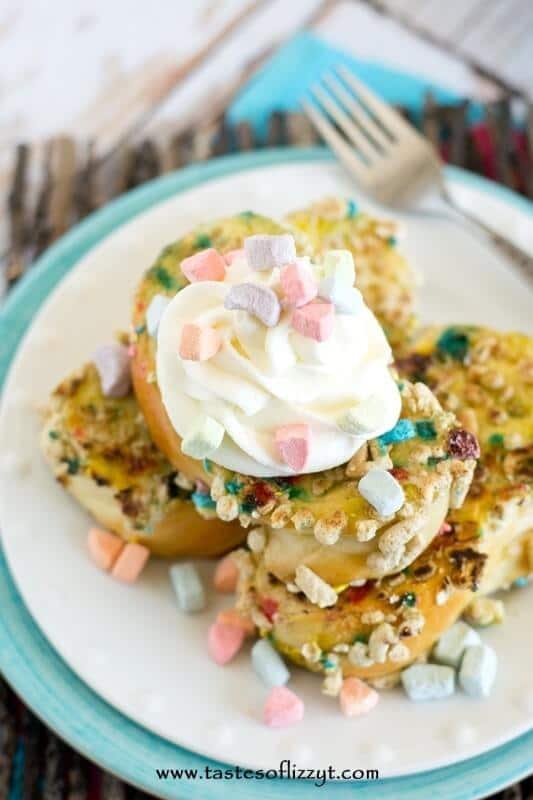 This magically delicious cereal is only found in our possession once a year and that's on our yearly family vacation to the beach. I say beach, but I mean the coast of Lake Huron in Michigan. So, we're not talking warm sunny weather 100% of the time. We're actually lucky if it is warm enough to even get in our swimsuits. But if there's one thing that makes our family vacation great, it's good food. The only request he has when mom goes shopping for vacation is to get him his Lucky Charms.
Who here thinks that the best part of lucky charms are the marshmallows? Me! Me! Me! I do!
I'm sure my dad would agree! The marshmallows are like little magical surprises hidden in the frosted cereal. So my question is, can you get just plain marshmallows somewhere?
Yes, yes you can! You can order them right here, right now
. Because this recipe isn't complete without some little delicious marshmallows sprinkled on top.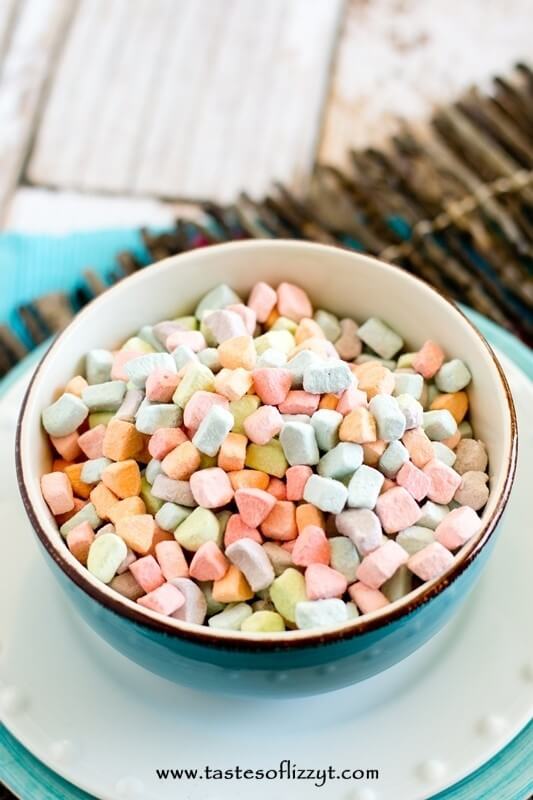 This recipe is super easy, especially if you have some homemade bread on hand. If you haven't ever made this bread before, hold on to your seats, folks! You're in for a delicious surprise! But made into a French toast… and you're in heaven. If you're not into making your own bread, just get some thickly sliced bread from the store.
All you have to do is follow a few simple steps:
-Crush 4 cups of Lucky Charms.
-Slice bread into 1″ thick slices.
-Beat four eggs and ⅓ cup of half and half in a bowl.
-Heat griddle to 325 degrees and spray it with cooking spray. Here's our favorite pancake pan.
After you do these things, it's time to cook the French toast. Make a little assembly line and dip the sliced bread into the egg mixture, then coat the top and bottom in the crushed Lucky Charms. Then, throw 'em on the griddle and cook for 3-5 minutes on each side.
When you get the finished product, they'll look like the things in the picture above. Hmmm…not too pretty, right? This recipe needs one more thing. How about a marshmallow cream cheese whipped topping?
That sounds too good to be true!! Can't you just picture yourself taking a bite??
So when I said that making this French toast out of twisty bread is like heaven?  That isn't quite true. Making this French toast out of twisty bread and putting globs of cream cheese marshmallow frosting on top? That's the most heavenly breakfast of all!
And lunch. And dinner. And a midnight snack, if you want!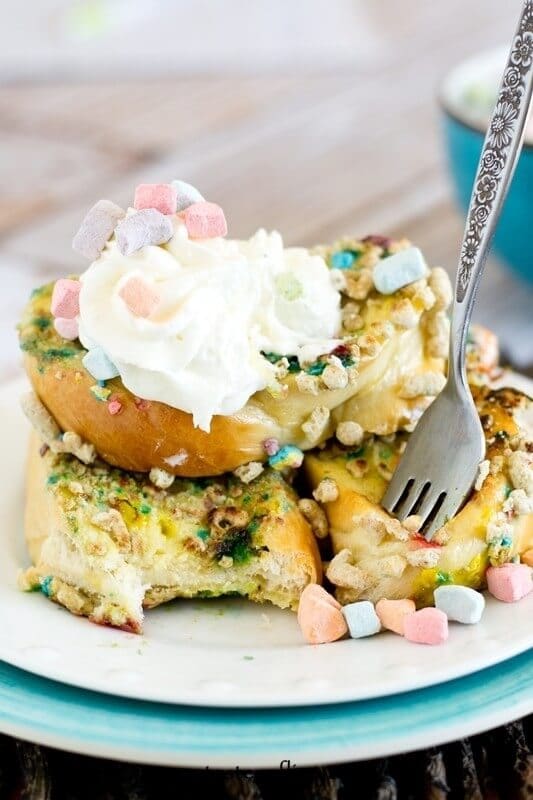 Enjoy this magically delicious breakfast.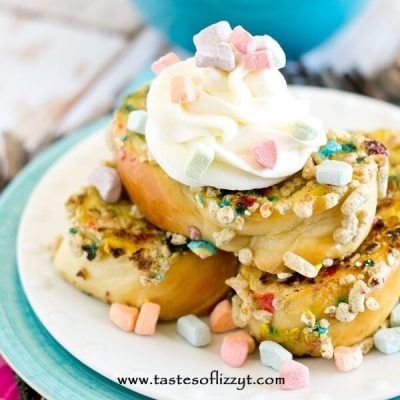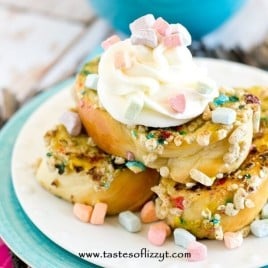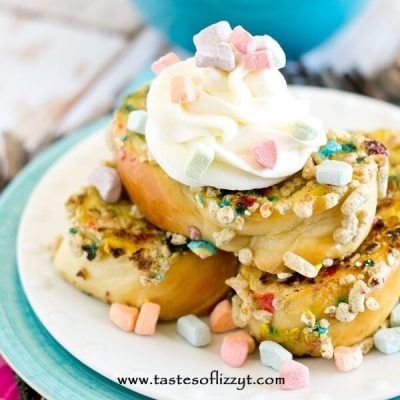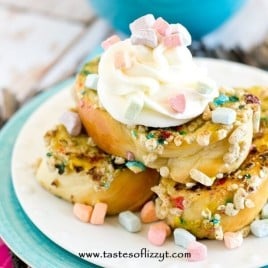 Lucky Charms French Toast
Is Lucky Charms your favorite cereal? Make this Lucky Charms French Toast for a fun twist on an old favorite. Don't forget the marshmallow cream topping!
---
Ingredients
4

cups

Lucky Charms cereal

crushed

4

large

eggs

1/3

cup

half and half cream

10-13

slices

thick bread

6

ounces

cream cheese

softened

2

cups

Kraft Jet-Puffed marshmallow creme
Instructions
Place the crushed cereal in a bowl or on a plate.

In a bowl, whisk together the eggs and half & half.


Heat a griddle to 325 degrees. Spray the griddle with cooking spray.


Dip each slice of bread in the egg mixture, then coat it with the cereal crumbs.


Place the French toast on the griddle and let it cook for 3-5 minutes. Turn and cook on the other side for another 3-5 minutes.


In a small bowl, combine the softened cream cheese and marshmallow creme. Mix until smooth and creamy.


To serve, place the French toast on a plate and top with marshmallow creme and extra Lucky Charms marshmallows, if desired.

Nutrition
Serving:
190
g
|
Calories:
517
kcal
|
Carbohydrates:
79
g
|
Protein:
13
g
|
Fat:
18
g