Italian Easter Bread Rolls
Tastes of Lizzy T participates in affiliate advertising programs. We may earn a commission when you make a purchase through links on our site.
These lightly sweetened Italian Easter Bread Rolls rise beautifully and boast a lovely golden brown color. A perfect way to display Easter eggs!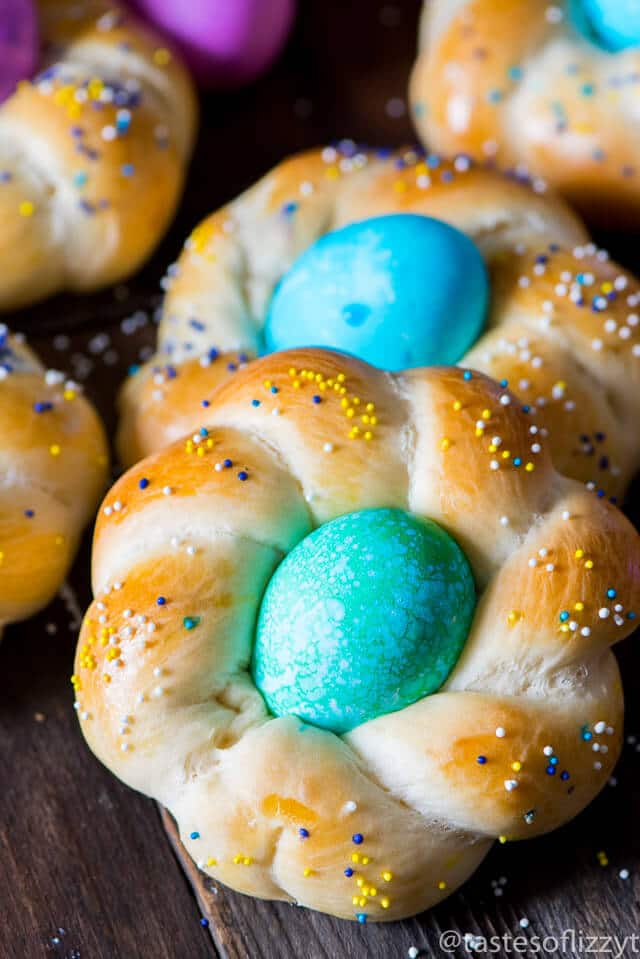 About two years ago during the spring & Easter season, I happened upon  Italian Easter Bread recipe. It was shortly after we had come across this Egg Twist Bread in an old recipe book. We quickly fell in love with that bread recipe and when I saw this Easter bread, I know that bread would be perfect for pairing with a decorated Easter egg. Colorful….pretty…unique….just what everyone wants on their Easter dinner table alongside potatoes and ham.
So Maddie and I set out to make that bread in a beautiful twisted circle with a dyed Easter egg on top.
And the bread tasted delicious. But the bread did not look as beautiful as it tasted. The dye from the egg ended up sweating all over the bread during the baking process. Which resulted in something like this: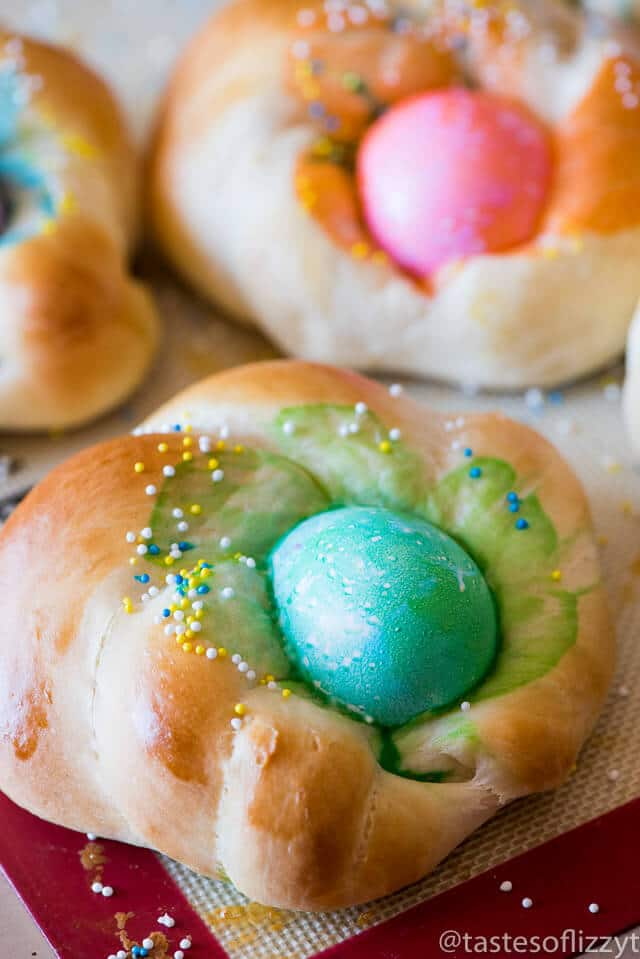 Still delicious, but not very pretty, right? We tried different techniques and different dyes an embarrassing amount of times in order to combat this problem. Which led to another problem of eating entirely too much sweet Italian Easter Bread. Which is embarrassing in a completely different way.
So two years ago we spent all Easter season with pink and purple fingers from coloring Easter eggs (which the kids did not mind at all) and colorful sprinkles dotting our kitchen floor from making and eating Italian Easter Bread.  But we never shared that recipe with you, our faithful readers, because I just wasn't happy with the looks.
Here we stand, two years later, with a simple solution that makes me wonder why in the world we didn't think of it two years ago. Sometimes it takes forever for a lightbulb to go off.
Soft, twisted bread dough baked to a golden brown with a dyed Easter egg placed in the center of the ring after it bakes. No dye all over the dough as it rises, which makes a beautiful homemade roll.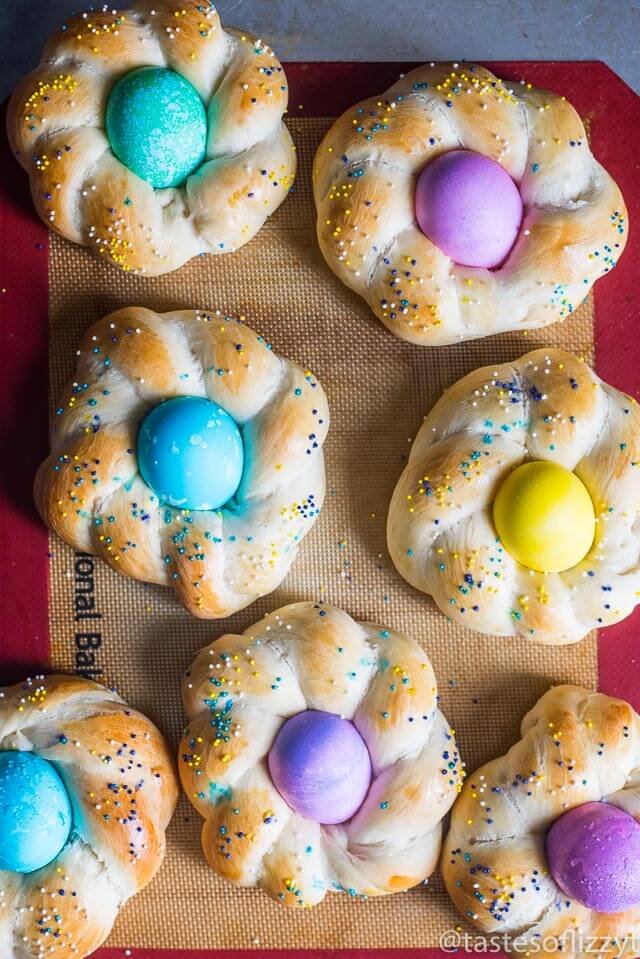 For this recipe I used Bob's Red Mill Organic Unbleached All Purpose White Flour. It's a high protein flour that produces well-textured baked good and allows dough to rise beautifully. Think fluffy and light. It's versatile and can be used in all of your cooking and baking. Bob's Red Mill makes some of my favorite flours (coconut and almond, anyone?), plus chia and flax seeds for all of your healthy baking needs.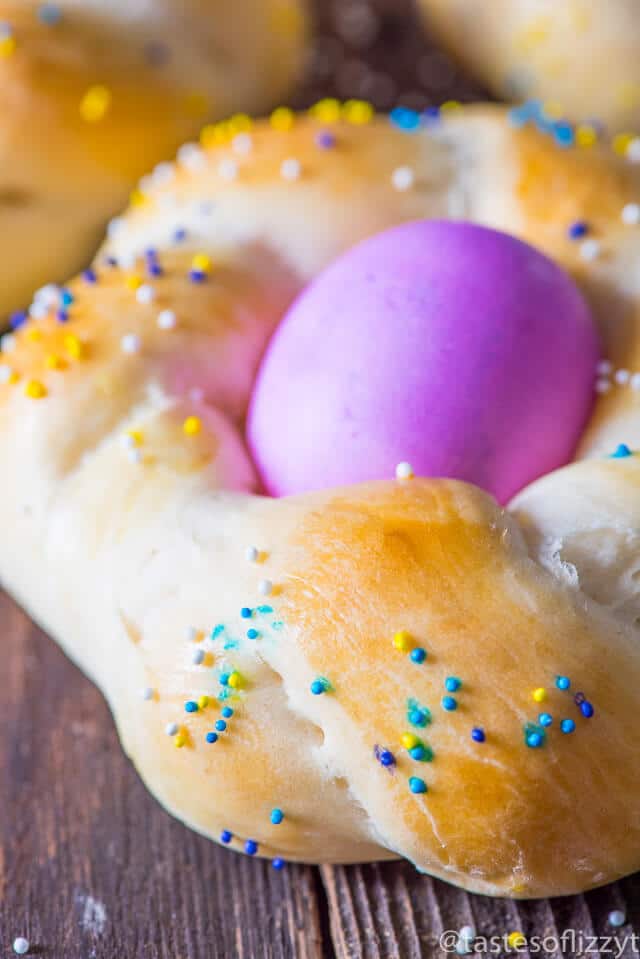 This homemade bread dough is soft and easy to work with. You can use a stand mixer with the dough hook to knead it, but because it is so easy to work with, I often like to make this bread without a mixer. Good old fashioned kneading by hand. I know…I'm so retro.
Mix up and knead your dough, being careful not to add too much flour. You'll want the dough to be a little sticky, but not so sticky that it sticks to your fingers.
Allow the dough to rise until double, then split it into 20 pieces. Roll each piece of dough into a rope.  Twist two ropes together, then form a ring and pinch the ends together to seal.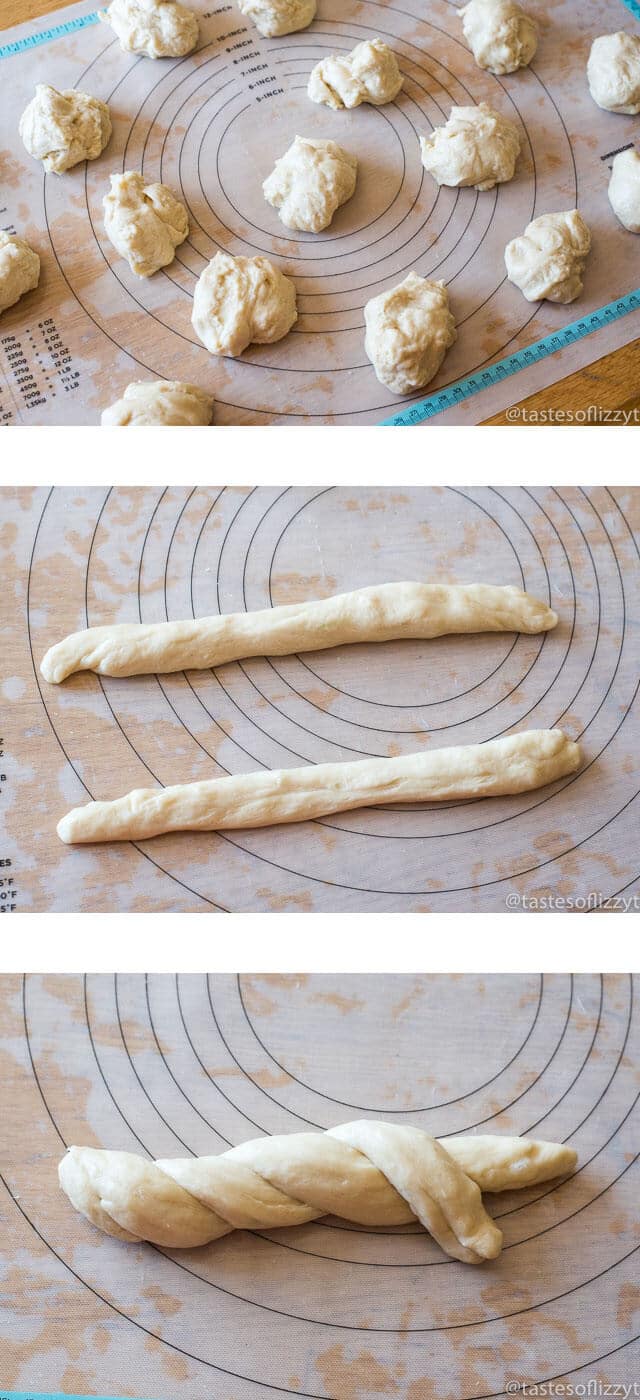 My favorite part of these lightly sweetened rolls is their pretty golden brown color. To get that look you brush the tops with a whisked egg before the second rise. You can also sprinkle some nonpareils on top. They'll stick to the egg wash nicely.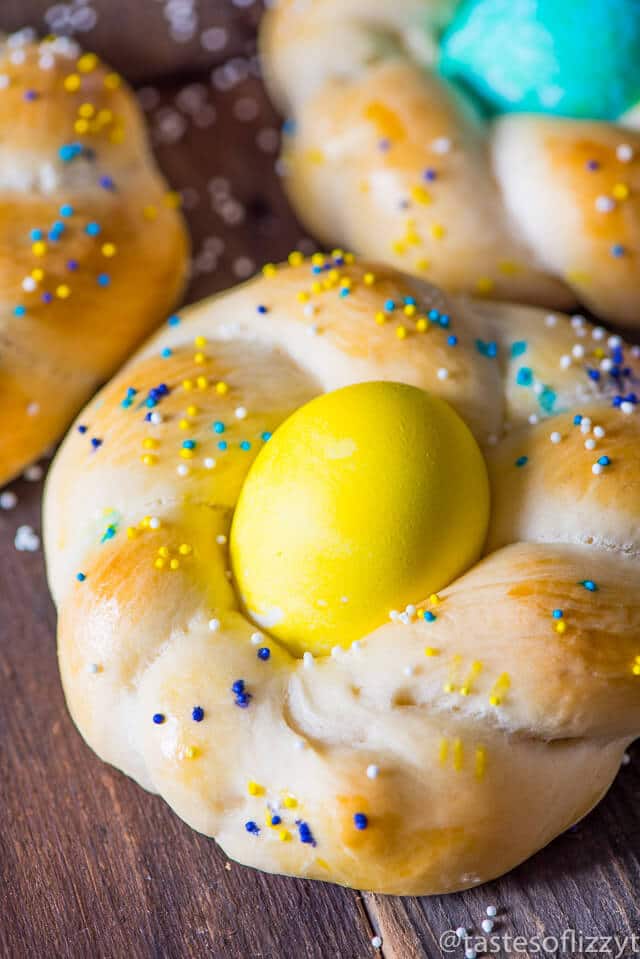 Allow the rolls to rise once more, then bake at 350 degrees for 15 minutes or until they are golden brown.
This is one of the easiest homemade bread recipes I've ever made. They turn out fluffy and golden brown every.single.time.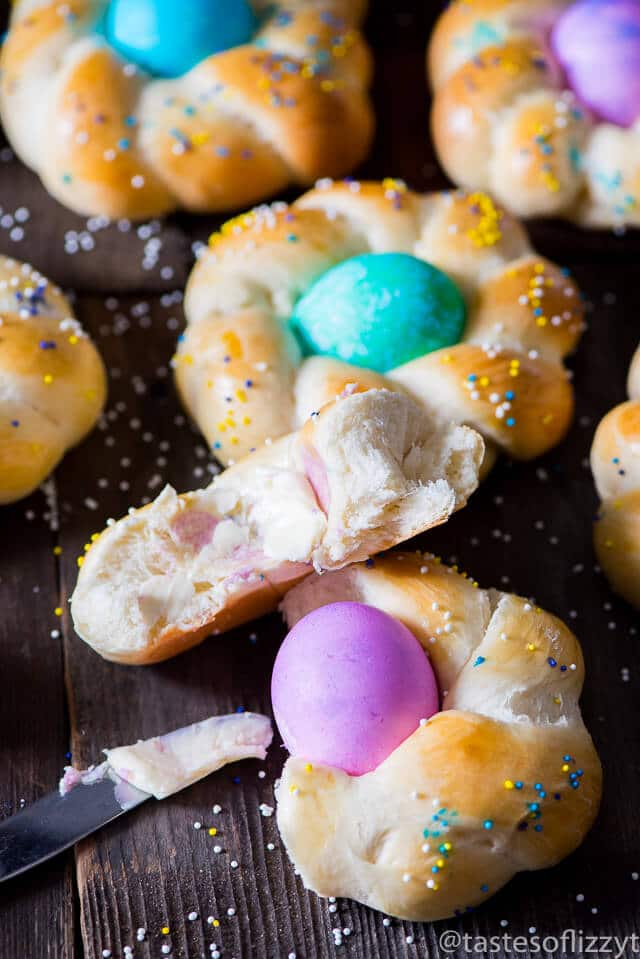 My kids go crazy for these simple Italian Easter Bread Rolls. They can smell this bread baking from a mile away! They love devouring it and I love making their spring day just a little happier.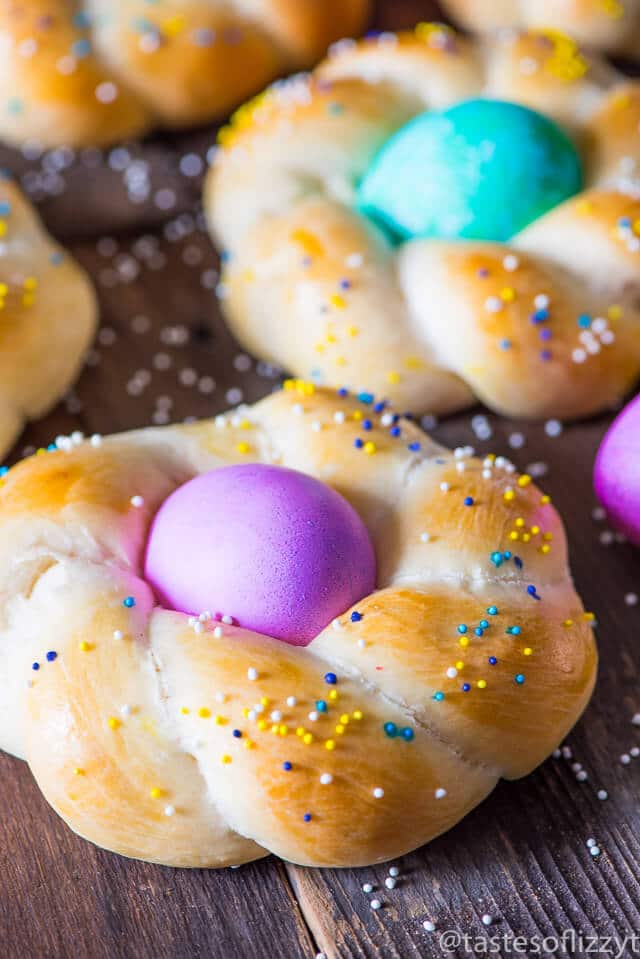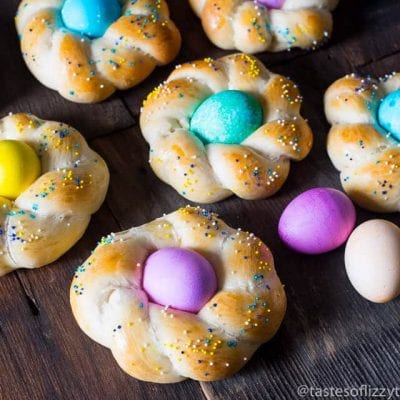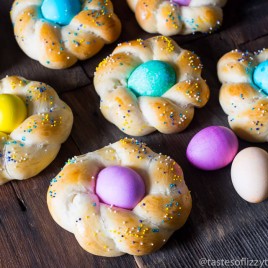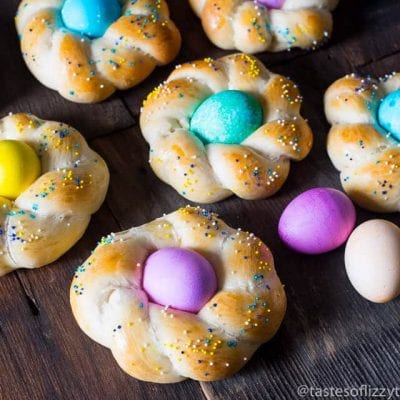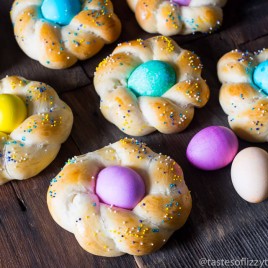 Italian Easter Bread Rolls
These lightly sweetened Italian Easter Bread Rolls rise beautifully and boast a lovely golden brown color. A perfect way to display Easter eggs!
Prep Time
1

hour
20

minutes
Total Time
1

hour
35

minutes
---
Ingredients
1

cup

warm milk

1/2

cup

granulated sugar

1/2

teaspoon

salt

1

package Red Star active dry yeast

3

large

eggs

one kept out to brush on top of bread

1/2

cup

butter

softened

4 1/2

cups

all-purpose flour

plus extra for kneading

Sprinkles

optional

10

hard-boiled eggs
Instructions
Warm the milk in a bowl in the microwave for just about 1 minute. Add in the sugar and salt, then stir the mixture. Allow it to sit until it is warm, but not too hot (if you have a thermometer, it should measure about 105-110 degrees in order to proof active dry yeast).

Add 1 package of yeast right to this milk. Allow the yeast to proof for about 5 minutes. It should get nice and frothy.

Add the softened (almost melted) butter and the eggs. Stir this well.

Gradually add in the flour,1 cup at a time. Add in the last ½ a cup and start to knead the dough with your hands until the last ½ cup of flour is incorporated in. Turn the dough out onto a floured surface and continue to knead the bread for about 7 minutes until it is smooth and elastic. Add a bit more flour as you need to during kneading. The dough should still feel sticky, but it will not stick to your hands. During needing, I added less than ¼ cup of additional flour. If you add too much flour, your bread will be dry.

Place this dough in a greased bowl and cover it. Allow the dough to rise in a warm place until it has doubled, about 30 minutes.

Split the dough into 20 small pieces. Take two pieces and roll them into a long ropes about 10" long.

Pinch the ends of two ropes together and twist them together completely, then make a circle, pinching the ends together to form a ring. Place the rings on a nonstick baking sheet.

Continue with the remaining pieces of dough until you've formed 10 twisted rolls.

Beat the remaining egg and brush the tops of the rolls. This is what gives the bread such a lovely golden color. Sprinkle with sprinkles if desired.

Allow the dough to rise for another ½ an hour, then bake the bread dough for 15 minutes (or until golden browin a 350 degree oven.

Remove the rolls from the oven and immediately place a colored egg in the center of the roll, pressing down slightly.

Serve the rolls warm.
Notes
Be careful with the hard boiled eggs. We do not eat our hard boiled eggs because we're not careful about keeping them cold. If you are going to eat them, be sure to eat them right out of the refrigerator and keep the eggs refrigerated at all times.
Nutrition
Serving:
160
g
|
Calories:
429
kcal
|
Carbohydrates:
55
g
|
Protein:
15
g
|
Fat:
16
g