These Funfetti Truffle Bars have a shortbread bottom, Oreo truffle filling and creamy vanilla frosting. And lots of sprinkles, of course!

I'm super excited about this treat I have to share with you today.  If you love shortbread, Oreos, birthday cake, frosting and sprinkles, you're gonna want to stick around.  This Funfetti Truffle Bars recipe is one of those recipes that has been swimming around in my head for several months now.  I'm sure not everyone has recipe ideas swimming around in their heads, but since we've been sharing recipes with you this past year, I think food.  And I think food often.
A question Matt and I often ask each other is, "What are you thinking about?" He generally thinks about work and science/techy stuff that I don't ever have a hope of understanding. My answer is usually "Food!".  On our last date night he asked what I was thinking and I happened to be thinking about how the restaurant prepared and presented my chicken salad.  His comment was: "That's kind of nerdy…but I like it!"  I'm so thankful for a husband that loves me for my nerdiness!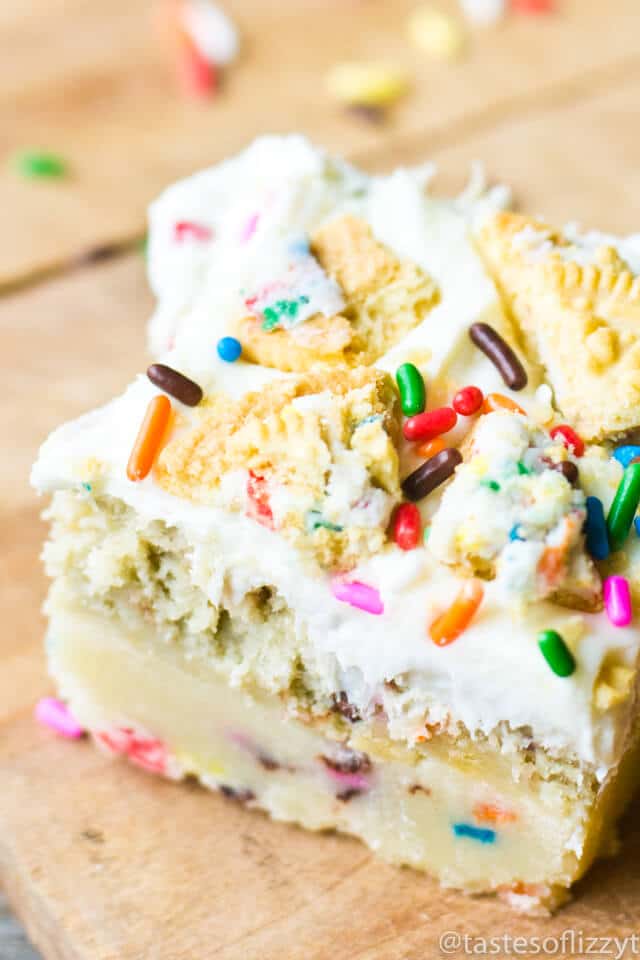 These Funfetti Truffle Bars were inspired by my intense love of shortbread and Oreo truffles.  Both are such an easy dessert, and I knew I had to combine them!
The shortbread is a simple mixture of softened butter, flour and sugar.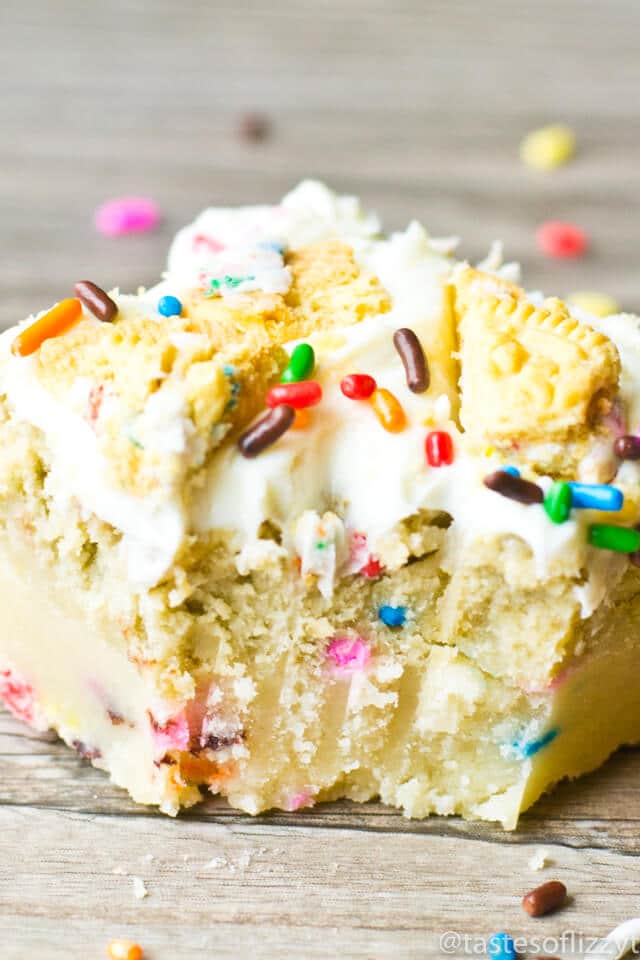 The truffle layer is just a package of birthday cake Oreos and cream cheese all mixed together.
And the frosting layer?  Simple…it's Pillsbury vanilla frosting!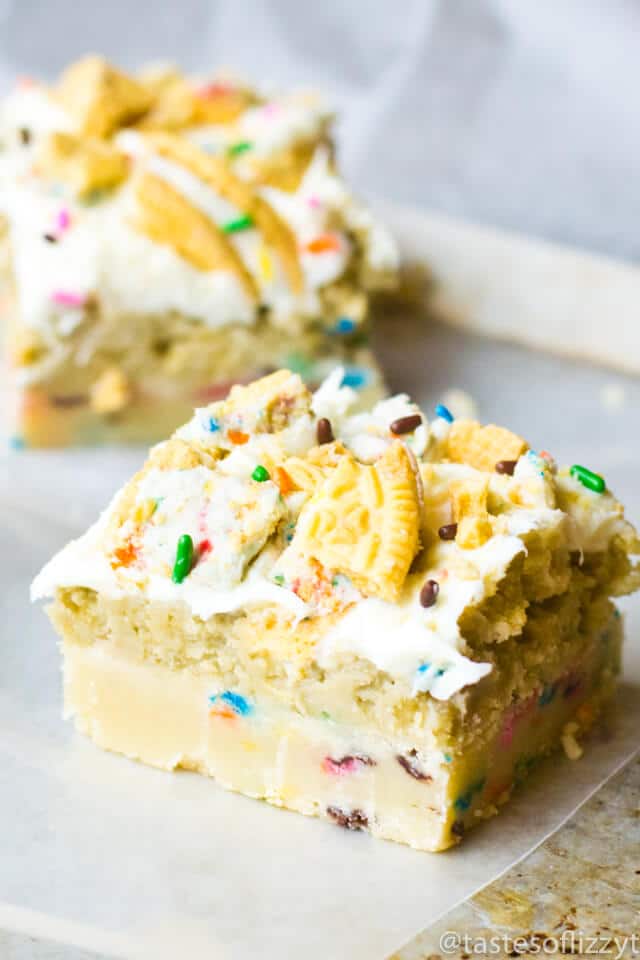 And of course, I had to top the bars with some more chopped up Oreos.
When you make these, you'll want to prepare the truffle mixture while the shortbread is baking.  When the shortbread comes out of the oven, you will let it cool for just two minutes, then you'll press the truffle layer on top.  Allow it to cool for about 15 more minutes before spreading the on the vanilla frosting and sprinkling the top with chopped Oreos and sprinkles.
An important step for these colorful Funfetti Truffle Bars is to allow them to cool in the fridge after they are frosted. When I started cutting into them right after they were done (because I really was too impatient to wait to try them!) the truffle layer wasn't completely sticking to the shortbread layer.  I almost counted them a failure.  But after they set in the fridge for about 2 hours, the layers stuck together nicely in a bar form. A sweet, colorful, amazing little birthday cake flavored treat.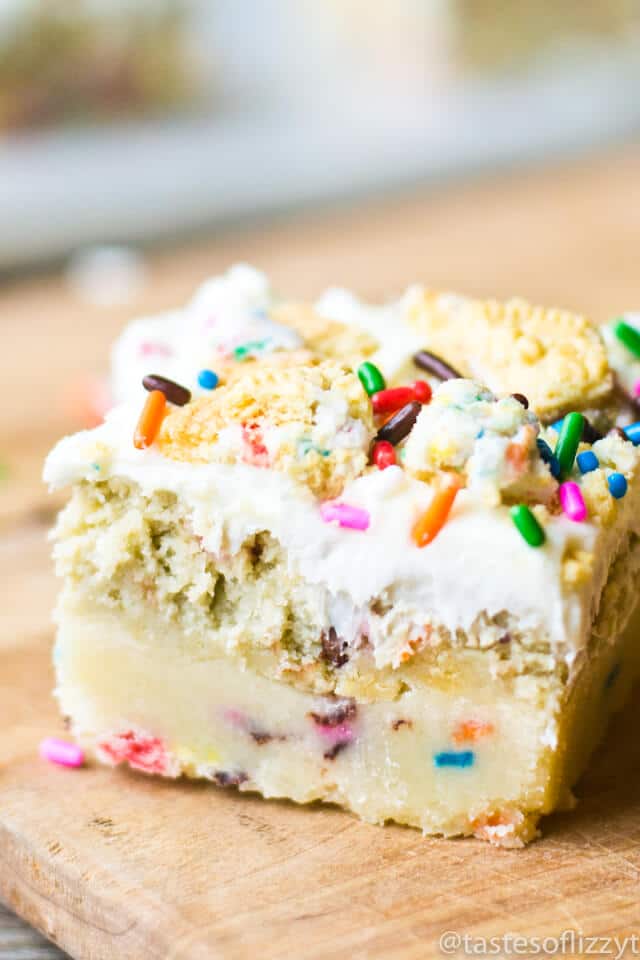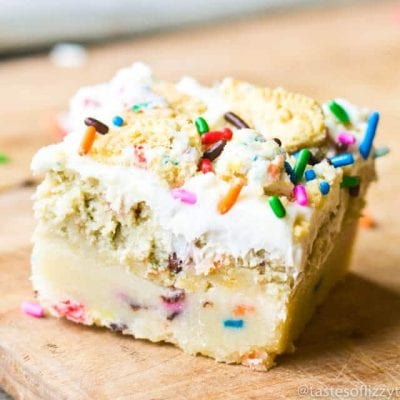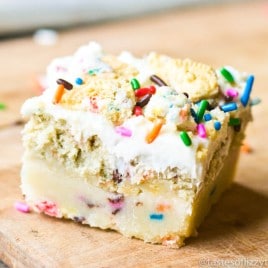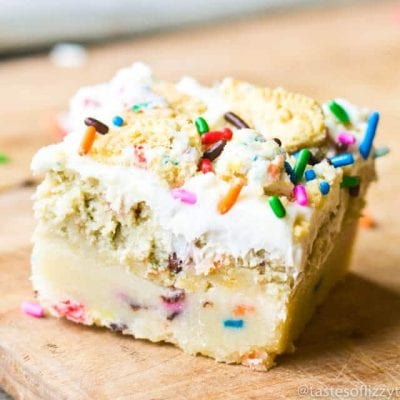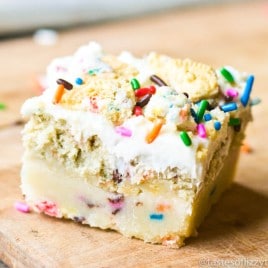 Funfetti Truffle Bars
These Birthday Cake Truffle Bars have a shortbread bottom, Oreo truffle filling and creamy vanilla frosting. And lots of sprinkles, of course!
---
Ingredients
2

cups

all-purpose flour

1/2

cup

granulated sugar

1

cup

butter

very soft

1/2

cup

sprinkles

divided

1

package

oreo cookies

15.25 ounces, birthday cake flavor

8

ounces

cream cheese

softened

1

tub

Pillsbury vanilla frosting

(about 2 cups)
Instructions
Preheat the oven to 350 degrees.

In a medium size bowl, mix together the flour, sugar, softened butter and ¼ cup colored sprinkles. Press this mixture into the bottom of an 8" square baking pan that has been sprayed with cooking spray. Bake at 350 degrees for 20 minutes.

Using a stand mixer, mix together the Oreos (set 6 cookies aside to use for topping) and cream cheese. Beat for 2-3 minutes until all of the cookies have been completely blended in to the cream cheese to make a smooth truffle texture. Add in 2 tablespoons of sprinkles and mix well.

When the shortbread comes out of the oven, allow it to sit for 2 minutes, then press the truffle filling onto the top of the shortbread evenly. Let this cool for 15 minutes.

Spread the vanilla frosting on top of the truffle layer. You can use as much of the frosting as you'd like. We used about ¾ of a tub of frosting.

Chop the reserved Oreos and sprinkle them on top of the frosting. Also sprinkle the rest of the colored sprinkles over top of the frosting. Refrigerate the bars for two hours to allow them to set.

Cut the bars and store them in an airtight container.
Nutrition
Serving:
135
g
|
Calories:
610
kcal
|
Carbohydrates:
70
g
|
Protein:
6
g
|
Fat:
36
g