Tastes of Lizzy T participates in affiliate advertising programs. We may earn a commission when you make a purchase through links on our site.
This easy-to-make Blackened Chicken is a perfect blend of spices for a spicy-smoky flavor. This 30 minute chicken recipe is ideal for quick family dinners.
Craving a dinner that brings the flavor without the fuss? Our best Blackened Chicken recipe is your ticket to a family-friendly feast that's not only delicious but also easy to whip up. It takes just 30 minutes, and less time than that if you prep ahead.
Whether you're looking to elevate your weekend BBQ or surprise your family with a flavorful weekday dinner, this spicy-smoky Blackened Chicken is your go-to. Pair it with your choice of sides, from fresh salads to fluffy rice or comforting mashed potatoes.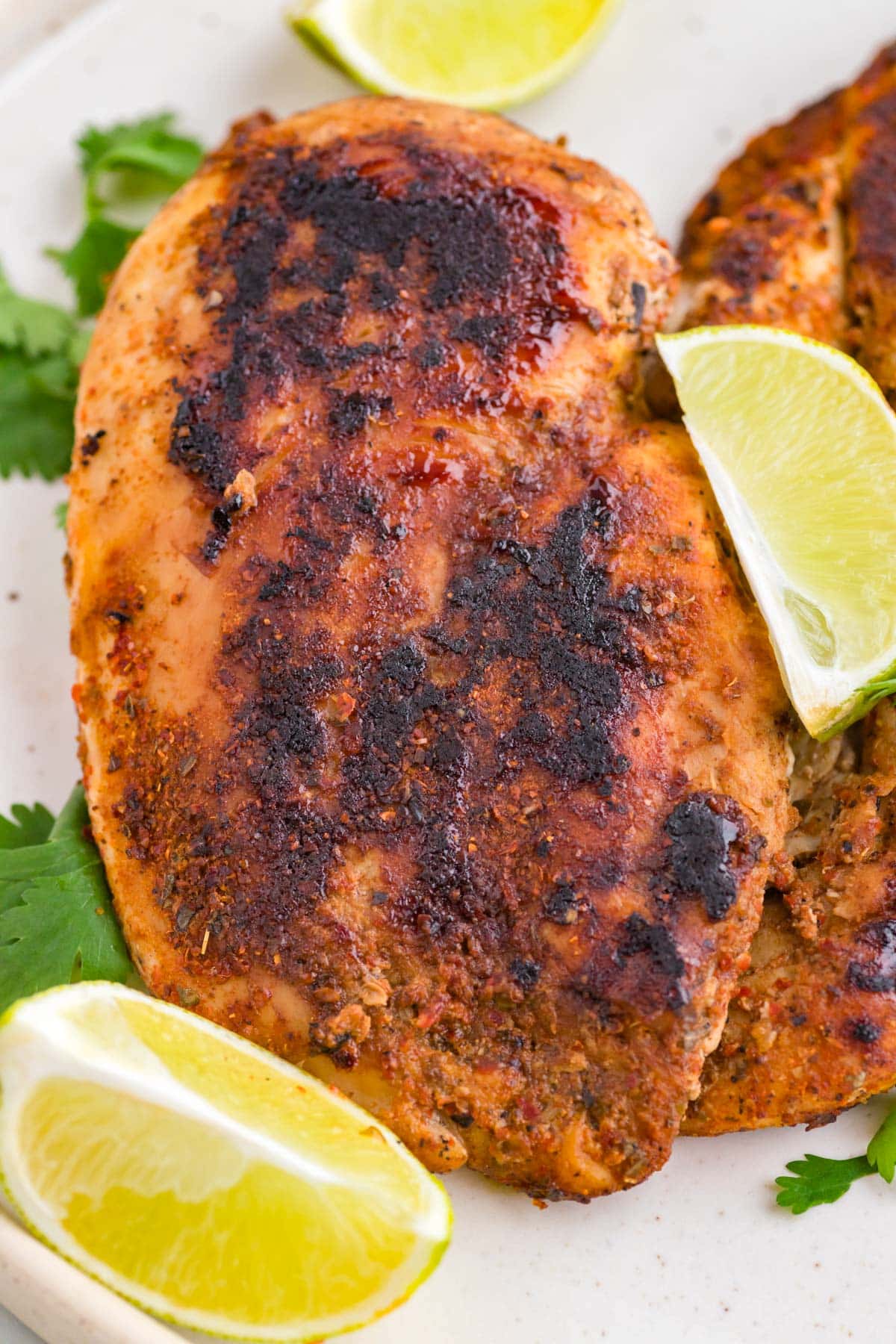 About this Blackened Chicken Recipe:
Flavor: Smoky, spicy and with a hint of sweet thanks to the sweet paprika.
Texture: The key to tender, juicy chicken is not to over cook it. Use a meat thermometer to test the internal temperature and remove it from the grill when it hits 165ºF.
Method: This can cook on the grill or on the stovetop. Either one will give you excellent flavor.
What does blackened chicken mean?
Blackened chicken doesn't mean "burnt" chicken. Rather, it's chicken that is cooked in oil (or butter) at a high temperature so that the spices rubbed on the outside get very dark brown, almost like a blackened crust.
It's a popular method of cooking in the South, though to have originated in New Orleans (source). It's popular with Creole and Cajun flavors. We use this method on our Caribbean Jerk Chicken. It's fabulous because the outside gets a little crispy while the inside stays juicy.
Is blackened chicken healthy?
Yes. Blackened chicken is a great alternative to fried chicken. You'll use a small amount of oil to cook the chicken.
This recipe is low carb and fits a gluten free, Paleo & Whole30 eating plans.
What is blackened chicken made of?
To make blackened chicken, you'll need boneless skinless chicken breasts and a blackened seasoning.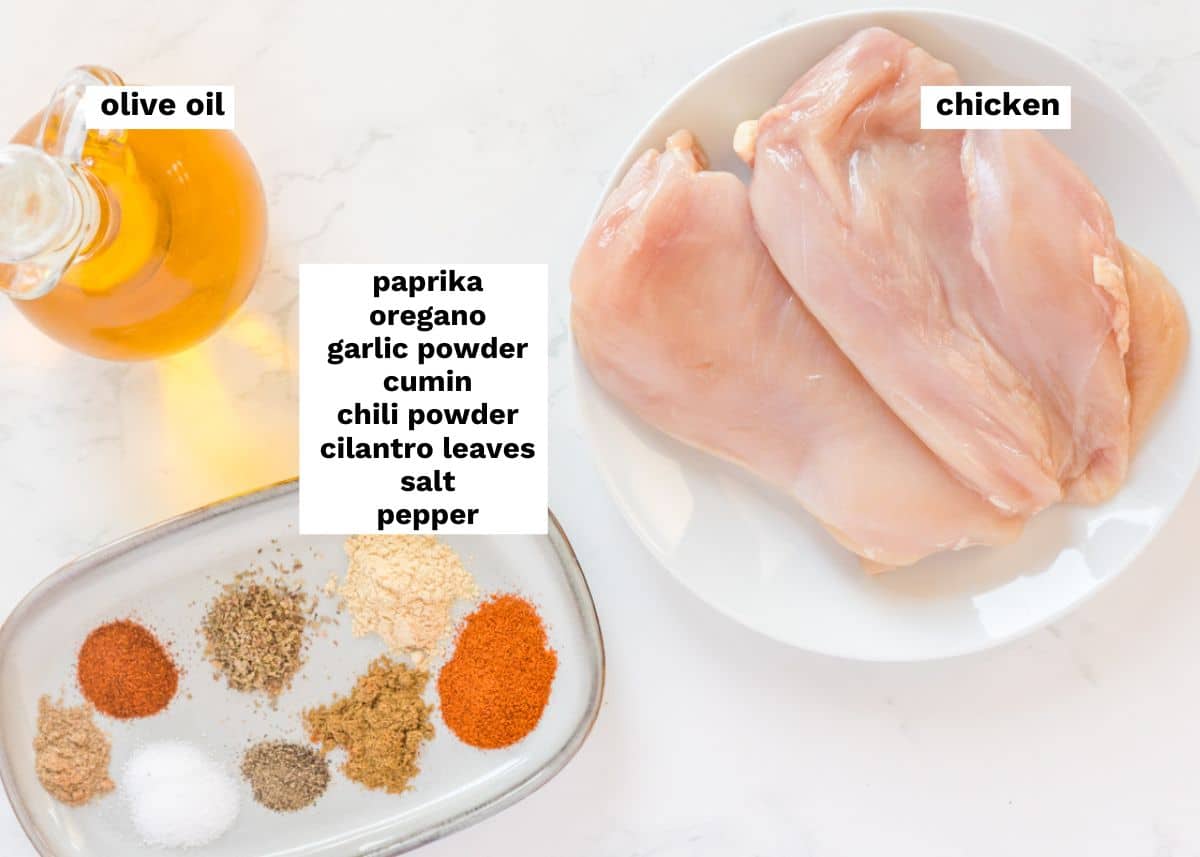 Notes:
I use olive oil, but avocado oil or vegetable oil will work as well.
This also works with chicken thighs, which can often be a more economical option.
How to Make Blackened Chicken
There are 3 simple steps to making blackened chicken
Mix the seasonings. Simply whisk all the seasonings together in a small bowl.
Season the chicken. If the chicken breasts are large and thick, you may want to pound them with a meat mallet so that they are the same thickness throughout. (Or slice the chicken in half thickness wise.) This will promote even cooking. Rub the chicken with oil, then dust with the spices.
Cook the chicken. Whether you you cook these in a cast iron skillet or on the grill, you'll need to cook at a high heat to get that beautiful "blackened" look. Cook for about 6 minutes on each side. The timing will depend on how thick the chicken breasts are, so use an internal probe thermometer to check the temperature of the chicken.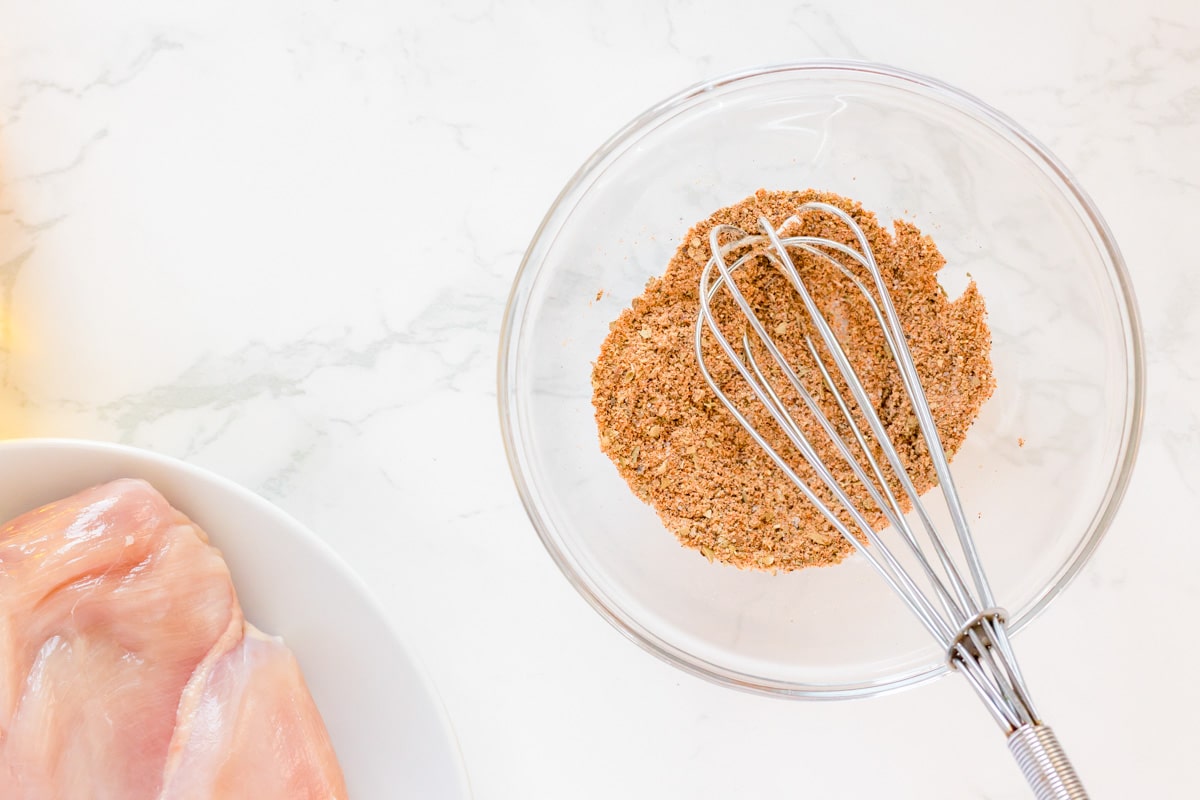 The Best instant read Thermometer
We LOVE our Thermoworks ThermaPen to quickly test meat temperatures. This probe thermometer is AMAZING.  Get it here.
Make it a meal.
Blackened Chicken can be paired with various side dishes. These are a few of our favorites:
Caesar Salad: A light and crisp salad with a zesty dressing provides a great balance to the smoky chicken.
Grilled Vegetables: Vegetables like asparagus, bell peppers, or zucchini can be lightly seasoned and grilled to serve as a healthy side to your blackened chicken.
Creamy Mashed Potatoes: Mashed potatoes and chicken always go together, and the creamy potatoes soften the spicy chicken.
Rice: Try cilantro lime rice for a delicious complement the chicken's flavors.
Make it fancy:
Serving this chicken for a sit-down dinner with company? Try one f these pretty presentations.
Serve the chicken atop a bed of lettuce greens or alongside grilled lemon or lime halves for a pop of color.
Use garnishes like freshly chopped parsley, lime zest, or even a drizzle of sauce to enhance the dish's visual appeal.
Recipe Variations
Adjusting the Spice Level for Kids:
While adults might enjoy the spicy kick, kids might find it too spicy. To make it more kid-friendly:
Reduce or omit the chili powder.
Increase the sweet paprika for color without the heat.
Alternative Ingredients or Spices:
If you find yourself without a particular spice, or just want to mix things up:
Swap out cumin for coriander for more citrusy undertones.
Try smoked paprika instead of sweet for a deeper smoky flavor.
For an earthy touch, a pinch of turmeric or thyme can be added.
And a ½ teaspoon cayenne pepper will give the recipe even more kick.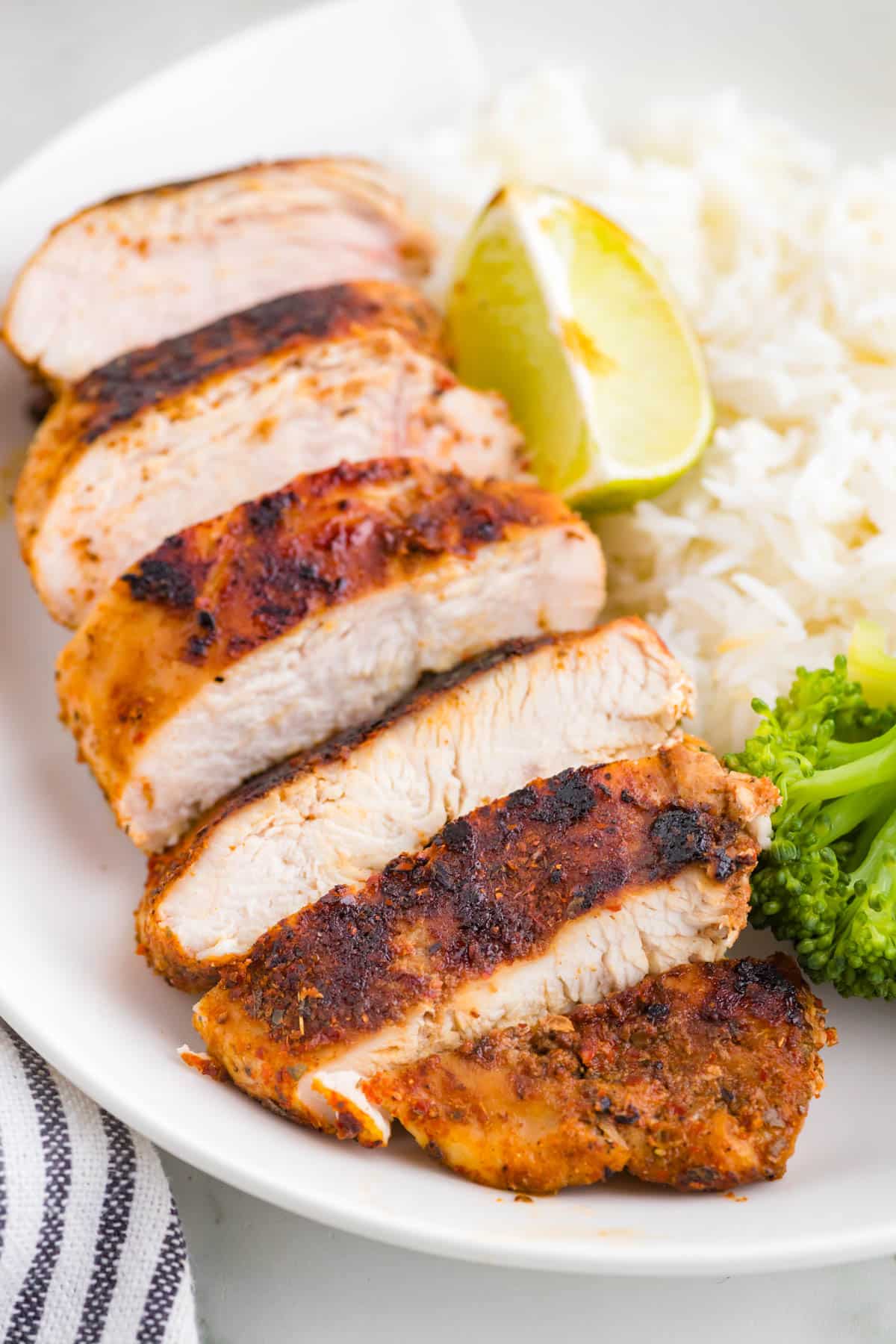 Storage Instructions
Store leftovers in an airtight container in the refrigerator for up to 3 days.
When reheating, do so on a skillet on low heat or bake in an oven preheated to 350°F (175°C) until warmed through. Avoid microwaving, as it can dry out the chicken.
Cut leftover chicken in slices and store in the freezer. Use it later to top a salad or a pasta alfredo dish.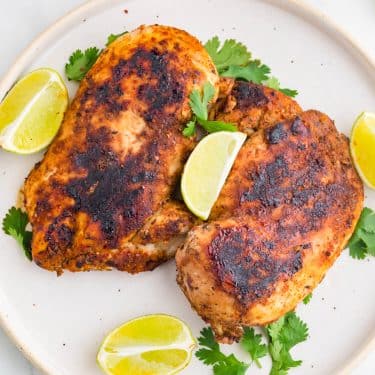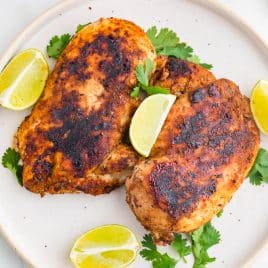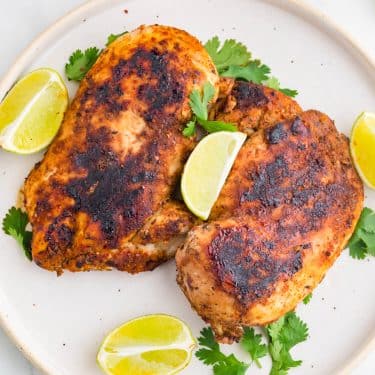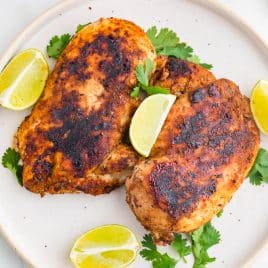 Blackened Chicken Recipe
This easy-to-make Blackened Chicken is a perfect blend of spices for a spicy-smoky flavor. This 30 minute chicken recipe is ideal for quick family dinners.
---
Ingredients
1

teaspoon

sweet paprika

1

teaspoon

dried oregano

1

teaspoon

garlic powder

1

teaspoon

cumin

1

teaspoon

chili powder

1/2

teaspoon

dried cilantro leaves

1/2

teaspoon

salt

1/4

teaspoon

black pepper

2

boneless chicken breasts

1

tablespoon

olive oil
Instructions
In a small bowl, mix together sweet paprika, dried oregano, garlic powder, cumin, ground cilantro, chili powder, salt and pepper. This will be your blackening spice mix.

1 teaspoon sweet paprika

,

1 teaspoon dried oregano

,

1 teaspoon garlic powder

,

1 teaspoon cumin

,

1 teaspoon chili powder

,

½ teaspoon dried cilantro leaves

,

½ teaspoon salt

,

¼ teaspoon black pepper

Rinse the boneless chicken breasts and pat them dry using a paper towel. Once dry, brush each side of the chicken breasts with olive oil to ensure the blackening spice mix adheres properly.

2 boneless chicken breasts

,

1 tablespoon olive oil

Coat the chicken breasts evenly on both sides with the blackening spice mixture, ensuring they are well covered.

Preheat the grill to medium-high heat. While the grill is heating up, let the chicken absorb the spices for about 15 minutes, enhancing their flavors. You can also heat a cast-iron skillet or pan and cook this over medium high heat on the stovetop.

Once the grill is at the desired temperature, place the chicken breasts on the grill, and cook for approximately 6 minutes on each side, or until the internal temperature reaches 165°F (74°C).

Remove the chicken from the grill and let it rest for a few minutes before serving. This will ensure all the flavors and juices are retained within the chicken.

Serve your grilled blackened chicken with a side of steamed vegetables, coleslaw, corn on the cob, or a fresh salad.
Notes
Make it faster: To make this recipe even more quickly, mix up the seasonings ahead of time and prepare the chicken (pound thinner or trim if needed). Then you can simply season the chicken and get it cooking.
Refer to the article above for more tips and tricks.
The calories shown are based on the recipe serving 2, with 1 serving being 1 piece of seasoned chicken. Since different brands of ingredients have different nutritional information, the calories shown are just an estimate. **We are not dietitians and recommend you seek a nutritionist for exact nutritional information. The information in the nutrition box are calculated through a program and there is room for error. If you need an accurate count, I recommend running the ingredients through your favorite nutrition calculator.**
Nutrition
Calories:
271
kcal
|
Carbohydrates:
3
g
|
Protein:
24
g
|
Fat:
18
g
|
Saturated Fat:
4
g
|
Polyunsaturated Fat:
3
g
|
Monounsaturated Fat:
10
g
|
Trans Fat:
0.1
g
|
Cholesterol:
72
mg
|
Sodium:
672
mg
|
Potassium:
330
mg
|
Fiber:
1
g
|
Sugar:
0.2
g
|
Vitamin A:
897
IU
|
Vitamin C:
0.1
mg
|
Calcium:
30
mg
|
Iron:
2
mg
Other Chicken Dinner Recipes
Try one of these chicken dinner ideas.