Chocolate Peanut Butter Marshmallow Bars
Tastes of Lizzy T participates in affiliate advertising programs. We may earn a commission when you make a purchase through links on our site.
Cute, festive, Chocolate Peanut Butter Marshmallow Bars are a fun treat for kids to make and eat. They'll love the classic, sweet and salty flavor combination!

Chocolate Peanut Butter Marshmallow Bars
It's Christmas time! Yay! Time to bring out the Christmas recipes that we may or may not have been eating for the past month…Yikes!
Jealous? Just make some! All you need are a few ingredients, including Christmas PEEPS® Brand marshmallow snowmen and trees, chocolate, peanut butter filling, and crackers! There's nothing you can't love about these! Think fluffernutter, but with chocolate, so it's a buckeye, but with crackers, so it's… a Chocolate Peanut butter Marshmallow Bars!
These are really just a Christmas excuse to eat more buckeyes, if you know what I mean. 😉
The center of these little pops is a delicious peanut butter mixture. If you've never made buckeye dough before, I'll give you a fair warning: This dough is SUPER addicting. You take one bite, the whole bowl is done for! Stay strong, my friends, the best is yet to come.
Here's a picture tutorial of what to do with this delicious mixture. These crackers will most likely break because they are very fragile. Here's a story about these buttery crackers.
When I was little, Mom used to buy these crackers for snacks for us. We called them butter crackers. They were probably the most delicious thing I thought possible when I was 5. I put peanut butter on them, dunked them in milk, or just ate them plain. While I made these treats, I couldn't help but munch on some of the broken pieces. It took me back a couple years, to when I was coming home from school in 2nd grade and having these for a snack after a long, "stressful" day!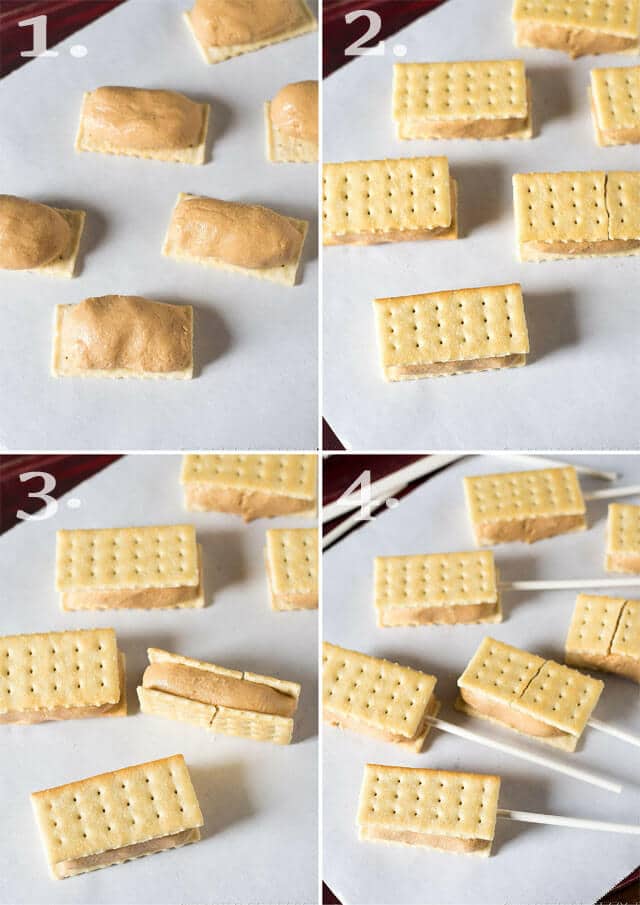 Once you're ready to dunk these crackers in chocolate, put some melted chocolate into a glass or tall bowl, something to make it easy to dip the sticks in. If you don't want to do the 'pop' idea, forgo the stick and use a fork to dunk them. They turnout the same and doesn't take long to get the hang of!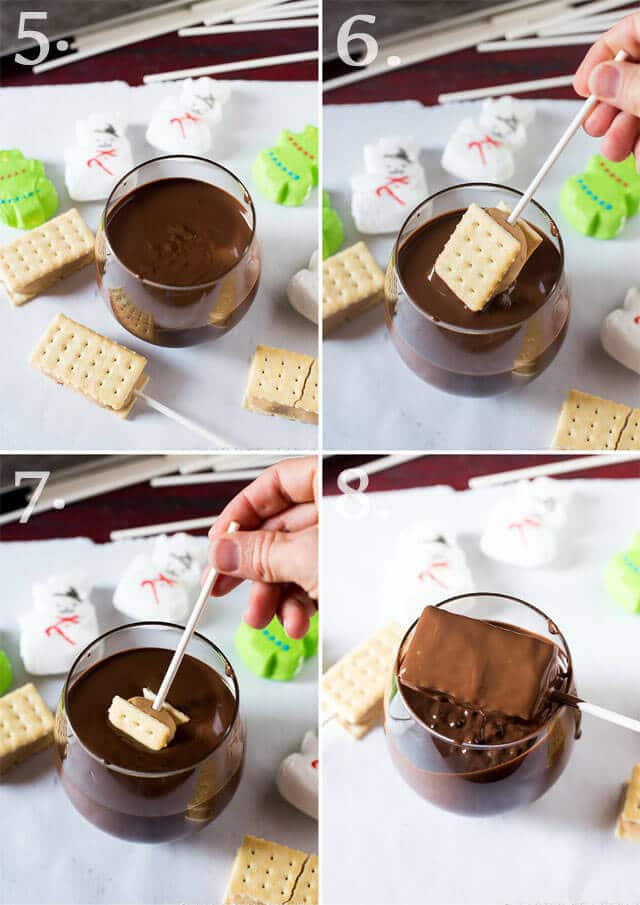 Immediately after you take the pops out of the chocolate, lay the pops peanut butter marshmallow bars on waxed paper and put these cute little PEEPS® on top!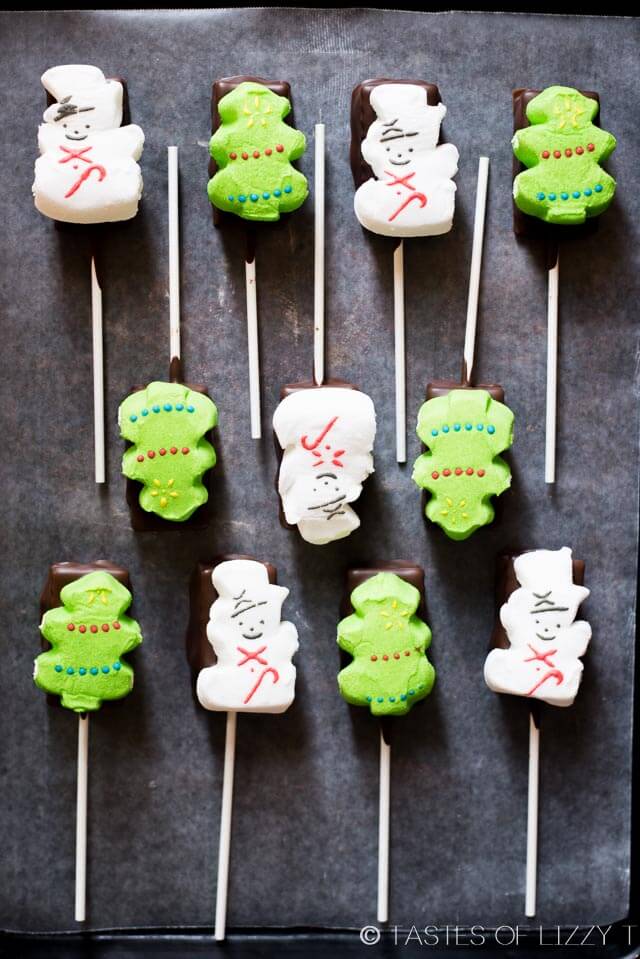 Like I said… Fluffernutter+ buckeye+ salty cracker= THIS: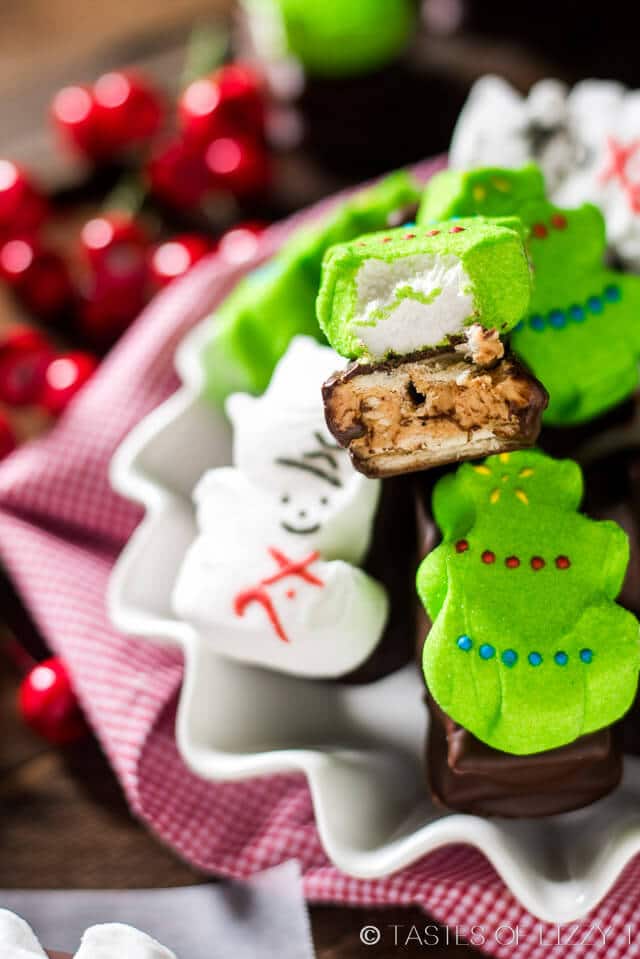 Yes, you know you're gonna make these bad boys soon! I can tell all you chocolate peanut butter fans just can't resist. 😉 So have fun with these darling Chocolate Peanut utter Marshmallow Pops this Christmas and make enough for the whole family to enjoy!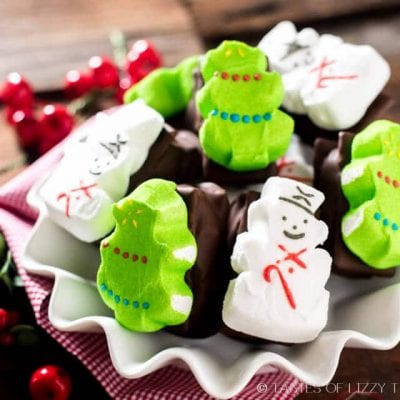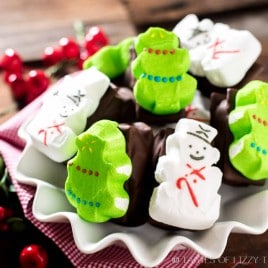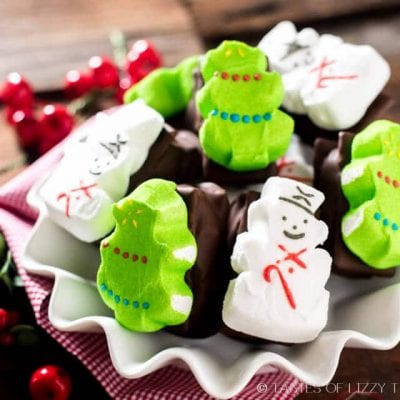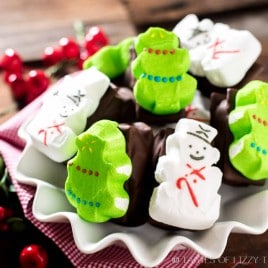 Chocolate Peanut Butter Marshmallow Bars
Cute, festive, Chocolate Peanut Butter Marshmallow Bars are a fun treat for kids to make and eat. They'll love the classic, sweet and salty flavor.
---
Ingredients
3/4

cup

creamy peanut butter

1/4

cup

butter

softened

1/2

teaspoon

vanilla extract

1 1/2

cups

confectioner's sugar

32

butter crackers

rectangle club crackers

7

ounces

dark chocolate

7

ounces

milk chocolate

Paraffin wax

or shortening for thinning chocolate, optional

16

PEEPS® Brand marshmallow trees or marshmallow snowmen

16

lollipop sticks

optional
Instructions
Using a mixer, beat together the peanut butter and butter until smooth, about 1 minute.

Add the vanilla and sugar. Beat together for 1 minute until the sugar is completely mixed in.

On a cookie sheet, lay down 16 crackers.

Scoop a slightly heaping tablespoon of peanut butter mixture and form it into a small rectangle, the size of the cracker. Put the peanut butter mixture on top of the cracker and repeat with each cracker until the peanut butter is gone.

Place the remaining crackers on top of the peanut butter and press gently to make sandwiches.

If desired, push a lollipop stick about 1 ½ inches into the peanut butter middle in order to make a lollipop. This makes it easy to dip in chocolate and kids love it. You can also just leave the sandwiches as is.

Place the cookie sheet in the freezer while you melt the chocolate.

Place 1 inch of water in the bottom pan of a double boiler. Place it on the stove over low heat.

Place the chocolate into the top of the double boiler and allow the chocolate to melt, stirring gently. If the chocolate is too thick, you can add a 1" cube of paraffin wax or 1-2 tablespoons of shortening. This will thin the chocolate and make it easier to dip the sandwiches.

Once the chocolate is melted, remove the cracker sandwiches from the freezer.

If you're making lollipops, pour the melted chocolate into a glass that is about 5" tall. Holding on to the lollipop stick, dip the cracker sandwich completely into the chocolate and turn to coat. Remove the sandwich from the chocolate and allow the excess chocolate to drip into the cup. Place the lollipop on a cookie sheet that has been lined with wax paper. Immediately press a PEEPS® Holiday Christmas tree or snowman on top of the wet chocolate. Repeat with remaining sandwiches.

If you're not making lollipops, keep the melted chocolate in the double boiler. Place a sandwich onto the tins of a fork and lower it into the chocolate, turning to coat. Using the fork, pull the sandwich out of the chocolate once it is completely covered. Tap the fork on the side of the pan to allow excess chocolate to drip off. Place the chocolate covered sandwich on a cookie sheet lined with wax paper and immediately press a PEEPS® Holiday Christmas tree or snowman into it. Repeat with remaining sandwiches.

Allow the chocolate to set completely. To speed this process up, you can place the cookie sheet into the refrigerator.

Store the chocolate peanut butter marshmallow sandwiches in an airtight container in a cool place.
Notes
The calories shown are based on the recipe making 16 chocolate dipped sandwiches, with 1 serving being 1 sandwich. Since different brands of ingredients have different nutritional information, the calories shown are just an estimate.
Nutrition
Calories:
329
kcal
|
Carbohydrates:
36
g
|
Protein:
5
g
|
Fat:
19
g
|
Saturated Fat:
8
g
|
Cholesterol:
7
mg
|
Sodium:
144
mg
|
Potassium:
210
mg
|
Fiber:
2
g
|
Sugar:
26
g
|
Vitamin A:
95
IU
|
Calcium:
27
mg
|
Iron:
2.3
mg