Tart cranberries, juicy tangerines, and tickly bubbles make this Cranberry Orange Punch drink recipe the BEST holiday drink!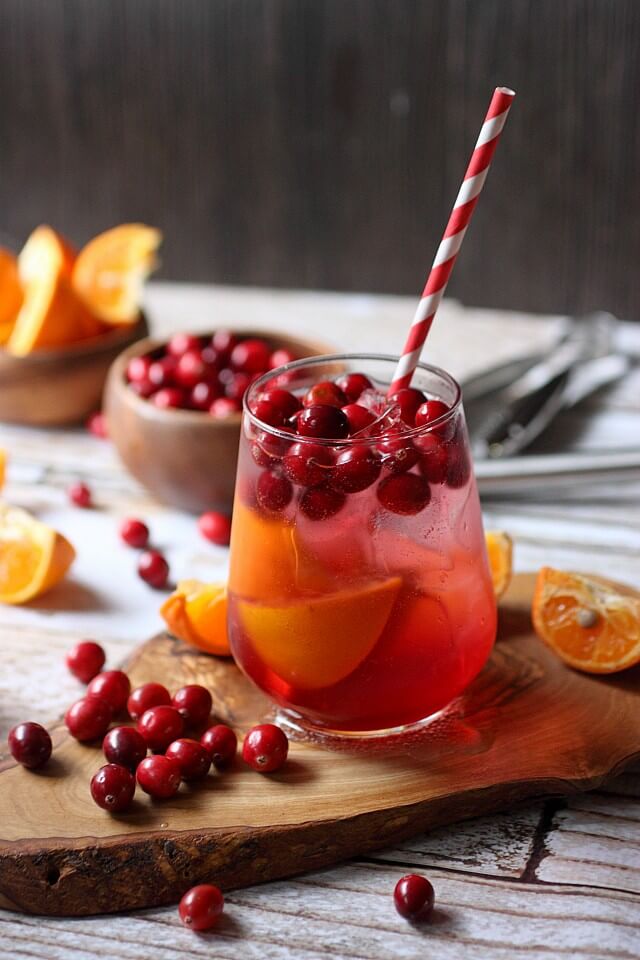 Cranberry Orange Punch Drink Recipe
Oh, you better watch out, you better not cry, you better not pout I'm telling you why…
It's almost Christmas!!!!
OK, it's really two weeks away, but can you feel it in the air?
It's in the air.
The Christmas spirit!
YAAAAAY!!
I'm decorating my tree this weekend and I am so excited! Traditionally, I play all the Christmas carols, Spanish and English as we decorate our tree. At some point Feliz Navidad plays and we stop what we're doing. We stop, stare at each other, and then break into a synchronized silly dance to Jose Feliciano's iconic tune. Every year. Every time it plays. Real talk – Sometimes we play it again and again just for the dance.
I love it. The movie, our silly traditions, all of it. It makes me so happy to see the smiles on my kids' and husband's faces. A smile that has nothing to do with what awaits them under the tree. A smile that proves the Christmas Spirit is alive and kicking in the M.O.B. household. And I say let's toast the heck out of the Christmas Spirit. Let's toast it with this Cranberry Orange Punch.
This fizzy Cranberry Orange Punch is bubbly and so, so tasty. It starts with a cranberry simple syrup which comes together in a snap. Once the simple syrup cools, you cut up a juicy tangerine. Make sure to remove the seeds. Tangerines are seedy little suckers. Tangerine slices and simple syrup are muddled in a glass until the tangerines release their juice and fragrant citrus oils.
*sniff*
Mmmm…
Afterwards we sit, staring at our newly decorated tree and pop in the movie Gremlins. Which is, by the way, our favorite Christmas flick. Gremlins is the gateway movie to our yearly Christmas movie weekend binge.
You add ice and some seltzer, give it a stir. I found this delicious Cranberry Lime seltzer in my supermarket. Seek it out, it's totally worth it. If you can't find it, it's all good – Plain seltzer will do.
I love this fizzy Cranberry Orange Punch. It's beautiful, bubbly, delicious. Tart and sweet and fragrant. It tastes like the Holidays, like Christmas trees, and newly fallen snow. It tastes like family and warmth, like tradition and love.
It tastes like Christmas Spirit.
Let's toast it.
Cheers!
Cranberry Orange Punch
Tart cranberries, juicy tangerines, and tickly bubbles make this Cranberry Orange Punch recipe the BEST holiday drink!
Ingredients
For the cranberry simple syrup:
1 1/2

cups

fresh cranberries

1

cup

water

1 1/2

cups

sugar

Splash of vanilla extract
For the Cranberry Tangerine Fizzy:
1

tangerine

quartered

2-3

tablespoons

cranberry simple syrup

or to taste

Ice

Seltzer

I found this terrific Cranberry Lime Seltzer, but plain is fine

Cranberries for garnish
Instructions
Cranberry simple syrup:
In a small saucepan, combine cranberries, water, sugar, and vanilla extract. Give it a quick stir and bring to a boil over medium/high heat (watch it or it will boil over). Reduce the heat to medium and cook until the cranberries burst (you'll hear them. It's so cool), soften, and wrinkle a bit. Remove from heat and allow it to come to room temperature (cranberries and all). Strain the cranberries, pressing down on the solids to extract as much liquid as possible. Discard the cranberries or save for cheesecake topping. Pour into a glass container with a tight-fitting lid.

Makes about 2 cups of simple syrup.
For the Cranberry Tangerine Fizzy:
To an 8 ounce glass, add the quartered tangerines and cranberry simple syrup. Muddle with a muddler or back of a wooden spoon until the tangerine slices are very fragrant and release their liquid. Add ice over the tangerine/simple syrup mixture and top with seltzer. Give it a quick stir and garnish with cranberries, if desired.
Notes
The calories shown are based on the the recipe making 2 cups of syrup, with 1 serving being 2 tablespoons of syrup in each drink. Since different brands of ingredients have different nutritional information, the calories shown are just an estimate.
Nutrition
Calories:
79
kcal
|
Carbohydrates:
20
g
|
Sodium:
1
mg
|
Potassium:
17
mg
|
Sugar:
19
g
|
Vitamin A:
45
IU
|
Vitamin C:
2.7
mg
|
Calcium:
3
mg