Tastes of Lizzy T participates in affiliate advertising programs. We may earn a commission when you make a purchase through links on our site.
Use fresh peaches in this easy homemade peach lemonade. Sweet and slightly tangy, this is perfect as a summer drink for picnics.
My kids are crazy for juice. We had it quite often when they were younger, but we got away from keeping it on hand because they'd go through it sooooo quickly, choosing to drink it much more than water.
Now that they are older, we've been enjoying juices and homemade sweet drinks again. I love serving pretty drinks at parties and summer picnics, and this from scratch peach lemonade is one of the best to make!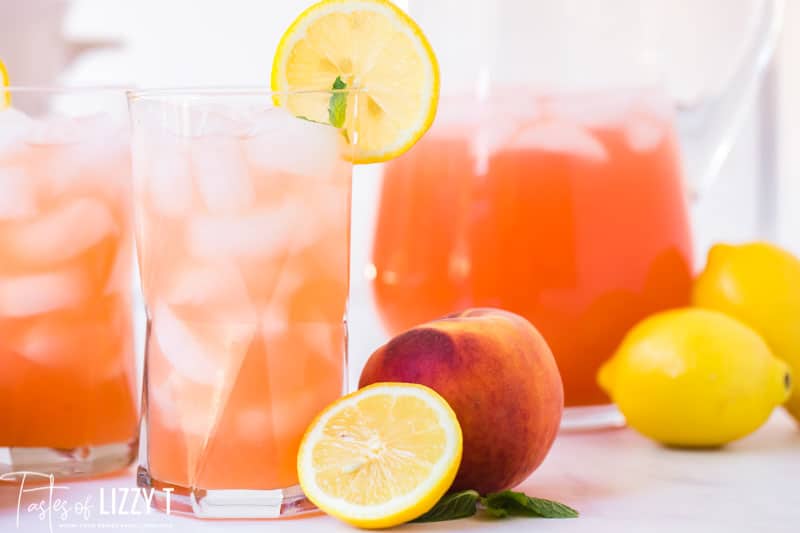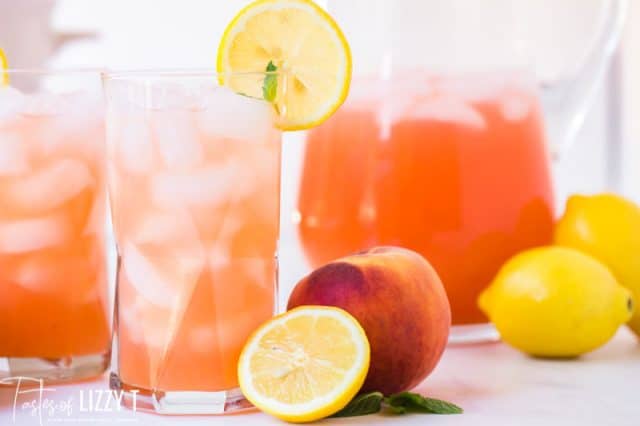 What you'll love about this recipe:
Uses fresh peaches and lemons.
You can make the peach syrup in advance for easy drink mixing.
Add other fruits for a pop of color.
Add green tea for a Starbucks Copycat Peach Green Tea Lemonade.
Adjust the sweetness to your liking.
Let's step through all of these points so you get the perfect picnic punch!
Fresh Peaches and Lemons for Drinks
This recipe uses fresh peaches and lemons. It is what makes this summer drink so good! You'll want peel and slice the peaches (discarding the pit). You should have 3 cups of peaches.
Can I use frozen peaches?
You can use frozen peaches in this! Measure out 3 cups of frozen peaches and cook this just like you normally would with fresh peaches.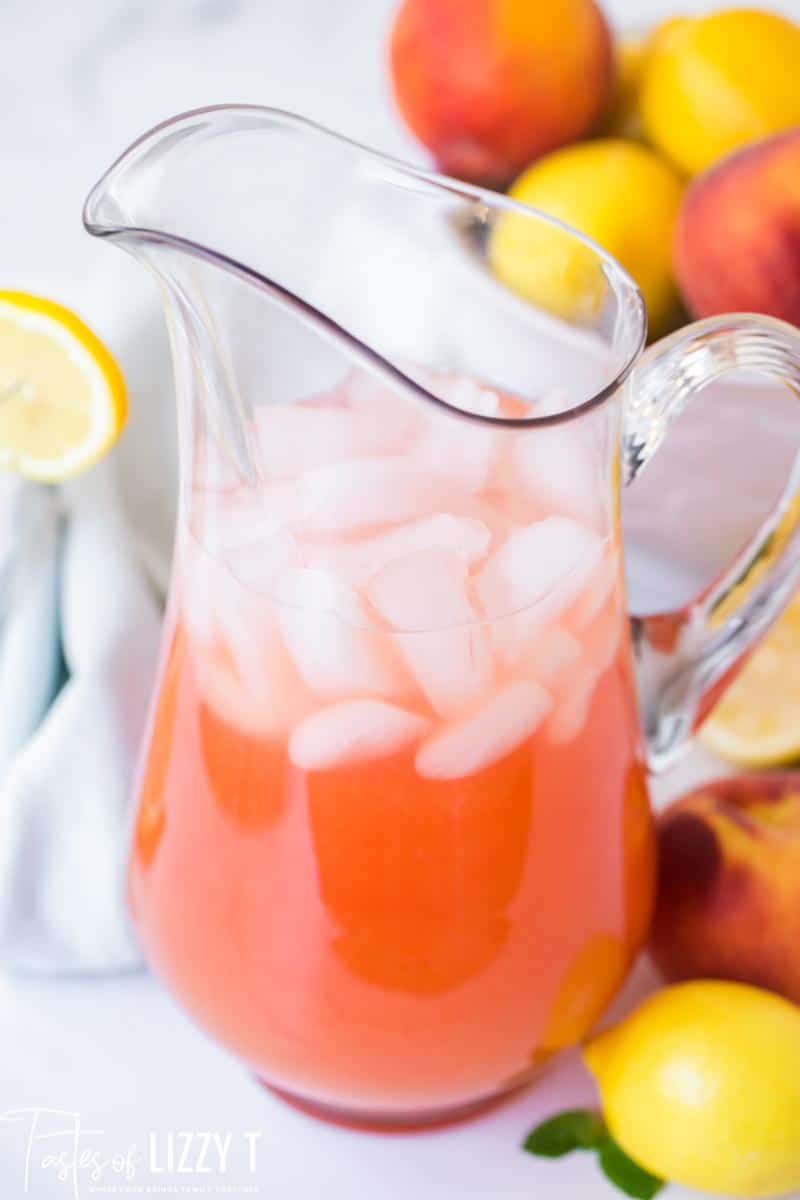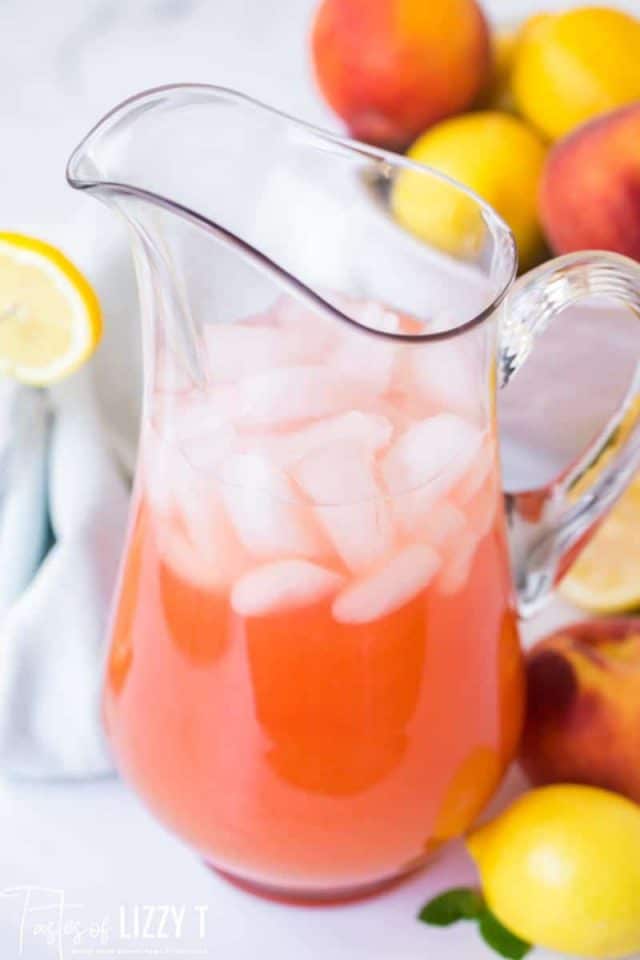 What other ingredients can you add into this?
In addition to the peaches, you can add in different combinations of fruits to this lemonade.
Some suggestions are:
strawberries
raspberries
blackberries
blueberries
fresh mint
Just boil about 1 cup of the additional berries (or about ½ cup of mint) to the peaches before cooking and keep everything else the same.
How to Make Peach Green Tea Lemonade
It is simple to take this basic recipe and turn it into a popular Starbucks green tea. Simply make green tea in advance and chill it. You should have 6 cups of tea and use it in place of the water in this recipe. Simple as that!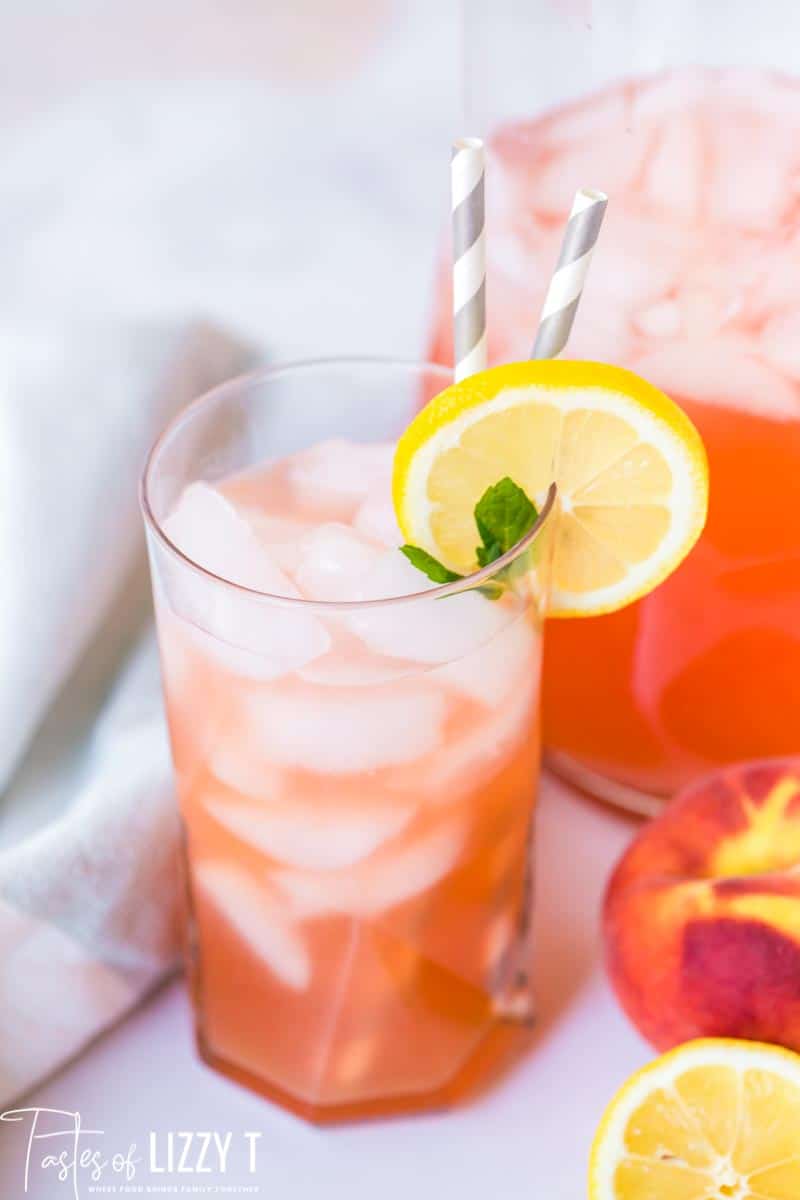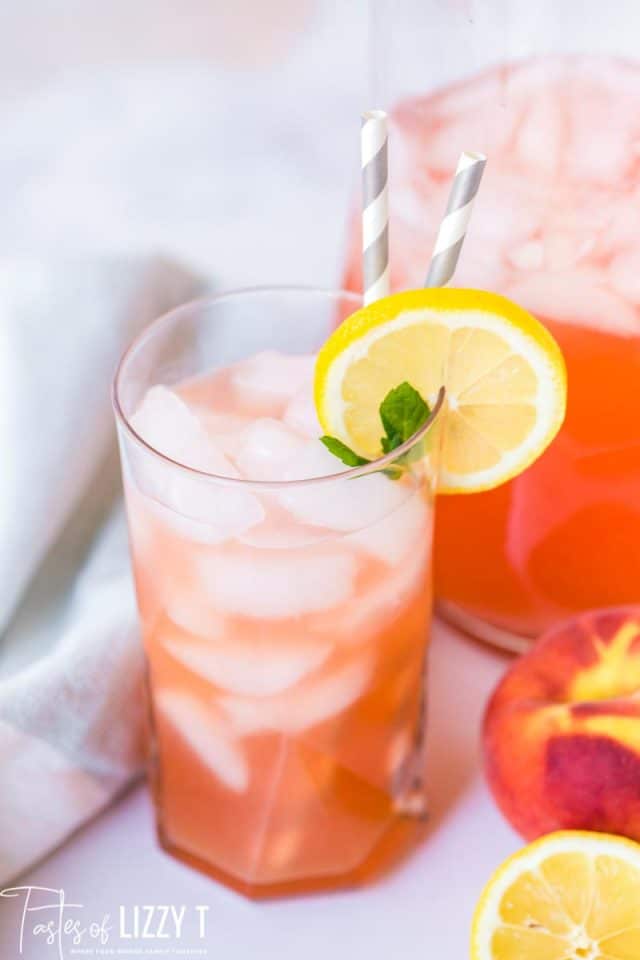 What if the peach lemonade is too sweet?
Depending on how sweet your peaches are, it will affect how much sugar you need for this recipe. I usually taste a peach before cooking it to see how sweet it is. If it is at the peak of the season, with super fresh, juicy, and sweet peaches, I will only add ¾ cup of sugar. Anything less than that I will add in 1 cup of sugar.
If it's an extremely tart peach you may need to add in 1-1 ½ cups sugar. You can always add in sugar at the end if you need it, as well. Just make sure to stir until completely dissolved.
That's a lot of sugar! Can I use Splenda or monk fruit? Yes! If you are familiar with using these sugar substitutes (and the taste of them) you can use them to cut back on the sugar in this recipe.
Can I use sparkling water?
You can replace the water for sparkling water (can't you just imagine this in a beautiful girls brunch baby shower or wedding shower?).
If you decide to use sparkling water, just replace the last 4 cups with seltzer water and very gently mix everything together so that you don't lose that carbonation. Mix in the sparkling water right before serving.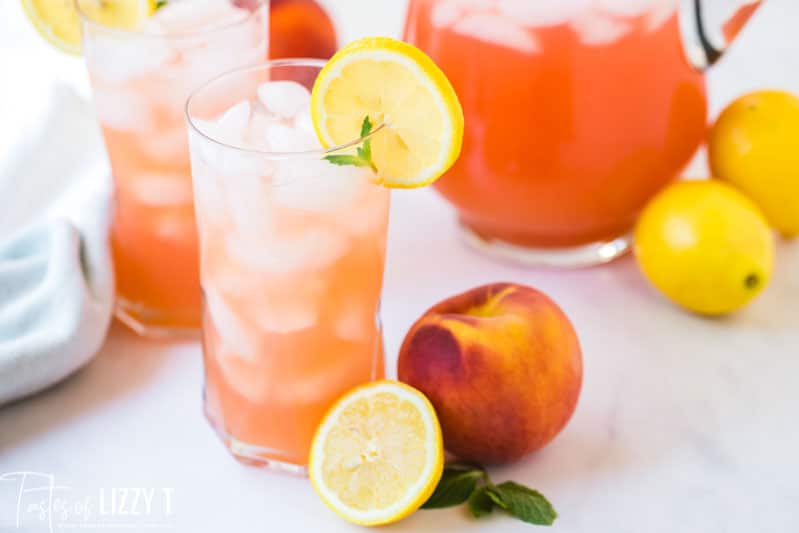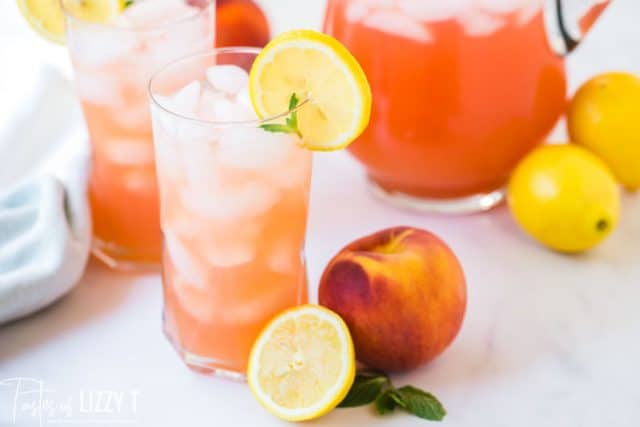 What do I do with the pulp?
You'll find when making this that you'll end up with peach pulp. We don't like to waste good fruit! You can discard the pulp if you'd like, or you can add solids into pancakes, muffins or some type of baked good. If you decide to do this, I recommend peeling them before cooking. It doesn't make huge amount of difference in the long run, but it helps with the texture.
How far in advance can I make peach lemonade?
You can store this for up to a week in the refrigerator.
Need a pretty pitcher? This is the one we have.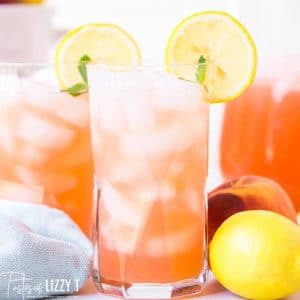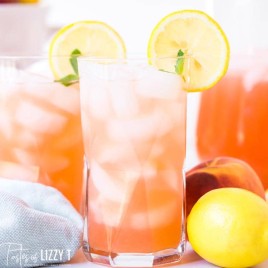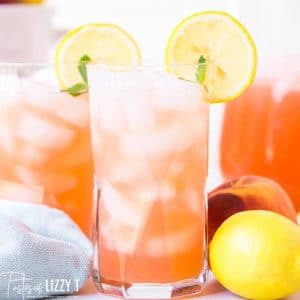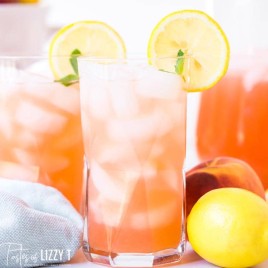 Homemade Peach Lemonade
Use fresh peaches in this easy homemade peach lemonade. Sweet and slightly tangy, this is perfect as a summer drink for picnics.
---
Ingredients
3

cups

fresh peaches

(about 6 peaches)

2

tablespoons

fresh lemon zest

(about 2 lemons)

1

teaspoon

vanilla extract

1

cup

granulated sugar

1

cup

fresh lemon juice

(about 4-5 lemons)

6

cups

cold water

(divided)

Ice

optional
For garnishing:
lemon slices

fresh peach slices

fresh mint
Instructions
In a medium sized saucepan over medium heat, combine peaches, lemon zest, vanilla, sugar and 2 cups water. Do not bring to a boil so don't be afraid to reduce the heat.

Allow peaches to cook until they are soft enough where you can easily crush them, about 15-25 minutes (time will vary greatly depending on ripeness of peaches).

Mash peaches with a masher or wooden spoon.

Remove from heat and let it cool completely in the refrigerator.

I recommend letting the mixture cool completely before straining solids so that the flavor has more time to infuse into your lemonade.

Strain and discard solids (or set aside for a different dish).

Pour in fresh lemon juice, cold water, and ice.

Pour into glasses and garnish with lemon slices, fresh peach slices, or mint.

Enjoy!
Notes
You can also decide to leave some of the pulp in instead of straining it all out for additional peach flavor. If you choose to do this, I recommend only using about ½ cup at most since the pulp is quite thick.
The calories shown are based on the recipe serving 7, with 1 serving being 1/7 of the lemonade. Since different brands of ingredients have different nutritional information, the calories shown are just an estimate. **We are not dietitians and recommend you seek a nutritionist for exact nutritional information.**
Nutrition
Calories:
146
kcal
|
Carbohydrates:
37
g
|
Protein:
1
g
|
Fat:
1
g
|
Saturated Fat:
1
g
|
Sodium:
1
mg
|
Potassium:
161
mg
|
Fiber:
1
g
|
Sugar:
35
g
|
Vitamin A:
215
IU
|
Vitamin C:
18
mg
|
Calcium:
6
mg
|
Iron:
1
mg