Tastes of Lizzy T participates in affiliate advertising programs. We may earn a commission when you make a purchase through links on our site.
If you love Starbucks sugar cookies, you'll love these Starbucks Copycat Confetti Sugar Cookies. Tips for the thickest, chewiest sugar cookie dipped in white chocolate and sprinkles.
In April we celebrate Tastes of Lizzy T's birthday! This year we're celebrating 6 years of sharing our family's best recipes with you. One of those recipes that we worked so hard to develop was our bakery style sugar cookies. This Confetti Sugar Cookie Recipe tweaks that recipe just slightly to make a cookie that is perfect for celebrating with!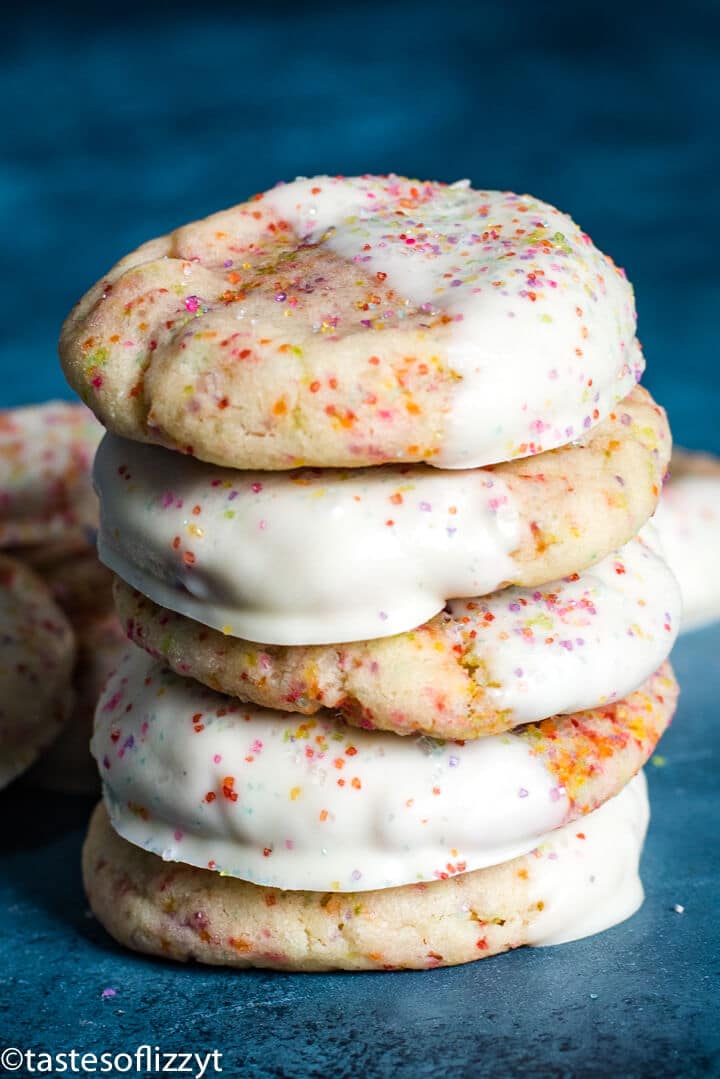 I completely fell in love with these easy sugar cookies. It's no surprise since I've always adored the traditional sugar cookie. But these have fun sugar sprinkles, white chocolate and an amazing flavor. They literally make me so happy!
What is the difference between a sugar cookie and a shortbread cookie?
The name "shortbread" comes from the fact that shortbread cookies have a high amount of shortening. We prefer butter, but it's the same idea. Shortbread cookies butter flavor overpower the "sweet" flavor. Shortbread is traditionally more dense and sometimes more "crisp" than sugar cookies.
Sugar cookies have ingredients commonly found in cookies: eggs, flour, butter, sugar, vanilla and leavening agents. Shortbread often has just flour, sugar and butter. Both are good, but today we're talking sugar cookies!
Tips for the Best Sugar Cookies
As with many of our recipes, the best results come from using specific ingredients and techniques. Here are our hints:
Use European butter. This butter has a higher milkfat content than traditional butter which means the cookies will stay thicker and not spread as much. Land o' Lakes has a European butter that we love. It's often pricey in our stores (over $5 pound), but buy it when it is on sale (I just bought some for $2.49 a pound!) and freeze it. My fridge is STOCKED with quality butter and it makes me smile every time I open the fridge.
Use room temperature butter. Do not melt the butter. Just let it sit at room temperature until it gives a little when you touch it.
Blend the butter and sugar well. You don't want little chunks of butter in cookies because it will melt into a puddle (unlike biscuits where butter chunks make flaky layers). Cream that butter and sugar really well.
Princess Cake & Cookie Flavoring. If you want your cookies to taste just a little different than other homemade cookies, splurge on this ingredient. It tastes fresh and makes your cookies taste like they are from a bakery. You may be able to find this flavor extract at your local craft store, or you can buy it online.
Refrigerate the dough. Now with this high quality European butter you can bake them right away. They'll spread slightly but will still look nice. If you want extra thick, scoop the dough into balls, press them lightly, then refrigerate for 60 minutes before baking.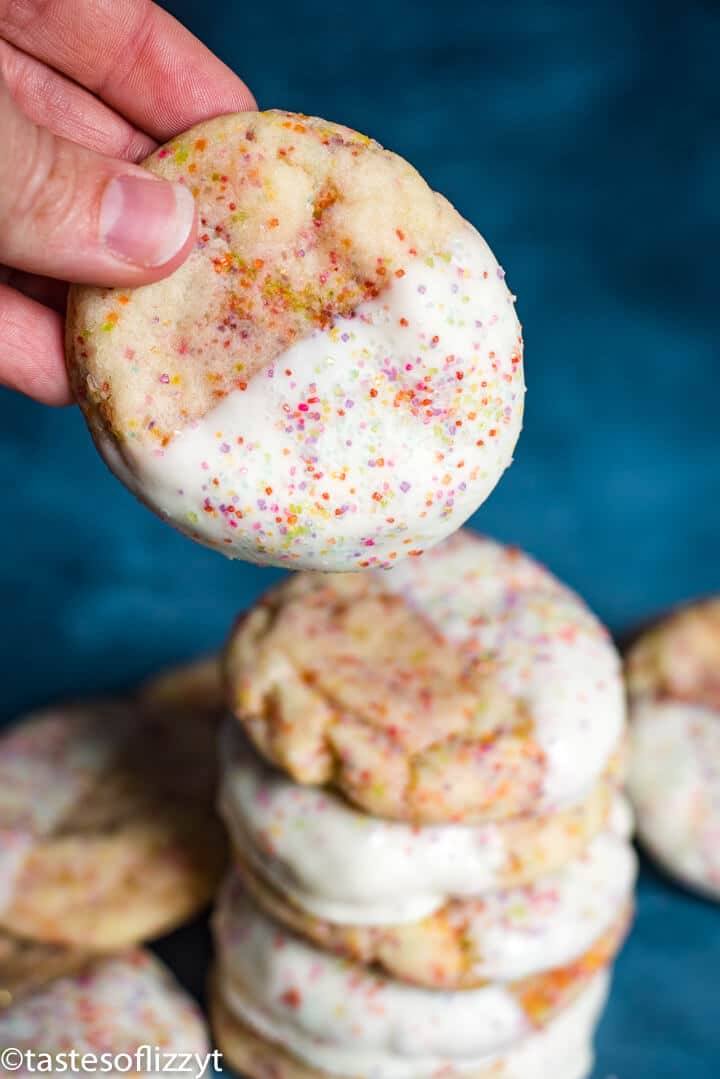 Melting White Chocolate
Melting white chocolate can be tricky. Be sure you start with a high quality white chocolate meant for melting. We buy Ghirardelli white chocolate wafers and they melt perfectly every time.
It's important to melt chocolate very slowly. Place the white chocolate in a microwave safe bowl and microwave for 20 seconds. Stir well, then microwave for another 20 seconds. Keep stirring and melting in slow intervals until it is totally melted. It will only take about a minute and a half.
Why did my sugar cookies spread?
The main reasons for cookies spreading are some of the same reasons we talked about above.
Be sure to use butter (not margarine) and don't melt it. Use a high quality butter!
Cream the butter and sugar really well before adding the rest of the ingredients.
Make sure your oven is heating to the correct temperature. Sometimes an oven that is too hot will cause the cookies to "melt" too quickly.
Use a non-stick baking mat or parchment paper to help even out the temperature of the baking pan.
Don't leave the cookies on the cookie sheet too long. Just 3-4 minutes to allow the cookies to slightly cool should be good, then move them to a wire rack to cool completely.
When you are ready to bake another batch, don't put the dough balls on a hot cookie sheet. Use two cookie sheets and make sure the sheets are cool before baking the next batch.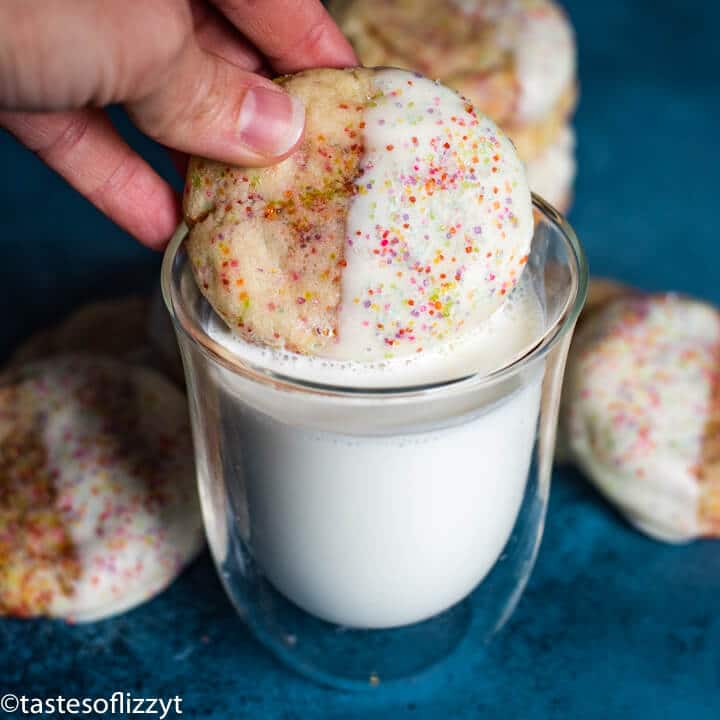 How long do sugar cookies last after baking?
These cookies are best when eaten within 3 days of baking. If you are going to have them longer than that, freeze them.
Do sugar cookies need to be refrigerated?
Sugar cookies are okay at room temperature if properly sealed in an airtight container.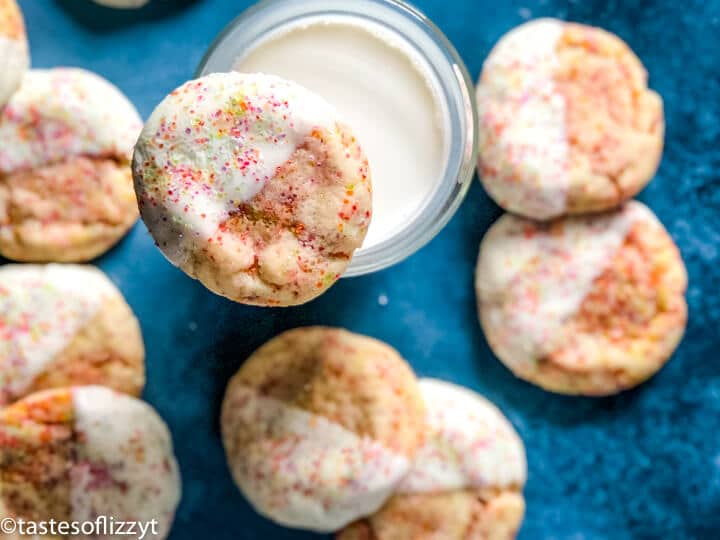 Can you freeze homemade sugar cookies?
Yes! These cookies freeze really well. If sealed properly they will keep in the freezer for 2-3 months.
What is the best way to freeze sugar cookies?
Place the cookies in a plastic sealable container in a single layer. These cookies are firm enough that you can stack them, but place parchment paper or wax paper between the layers so they don't stick together.
Make sure the container you use seals properly to keep air out.
When you are ready to defrost the cookies, bring them to room temperature before opening the storage container. This will help prevent the cookies from drying out.
OTHER SUGAR COOKIE RECIPES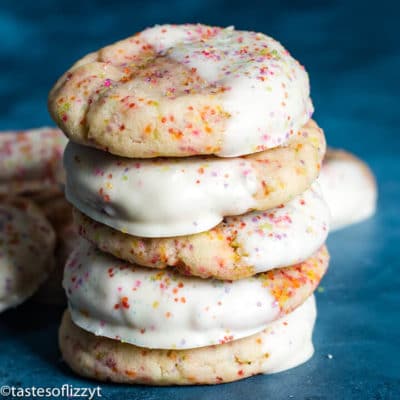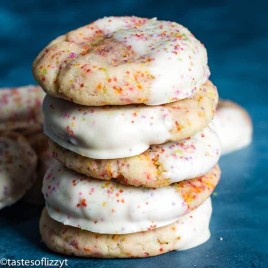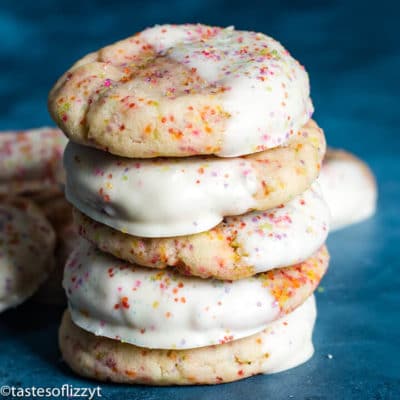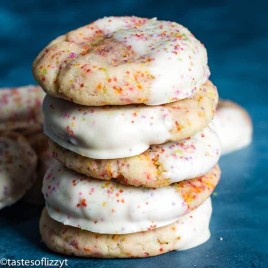 Confetti Sugar Cookies
If you love sugar cookies, you'll love these Starbucks Copycat Confetti Sugar Cookies. Tips for the thickest sugar cookie dipped in white chocolate.
---
Ingredients
2 3/4

cups

all purpose flour

1

teaspoon

baking soda

1/2

teaspoon

baking powder

1

cup

European style butter

(room temperature)

1

cups

white granulated sugar

1

large

egg

3/4

teaspoon

LorAnn Princess Cake & Cookie Bakery Emulsion

1/2

cup

coarse colored sugar crystals
8

ounces

white chocolate

(for dipping)

3

tablespoons

coarse colored sugar crystals

(for sprinkling on top)
Instructions
In a small bowl, stir together flour, baking soda, and baking powder. Set aside.

In a large mixing bowl, cream together butter and the white sugar until smooth. Beat in the egg and Princess emulsion. Gradually blend in dry ingredients.

Mix in the colored sugar just until combined. (The more you mix it, the more the sugar cookies will melt in and not show up well.)

Scoop the dough into about 24 balls and place on an ungreased cookie sheet. Slightly flatten the top of each cookie with the bottom of a glass.

Refrigerate the cookies for at least 1 hour.

Bake at 375 degrees for 10 minutes, removing the cookies just before the edges get brown.

Allow the cookies to cool for 5 minutes, then move them to a flat surface or wire rack to cool completely.

Store in an airtight container.

Melt the white chocolate in a microwave safe bowl in 20 second intervals, stirring between each time. Continue to do this until the chocolate is completely melted.

Dip each cookie into the melted chocolate to cover half of the cookie with melted white chocolate.

Allow any extra chocolate to drip off, then place it on a wax paper lined pan. Immediately sprinkle with the remaining colored sugar.

Allow the cookies to set, then store them in an airtight container.
Notes
The calories shown are based on the cake being cut into 24 pieces, with 1 serving being 1 cookie. Since different brands of ingredients have different nutritional information, the calories shown are just an estimate. **We are not dietitians and recommend you seek a nutritionist for exact nutritional information.**
Nutrition
Calories:
228
kcal
|
Carbohydrates:
30
g
|
Protein:
2
g
|
Fat:
11
g
|
Saturated Fat:
6
g
|
Cholesterol:
31
mg
|
Sodium:
125
mg
|
Potassium:
56
mg
|
Sugar:
19
g
|
Vitamin A:
250
IU
|
Vitamin C:
0.1
mg
|
Calcium:
28
mg
|
Iron:
0.7
mg