Tastes of Lizzy T participates in affiliate advertising programs. We may earn a commission when you make a purchase through links on our site.
An easy cream corn soup made on your stovetop. This comforting soup pairs well with a crusty bread and side salad.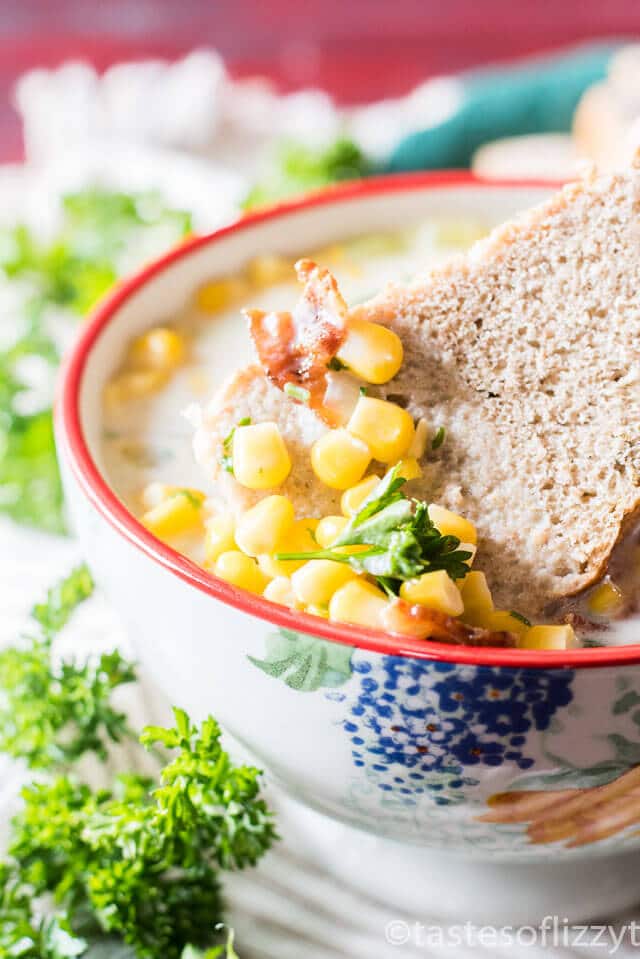 Soup season has officially hit our little side of the world.
I really can't complain about the Ohio weather that we've had so far this winter. (OK…except for the flood warnings from the insane amount of rain we've been having.) It seems like it is always windy where we live. So when the temperature starts to drop, the wind chill makes temperatures feel more awful than they really are.
Needless to say, I stay inside, cozy in front of my pellet stove whenever I can. That happens to be where I'm sitting now as I write about this simple soup. Coffee in hand and dog at my feet.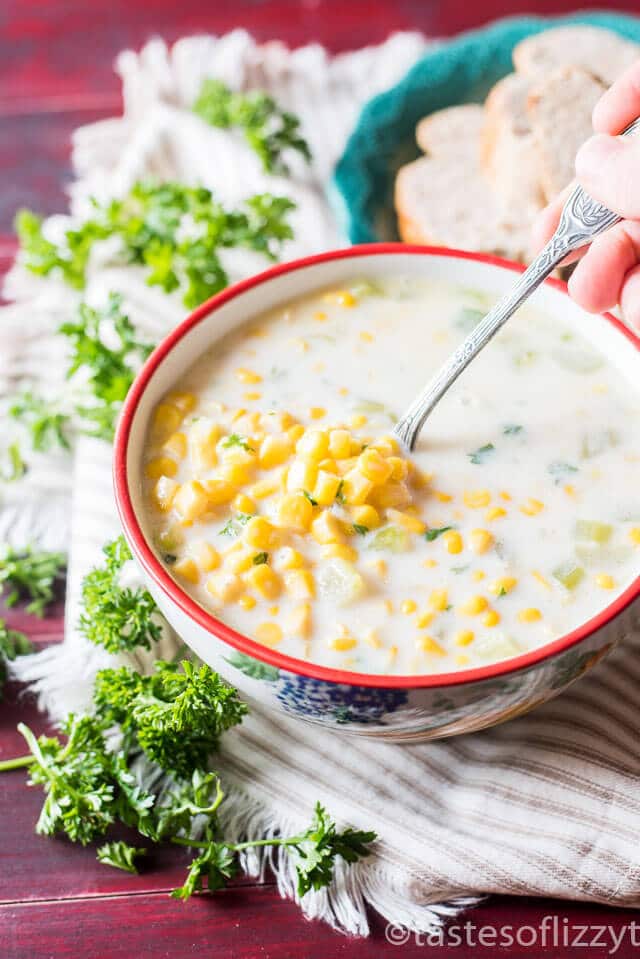 Kinslee's favorite vegetable is cream corn, so as I was planning my winter blog posts, turning pages in my Amish cookbook, I came across cream corn soup. Kinslee is one that needs help with getting good food in her belly. She doesn't like simple lunch foods such as peanut butter and jelly, so having easy recipes on hand that she can eat for lunch or a snack is invaluable. She loves corn casserole, so when I saw this soup, I immediately thought of her.
This cream corn soup is not only easy, but can be put together in just about 30 minutes. Most of this 20 minutes is hands-off, waiting for the onion and celery to boil to a tender consistency.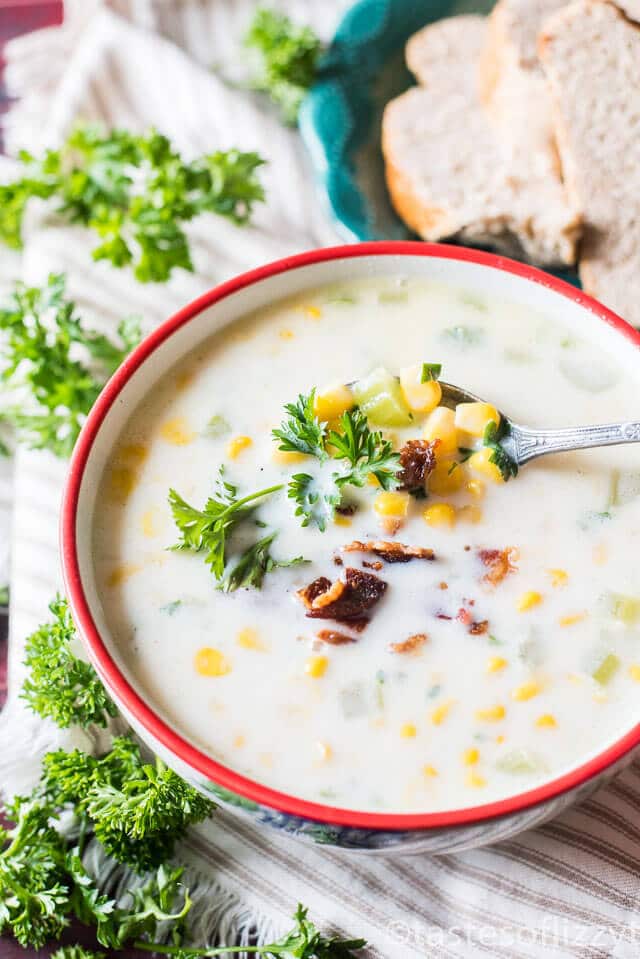 It's a pretty straight-forward soup recipe. Place celery, onion, parsley and corn boiling water for 20 minutes, then strain. Keep the corn stock, though. Just strain out the veggies and set them aside. Add the warm milk to the corn stock. Keep this over medium-low heat.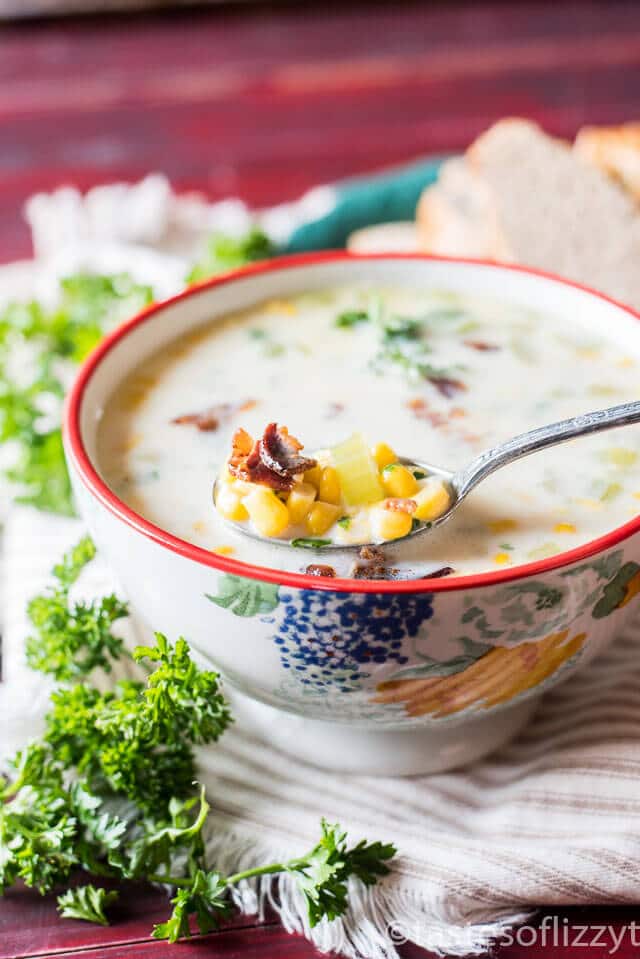 In a small bowl, melt the butter and add the flour to the melted butter. Mix this together until it becomes a runny paste. Add this to the corn stock/milk mixture and whisk it together until it is dissolved.
Add salt and pepper. Bring the soup to a boil over medium heat. Boil for about 2-3 minutes, then remove from the heat and add the veggies back in.
Just like that, your soup is done!
This is a very light, brothy soup. It's not as thick as cream corn. The higher fat milk you use, the creamier it will be, though. We used 2% milk, but you could even use half and half if you'd like. We like to top ours with chopped bacon (because, why not?!) and some fresh parsley.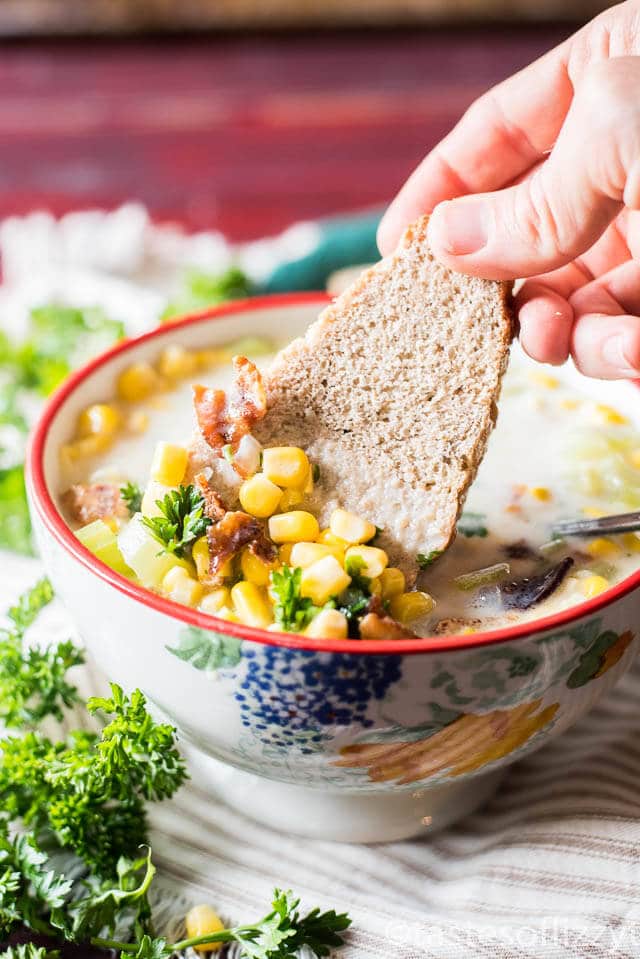 Dunk homemade bread such as these rolls or my mom's yummy white bread right into that broth.
This soup will warm you to your toes. 🙂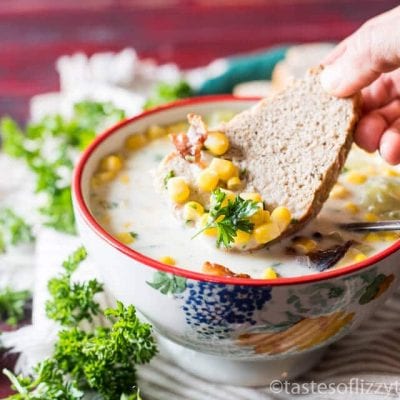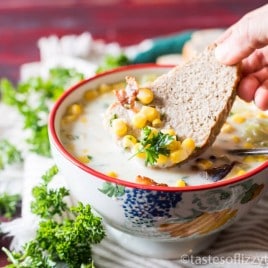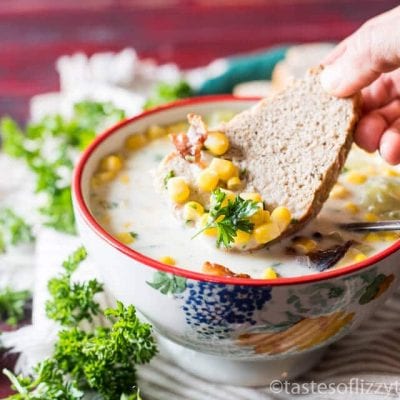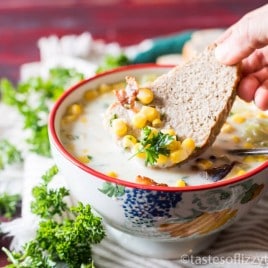 Easy Cream Corn Soup
An easy, cream of corn soup made on your stovetop. This comforting soup pairs well with a crusty bread and side salad.
---
Ingredients
2

cups

boiling water

2

cans

sweet corn

(15 ounces each)

1/2

cup

celery

chopped

1

tablespoon

onion

chopped

1/2

cup

fresh parsley

chopped

2

cups

warm milk

2% milkfat or higher

2

tablespoons

butter

melted

2

tablespoons

all-purpose flour

1

teaspoon

salt

to taste

1/4

teaspoon

pepper

to taste

Optional toppings: bacon and fresh parsley
Instructions
Place the water in a saucepan over medium heat. Add the drained corn, celery, onion and parsley. Bring the water to a boil, then cover and simmer for 20 minutes.

Strain the vegetables and set them aside.

Return the corn stock to the saucepan over medium heat.

Add the warmed milk to the corn stock.

In a small bowl, combine the melted butter and flour to form a runny paste.

Whisk this into the corn stock until it is fully dissolved.

Add the salt and pepper, then heat to boiling.

Boil 2-3 minutes over medium heat.

Add the vegetables back to the broth and heat through.

Serve with chopped bacon and fresh parsley.
Nutrition
Serving:
261
g
|
Calories:
159
kcal
|
Carbohydrates:
19
g
|
Protein:
6
g
|
Fat:
7
g