Honey Sriracha Chicken Wings
If you like sweet and spicy with a kick of heat, you'll love these Honey Sriracha Chicken Wings. Oven baked with tips for keeping them crispy.
Table of Contents
There's nothing like a pile of sticky chicken wings with a hint of spice and tangy sweet. Whether you're looking for a game day recipe, an easy appetizer for a tailgate party or a holiday gathering, this is the recipe that will have people coming back for more.
No chicken wing lover will be able to resist this honey sriracha chicken wings recipe. They are baked in the oven, glazed and crispy.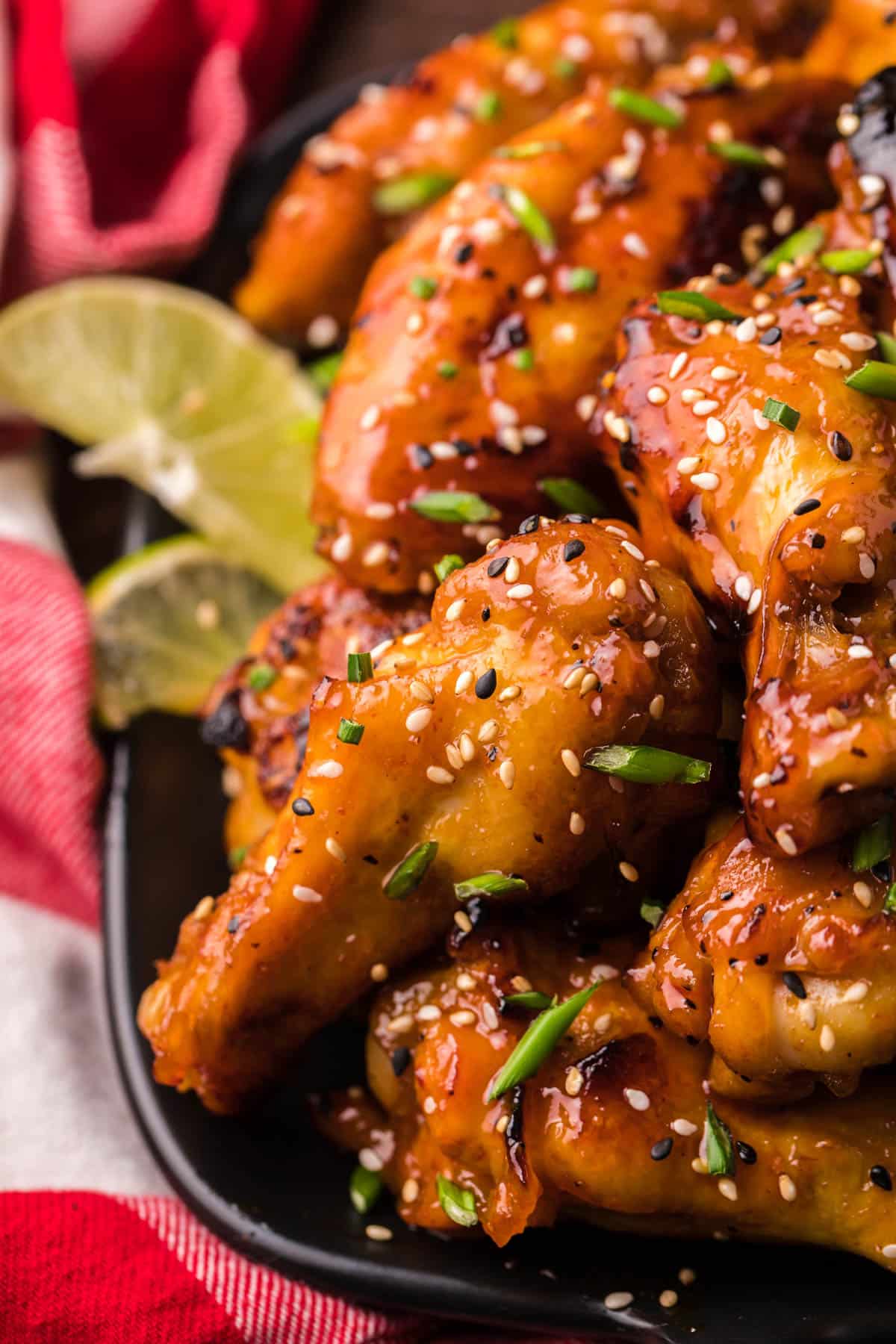 What does honey sriracha taste like?
Sriracha is a sauce made from chili peppers so it packs a punch of heat. It originated in Thailand (source) in the cit of Si Racha.
Sriracha on it's own I honestly don't love. It's hot and slightly bitter. But add honey and suddenly you have a sweet and spicy chili sauce. And that sweet/hot combo has been one of my favorites lately.
If you can't find sriracha sauce, a substitute would be chili garlic sauce. Or you can make your own sriracha sauce.
Oven Baked Chicken Wings
Baked chicken wings are a win because they are healthier than breaded, fried chicken wings. We bake them slowly on low temperature so that they end up fork tender and fall off the bone.
No, not as crispy as fried versions, but when wings are messy to eat in the first place, we prefer the extra tender meat to make them just a little easier to eat.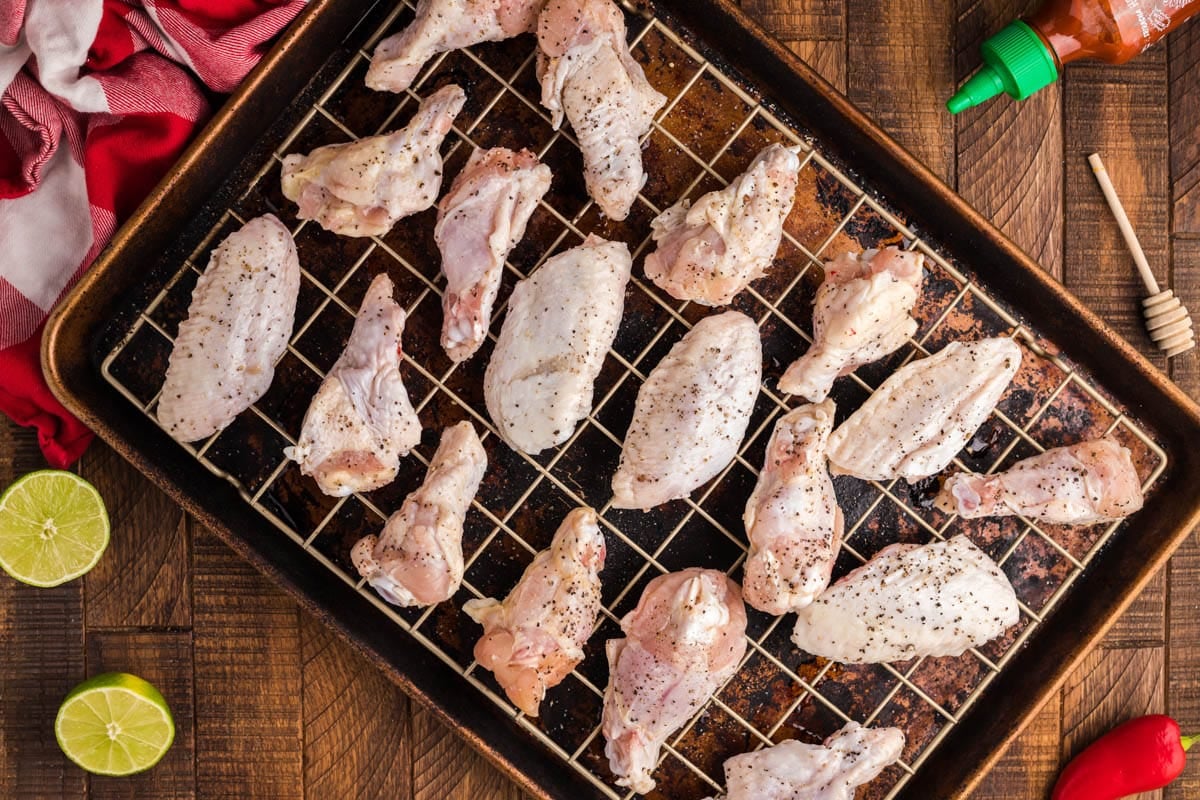 Tips for Baking Chicken Wings
There are jumbo chicken wings and regular chicken wings. If you buy jumbo, they may need more time in the oven (10-15 minutes) to bake through.
Bake the chicken wings on a wire rack so that the juices run down, making the skin crisp up slightly. And for easy cleanup, line that baking pan with parchment paper or aluminum foil.
Allow the wings to bake first, then toss is sauce and broil with the sauce on. Broiling is key for extra crispiness, and the honey sriracha sauce helps with that crispness as the honey caramelizes.
Chicken wings are done when the internal temperature of the wing reaches a minimum of 165ºF. Insert the meat thermometer into the thickest area of the wing and avoid the bone to get an accurate reading.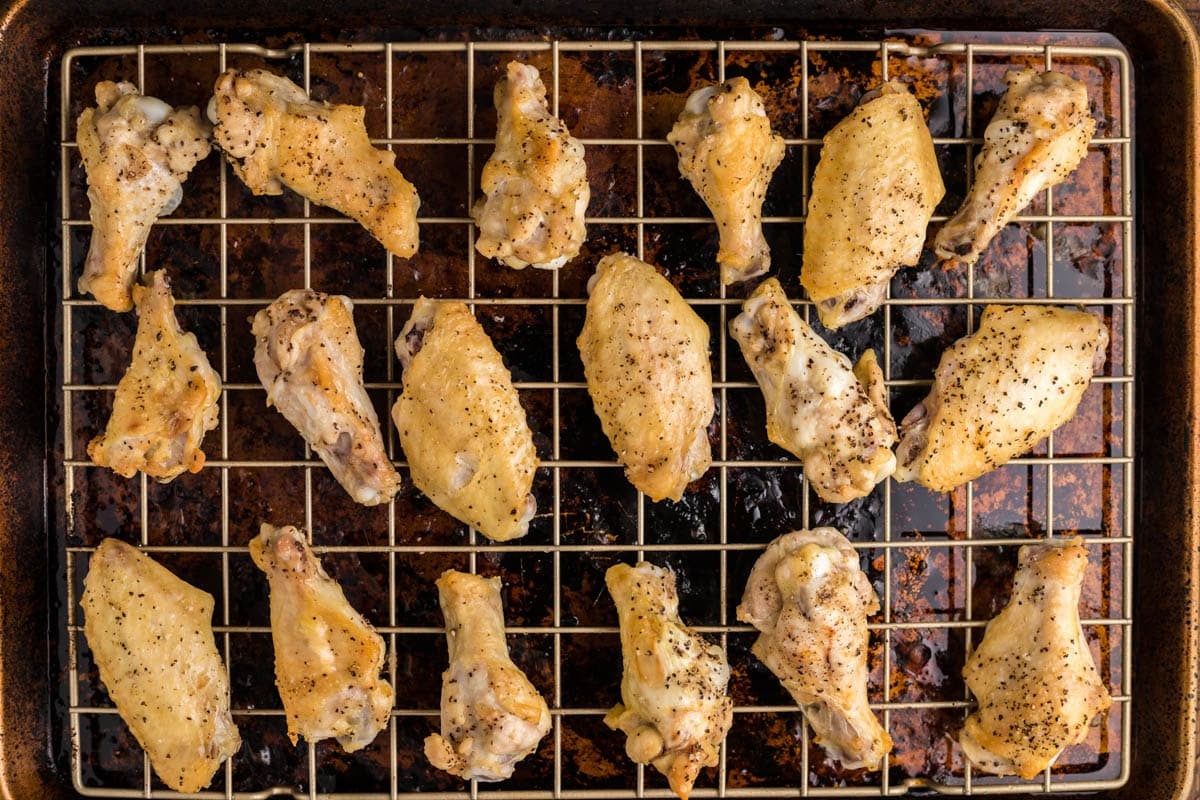 Make a Honey Sriracha Sauce
While the chicken is baking, prepare the sauce. It's super easy and you just need one saucepan. Combine honey, sriracha, soy, hoisin, garlic puree, lime juice, and butter in a saucepan over medium low heat. Whisk well and allow the mixture to heat and simmer for 10 minutes.
You can use this honey sriracha sauce for baked cauliflower, meatballs, chicken or even fish.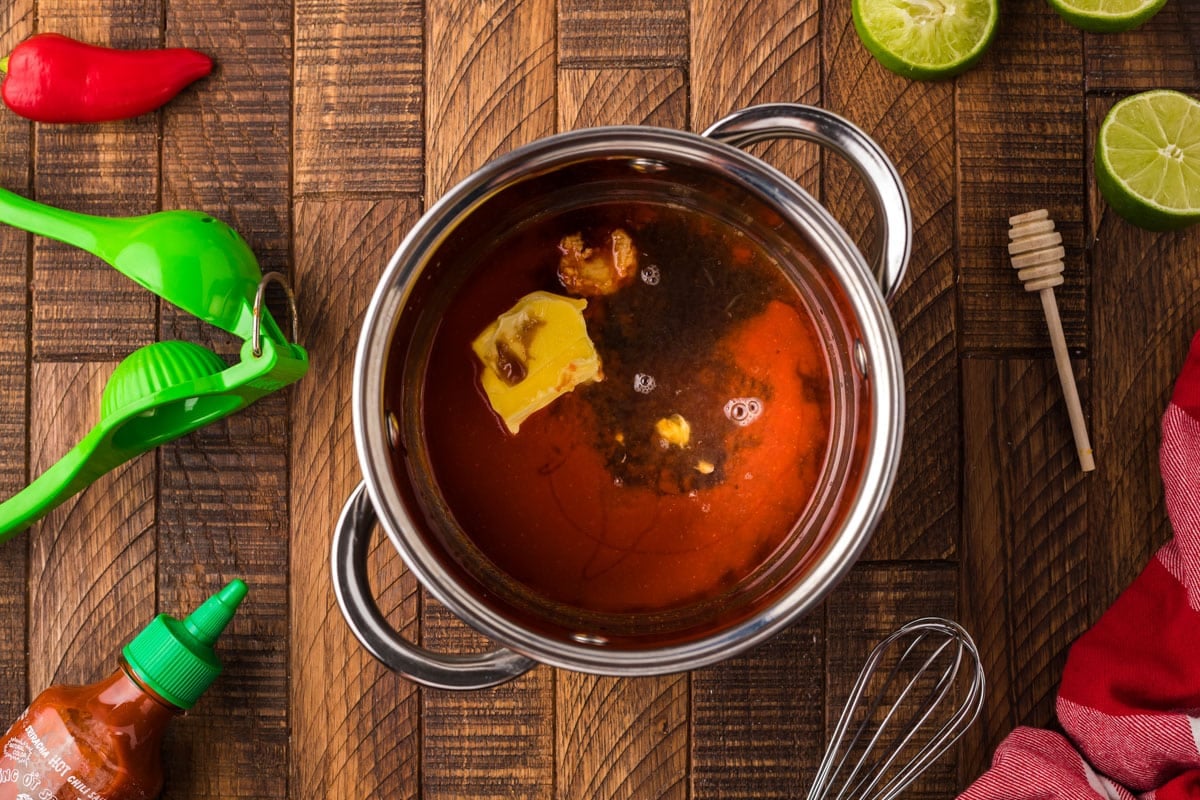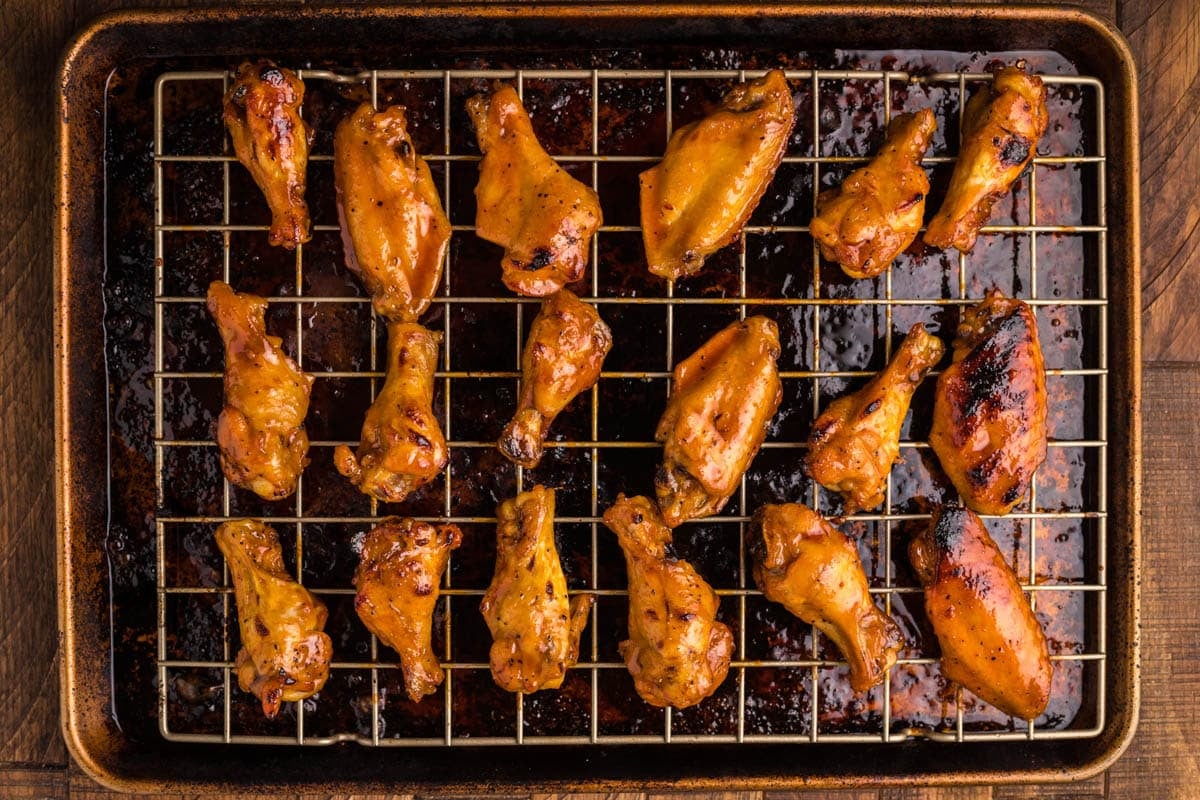 Air Fryer Instructions
If you have an air fryer, you can air fry chicken wings for extra crispiness. Simply place the wings on the air fryer basket. Give them space between the wings so that air can circulate.
Air fry at 400˚F for 8 minutes, then flip the wings and fry for another 8 minutes or until the wings test done and are golden brown on the outside.
Then you can toss in sauce and put them back in the fryer for an extra 2 minutes if desired.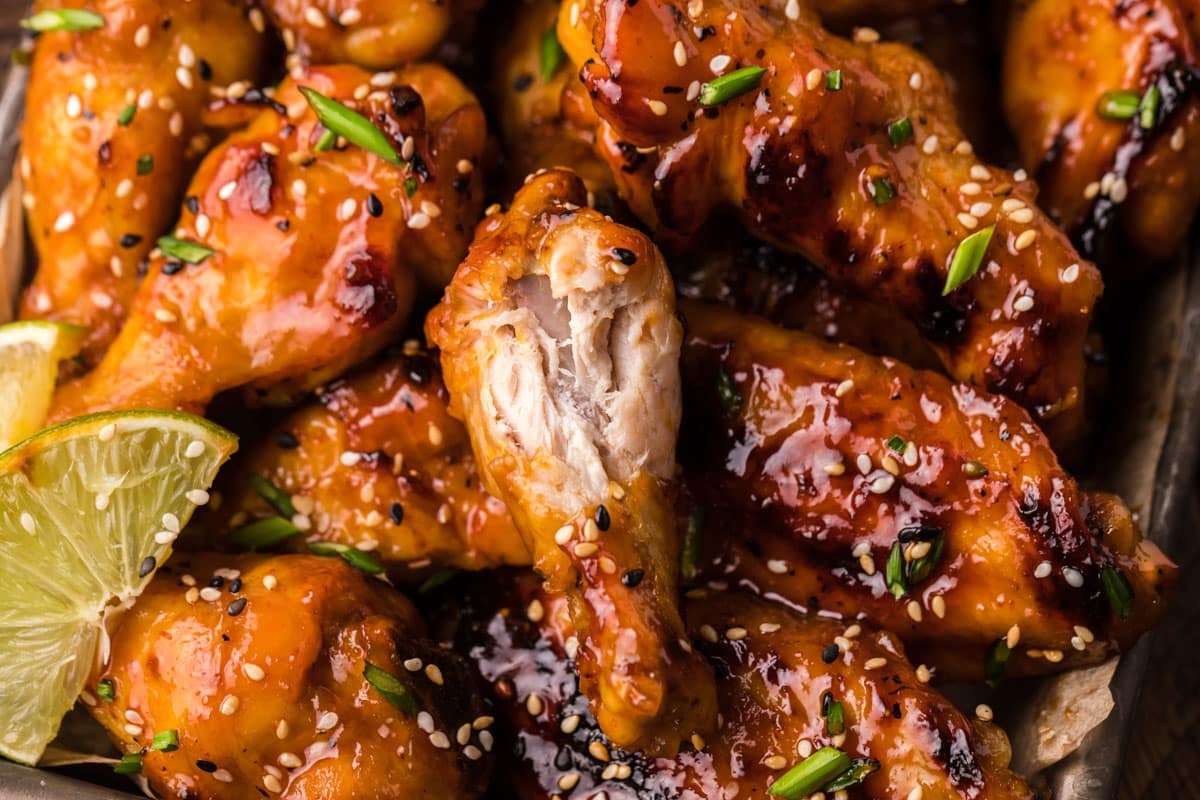 How to Keep Chicken Wings Warm
This chicken wing recipe will have a slight crisp to the skin right when it comes out of the oven. However, you may need to transport them or keep them warm for a party.
If this is the case, place them in a slow cooker and set it to low or warm, depending on how long before you need them. They won't be as crisp as fresh from the oven, but they'll still be delicious.