This famous Hot Dog Chili Sauce is meaty, slightly sweet and full of flavor. Great on hot dogs, fries and as a chili base! Simmer it in the slow cooker to deepen the chili flavor.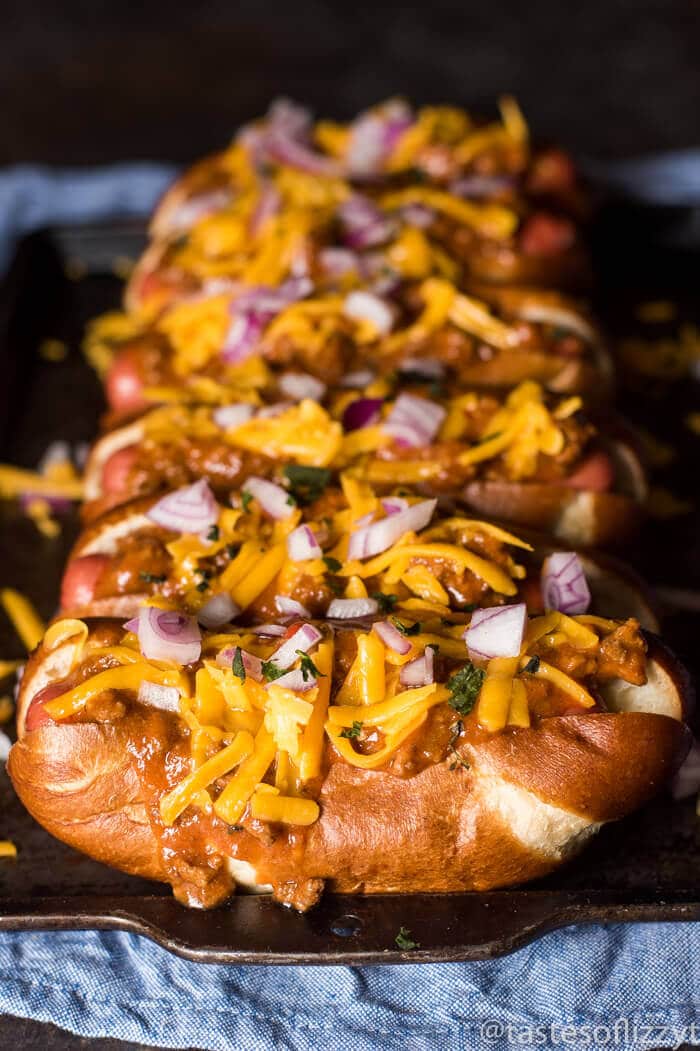 Hot Dog Chili Sauce
I'd have to say that I'm not much of a fan of hot dogs.  Every once in a great while I'll have one at a cookout, because really, who can resist a hot dog cooked over the fire? But hot dogs are not generally something I crave.
However, all bets are off when there is Hot Dog Chili Sauce in the fridge.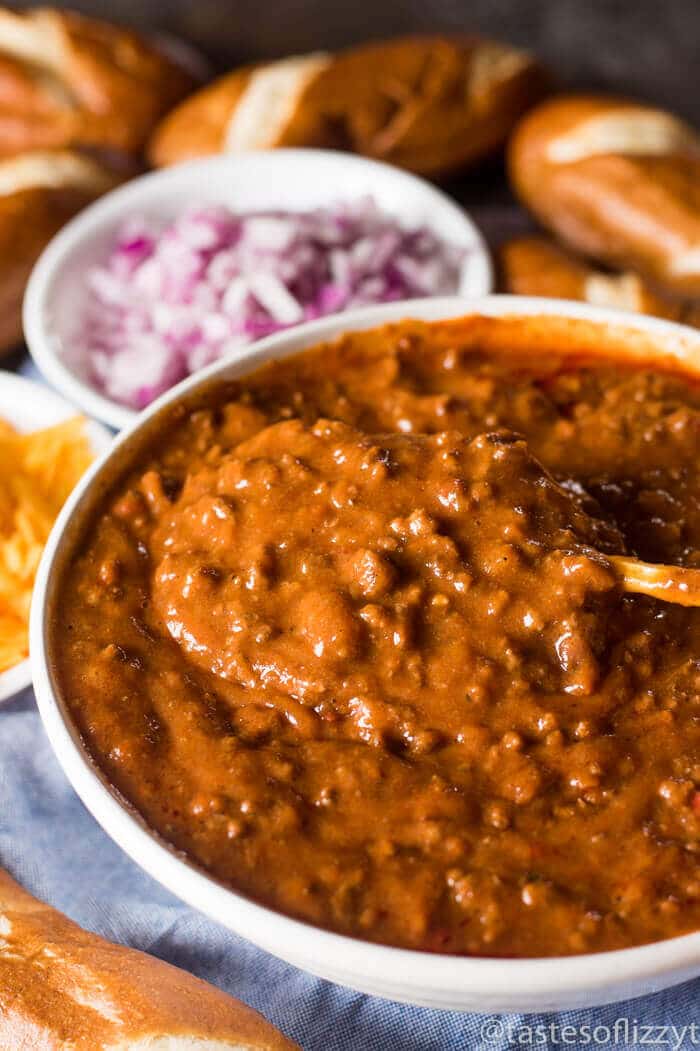 There is a little hot dog shop near my hometown in Northeast Ohio that serves an amazing chili dog.  Unfortunately, since we're not in the area anymore, I don't get to go there much. But thankfully, a friend gave me this copycat recipe for Hot Dog Chili Sauce years ago.
Although I've never compared the "real thing" to this copycat recipe in a side-by-side comparison, this hot dog chili sauce recipe tastes like what I remember the "real thing" to be.
It is packed full of beef, rich tomato sauce, onions and garlic. Full of sweet, chili flavor.
When this is around, there's no doubt. I crave a hot dog.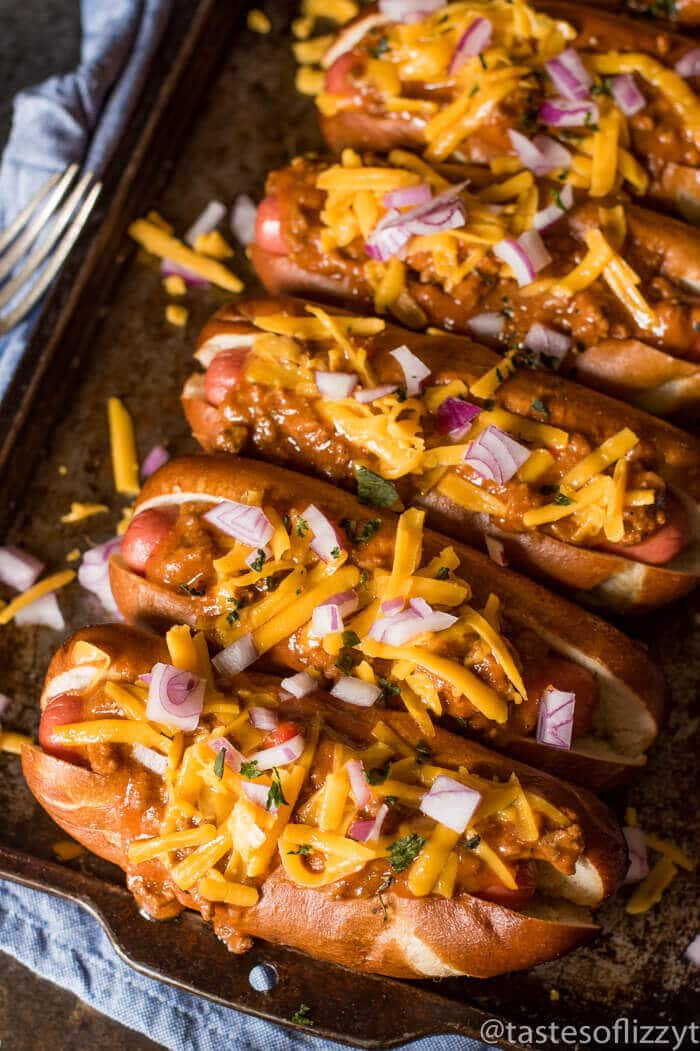 This makes a big recipe.  I like to let my sauce simmer all day in the slow cooker instead of the stove. It completely fills my 6-quart slow cooker  You can always half recipe, but I recommend making a full recipe. This hot dog chili sauce freezes well. Just portion it out in smaller containers, freeze, and you're ready for game day, Friday, or whenever that chili craving hits.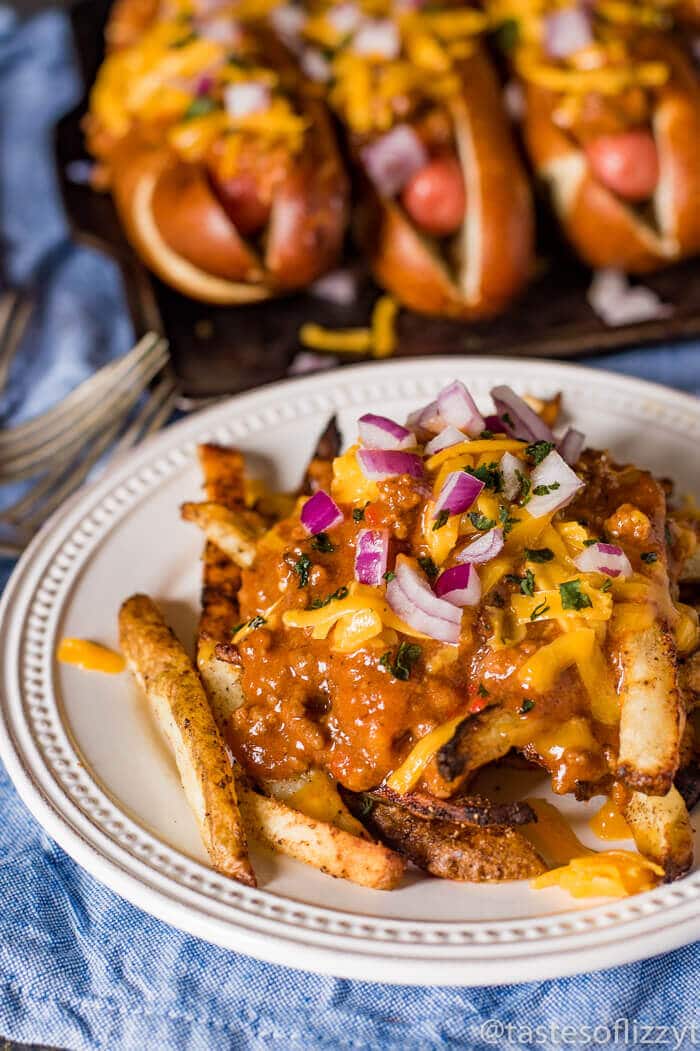 Not only does this hot dog chili sauce make an average hot dog like a gourmet sandwich, but spoon it over some french fries and you've got chili fries that rival the best.
Another idea for this chili sauce?  Eat it on top of macaroni and cheese.  This makes an amazingly wonderful combination!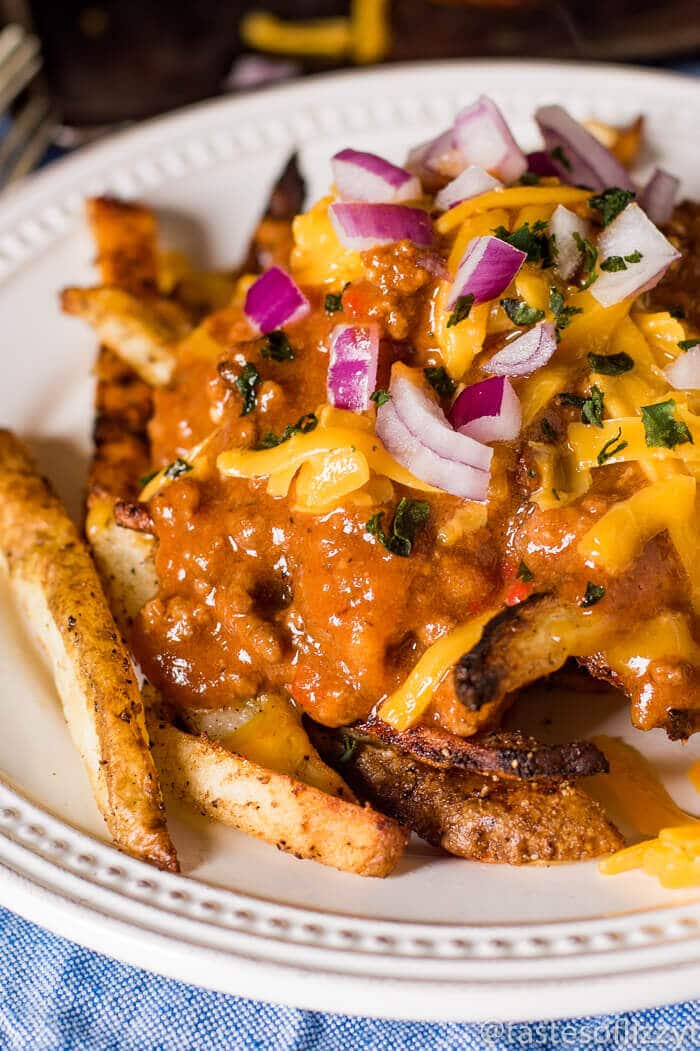 If you like this recipe, you'll love our chili recipe, which uses this sauce as a base.  Yep…we like this sauce that much in our family.
Go cook yourself some hot dogs, put them on a bun with this chili sauce on top, get some shredded cheddar cheese and melt it on top. Then make some fries to go with it.  You won't be disappointed!
Julie
Hot Dog Chili Sauce
Hot Dog Chili Sauce is meaty and slightly sweet chili sauce is full of flavor. Great on hot dogs, fries and as a chili base!
30 minPrep Time
3 hrCook Time
3 hr, 30 Total Time
Ingredients
4 lbs. ground beef
4 small onions, chopped
1/2 tsp garlic
1 1/4 cup all-purpose flour
38 ounces tomato sauce (equals 2 15-oz cans and 1 8-oz can)
2 15 oz cans water
4 tsp. salt
2 tsp. black pepper
1/2 cup chili powder
1/2 cup chopped pimentos
3/4 cup sugar (to taste)
Instructions
In a large saucepan, brown hamburger, onions and garlic.
Drain off the fat.
Add flour to ground beef and mix well.
Add the remaining ingredients to the saucepan. Mix well and simmer, uncovered, for about 3 hours, stirring occasionally.
Serve over hot dogs or fries!
Notes
This makes a large pot full of chili sauce, which can be frozen in smaller amounts.

Add less flour if you like your chili sauce a bit more runny.

Add more or less sugar, depending on how sweet you like it!
7.6.2
454
https://www.tastesoflizzyt.com/hot-dog-chili-sauce/