These Amish-style whoopie pies have a delicious mocha flavor. Coffee intensifies the chocolate in this Mocha Whoopie Pies recipe. 
Whoopie pies….isn't that the weirdest name for a little handheld cake? Where did the name come from? Whoever created those scrumptious sandwiches sure must have been excited!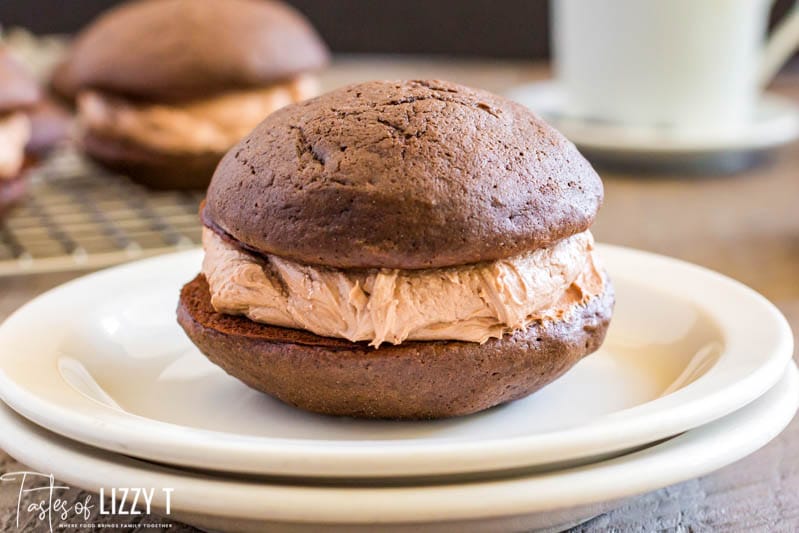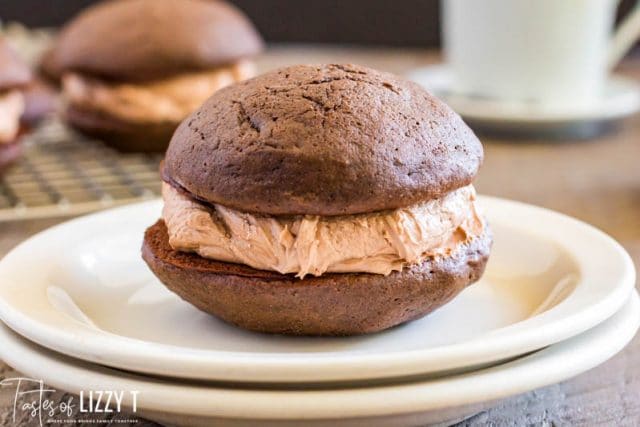 Why you'll love this recipe:
Soft chocolate cake sandwiches
short baking time
creamy chocolate mocha filling
individual desserts for picnics and lunches
make as big or as small as you'd like!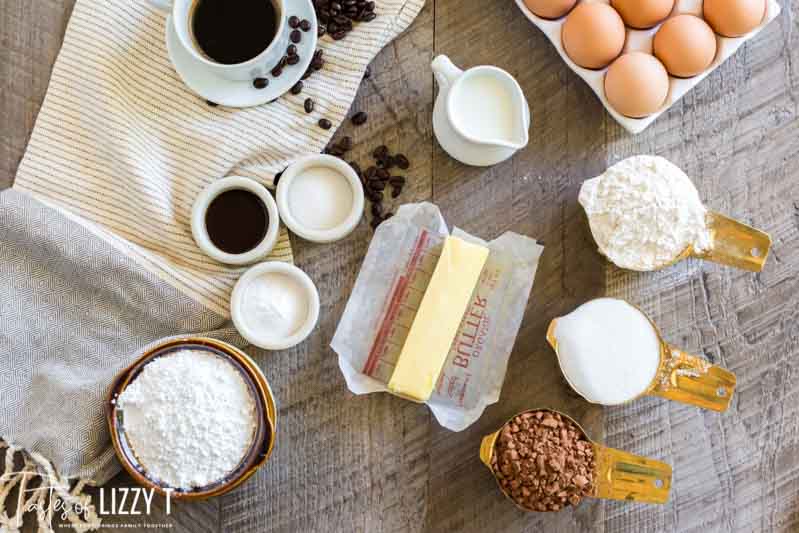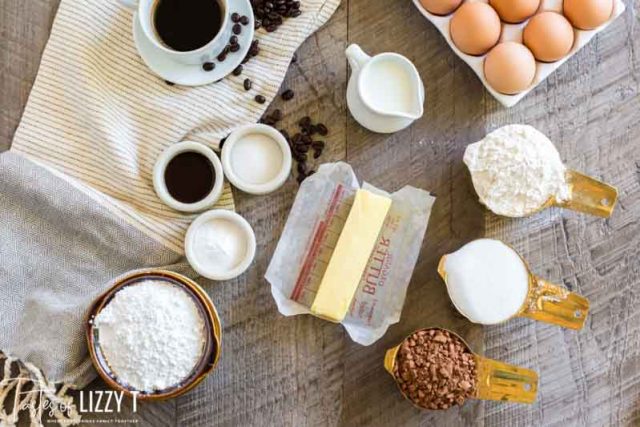 Where did whoopie pies originate from?
My mom grew up near an Amish settlement and had always thought whoopie pies were Amish food. But when she and dad went to Maine last summer, they were surprised to find whoopie pies everywhere and realized that people from Maine took credit for creating them. Who knows where they came from, or how they got their silly name? Where do you think they came from?
Whoopie Pies with Mocha Buttercream
These aren't just ordinary whoopie pies. (Like anything called a whoopie pies can be ordinary!) We decided to put a little twist on them. We made Mocha Whoopie Pies.
We had to take our love for coffee, lattes and iced coffees and put them into a dessert. These little whoopie pies have strongly brewed coffee in the cakes and in the buttercream.
Tips for making these:
If you want a lot of small whoopie pies, use a teaspoon to drop a heaping teaspoon of the batter onto the baking pan.   The batter will spread just a bit as it cooks, and your whoopie pies will end of being about 2 ½ inches in diameter.  You'll have about 18 tasty little cakes.
If you want large, double-fisted whoopie pies, use a heaping tablespoon of batter.  This will make cakes that are about 4 inches in diameter and you'll get about 10 whoopie pies.
We used strongly brewed fresh espresso in our cakes and the buttercream.  This gives just a subtle mocha flavor, so even those who are not crazy about coffee will like them.  If you want a stronger mocha flavor, you can use espresso powder, which I believe can be found in the coffee aisle at the grocery store.
Can you make whoopie pies in advance?
These can be made a day in advance. The flavors blend, the buttercream softens the cakes, making them extra delicious the second day.  I can't speak to saving them beyond that point, since they were gone quickly. If you do happen to have leftovers, store them in an airtight container. They should be fine at room temperature for 2-3 days.
They should also freeze really well! Wrap them individually in plastic wrap, then place them in a zippered bag or other other container.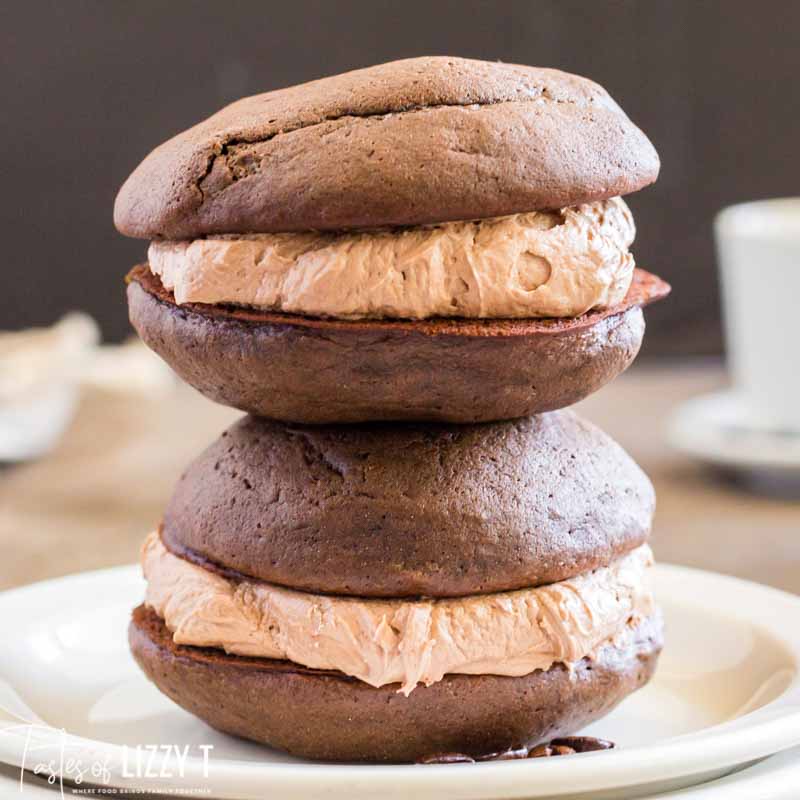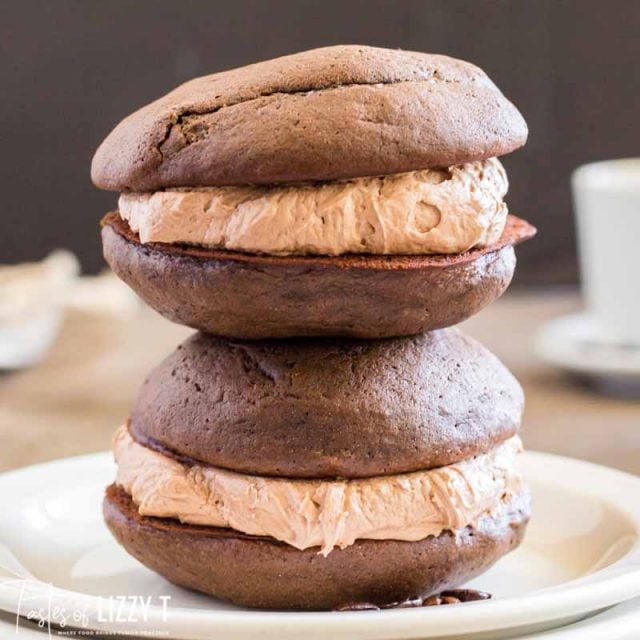 Baking Tools:
You may see in the store that they do sell whoopie pie pans, but you do not need one for this recipe. If it makes you feel more safe and comfortable, feel free to use it, but it is not necessary.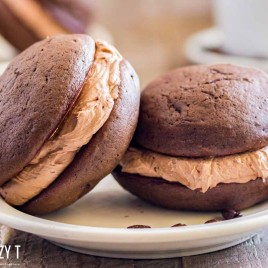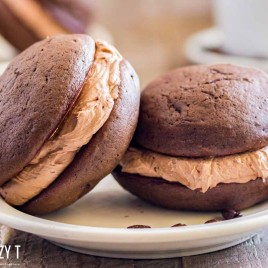 Mocha Whoopie Pies
These Amish-style whoopie pies have a delicious mocha flavor. Coffee intensifies the chocolate in this Mocha Whoopie Pie recipe.
---
Ingredients
1

cup

granulated sugar

1/4

teaspoon

salt

1/2

cup

salted butter

(softened)

1

teaspoon

vanilla

1

large

egg

2

cups

all purpose flour

1

teaspoon

baking soda

1/2

cup

unsweetened cocoa powder

1/2

cup

strongly brewed coffee

(cooled)

1/2

cup

buttermilk
Mocha Buttercream:
3/4

cup

salted butter

(softened)

2 1/2

cups

powdered sugar

2

tablespoons

cocoa powder

2

tablespoons

strongly brewed coffee

(cooled)
Instructions
In the bowl of a stand mixer, cream together the sugar, salt, butter, vanilla and egg. 

In a separate bowl, sift together the flour, baking soda and cocoa. Add this to the first mixture alternately with the coffee and buttermilk. 

Drop the batter by teaspoonfuls onto a non-stick, greased cookie sheet. You can also line the sheet with parchment paper or a silicone baking mat. Bake the cookies at 400 degrees for 7-8 minutes. Set the cakes aside to cool.

In a stand mixer bowl, whip the softened butter on medium speed until it is almost white in appearance.

Add the powdered sugar and cocoa powder. Mix on low speed.

Add in the hot coffee and whip the buttercream on medium speed for 3-4 minutes, or until light and fluffy.

Choose two whoopie pies that are about the same size. Spread the buttercream between the two cakes.

This should make about 18 whoopie pies that are 2 1/2″ in diameter.

Store in an airtight container.
Notes
*If the whoopie pie batter seems to thin, it may be because of the fat content of your milk. I used 1% milk, and didn't need to add any flour. You can add a bit of flour to thicken the batter, if needed, a teaspoon full at a time.
*To make the strongly brewed coffee, I used 3 tablespoons of ground espresso and brewed it with ¾ cup water. You can also use espresso powder, which is instant espresso that easily dissolves in hot water.
Nutrition
Calories:
287
kcal
|
Carbohydrates:
40
g
|
Protein:
3
g
|
Fat:
14
g
|
Saturated Fat:
9
g
|
Cholesterol:
45
mg
|
Sodium:
218
mg
|
Potassium:
75
mg
|
Fiber:
1
g
|
Sugar:
28
g
|
Vitamin A:
420
IU
|
Calcium:
19
mg
|
Iron:
1
mg