This Oatmeal Brown Sugar Granola is one of our favorite breakfasts. Serve in a bowl with milk or just eat it by the handful for an on-the-go breakfast.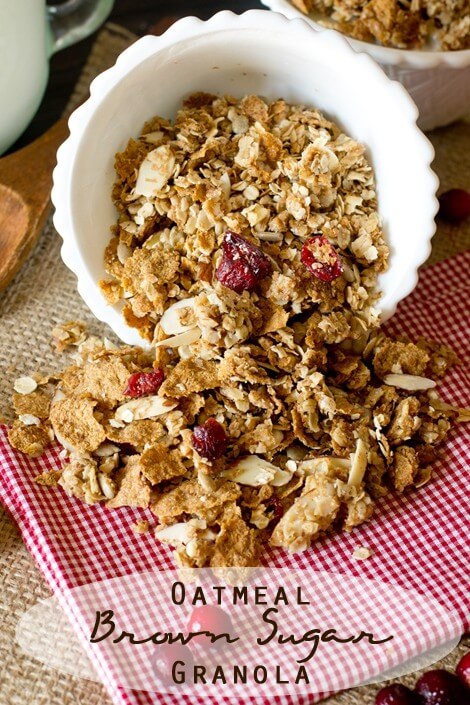 Ok, who are the cereal lovers out there? Once upon a time, I would have eaten cereal for breakfast, lunch and dinner. Not sure what to have for lunch? Cereal. No time to make dinner? Cereal. Hungry before bed? You guessed it…cereal.  Although we still do cereal for dinner at times, I have cut way back on how much cereal I eat since doing our Whole 30's and eat more paleo-style meals.
For the most part, I don't miss it. But there's one type of cereal that I still crave. Granola. And specifically, this Oatmeal Brown Sugar Granola.  It's crunchy, it's brown-sugary-sweet, and the dried fruit gives it a bit of chewiness.  Those qualities make this granola perfect for breakfast, a snack, with milk or without, on top of yogurt, ice cream topping…you name it, it fits the menu.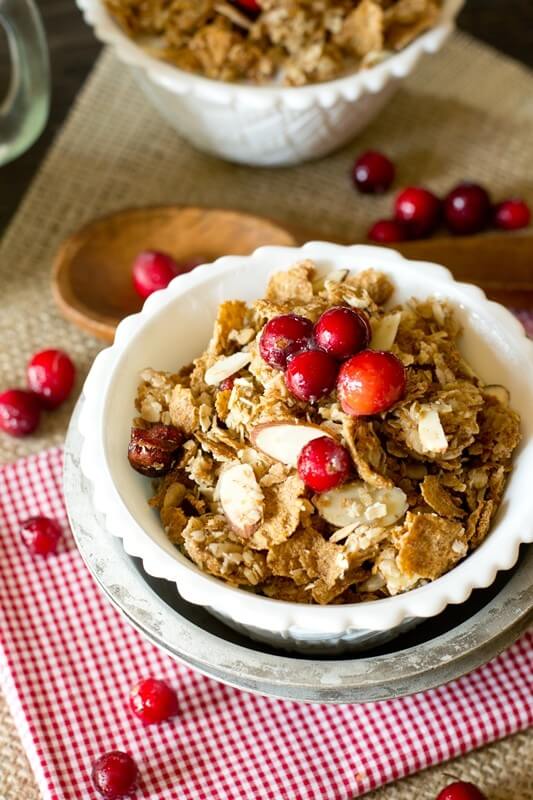 If you've never made your own granola, you're missing out. Although I never met a granola I didn't like, there's something about being able to make granola fit your tastes exactly.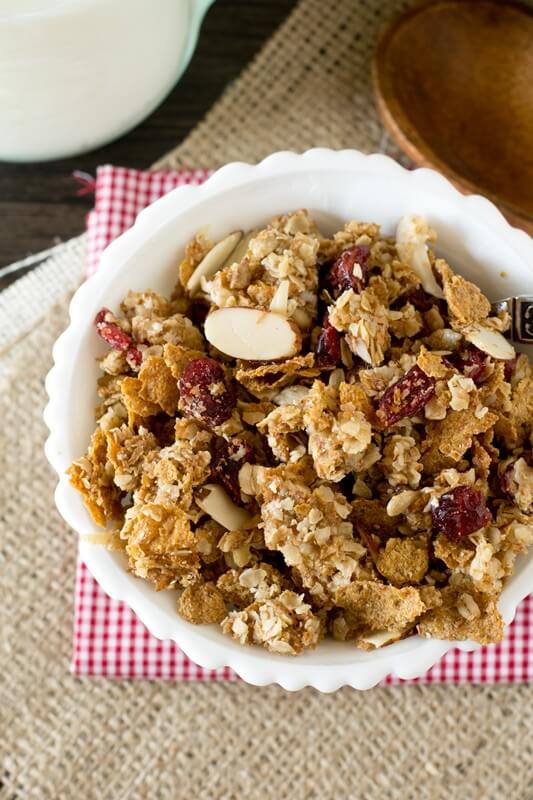 Since we're in the midst of the holiday baking season, I decided to use dried cranberries in my granola. You can just as easily use raisins or any other dried fruit you like. Or, leave out the dried fruit completely, which is what I did for the years when I had an aversion to dried fruit.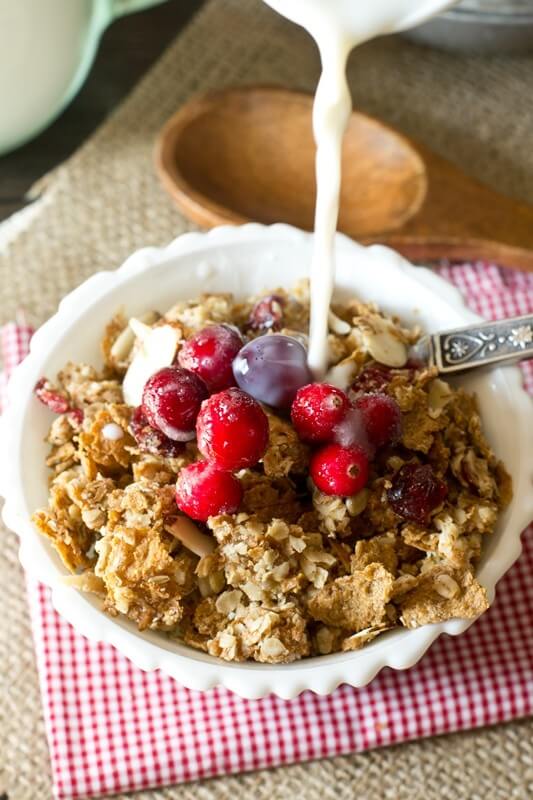 This sweet, crunchy granola is totally adaptable. Use bran flakes or corn flakes as your base. Love pecans? Add those in instead of almonds or do a combination of several types of your favorite nuts. Whatever you choose, you'll end up with a sweet breakfast or snack, full of whole grains and fiber. Just the perfect thing for this harvest season!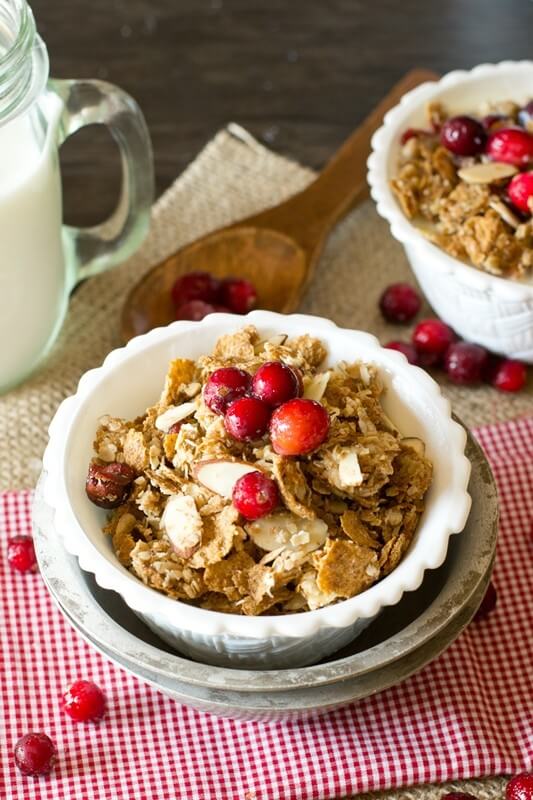 Do you have a special ingredient that you like to add to granola? Share your ideas with us!

Oatmeal Brown Sugar Granola
This Oatmeal Brown Sugar Granola is one of our favorite breakfasts. Serve in a bowl with milk or just eat it by the handful for an on-the-go breakfast.
Ingredients
1 cup (2 sticks) butter
1 cup packed brown sugar
2 teaspoons vanilla
6 cups quick cooking oats
6 cups bran flakes (or corn flakes)
1 cup wheat germ
1 cup sunflower seeds
1 cup almonds
1 cup dried cranberries
Instructions
In a medium saucepan, melt the butter, brown sugar and vanilla. Bring this to a boil. Simmer for 5 minutes, stirring occasionally.
Place the oats, bran flakes, wheat germ, sunflower seeds, and almonds in a large baking pan and mix well.
Pour the hot sugar mixture over the dry ingredients. Stir until the mixture is well coated.
Bake this mixture at 350 degrees for 10 minutes.
Remove from the oven and stir in the dried cranberries.
Allow the mixture to cool completely and store in an airtight container.
Notes
We like to gently crush the bran flakes (or corn flakes) so the pieces are not as big. If you choose to do this, measure out the cereal first, then crush the flakes.
Feel free to add your favorite kind of nuts or dried fruit.
Recipe Source: I found this recipe online over 10 years ago and can't find it online anymore. It's from a bed and breakfast in Penn Yan, NY called Flint's Landing.