Three-layer Snickerdoodle Caramel Bars will have you head over heels! Soft, cinnamon blondies covered in smooth dulce de leche and topped with sweet white chocolate. You won't believe how good these are!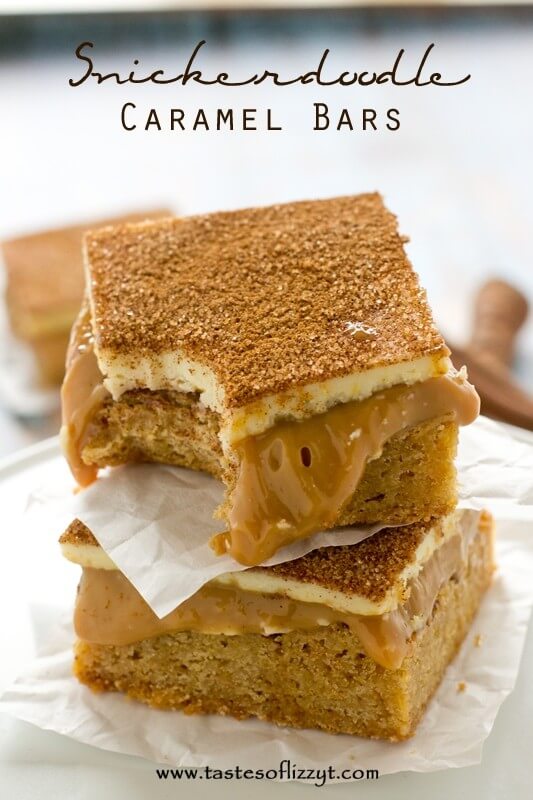 Have you ever experienced love at first sight?
I'm not talking about the people variety of love-at-first-sight. I'm talking about the dessert variety of love-at-first-sight.
I've probably experienced this often in my life, but the one that stands out the most was about a month ago when a friend served me these Snickerdoodle Caramel Bars.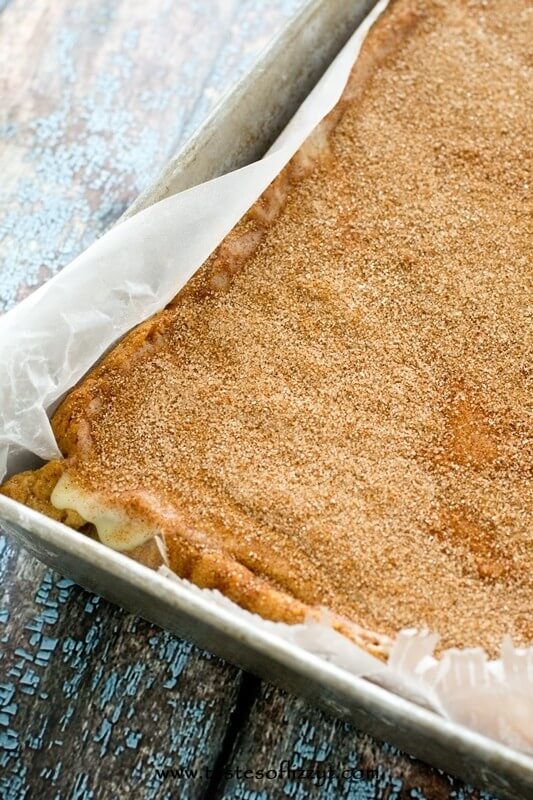 Snickerdoodle blondie base.  Thick dulce de leche caramel. White chocolate topping with a cinnamon-sugar sprinkle on top.
I had never seen bars like this in my life, but after one look, I knew I had to have the recipe.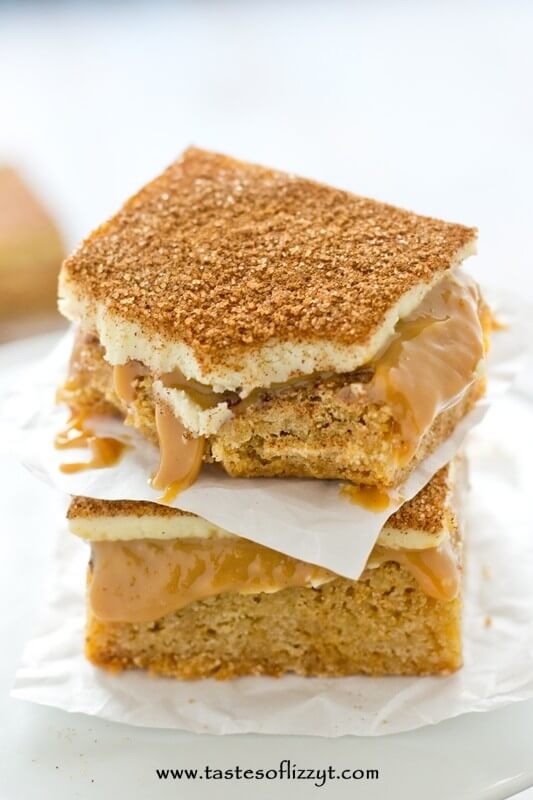 It's hard to describe how amazing these were, but for some reason they slightly reminded me of eating snickerdoodle cookie dough, which is one of my favorite doughs to eat. I think it was the white chocolate on top that gave it that "cookie dough" taste.  The blondies underneath are so soft and tender.
And that dulce de leche? It's homemade.  Yes, you can buy dulce de leche in the store if you'd like, but my sweet friend that introduced me to these bars made her own using a can of sweetened condensed milk. There's a tutorial here that you can find out all the details. It takes some time, but is much cheaper than buying a can of dulce de leche. I didn't do a side-by-side comparison tasting the two, but I can say that the homemade dulce de leche was unbelievable.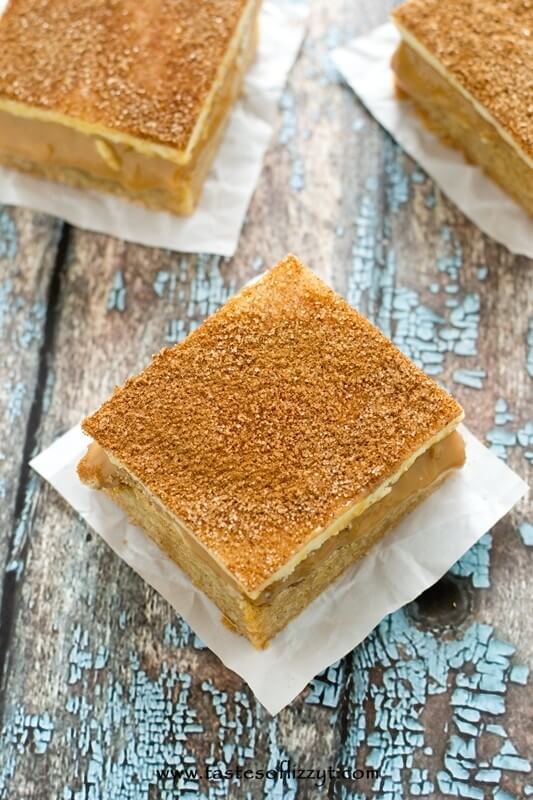 The original recipe (which was from Taste of Home) called for 2 cans of dulce de leche. The photos here show the bars with two cans. I think if I were going to make them again, I'd try it with just one can. There was a lot of gooey caramel in there, and although I'm a fan of super-sweet, rich desserts, I think one can would have been sufficient for me. If you like the looks of that gooey caramel, use two cans. If you'd like to cut back, I think they would be just fine.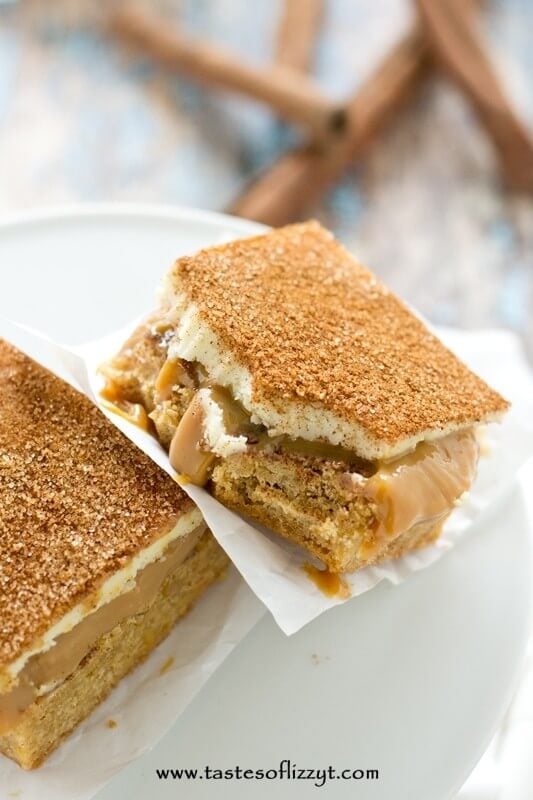 With as much baking as we do in this house, it's not often that we make recipes multiple times, but I can assure you that these snickerdoodle caramel bars is one that will be made again soon!

Snickerdoodle Caramel Bars
Three layer Snickerdoodle Caramel Bars will have you head over heels! Cinnamon blondies covered in smooth dulce de leche and topped with white chocolate.
Ingredients
1 cup butter, softened
2 cups packed brown sugar
2 eggs
2 teaspoons vanilla extract
2½ cups all-purpose flour
2 teaspoons baking powder
1 teaspoon salt
¼ cup sugar
3 teaspoons ground cinnamon
1 cans (13.4 ounces) dulce de leche, or make homemade with a can of sweetened condensed milk
12 ounces white baking chocolate, chopped
⅓ cup heavy whipping cream
1 tablespoon light corn syrup
Instructions
Preheat oven to 350°. Line a 13x9 inch baking pan with parchment or waxed paper, letting ends extend over sides.
In a large bowl, cream together the butter and brown sugar until light and fluffy. Beat in eggs and vanilla.
In another bowl, combine flour, baking powder and salt. Gradually beat this mixture into the creamed sugar mixture. Spread this onto bottom of prepared pan.
In a small bowl, mix ¼ cup sugar and 3 teaspoons cinnamon together. Sprinkle 2 tablespoons mixture over batter. Set the remainder aside to be used later.
Bake 25-30 minutes or until edges are light brown. Cool completely.
Spread the dulce de leche over crust.
In a double boiler, combine white baking chocolate, cream and corn syrup. Cook and stir over low heat until the chocolate is melted and it is smooth. Allow this to sit for 5 minutes.
Spread the white chocolate over dulce de leche. Sprinkle with remaining cinnamon-sugar mixture.
Cover the pan and refrigerate for at least an hour, until the chocolate is set. Cut into bars.
Store in an airtight container.
Lifting with parchment paper, remove from pan. Cut into bars. Refrigerate leftovers.
Notes
The original recipe calls for 2 cans of dulce de leche, which is what the photos show. Next time we make them, I'll reduce it to 1 can as stated in this recipe. If you like more caramel, use two cans.

These are rich bars, so we cut them small and get 36 bars, but you can cut them larger if you'd like.

If you'd like the dulce de leche layer to be thicker and not so gooey, use Nestle La Lechera dulce de leche found in the international foods section of your grocery store. It's a thicker variety that will hold shape better.
Recipe from Taste of Home