Paleo Zuppa Toscana is a rich soup filled with potatoes, kale, Italian sausage and bacon. Your slow cooker makes this dairy free recipe easy to make.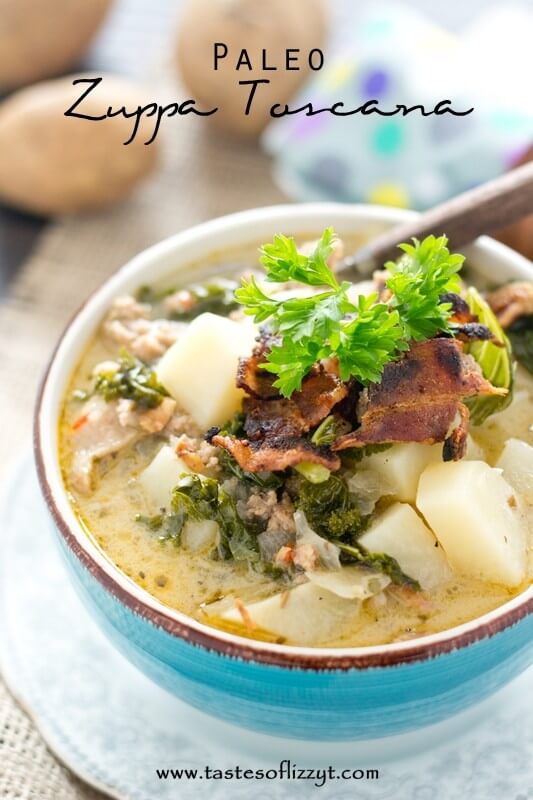 One of my favorite things to eat is soup. And something that I don't fix very often is soup. I know it doesn't make sense.  For some reason, soup is generally not what comes to mind when I'm menu-planning.  The one exception is when we are on a Whole30 or eating strictly paleo.  Although I know there are a lot of unhealthy soups out there, soup in my mind equals healthy. This Paleo Zuppa Toscana is our grain free, gluten free, sugar free and dairy free version of one of our Olive Garden favorites.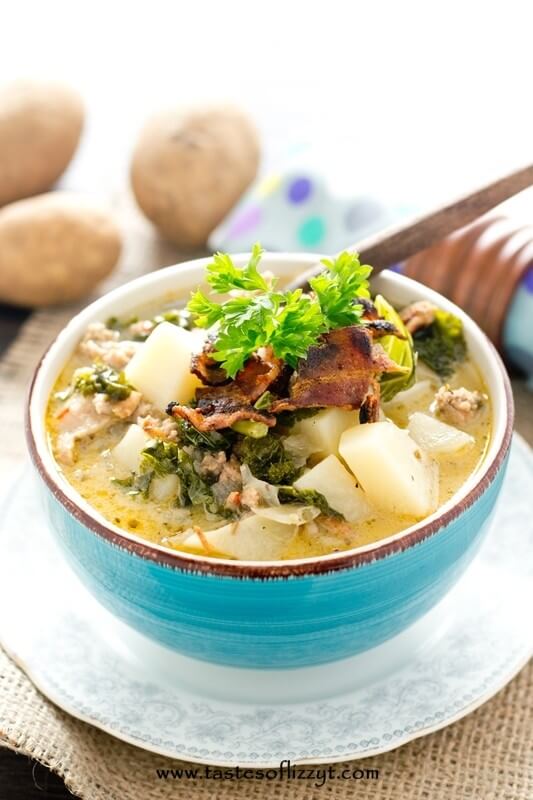 This creamy soup is full of potatoes, Italian sausage, kale, onions, and most importantly, bacon.
Bacon makes everything better.
Except chocolate. I do not care for chocolate covered bacon. I'll take my bacon and chocolate separate, thank you.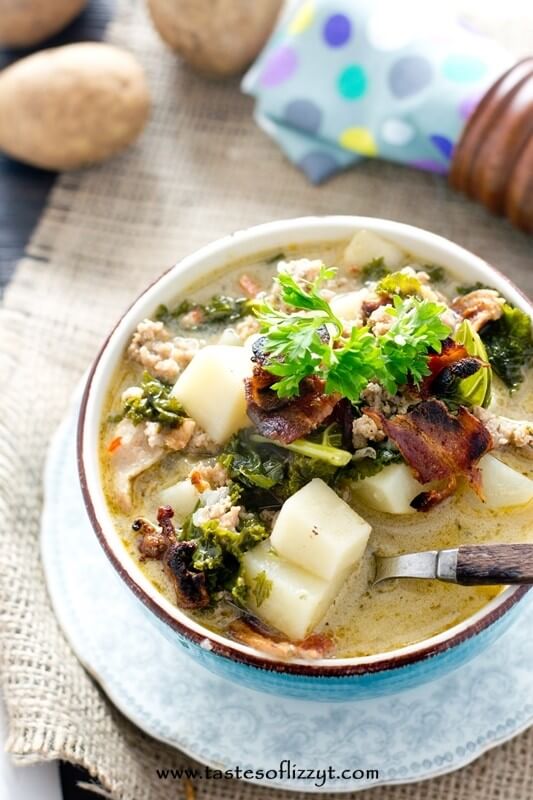 I used our own Italian sausage blend that you can find here. Homemade sausage seasoning is so much better than store-bought. Yes, it takes 5 minutes to throw the seasonings in a pound of ground meat, but the exploding flavor that will happen in your mouth is so worth it. Plus, you get to decide what type of "sausage" meat you use. Our favorite meat to add sausage seasoning to is ground turkey because it is so lean.  I did a little bit of prep work the day before and got a pound of ground turkey seasoned and browned, so the next morning, it was all ready to throw in the slow cooker.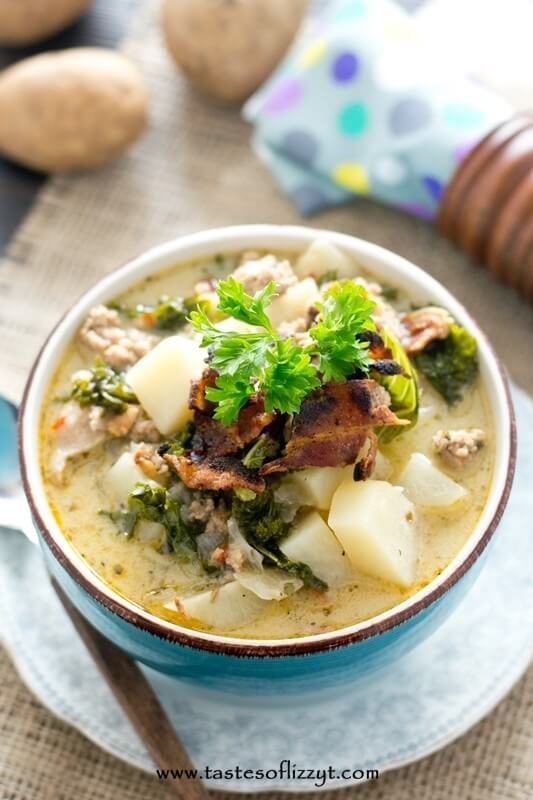 You can also prep the bacon ahead of time, too.  Just a little bit of thinking ahead will make this an easy meal to throw together on those early mornings.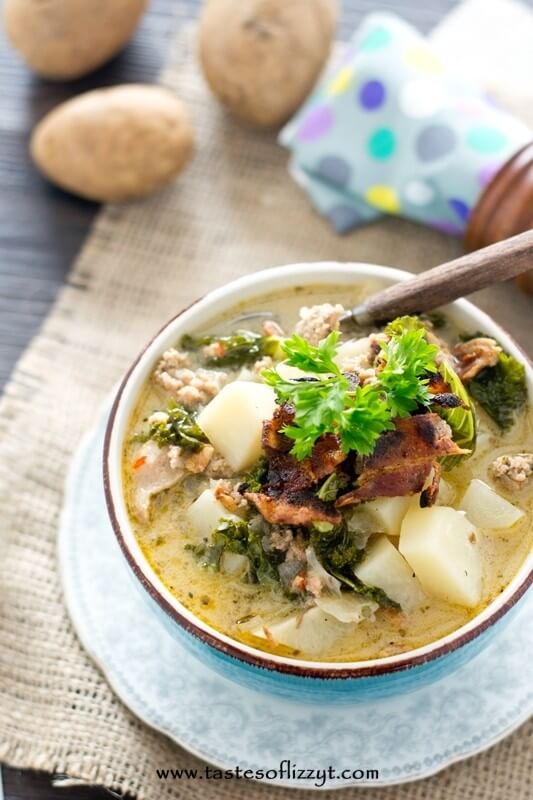 One last thing before you head to the store to get the ingredients for this comforting soup.  The coconut cream should be added at the very end of cooking.  Make sure that your can of coconut milk are refrigerated and use only the solid white cream from the cans. Save the clear milky liquid for a smoothie or another recipe.  Add the cream in, stir it into the soup a bit so it melts in and voila…you've got creamy soup!
I like to double this recipe for a full slow cooker and lots of leftovers.
Enjoy!

Julie
Yields 6
Paleo Zuppa Toscana
Paleo Zuppa Toscana is a rich soup filled with potatoes, kale, Italian sausage and bacon. Your slow cooker makes this dairy free recipe easy to make.
7 hrCook Time
7 hrTotal Time
Ingredients
1 lb. bacon, cooked and crumbled
1 lb. Italian sausage, browned and drained
4 cups chicken stock
1 teaspoon minced garlic
1 medium onion, diced
3 large potatoes, peeled and cut into cubes
2 cups kale, diced
1 can full fat coconut milk, refrigerated
Instructions
Place half of the cooked and crumbled bacon into the slow cooker. Reserve the other half as a topping for the soup.
Add the Italian sausage, chicken stock, garlic, onion and potatoes to the slow cooker.
Cover and simmer on low for 6-8 hours, or on high for 4-6 hours until the potatoes are tender.
With 30 minutes left, add the kale to the slow cooker. Cover and allow the kale to cook for 30 minutes.
Five minutes before serving, open the can of refrigerated coconut cream and add just the solid white cream to the slow cooker. Reserve the clear coconut milk for another use. Let the cream heat through the soup for about 5 minutes.
Serve with crumbled bacon on top.
http://www.tastesoflizzyt.com/paleo-zuppa-toscana/
Paleo Sweet Potato Chili