White Chocolate Raspberry Cheesecake Greek Yogurt Popsicles
Who says popsicles are for kids? These cheesecake flavored, Greek yogurt popsicles are full of raspberries, graham cracker crumble and drizzled with white chocolate.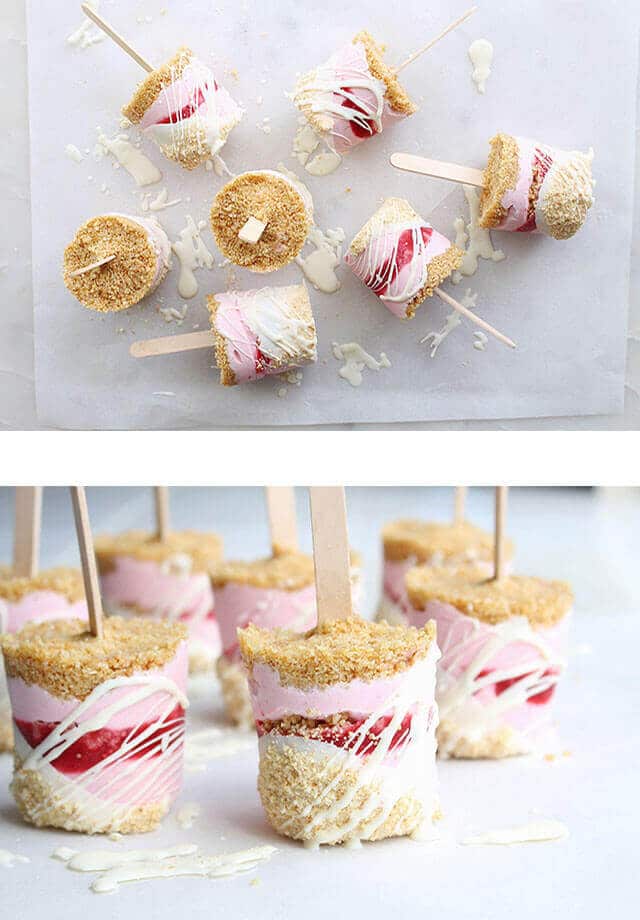 Why hello lovelies! Kristie here from The Sweet & Simple Kitchen and I am so excited to be sharing this recipe with you all today!
Okay, so I think I might be welcoming in the coming of summer a little bit early here with a Greek yogurt popsicle recipe, but what can I say? I just couldn't help myself, because the weather in my Vancouver hood the past couple of weeks has been so uncharacteristically gorgeous! We have had sunny days, with crazy-town hot temperatures, and in the land of perpetual rain, that is basically unheard of for the time of year –  and I am absolutely loving it!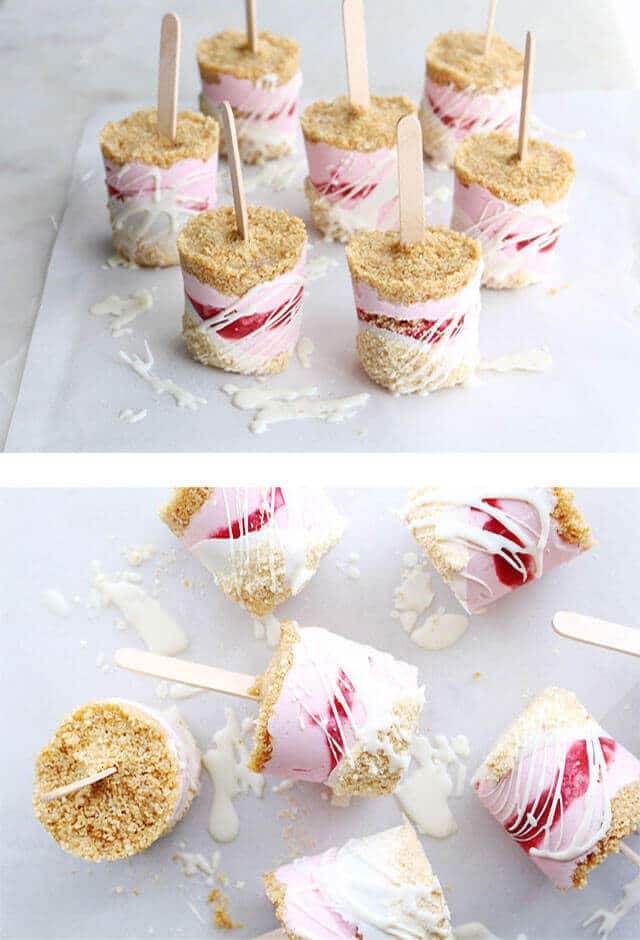 This past weekend temperatures soared and we were all scrambling to find a way to beat the unexpected heat. In other words, we were in serious need of some kind of delicious, freezing cold treats to aid our current situation.
Now I don't know about you, but when it's hot out, I crave light, fruity flavours the most, so It was only natural that I found myself craving Greek yogurt popsicles with a some sort of berry theme.
So I peeked in my refrigerator for some inspiration, which, after a week of preparation for our weekly farmers market, basically looked as though it had been raided by a very hungry bear, and was down to the absolute bare minimum; However, I did manage to wrangle up a small package of raspberries, half of a lemon, a lonely package of cream cheese, and an almost empty container of Greek yogurt from my seemingly empty fridge.
I mean, what else was a girl to do with these random remaining ingredients, but whip up a batch of on the fly White Chocolate Raspberry Greek Yogurt Popsicles…? I essentially had no choice in the matter, right?
Now, I don't make homemade popsicles that often, so I really had no idea how these pops were going to turn out. In all honesty I was pretty much expecting a popsicle fail of epic proportions; But despite my lack of confidence they turned out better than I could have imagined! 
Not only are they just downright adorable on the outside – but they are also so super delicious!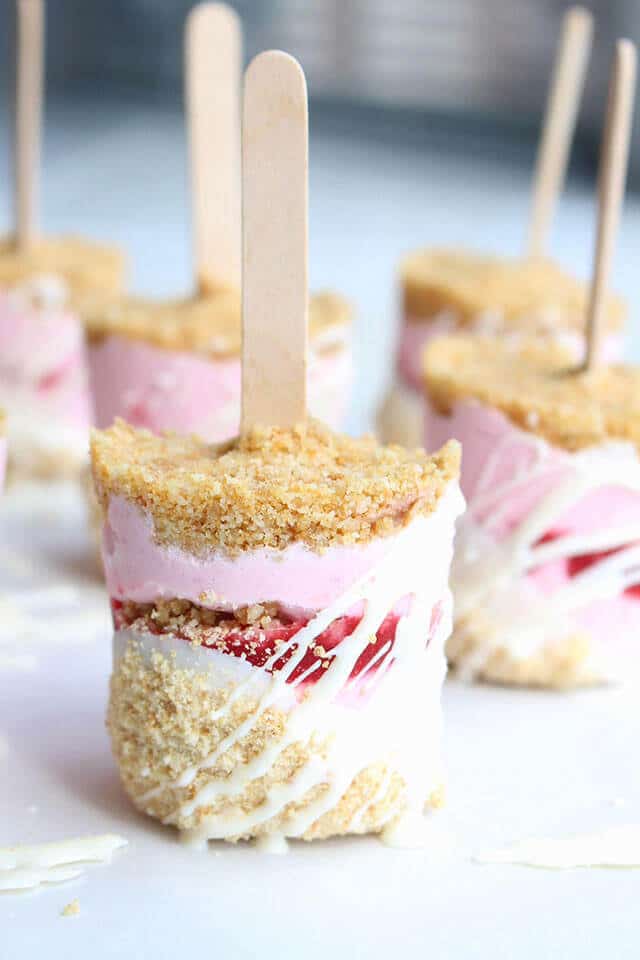 Okay, okay so I might be a little biased about this flavour combo, seeing as how white chocolate raspberry cheesecake is hands down my favourite cheesecake flavour – but honestly, these Greek yogurt popsicles are da' bomb!
The flavour combination of the cream cheese, with the Greek yogurt, raspberries, graham cracker crumble, and white chocolate coating truly makes these pops taste just like you are biting into a slice of delicious frozen white chocolate raspberry cheesecake… Honestly, need I say more?
I think not – but before I get right down to this recipe, I just wanted to make a note that if you aren't a white chocolate person, just omit this last step from the recipe and enjoy the pops without it – they are still super delicious!
So here is the Greek yogurt popsicle recipe friends and I hope you enjoy! Thank you for popping by to check out the recipe xoxo!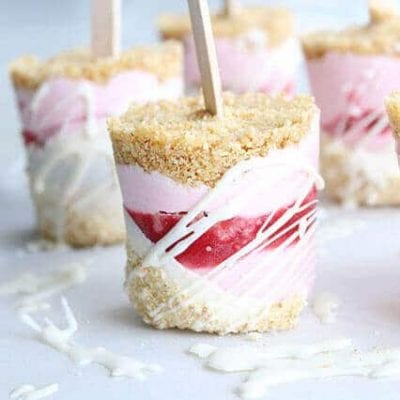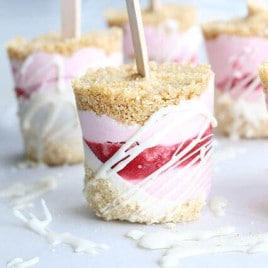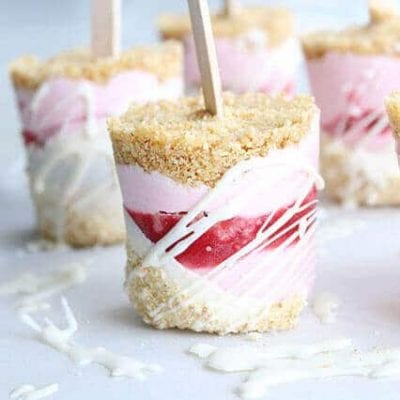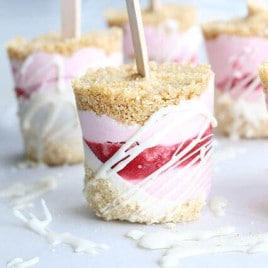 Raspberry Cheesecake Greek Yogurt Popsicles
Who says popsicles are for kids? These raspberry cheesecake greek yogurt popsicles are full of raspberries, graham cracker crumble and white chocolate.
---
Ingredients
Things you need...
8

small paper cups

8

Popsicle sticks
Graham Cracker Crumble
1/3

cup

graham cracker crumbs

1/3

cup

almond meal

1

tbsp

brown sugar

3

tbsp

butter

melted
Raspberry Cheesecake Frozen Yogurt
1

package

cream cheese

250 grams

2/3

cup

icing sugar

1/3

cup

plain Greek yogurt

1/4

cup

heavy cream

1/2

tsp

vanilla

1

tsp

lemon zest

3/4

cup

raspberries
White Chocolate Coating
1/2

cup

white chocolate

1

tbsp

coconut oil
Graham Cracker Crumb Garnish
2

tbsp

almond meal

2

tbsp

graham cracker crumbs
Instructions
Graham Cracker Crumble
In a small bowl, stir together graham cracker crumbs, almond meal, brown sugar and melted butter until combined and crumbly - mixture should hold together when you squeeze it. Set aside until ready to assemble.
Raspberry Cheesecake Frozen Yogurt
In a medium bowl, beat cream cheese with an electric mixer until smooth. Add in icing sugar, and lemon zest; beat until smooth. Next add in greek yogurt, heavy cream and vanilla and beat again until smooth and evenly combined.

Next, place the raspberries into a blender and pure until smooth. Separate ¼ cup from the raspberry puree, and set aside for later; Then add the remaining raspberry puree to the frozen yogurt mixture and beat until evenly combined.
Assembly
Now you are ready to start filling your pops. First, spoon about 1 heaping tbsp of the raspberry cheesecake ice cream into the bottom of each paper cup; use a spoon to smooth to the edges of the cup. Next, take the remaining ¼ cup of raspberry puree and evenly distribute it in each cup on top of the frozen yogurt; smooth evenly over top with a spoon. Next sprinkle 1 heaping tsp of the graham cracker crust mixture over top of the layer of raspberry puree. Next, distribute the remaining raspberry cheesecake frozen yogurt mixture into each of the cups; again using your spoon to smooth the mixture to the edge of the paper cups.

Finally, evenly distribute the remaining graham cracker crust mixture over top of the final layer of raspberry cheesecake frozen yogurt, and gently press down with your fingers to pack it in like you would a cheesecake crust - just don't press too hard or your fingers will slip right into the ice cream

Once your pops are assembled, place them into an 8x8 inch baking pan and place in the freezer to firm up for 5-6 hours (or overnight).
White Chocolate Coating & Graham Cracker Garnish
Once your pops have had a chance to freeze - you are ready to dunk them in all that white chocolate goodness.

In a small bowl, microwave the white chocolate and coconut oil together to melt and whisk until smooth. Set aside to cool for 10- 15 minutes. While you're waiting, whisk together the almond meal and graham cracker crumbs for your garnish, and take out a baking sheet and line it with parchment.

Next you want to remove your pops from their paper cups, so cut a small slit into the top of each cup and gently peel away the paper cup. Set the pops onto the prepared parchment lined baking sheet. Working with one pop at a time, dip one f the bottom corners into the white chocolate and use your finger to gently wipe any excess, before immediately dipping into the graham cracker garnish. Once coated, set back onto the parchment paper and continue the process with the remaining pops.

Remove pops from the freezer 5-10 minutes before serving to soften slightly.

Enjoy!
Notes
***Tip: The white chocolate hardens onto the pop very quickly, so you want to try your best to dip into the garnish quickly so it will stick to the white chocolate nicely. Once all your pops have been dipped, drizzle any remaining white chocolate onto the opposite side of the pop that you dipped to give it that drizzled look, as you see in my pictures. Place back in the freezer until ready to serve.
Nutrition
Calories:
361
kcal
|
Carbohydrates:
28
g
|
Protein:
5
g
|
Fat:
26
g
|
Saturated Fat:
14
g
|
Cholesterol:
55
mg
|
Sodium:
193
mg
|
Potassium:
106
mg
|
Fiber:
1
g
|
Sugar:
21
g
|
Vitamin A:
620
IU
|
Vitamin C:
3.3
mg
|
Calcium:
89
mg
|
Iron:
0.8
mg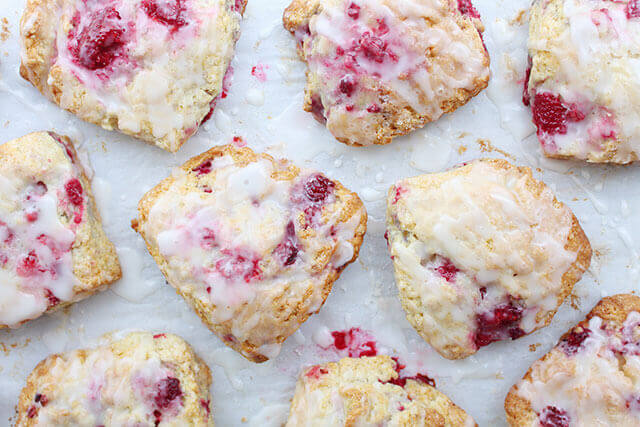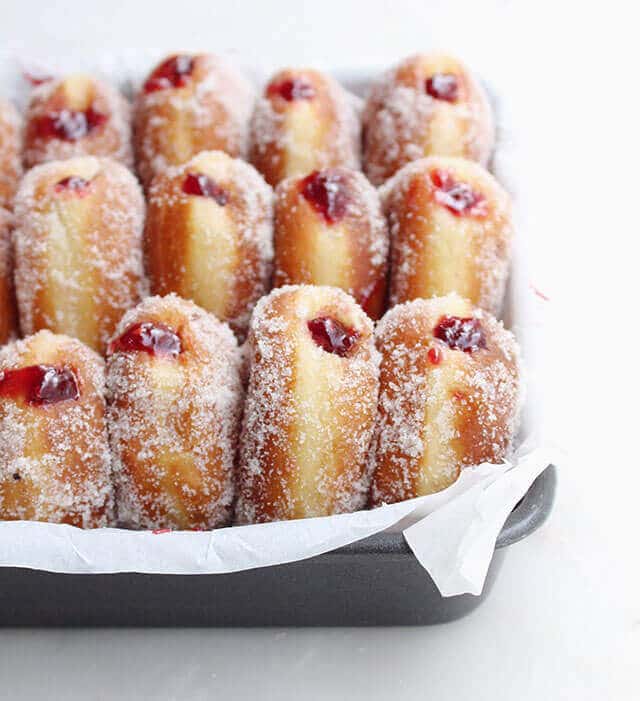 White Chocolate Raspberry Cheesecake Bars