This is my Grandma's Sour Cherry Pie recipe. Simply the best cherry pie there is, and so easy to make with just 4 ingredients inside. We love eating it warm with ice cream on top.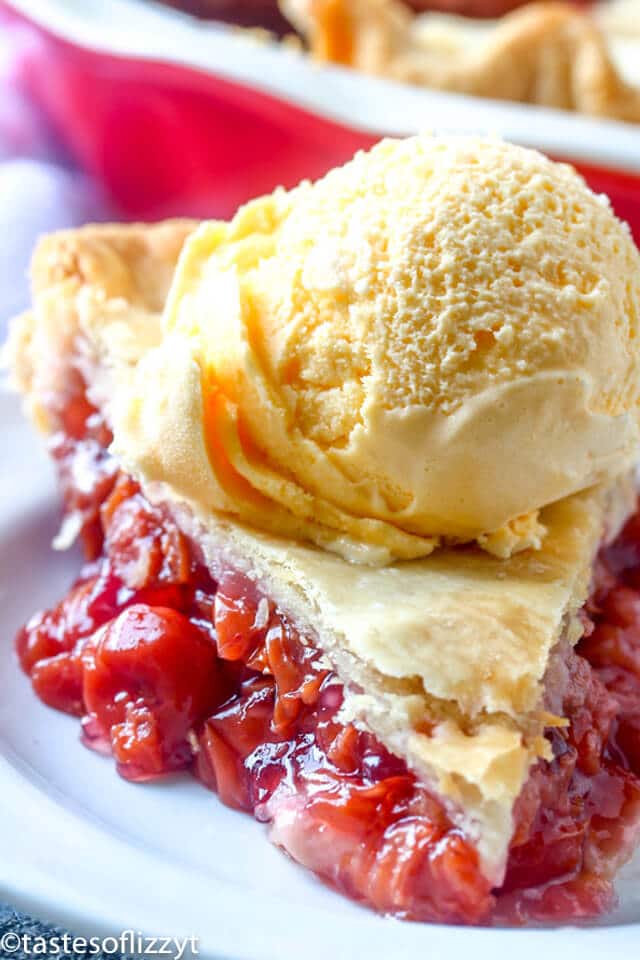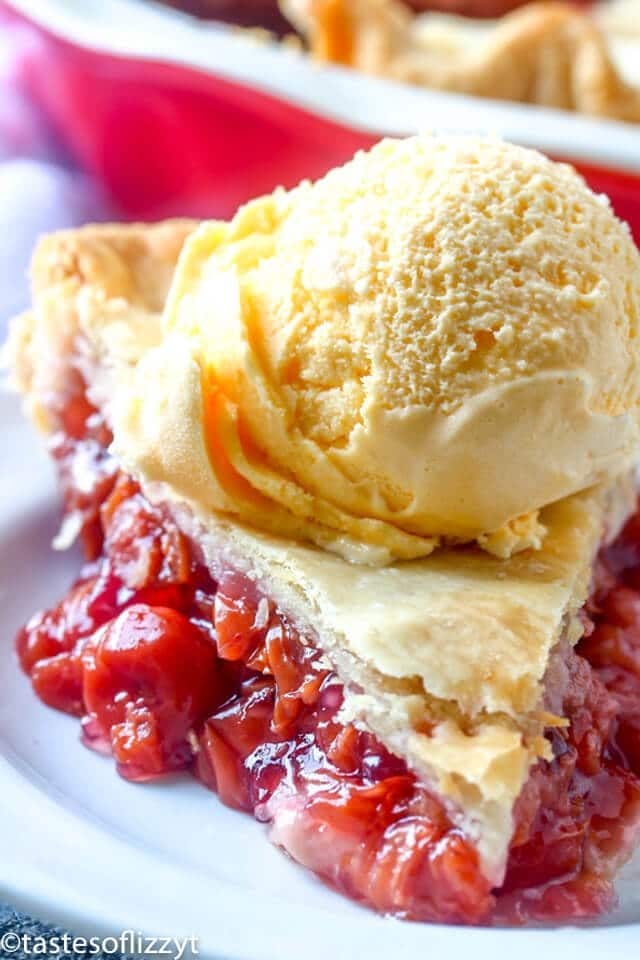 Sour Cherry Pie Recipe
You all are in for a treat today.  This cherry pie you're about to witness is special.  I've already told you what a great cook my grandma is.  She doesn't cook much anymore, but thankfully we have several of her recipes written down and this Sour Cherry Pie is the one that I enjoy the most!
Since I have the rough  life of being a food blogger, I had to make this pie three times before posting it.  It's not that the recipe is hard. In fact, it couldn't be easier. What happened was that my recipe was written down differently than my mom's recipe.  You use two cans of tart red cherries, and my recipe said I was supposed to use all of the juice in the two cans, along with the cherries.  This is how I've always made it. And I've always ended up with a really juice pie that sometimes overflowed.  This was never much a problem, though, since I love extra juice in my cherry pie.  It just gives more syrup to pour over the ice cream! When I asked my mom about the overflowing issue, she said her recipe stated that the juice should be drained.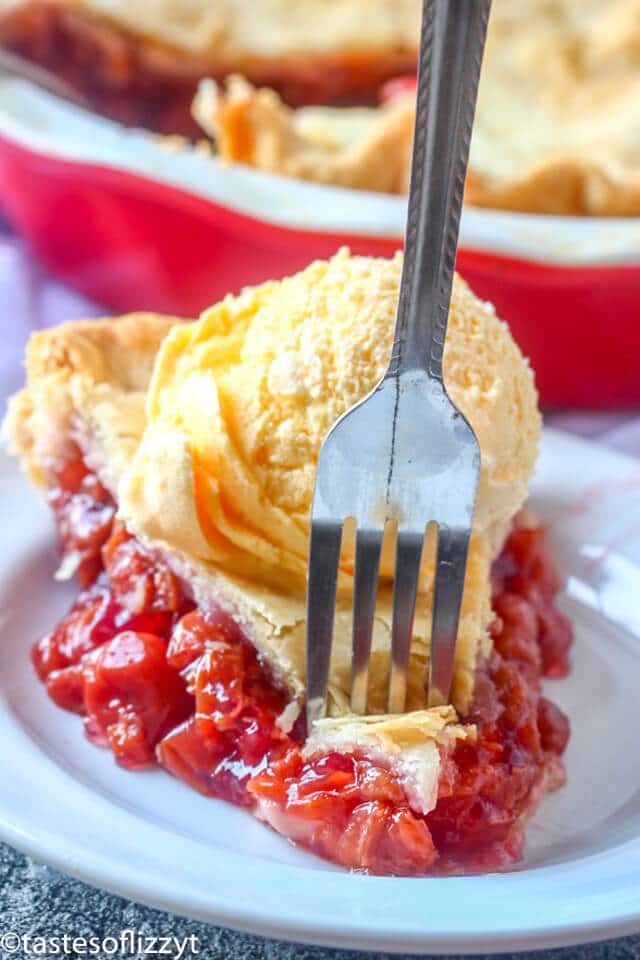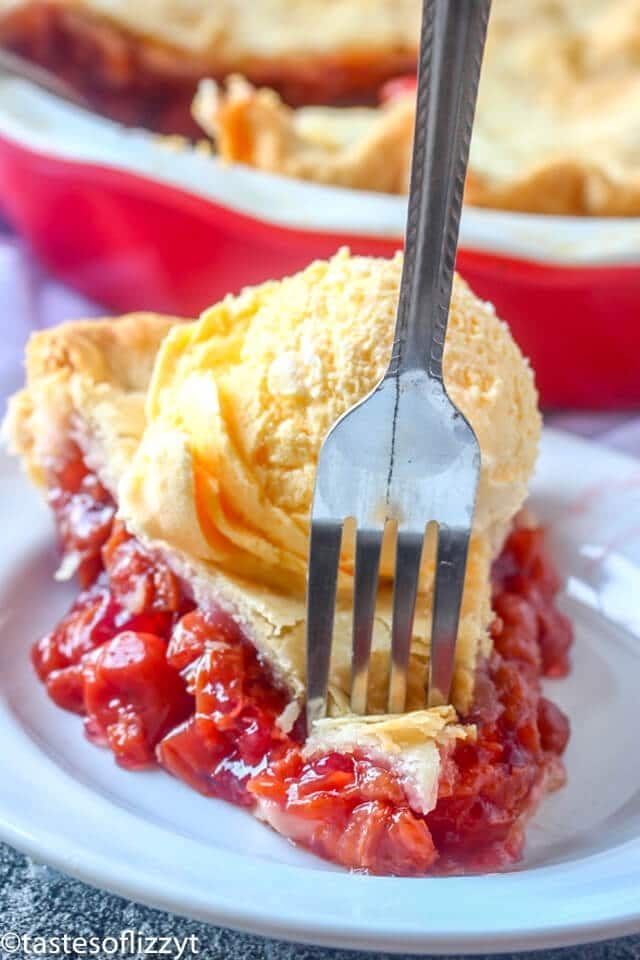 The second time Maddie made the Sour Cherry Pie, she made a mistake on the crust, so it was a little dry.  You can use a store-bought pie crust if you'd like, but we are homemade pie crust fans all the way.  Maddie is still perfecting her pie making skills and sometimes her crust turn out better than other times.
How to Make Cherry Pie
Use your favorite pie crust recipe or a store-bought pie crust.  We'll be sharing our favorite crust recipe with you soon!
Drain all of the juice from your threee cans of tart red cherries.  We've made it all ways, adding juice from two cans, adding juice from just one can, and draining all three cans. However, draining both cans definitely leads to the best looking pie, with no run over.  If you do choose to keep some of the juice in, put a pan under your pie dish so you don't end up with a messy oven!
Use 3 tablespoons of Minute Tapioca. This will thicken the pie just right!
Add in 1 ½ cups sugar.  My mom and dad make this with Splenda often with good results.  So if you're looking for a low sugar option, try Splenda or stevia!
If you love Sour Cherry Pie, you'll absolutely love the combination of tart cherries with the sweet filling.  It's fantastic, if I do say so myself, and it's one of those classic, all-American summer recipes that you'll pull out time and again!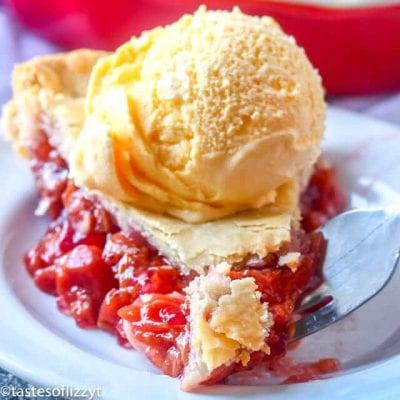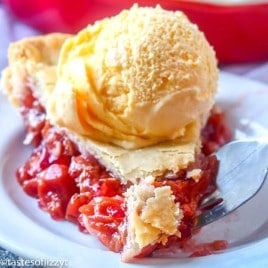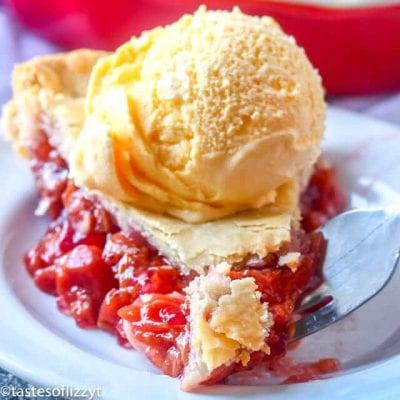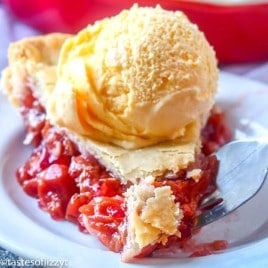 Sour Cherry Pie
This is my Grandma's Sour Cherry Pie recipe. Simply the best cherry pie there is, and so easy to make with just 4 ingredients inside. We love eating it warm with ice cream on top.
Total Time
1

hour
10

minutes
---
Instructions
Prepare the pie crust. Spray a pie plate with cooking spray and place the bottom crust in the pie plate.

In a small bowl, combine the cherries, sugar and tapioca. Pour this into the bottom pie crust. Dot the teaspoons of butter on top of the cherry mixture.

Place the other rolled out pie crust on top of the cherries. Fold the top crust under the bottom crust and pinch the edges together. Prick the top pie crust with a fork so steam can escape.

Bake at 400 degrees for 40-50 minutes or until the crust is nicely browned. If desired, you can cover the edge of the pie crust with aluminum foil so it doesn't get too browned. If you do this, remove the foil for the last 10 minutes of baking.

Allow the pie to cool at least 1 hour before serving.
Notes
I like to sprinkle about two teaspoons of sugar on top of the unbaked pie, right before baking. I love having that little bit of sugar on top of my crust!
Nutrition
Calories:
270
kcal
|
Carbohydrates:
51
g
|
Protein:
1
g
|
Fat:
7
g
|
Saturated Fat:
2
g
|
Cholesterol:
4
mg
|
Sodium:
100
mg
|
Potassium:
20
mg
|
Sugar:
37
g
|
Vitamin A:
45
IU
|
Calcium:
4
mg
|
Iron:
0.6
mg