A Family Guide to the Ohio State Fair
For over 165 years, the Ohio State Fair has been a classic summer destination for families in Ohio and beyond. This is your family's guide to the Ohio State Fair, one of the most loved state fairs in the nation!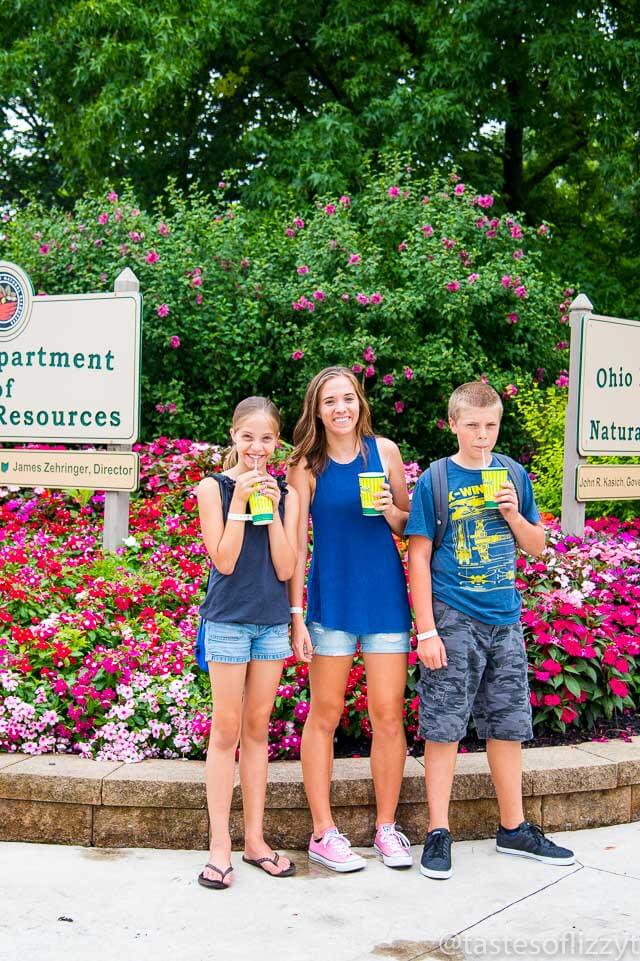 I've lived in Ohio all my life. Nearly 40 years! Yes, I'm rounding up to that number now.
In my old young-at-heart age, I'm starting to appreciate all that Ohio has to offer. I've always said I didn't care for Ohio, but have just recently made the decision to love my state. The more I travel to other states, the more I realize how beautiful Ohio is. Yes, the weather can be crazy, but it is home and I'm going to choose to see the beauty in it.
Can you believe I lived my whole life never having gone to our the Ohio State Fair? I blame that on the fact that I lived in northern Ohio for the first 30 years of my life. The Ohio State Fair is located in Columbus, Ohio. I'm now only an hour away and just went for the first time this year. It was about time!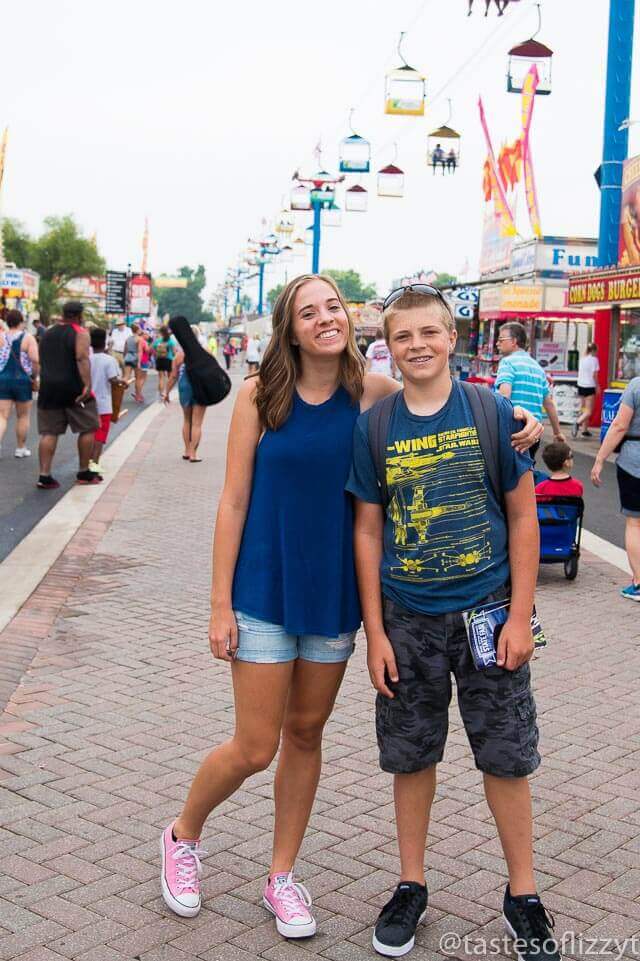 I'm sharing today our family's top choices for must-see and must-do fun at the Ohio State Fair. Food, rides, exhibits, kids activities….there really is so much to see.
Rides
My sensitive stomach can't handle too many spinning rides at one time (there's over 60 rides in Mountain Dew Midway), so I tend to go with slow and easy rides. My favorite? The Ferris wheel! It's tall and gives you a beautiful view of the fairgrounds and the city in the distance.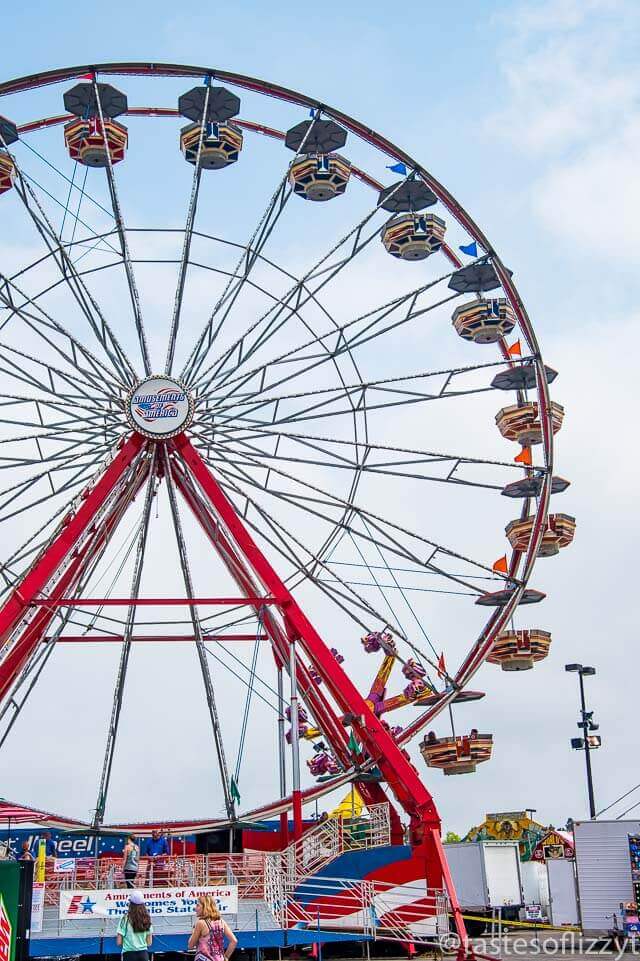 One ride everyone loves? The giant slide! This was the Braden's first choice for a ride. You're never too old for slides. Especially when the slide is 144 feet long!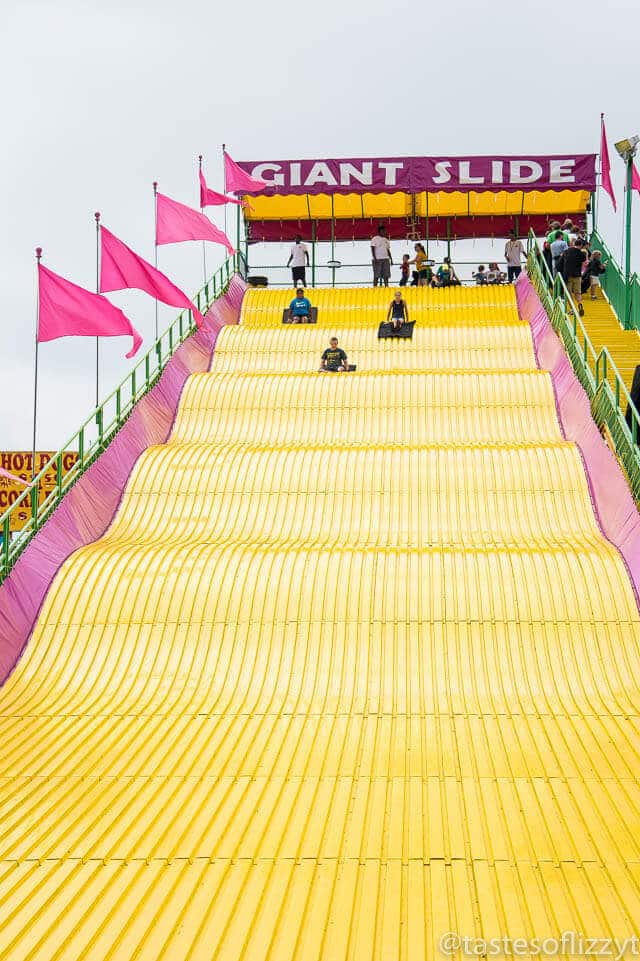 You'll also want to catch the Buckeye Health Plan Skyglider. This was such a peaceful ride, gliding a half-mile over the fairgrounds. It was so peaceful Matt fell asleep. 🙂 It has the title of being one of the world's longest portable sky rides. Don't miss this one!
There's also a Kiddieland with mini-coasters and rides that will thrill your toddlers. I miss that fun toddler stage….ok, no I don't. 🙂
Food
We made it our goal to sample as many fair foods as we could. It's a rough job, ya know? Our family doesn't normally share food too well (think claws out and pouty lips when someone gets a bigger bite than someone else, adults included), but by the end of the day we had it down. One bite for everyone so we could all taste the deliciousness!
There's freshly roasted corn. The vendor asked, "Would you like it dipped in butter?"  Of course!! Silly question.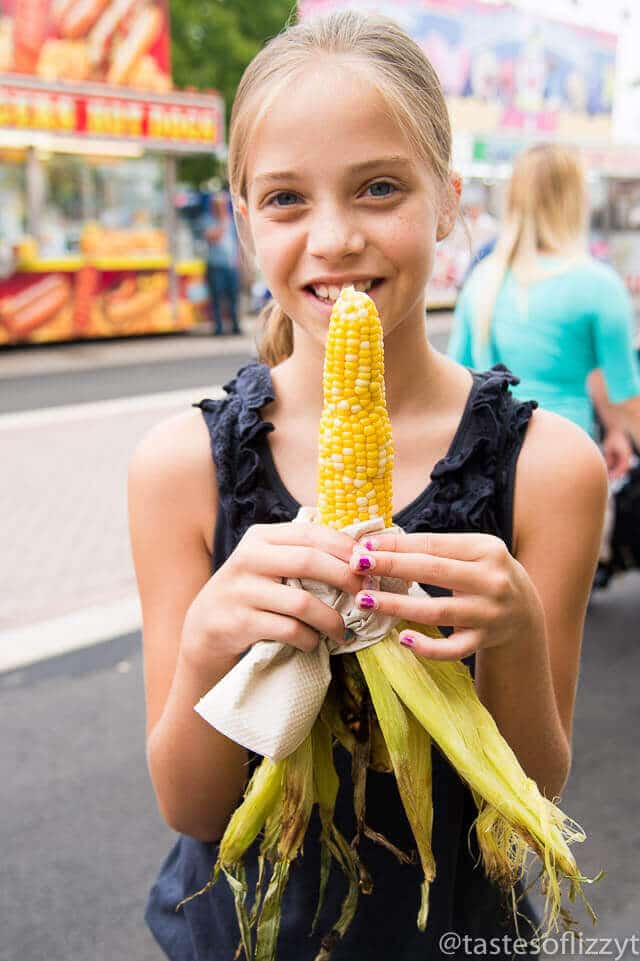 Pronto Pups, hot dogs dipped in pancake batter instead of a corn batter. The girls devoured these and I didn't even get a taste. 😛 Because we are a pancake-loving family, these ranked in the top 10.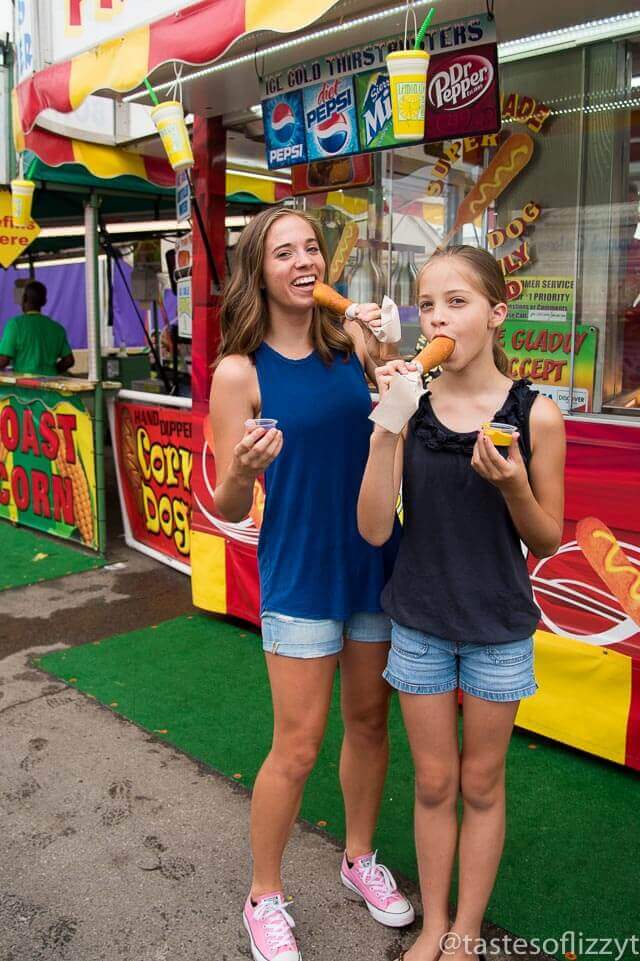 Schmidt's brats and cream puffs….those cream puffs were the size of my hand! I hadn't had a cream puff in years. A must-get if you are a cream-puff lover!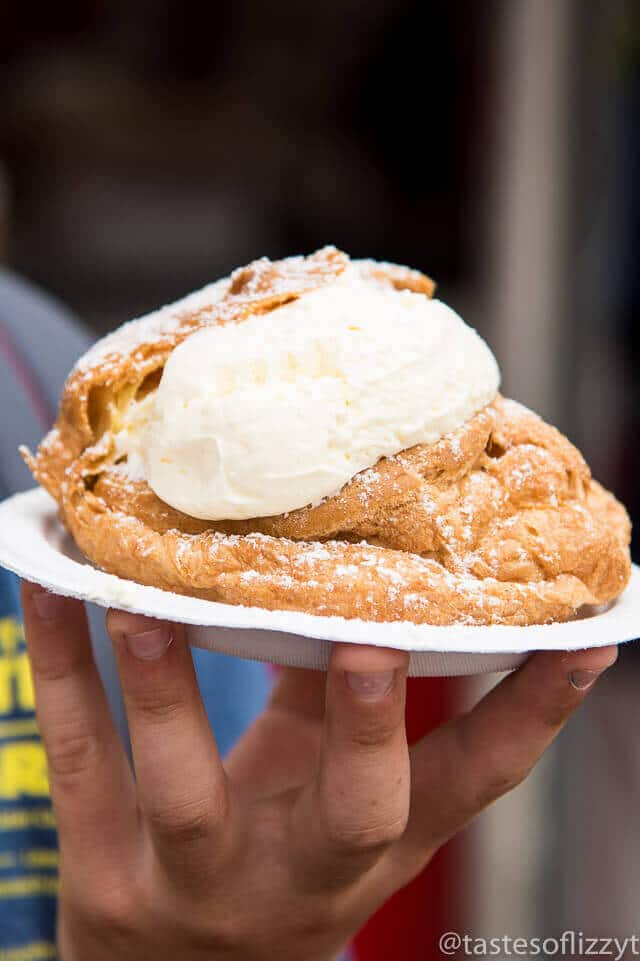 Deep fried buckeyes…because….why not? You're at the Ohio State Fair! Of course you need buckeyes, and they definitely need to be deep fried. I thought they'd be really melty inside, but they weren't. Warm and gooey, but still a buckeye wrapped in fried dough. No more words necessary.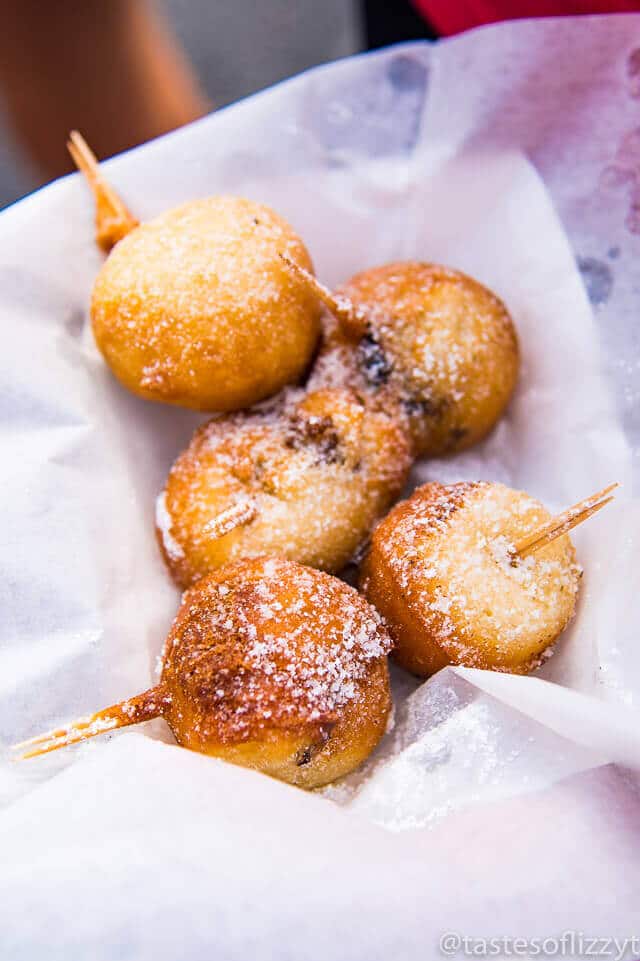 My classic fair food is always elephant ears. Everything I tasted at the Ohio State Fair was excellent, but a trip to the fair isn't complete without an elephant ear. They had stands selling "baby elephant ears", but I want for the full "papa-size" elephant ear. It was more than a foot long!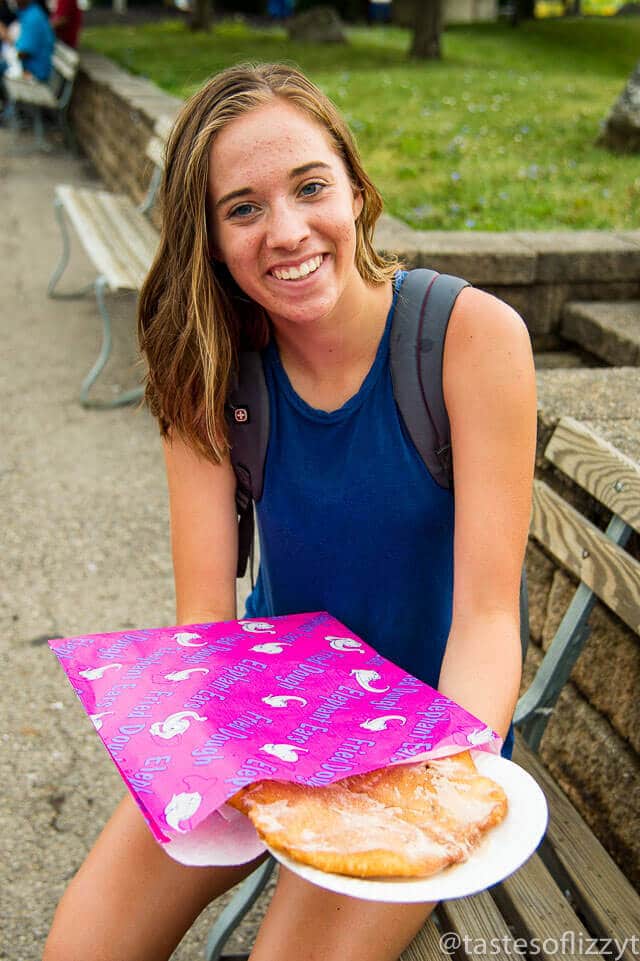 I didn't get many pictures of it, but you'll definitely want to eat dinner in the Tastes of Ohio Cafe. There's pork, beef, turkey and chicken dinners from Ohio farmers. I had a Thanksgiving dinner. In July. At the Ohio State Fair. And it was mouth-watering. You can also find ice cream made by the ADA Mideast / Ohio Dairy Producers Association. I had their 2015 flavor, which was Buckeye. Their 2016 flavor is Banana Cream Pie. Matt LOVED this!
You'll also want to quench your thirst with a lemon shake-up. These lemonade stands are all over the park. It was the first time my kids have had one and they were so impressed at how they were made…and how they tasted. Their life is now complete.
Activities
There are countless family-friendly activities at the Ohio State fair. There's entertainers that walk through the streets, parades, band and choir performances, sea lion shows, pig races (SO fun!), high dive shows and so much more. It's hard to take everything in in one day!
Kinslee is my animal-lover, so when she saw camel rides? You can bet she wanted one. And when else is she going to get to ride a camel?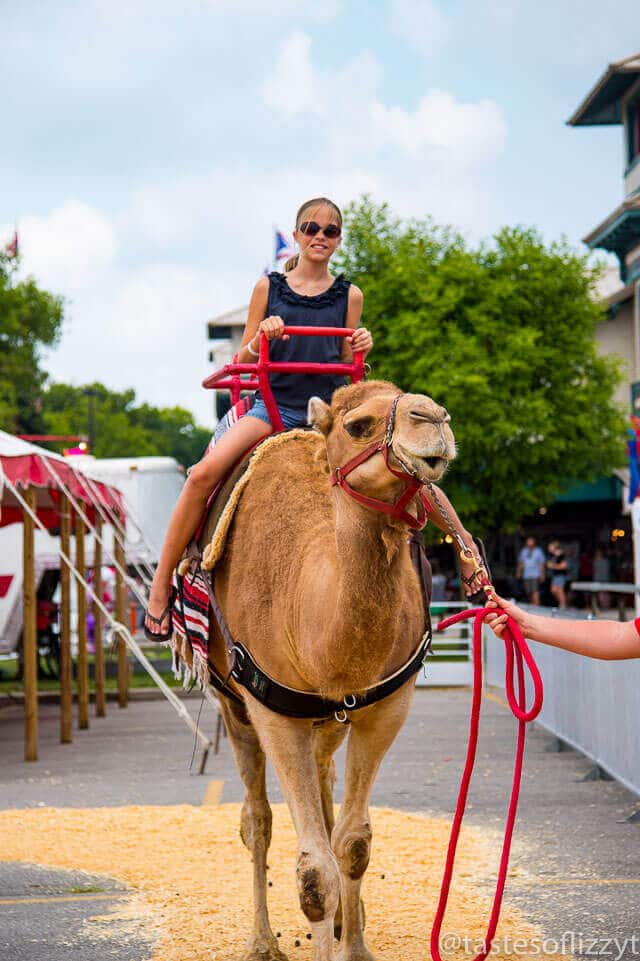 One peaceful spot in the park is the Ohio Department of Natural Resources park. It's over 8 acres of beautifully manicured gardens and paths. There's free fishing for kids, kayaking, archery, a butterfly garden, a watercraft simulator, a log cabin, wildlife and geological information and entertaining programs that the kids will love. If you want to sneak in a little fun education in the summer, this is the way to do it. The kids won't even realize they are learning.
This was one of my favorite spots in the park: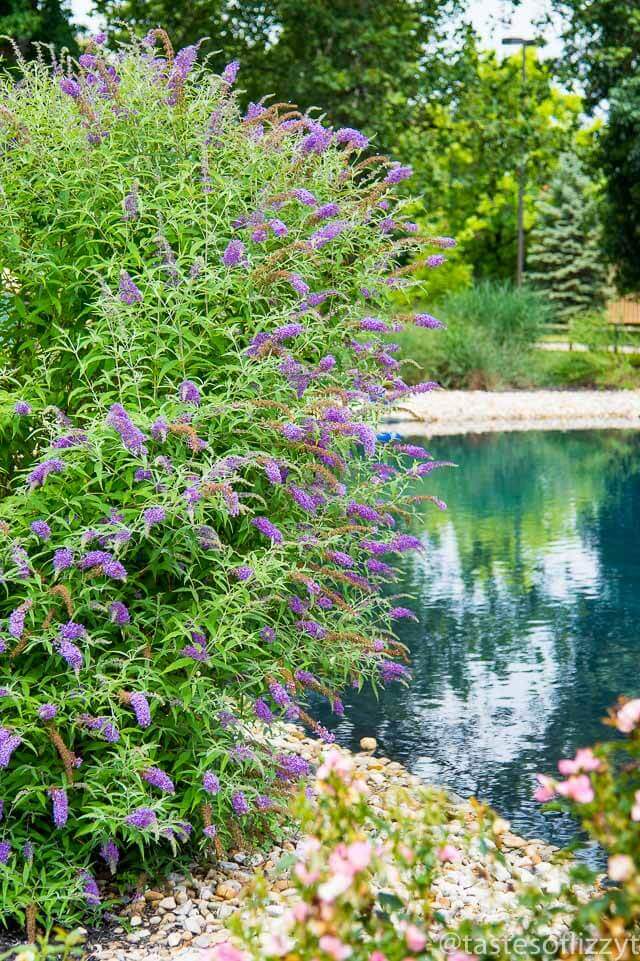 It doesn't look like a state fair, does it?!
This lady below was a very friendly and knowledgeable herpetologist. She did a fantastic job answering the kids questions and talking with them, all with a constricting snake around her neck.
Impressive.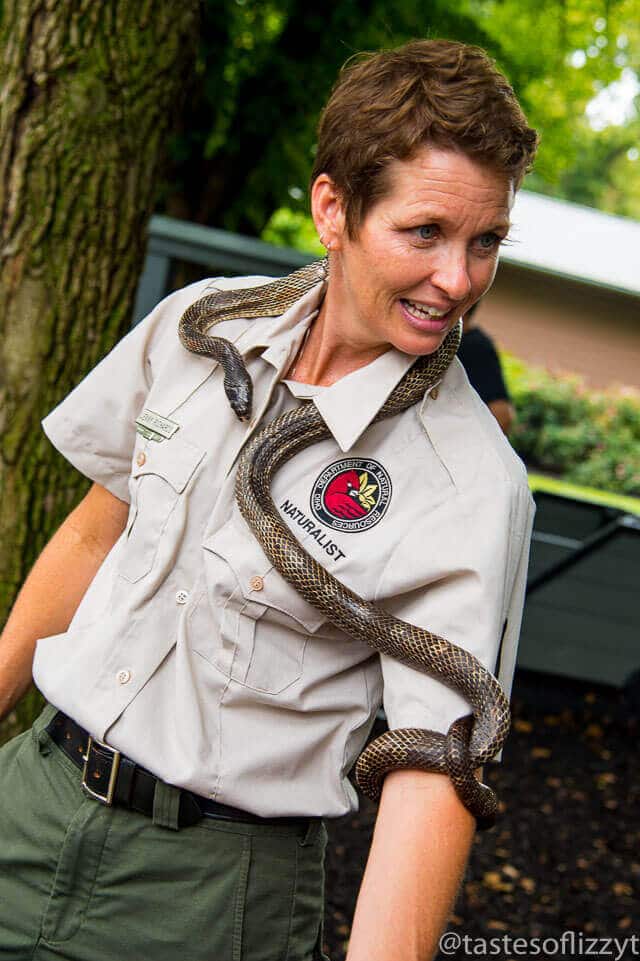 Other Events and Activities
Nightly concerts, dog shows, eating contests, cooking demonstrations, fitness programs, beauty pageants, bee demonstrations, pony rides, and petting zoo.
Oh, and don't forget the American Dairy Association Butter Cow! And this year they had a tribute to the Cleveland Cavaliers. All made out of over 2000 pounds of butter and kept in a 45 degree refrigerated case. It's amazing. And it makes me want homemade rolls.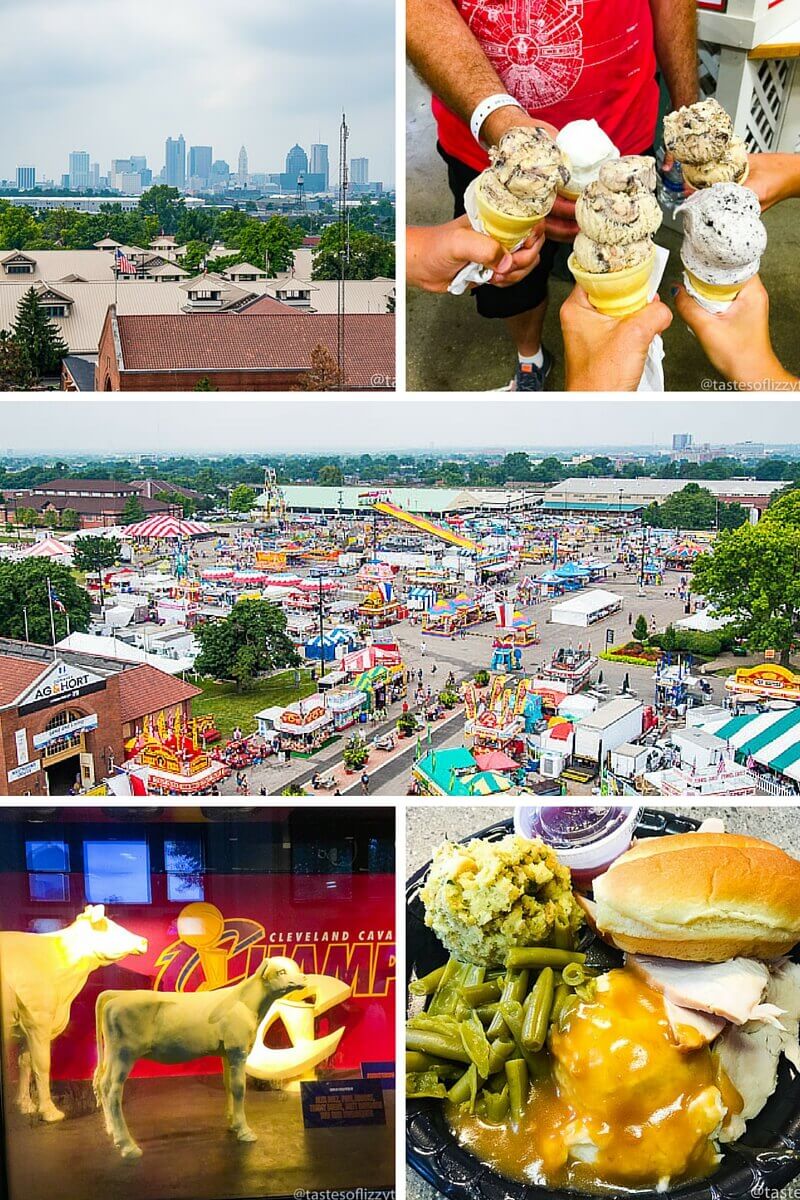 If you're looking to visit the fair and need a place to stay there are hotels nearby and even camping available.
Plan your day, get directions to the fair and find maps all on the Ohio State Fair website. You can also find them on Facebook, Twitter and Instagram!
Thank you to the Ohio State Fair for sponsoring our day at the fair! As always, all opinions are mine.
Other Ohio Fun…