Best Restaurants in Kauai
Tastes of Lizzy T participates in affiliate advertising programs. We may earn a commission when you make a purchase through links on our site.
The best restaurants in Kauai. Don't miss these restaurants, both causal and sit-down, bakeries and food trucks!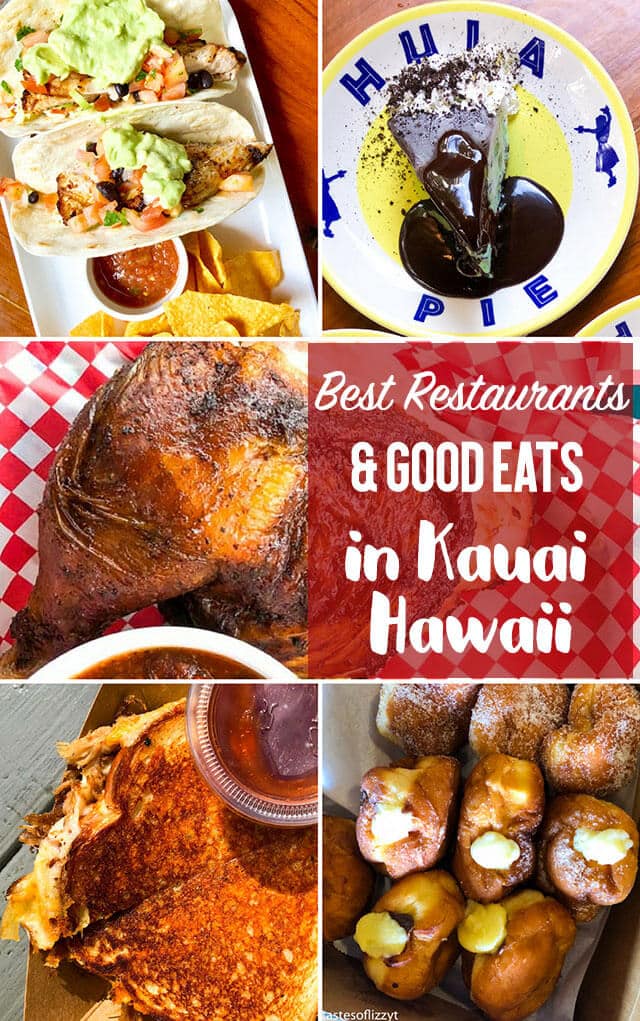 Best Restaurants in Kauai
This past March we had a long planned for trip overseas that was unfortunately cancelled. Our trip insurance didn't come through for us at all (very frustrating!) so we were left with a huge amount of airfare that we had to use within 6 months. So where do you go when you need to plan a trip and have free airfare? Hawaii, of course! I had wanted to go to Hawaii at some point in the future, but didn't think it would be this year. The small island of Kauai has always called my name because of its beauty and laid back atmosphere. I knew this was the first Hawaiian island I wanted to visit!
If you're planning to visit Kauai sometime soon, we've got the can't miss food treats that you'll want to try. You can bet I spent some time researching what we should eat. You also know from our past travels that we like to visit the less "fancy" restaurants since we are often traveling our kids. Give me a delicious food truck meal over a fancy, expensive meal any day. Here are a few of our favorites!
Porky's
OK. So this was by far my favorite meal while on the island. Porky's is a food truck that is rated #1 on TripAdvisor. We visited the truck in Waimea on our way home from Waimea Canyon. Their menu is small (3 meal choices), but that means what they do, they do well. I highly recommend the #3, which is pulled pork grilled cheese. Oh. My. Goodness. What a way to fuel up after a long hike. I wish we could've eaten here again during our week stay, but there just wasn't enough time. HIGHLY recommend.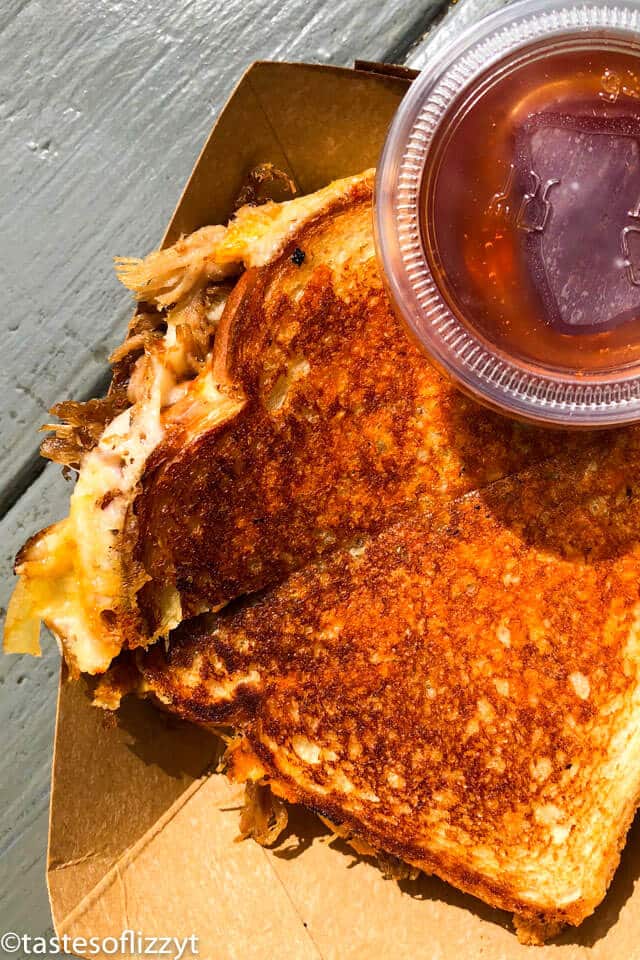 Da Crack (Mexican)
If you're craving Mexican while on a Hawaiian Island, Da Crack is the place to go! It's a little local taco join that tastes fresh and delicious. If you love fish tacos, this is the place to get them! The tacos are huge and may be able to feed 2 people. Don't forget to try their cinnamon crisps for a dessert. It's a great place to sit outside to eat and enjoy live music in a casual atmosphere.
Chicken in a Barrel BBQ
If you're up near Hanalei Bay, I recommend this little Chicken in a Barrel BBQ shop. You can sit out in the open air after you've done some shopping and enjoy the view. We tried the burritos, Hawaiian cheeseburgers, and of course…chicken! This was good comfort food and hit the spot after a busy day of sight-seeing.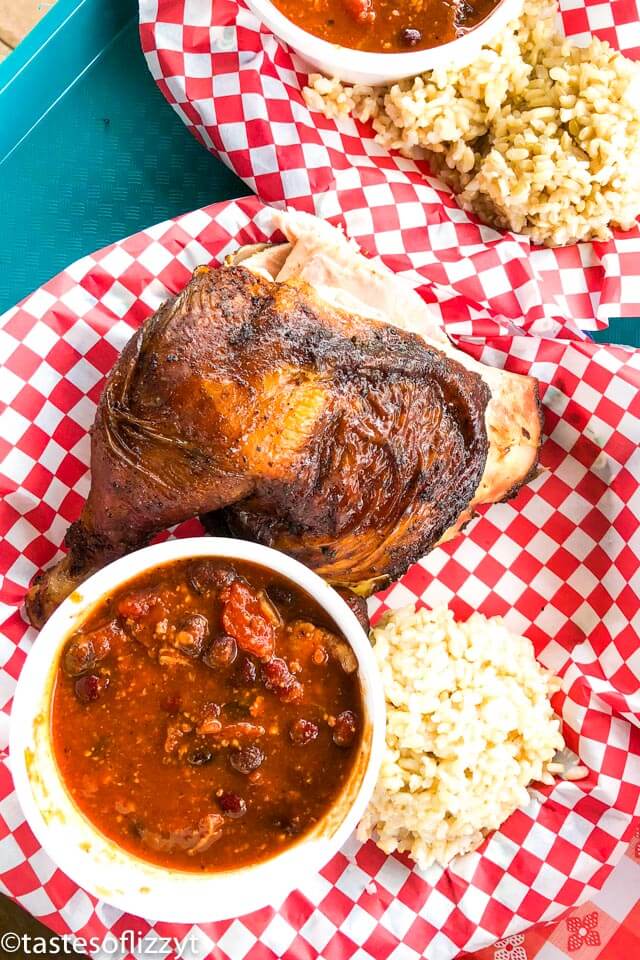 Keoki's Paradise
Keoki's Paradise in Poipu is part of a family of restaurants that include's Duke's. When friends heard we were going to Kauai they said, "You have to try Duke's Hula Pie!". In doing some research we found that Keoki's (which was within walking distance of our house) was similar to Duke's and had the infamous Hula Pie. Dessert is a must, but their fresh fish and fish tacos were delicious too. Great service, beautiful setting! If you want to eat with your toes in the sand, head up to Duke's in Lihue for similar food and a slice of pie.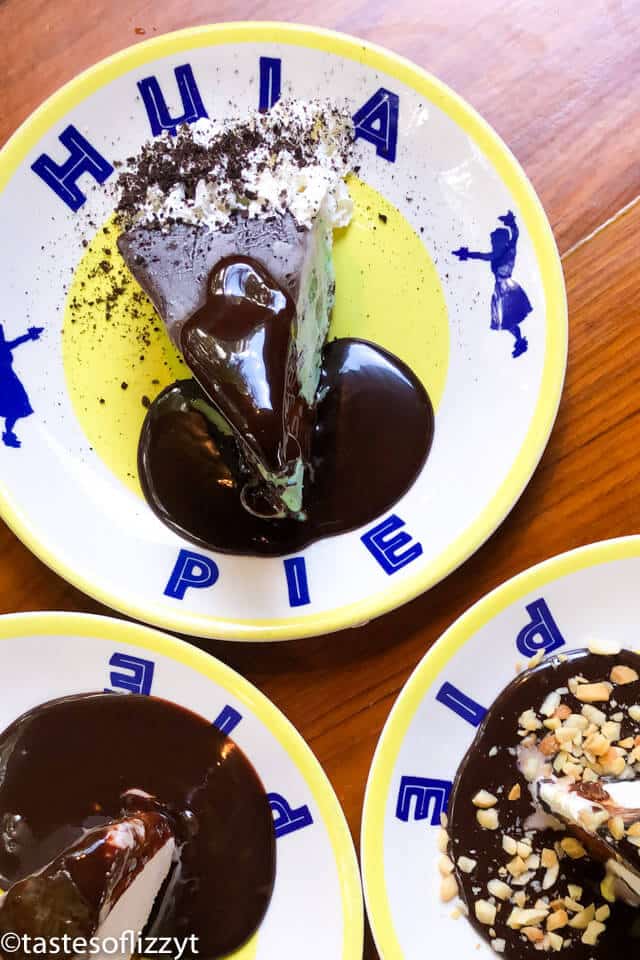 The Fresh Shave
One thing that Kauai is known for is their shave ice, and The Fresh Shave is a super fun little food truck with amazingly unique flavors. Be sure to ask about their secret menu! "The Caterpillar"…..Mmmm. 🙂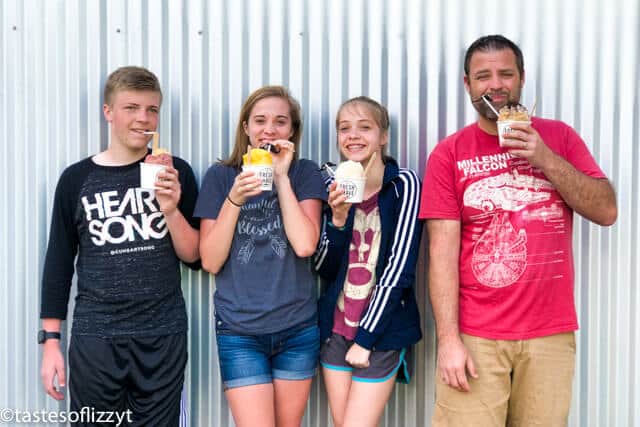 Kauai Coffee
If you love coffee, head out in the morning to the Kauai Coffee Plantation. They have samples of all of their coffees out so you can try them all. But what we weren't expecting was a bakery! We walked up to the store and Maddie said, "I smell lemon bars baking!"  Sure enough, they had huge lemon bars coming right out of the oven. Maddie was in heaven. My favorite though? These peaberry chocolate chip cookies. I'm a sucker for a good cookie!
Don't forget to try an iced coffee and an affogato (espresso served over ice cream). Eat your treat while you look over the beautiful coffee plantation and see the ocean in the distance.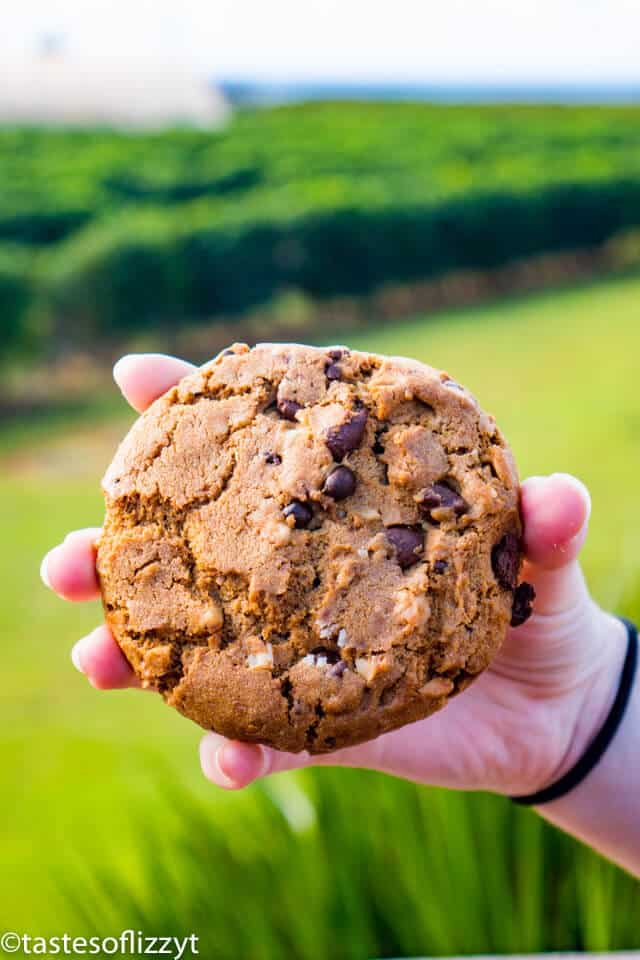 Ha Coffee Bar
As we headed from Poipu to the North Shore to explore, we had to find a coffee shop! Ha Coffee Bar was a fantastic choice. The parking lot was tight (and we had a huge SUV), but we found as spot and sampled some delicious locally sourced coffee. Matt loves hot coffee, I loved iced, and the kids always choose blended drinks. So we sampled them all, and we highly recommend it if you are a coffee lover.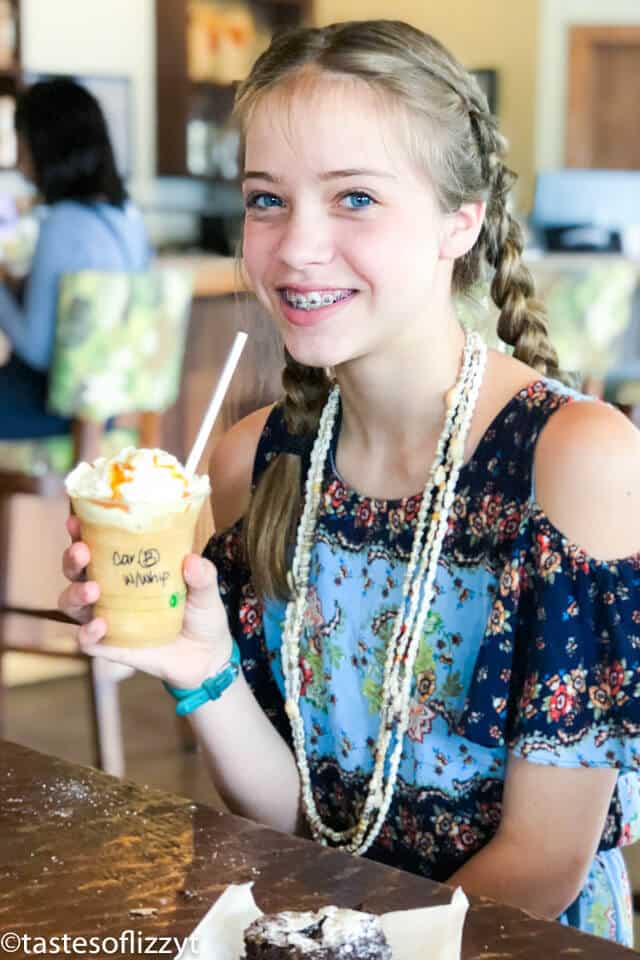 Lappert's Hawaii
Lappert's is the place to go for coffee and baked goods (or ice cream in the evening!). Ask them what coffee drink they are known for and order that. I can't remember the exact name, but it had macadamia nut flavor and it was excellent. We tried about 5 different items from their bakery and they were ALL good. We visited the Poipu location which is located in an outdoor beautiful shopping center.
Malasadas
Malasadas are Portuguese donuts that are a must-try while you are on the island. Several different bakeries sell them. Some are stuffed with cream…others are rolled sugar. We got ours at Kauai Bakery in Lihue. Fantastic!!!
To try next time: