Best Restaurants in Asheville NC
Tastes of Lizzy T participates in affiliate advertising programs. We may earn a commission when you make a purchase through links on our site.
Are you looking for places to eat in asheville, nc? Find the best restaurants in Asheville NC in this list!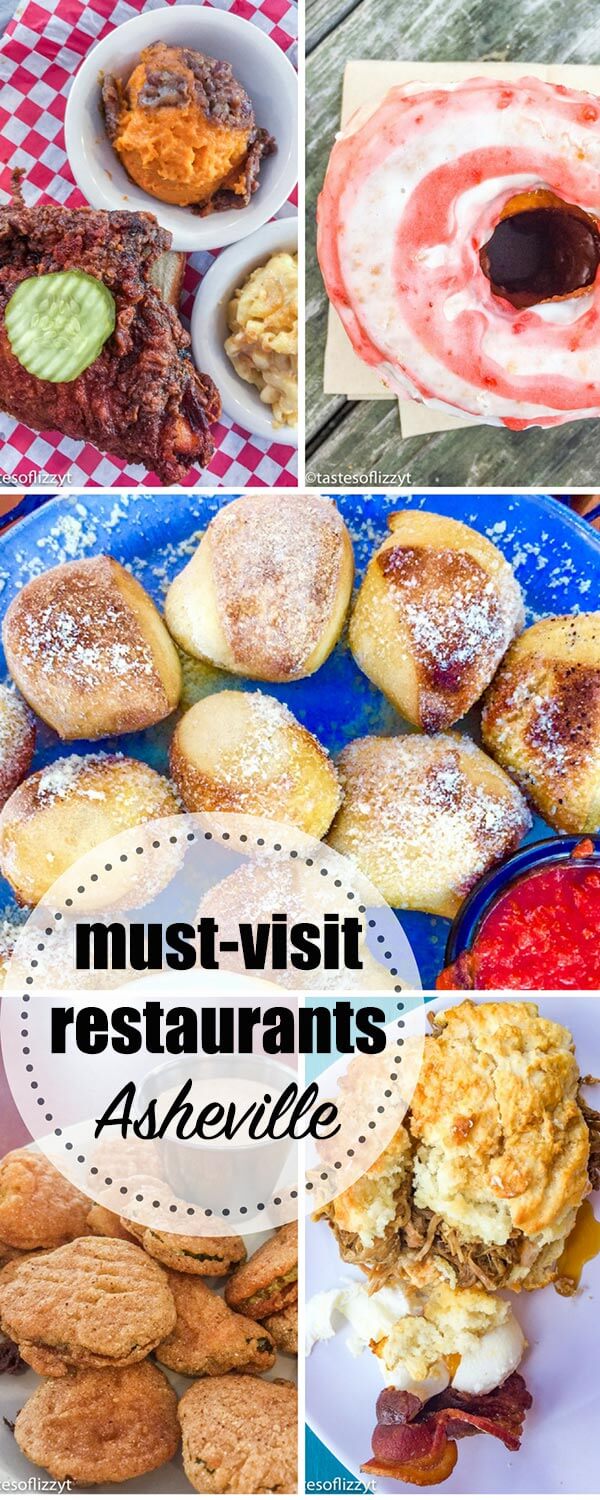 Best Restaurants in Asheville NC
Asheville is a beautiful city with so much to love. The mountains, the quaint shops, the Biltmore…but what I really love about Asheville? The food. It's no surprise coming from me, right?
We've only been to Asheville once and it was definitely not enough time to sample all of the delicious local fare. But as we return, I'll add to this list. Let me know in the comments what YOUR favorite restaurants are so I'm sure to visit them the next time we're down in Asheville.
You know based on my other "best food of" posts that we tend to like traditional comfort food. We scope out the best donuts and coffee, best chicken…you get the idea. I don't want to pay $100 for a tiny bit of fancy food on a plate. Give me the biggest and best local comfort food any day. You know…the restaurants I can wear leggings and a hoodie into and be 100% accepted. Those are my restaurants.
Let's chat about the best Asheville restaurants!
Best Donuts & Coffee in Asheville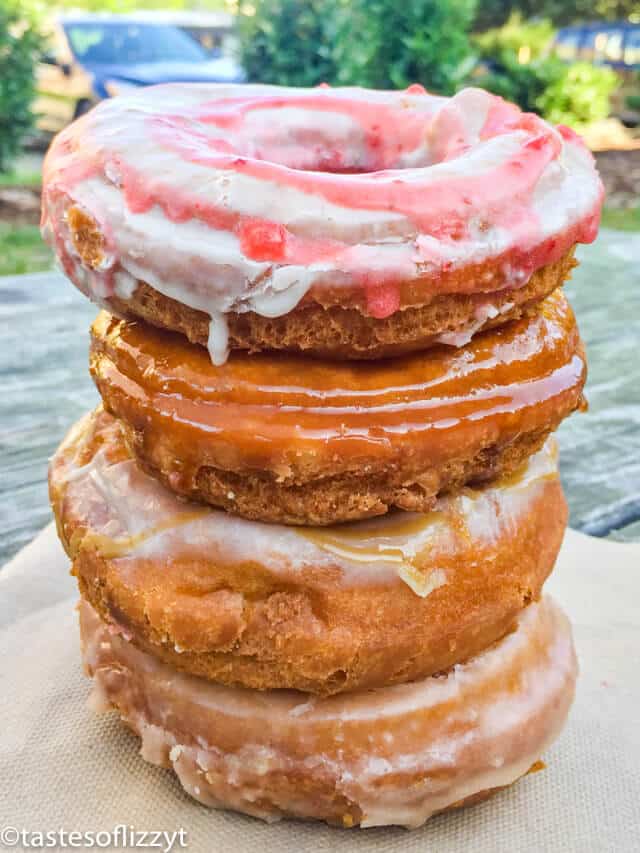 Vortex Doughnuts wins our prize for the best donuts. I'm not telling how many times we visited this cute coffee shop or how many doughnuts I devoured, but each bite was totally worth it. They serve cake and yeast style donuts (and vegan options) with toppings of every kind. They also had a NOLA iced coffee that won me over in a huge way.
Most Unique Donuts in Asheville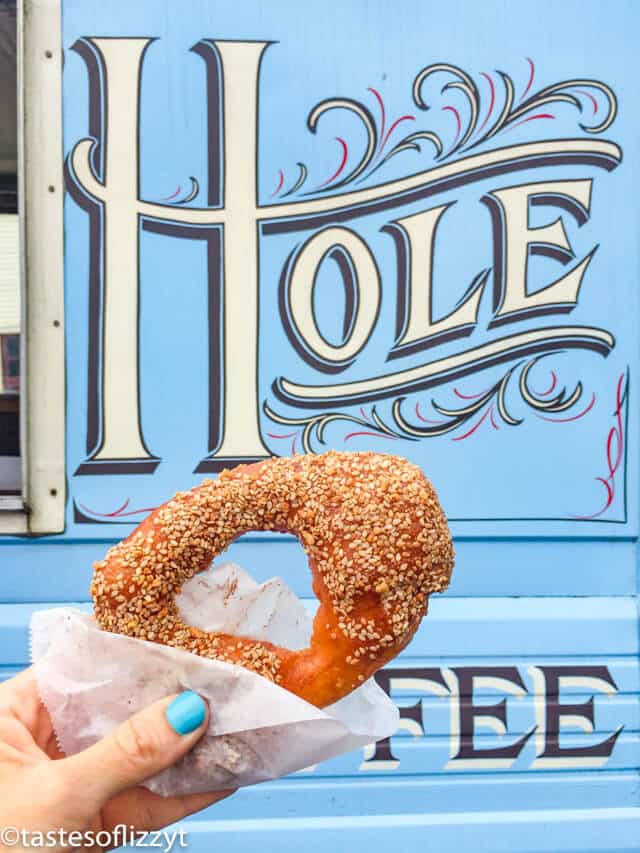 If you're looking for something a little different for your donut fix, try Hole Doughnuts. In this cute little rustic shop, they make the donuts from scratch right in front of you. Fresh. Warm. Donuts. You'll have to wait a few minutes for them to be made, but donuts made to order? Baby, they're worth it. This doughnut we're showing is their Sesame Almond Cinnamon flavor. Fantastic.
Best Ice Cream in Asheville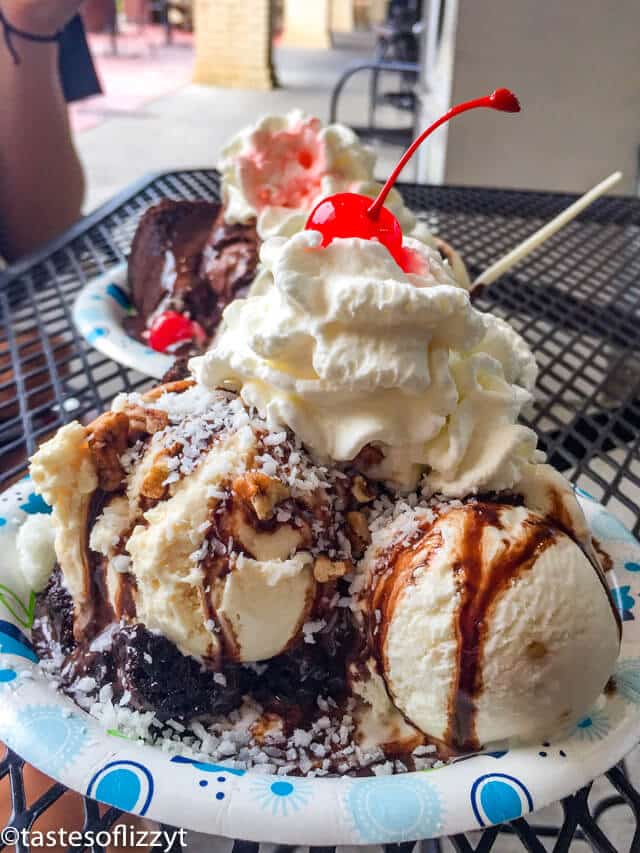 For ice cream? One name. The Hop. Just look at the picture. Does it need any more explanation? The Hop has been in operation since 1978 and delicious homemade ice cream flavors (with vegan options), plus other sweet desserts. This was a Hot Fudge Cake, complete with three scoops of ice cream and homemade hot fudge. I can't even. There are three different locations and at The Creamery, you can take a tour of the ice cream making process.
Best Brunch in Asheville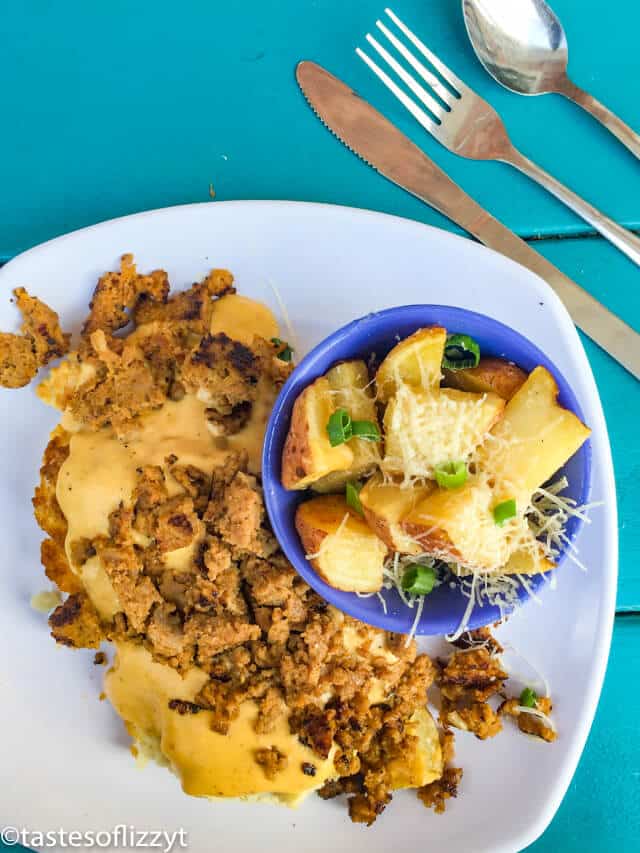 My 100% favorite restaurant in Asheville? Biscuit Head. If you like pulled pork and biscuits and gravy and all things southern comfort food, this is your happy place. Try their pulled pork, egg, bacon and gravy over a biscuit. Or get classic biscuits and gravy. If you can't make it to Asheville, buy their cookbook. All of their recipes are included here. I've made their biscuits at home several times! Get the Biscuit Head cookbook here.
Best Comfort Food in Asheville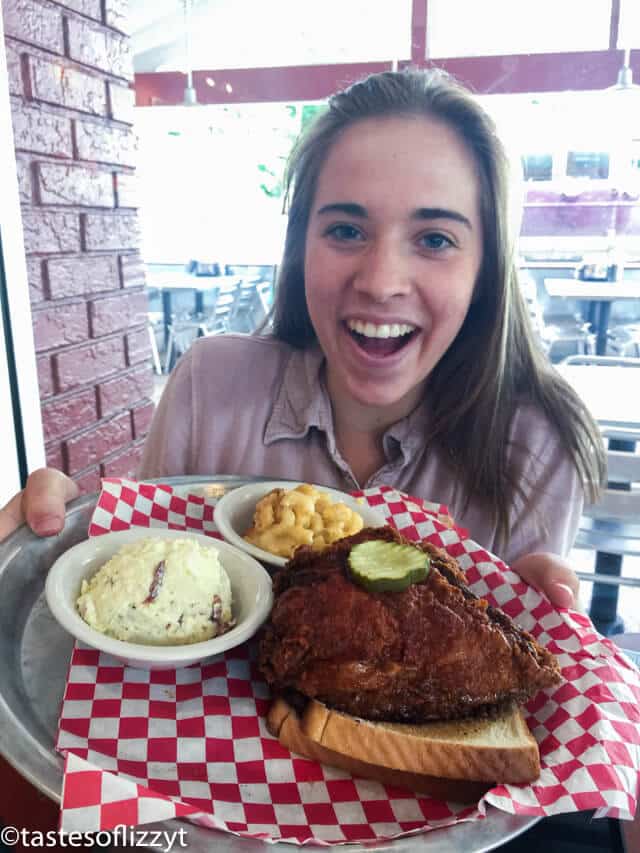 On our first day in Asheville, we were crazy hungry from a long day of travel. When I spied a hot chicken shack, I knew this was where we'd be eating our first meal. Rocky's Hot Chicken Shack has chicken in every degree of spiciness and delicious fried pickle chips (Just try them. Trust me.). I chose the honey-style chicken while Matt went for the "hot" chicken. Sides of macaroni & cheese and sweet potato casserole? Best dinner ever. I love how Maddie's smile shows that she gets just as excited over good food as I do!
Best Pizza in Asheville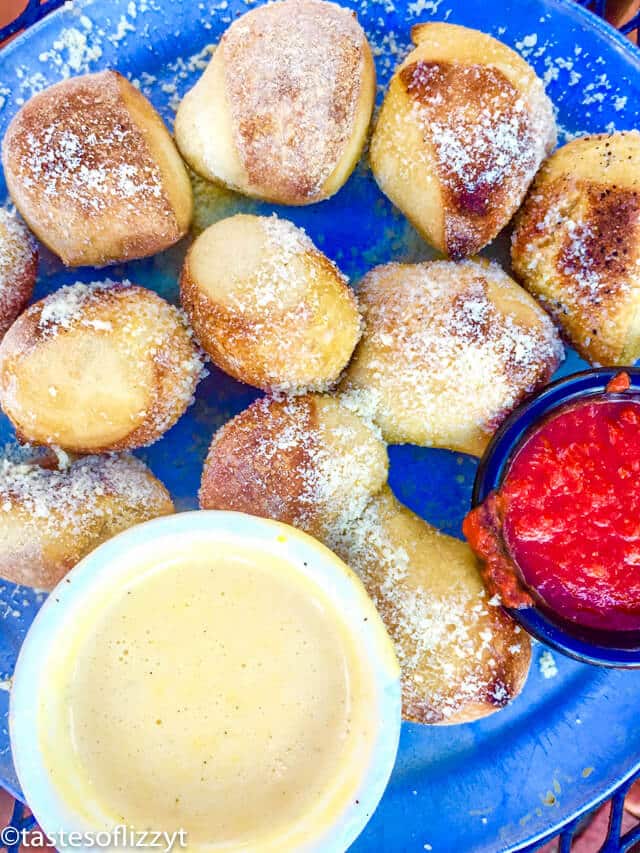 When we are traveling, we always get to the point where we say "I just want some pizza."  We can't stand life without it. Since I'd heard friends talk of the Mellow Mushroom, I wanted to try it although it is not necessarily a local restaurant. It's funky atmosphere won me over and there is just nothing like eating pizza out in the open air in the middle of the city. You will not have trouble choosing pizza from their many, many options, but don't forget to order Pretzel Bites. They are similar to garlic knots if you've ever had those, but made out of their unique spring water crust and served with side of beer cheese dip. I could make a meal out of these alone!
Most Unique Restaurant in Asheville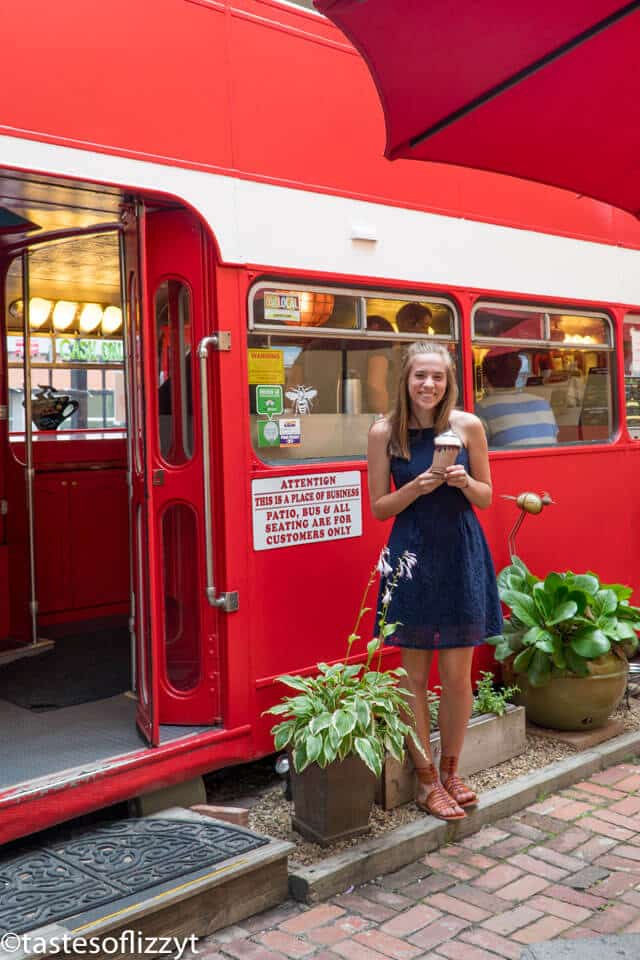 As you're walking around the city, be sure to stop in and refresh with an iced coffee from the Double D's Coffee and Desserts. You'll not miss the bright red double decker bus! You can eat up on top of the bus or take your treat to the patio. It's such a fun experience with friendly workers. If coffee isn't your thing, you'll find smoothies, ice cream, milkshakes and baked goods galore.
Have you ever been to Asheville? What were some of your favorite foods? I'll add them to the list!
Looking for the best places to go in Asheville? See our suggestions here.