If you love chocolate and peanut butter, try these hi-hat Buckeye Cupcakes! Dip homemade peanut butter frosting topped cupcakes in melted chocolate for a rich sweet treat.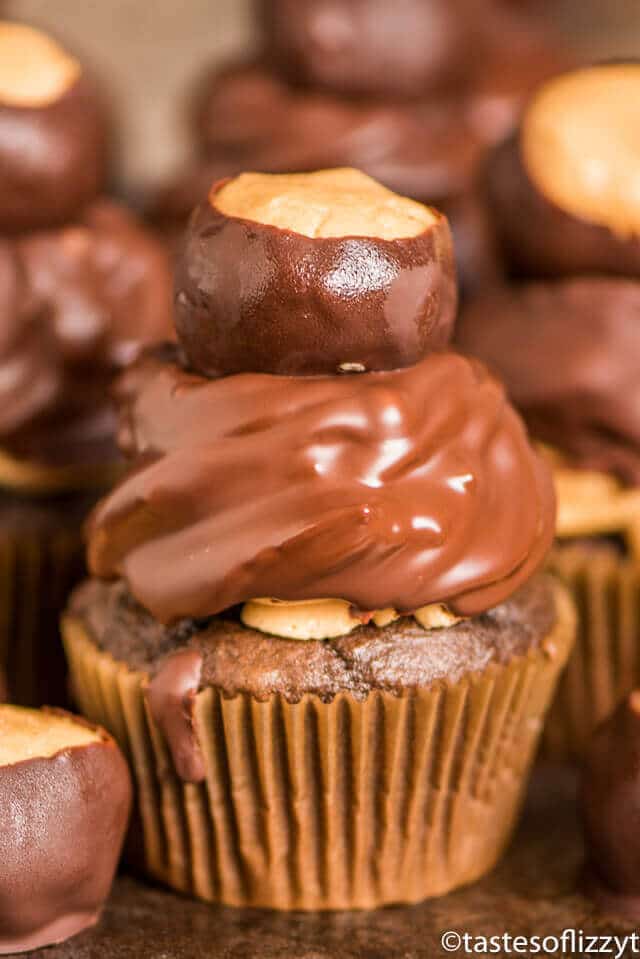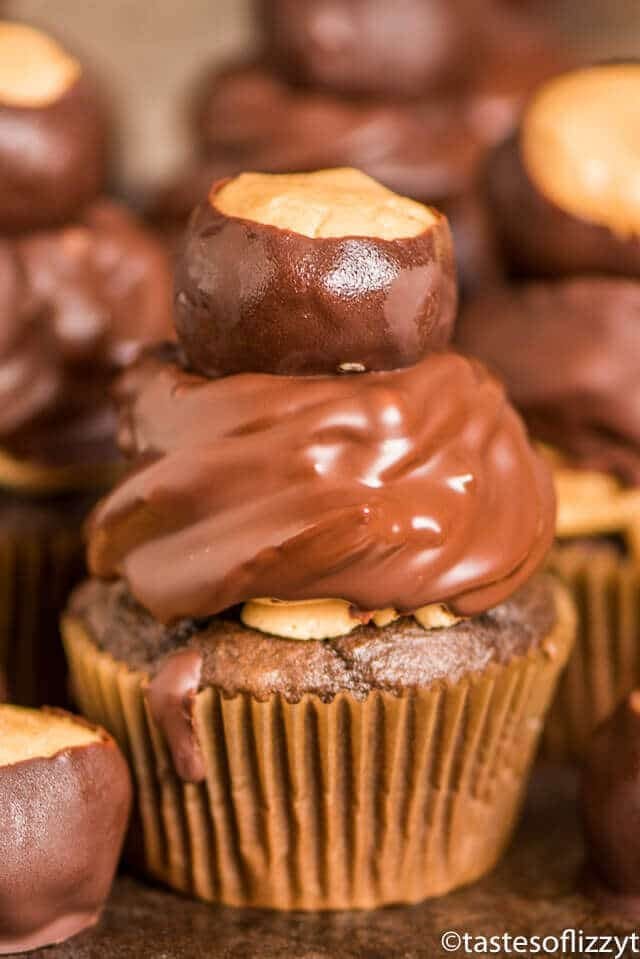 Buckeye Cupcakes
You don't have to live in Ohio or even love the Ohio State Buckeyes to crave buckeye candies! There's something about this time of year (ahem…football season!) that makes me want chocolate and peanut butter more than ever. Cookies, dip, cheesecake and yes…now cupcakes!
We've already shared our tips for making buckeyes, but even if you don't top these cupcakes with a traditional buckeye candy, you'll definitely make an impression with the chocolate dipped, peanut butter frosting.
Let's make them!
Chocolate Cupcake Recipe
For this exact recipe, I kept things simple and spruced up a boxed cake mix. Butter and milk add richness to the cake mix. If you're wanting from scratch chocolate cupcakes, give these a try!
Hi Hat Cupcakes with Peanut Butter Frosting
These are officially called Hi Hat cupcakes, because the frosting is piled high and then dipped in a melted chocolate topping. I'm all about mounds and mounds of frosting over here, especially when it is peanut butter frosting!
This peanut butter frosting recipe tastes like the inside of a buckeye itself. Like who-needs-a-cupcake-just-give-me-a-spoon good. I try to save any extra frosting I may have by freezing it, but let's be honest…it doesn't last more than a day.
This frosting is easy to whip up. Be sure to use real butter and heavy cream, which makes the frosting super creamy. And because I know you'll ask, I've never used natural peanut butter. I always just use traditional creamy peanut butter in this recipe.
Pipe the frosting with a large tip. I use Wilton 1M and 2D the most often.
Dipping Cupcakes in Chocolate
It's important to use a high-quality chocolate for dipping these cupcakes. I prefer a dark chocolate (at least 60% dark) because it melts more smoothly than milk chocolate.
Refrigerate the cupcakes after you pipe the "hat" on. That way when you dip them in the warm chocolate, it will harden quickly and not melt the frosting.
You can use a double boiler (low temperature) or the microwave (10-15 second intervals) for melting chocolate. With whatever method you choose, the key is to melt chocolate slowly. Take your time. If the chocolate gets too hot, it will seize up and become unusable. And when you spend money on high-quality chocolate, you don't want to waste it!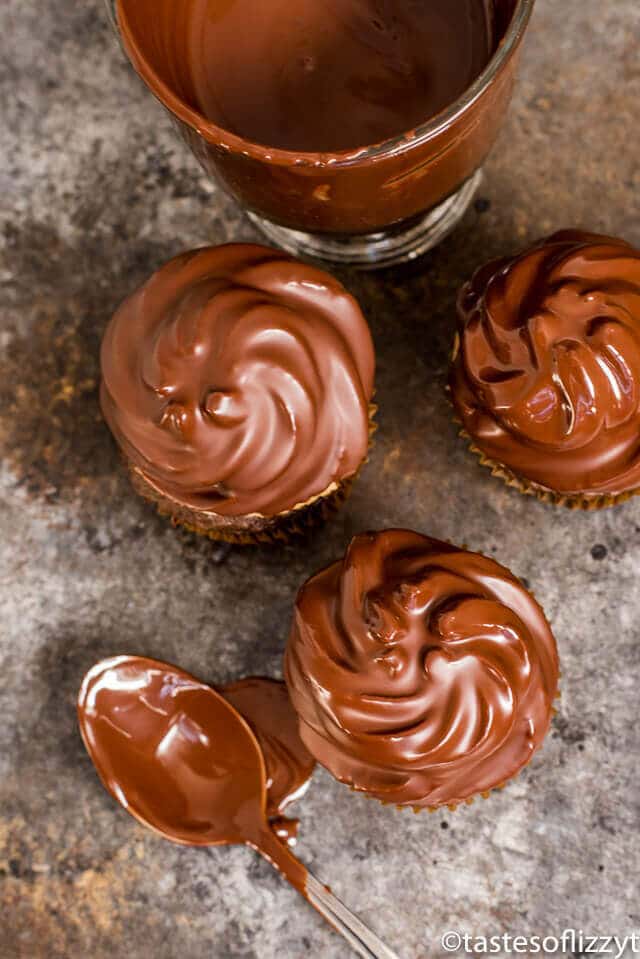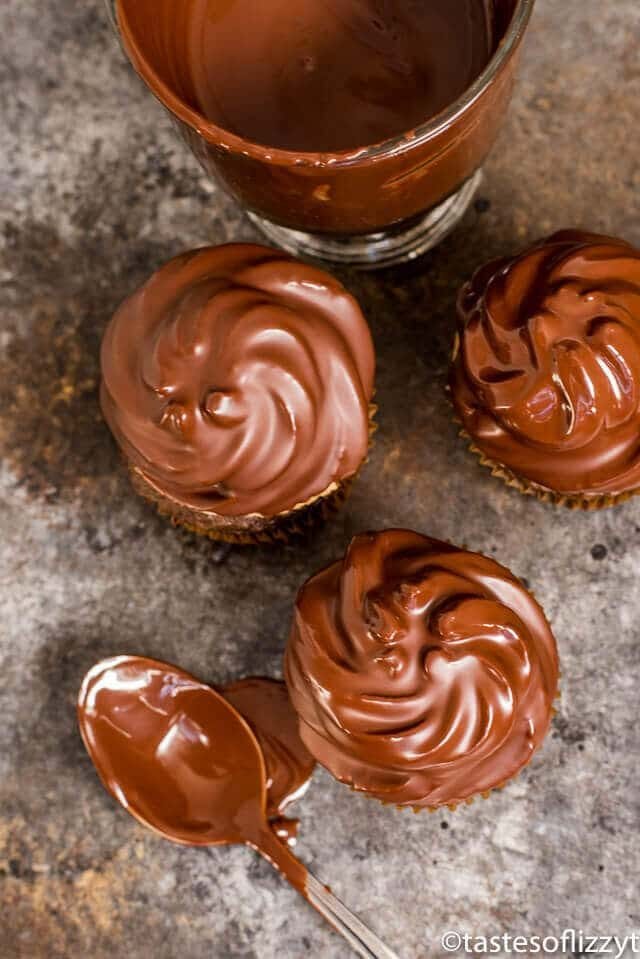 If you'd like, after you are done dipping the buckeye cupcakes in chocolate, you can immediately place a buckeye candy on top. Don't wait for this because the chocolate will set quickly. Do they really need the buckeye on top? Nope. But is extra candy always good. Yep.
Make these buckeye cupcakes for your next party!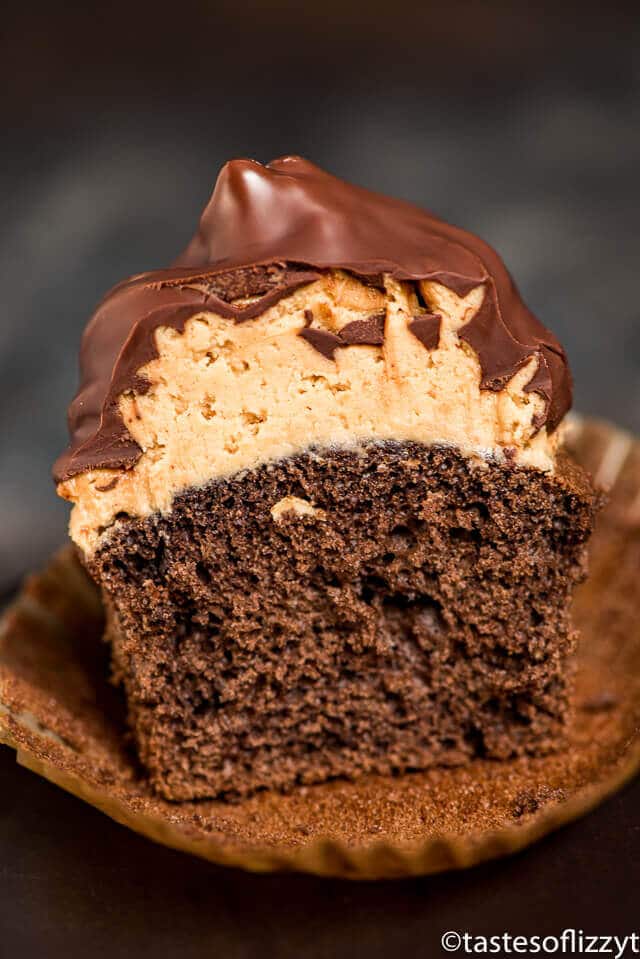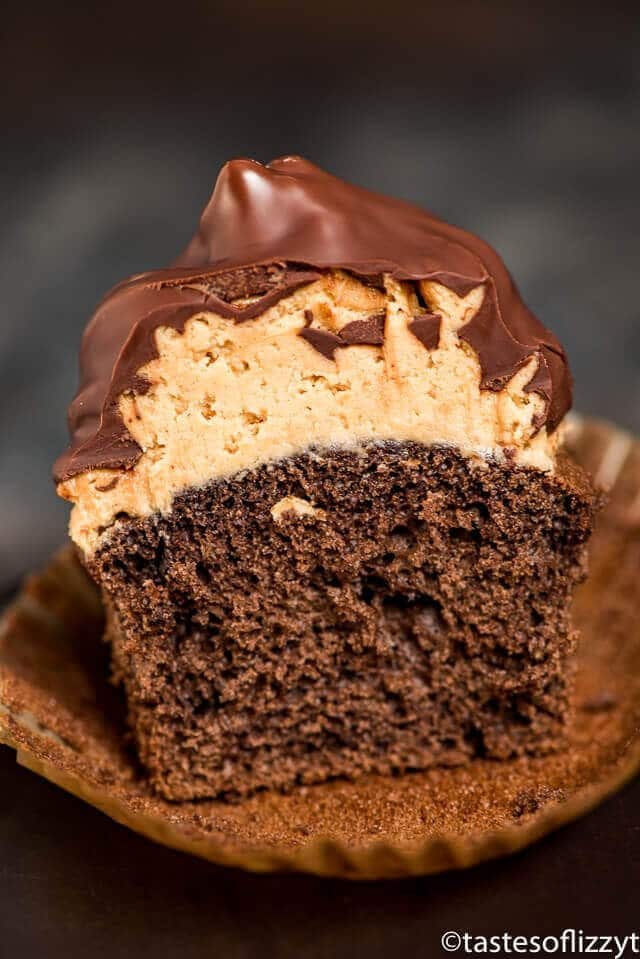 Tools I Used For This Recipe
This recipe was first published on OhioEggs.Com.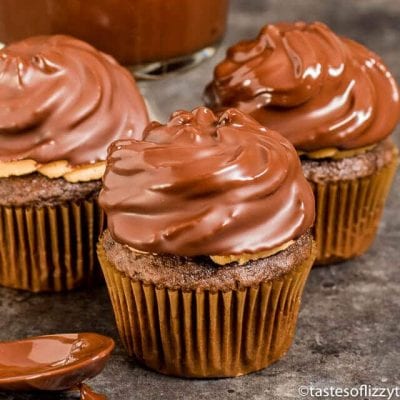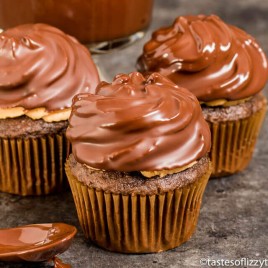 ---
Ingredients
For the Cupcakes:
1

box

chocolate cake mix

15.25 ounces

3

large

eggs

½

cup

butter

softened

1

cup

milk
For the Buttercream:
1

cup

butter

softened

2

cups

creamy peanut butter

1

teaspoon

vanilla

4

cups

powdered sugar

4-6

tablespoons

heavy cream
For the Chocolate:
2

cups

dark chocolate

1

tablespoon

shortening

optional

24

buckeye candies for topping

optional
Instructions
Make the Cupcakes:
Preheat oven to 350 degrees F.

In a large bowl, beat together the cake mix, eggs, butter and milk. Mix for 2 minutes on medium speed, scraping the sides of the bowl as needed.

Place paper cupcake liners in a muffin pan.

Use an ice cream scoop to scoop batter into cupcake liners, filling ⅔ of the way full. There should be enough to make 24 cupcakes.

Bake for 19 minutes or until the top of the cupcakes spring back when you touch them.

Allow the cupcakes to cool on a wire rack.
Make the Buttercream:
In a large bowl, beat the butter for 1-2 minutes until it is almost white in appearance.

Beat in the peanut butter and vanilla extract.

Add two cups of powdered sugar and beat well.

Add in the remaining powdered sugar and beat again.

Add heavy cream, one tablespoon at a time, to achieve the buttercream consistency that you'd like for spreading or piping the frosting. If you are piping the frosting, be sure the frosting is not too soft so that it holds shape.

Use Wilton Tip 1M to pipe swirls of frosting on top of the cupcakes. Place the cupcakes in the refrigerator for at least 1 hour so that the frosting can set before dipping in chocolate.
Dip the Cupcakes:
Place the chocolate in a microwave-safe cup or dish. Melt in 20-30 second increments, stirring each time. Once the chocolate starts melting, reduce the time to 10-15 seconds. It's important to melt the chocolate slowly and stir it often so that it does not burn.

Take a cupcake, turn it upside down and dip it quickly down into the melted chocolate. Pull it back up and allow the chocolate to drip off.

Once the excess chocolate has dripped off, turn the cupcake over.

Gently push a buckeye into the top of the cupcake while the chocolate is still wet, if desired.

Once the chocolate has completely set, store in an airtight container at room temperature.
Notes
Feel free to use the ingredients on the back of the cake mix box that you buy to make the cupcakes.
Nutrition
Calories:
535
kcal
|
Carbohydrates:
48
g
|
Protein:
9
g
|
Fat:
35
g
|
Saturated Fat:
15
g
|
Cholesterol:
59
mg
|
Sodium:
391
mg
|
Potassium:
353
mg
|
Fiber:
3
g
|
Sugar:
35
g
|
Vitamin A:
450
IU
|
Calcium:
72
mg
|
Iron:
3.2
mg