Tastes of Lizzy T participates in affiliate advertising programs. We may earn a commission when you make a purchase through links on our site.
Buckwheat Pancakes recipe makes the best fluffy, nutty flavored pancakes to start your morning right.

Buckwheat Pancakes
I love Saturdays.
Every beautiful Saturday morning, I wake up, ready for a completely empty day. For some of you, this isn't the case. You might have to go to work, get ready for a party, go to a friend's house for dinner. I, for sure, have had plenty of full and exhilarating Saturdays. I make an effort though, to make time to chill out on Saturdays, to watch a movie in the afternoon, and maybe take a nap. If I'm lucky.
My family's Saturday morning tradition is pancakes.
Whatever your Saturday morning brings you, it never hurts to start off with a pancake. My dad is the Ultimate Pancake Master in our house, and he is always experimenting with recipes. As time went on, I got interested in cooking, and always wanted to flip the pancakes on the griddle. Dad taught me how to make the perfect pancake, and soon I was able to make them all by myself.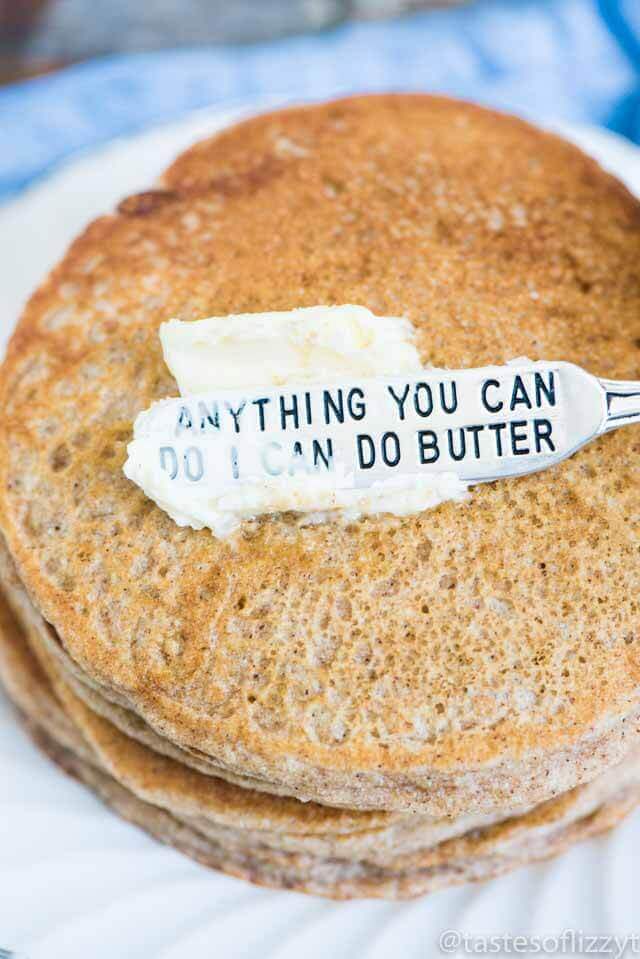 (That cute butter knife? Get it here.)
Then, my brother and sister tried it out, too, and soon all of us were able to make them. My dad pretty much retired from the pancake business and left it to us. There are plenty of arguments between the three of us to see who will make the pancakes and who will flip them. I usually lose, but when I do make them, I know that my pancakes are much better than my brother's. 🙂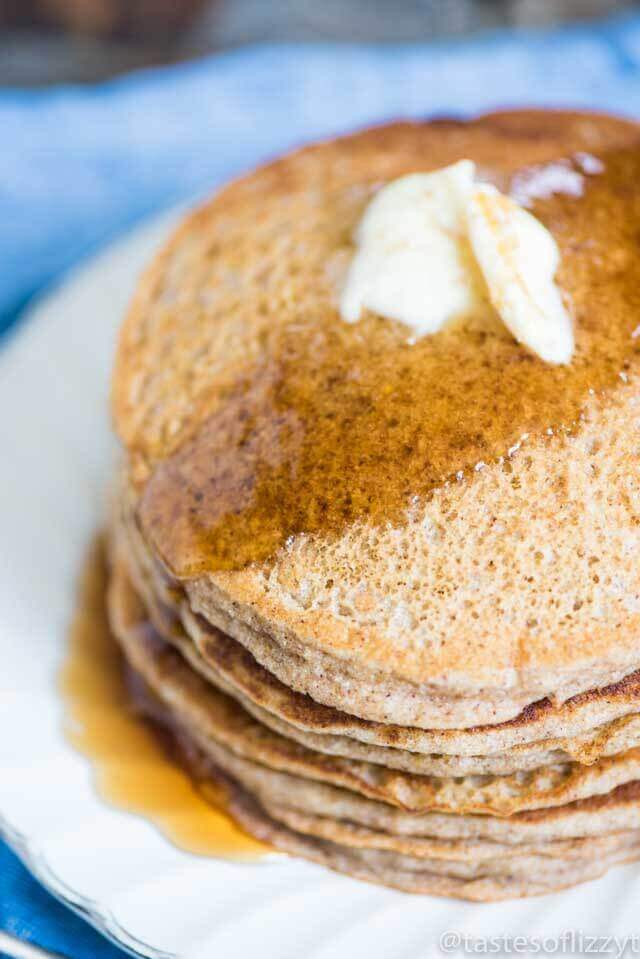 Gluten Free Pancakes
These Buckwheat Pancakes are a variation on our original recipe and include half wheat flour and half buckwheat flour. If you have a gluten allergy, you can easily substitute all buckwheat flour.
My family puts in some wheat flour because we love the texture and nutty flavor that wheat flour gives to pancakes.
Fluffy Pancakes
This Buckwheat Pancakes recipe produces the perfect fluffy pancake. Add a little butter and maple syrup and these will melt in your mouth.  And they'll be a perfect start to your morning.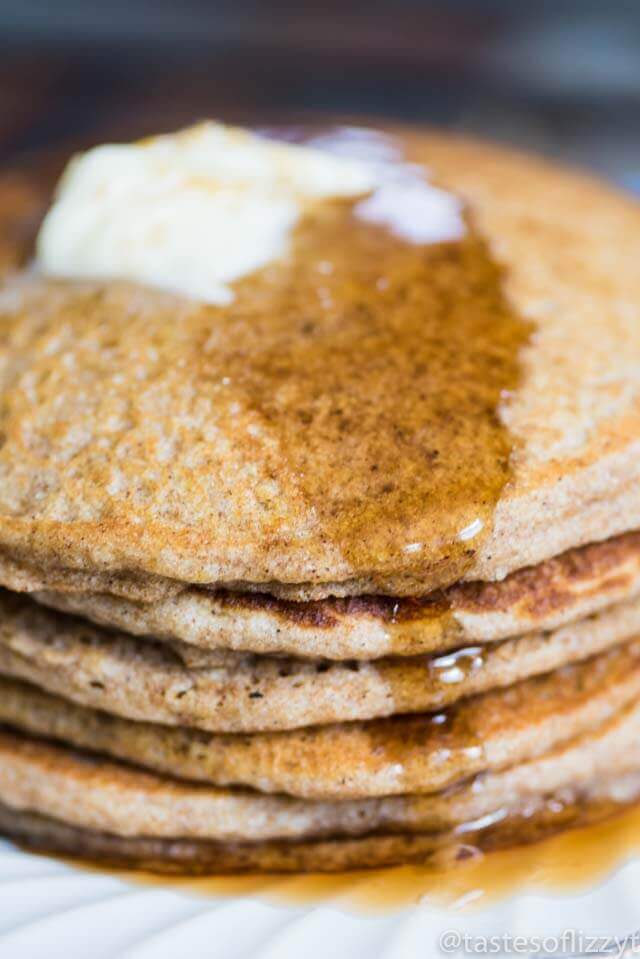 Do you have your own Saturday morning breakfast tradition? I'd love to hear about it!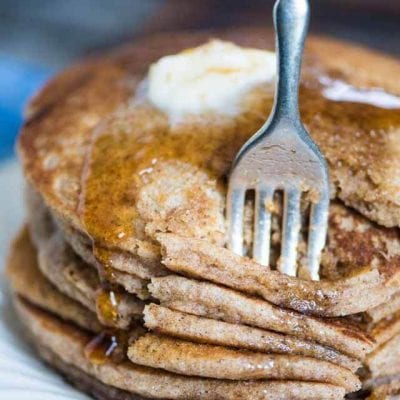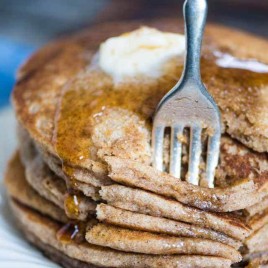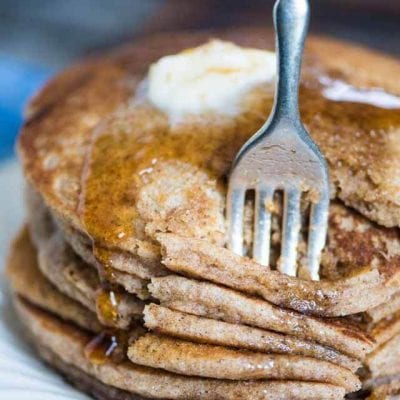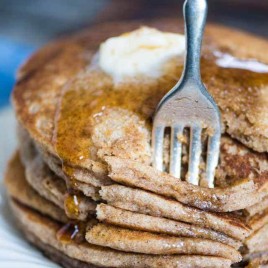 Buckwheat Pancakes
Buckwheat Pancakes recipe makes the best fluffy, nutty flavored pancakes to start your morning right.
---
Ingredients
1

cup

buckwheat flour

1

cup

whole wheat flour

1

teaspoon

baking soda

1

teaspoon

baking powder

1/2

cup

granulated sugar

1

tsp

cinnamon

1/2

teaspoon

salt

1

teaspoon

vanilla

2

large

eggs

2

cups

milk

1/4

cup

vinegar

1/2

cup

oil
Instructions
Mix all of the ingredients into a large mixing bowl.

Prepare a hot griddle by melting butter on it or spraying it with cooking spray so the pancakes won't stick to the pan.


Scoop the pancake batter with a ladle onto the hot griddle. When you see bubbles form on the top of the pancake, it is time to flip it.


After flipping the pancake, let it cook for another minute or two, then move it to a plate.

Nutrition
Calories:
268
kcal
|
Carbohydrates:
41
g
|
Protein:
4
g
|
Fat:
12
g
|
Saturated Fat:
6
g
|
Cholesterol:
31
mg
|
Sodium:
188
mg
|
Potassium:
190
mg
|
Fiber:
3
g
|
Sugar:
23
g
|
Vitamin A:
70
IU
|
Calcium:
41
mg
|
Iron:
1.6
mg