Calling all caramel lovers! You'll love these Caramel Pretzel Turtles which focus more on the caramel than on the chocolate. Simple 4-ingredient, bite-size treats.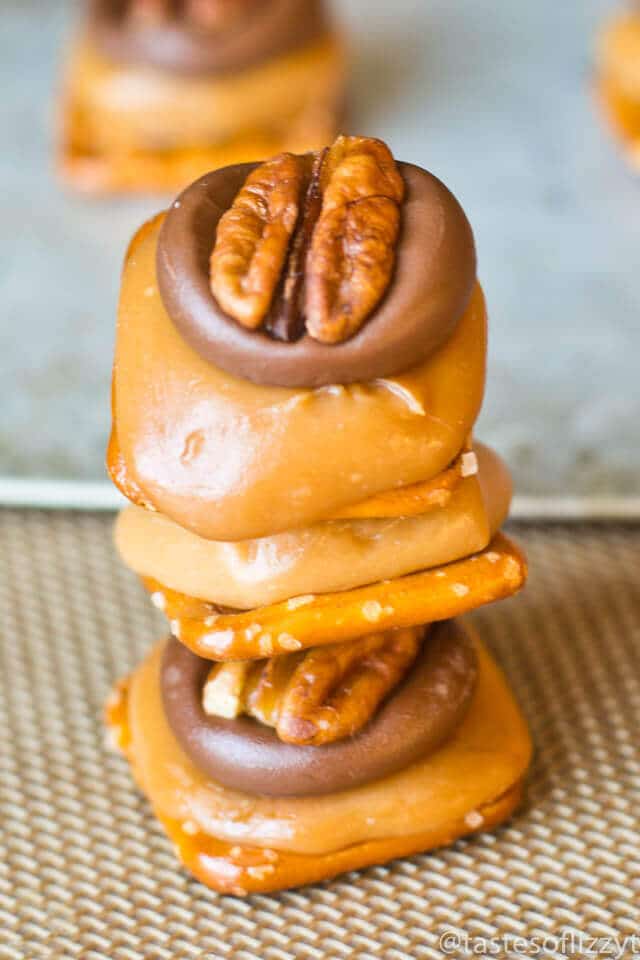 Happy February to all of you! February has always been one of my favorite months for several reasons.
1. It's short. For some reason, a month with only 28 days (and an occasional extra day thrown in) makes me happy.
2. It means I've survived another January winter. One step closer to spring!
3. I've always liked Valentine's Day. It's not because my valentine and I do anything special ourselves. We try to celebrate the day together as a family. The kids get so excited about this month of love. They make cards and write us notes. Kinslee even surprised me by decorating the school room. We have hearts hanging everywhere above our heads!
But the best thing about Valentine's Day?
The candy.
I'm a candy monster.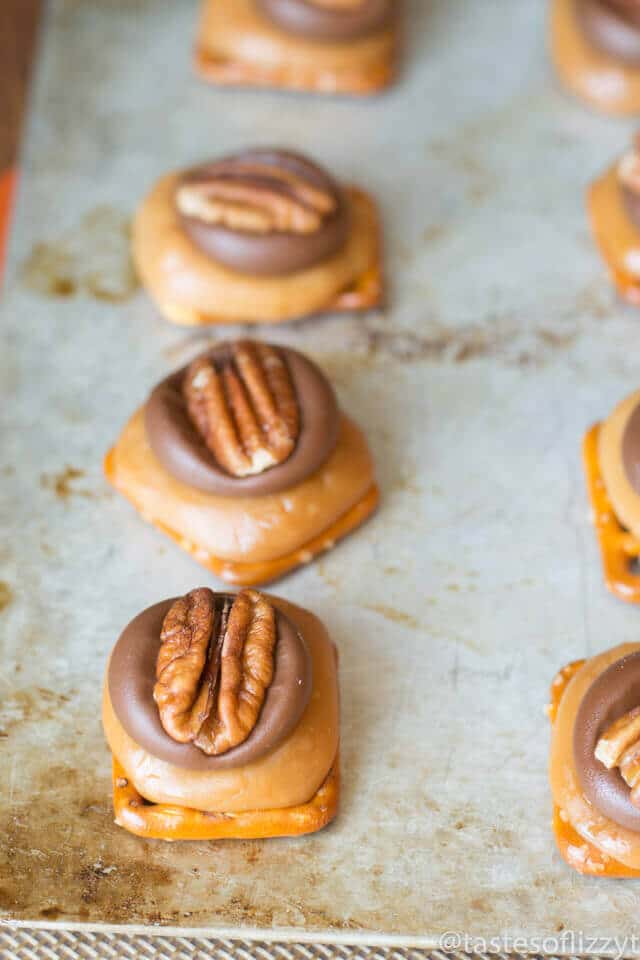 Which is why I had to share with you these Caramel Pretzel Turtles today.
There are so many recipes out there for quick and easy turtles, all of which you can't go wrong with. I really didn't want to use just a Rolo candy, though. You see, I love caramel. And I wanted that salty pretzel and sweet caramel to be the main taste of this turtle. So yes, there is chocolate, but the caramel takes center stage.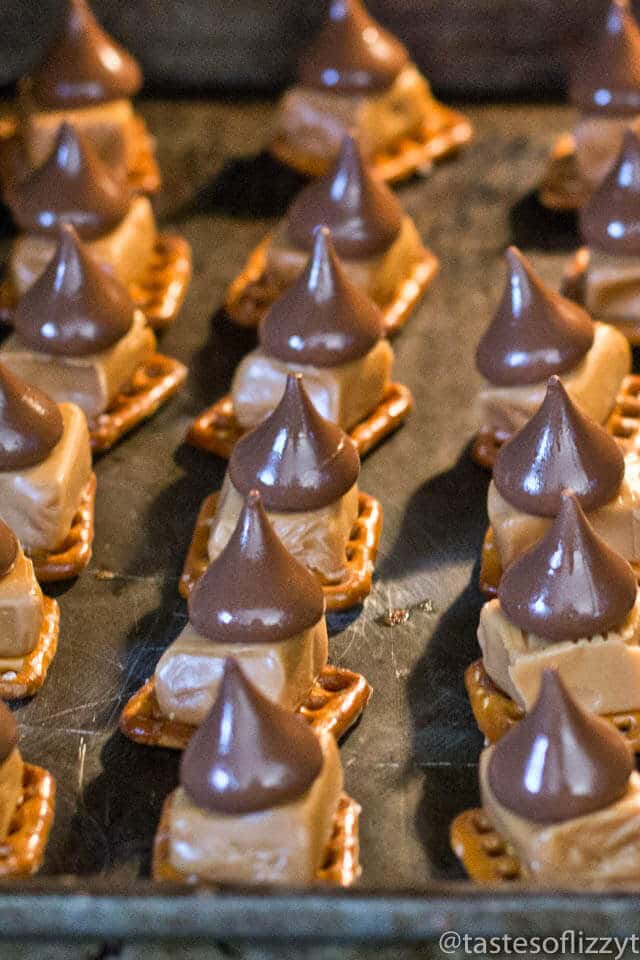 Making these turtles is a simple process and only takes 4 ingredients. You'll need pretzels, chocolate kisses, caramels and pecans. (I originally used Werther's Original Caramels for these candies, but since those first few times I've made them, I'm having a hard time finding them in the store. Feel free to use Kraft caramels, too!) If you use Werther's, you'll want to bake them for about 7 minutes to soften the caramel. If you choose Kraft, you'll want to lower that time to about 4 minutes. Either way, watch them closely. It doesn't take long to soften, and you don't want your precious caramel running all over the pan.
Place a pretzel down on a pan with a caramel on it of it. Bake it at 350 for 4-7 minutes, or until the caramel gets soft. Place an unwrapped Hershey's Kiss on top of the caramel and pop it back in the oven for one minute. Don't those kisses look so happy sitting there in the warm oven? With the sub-zero temperatures this week, I wished I could join them.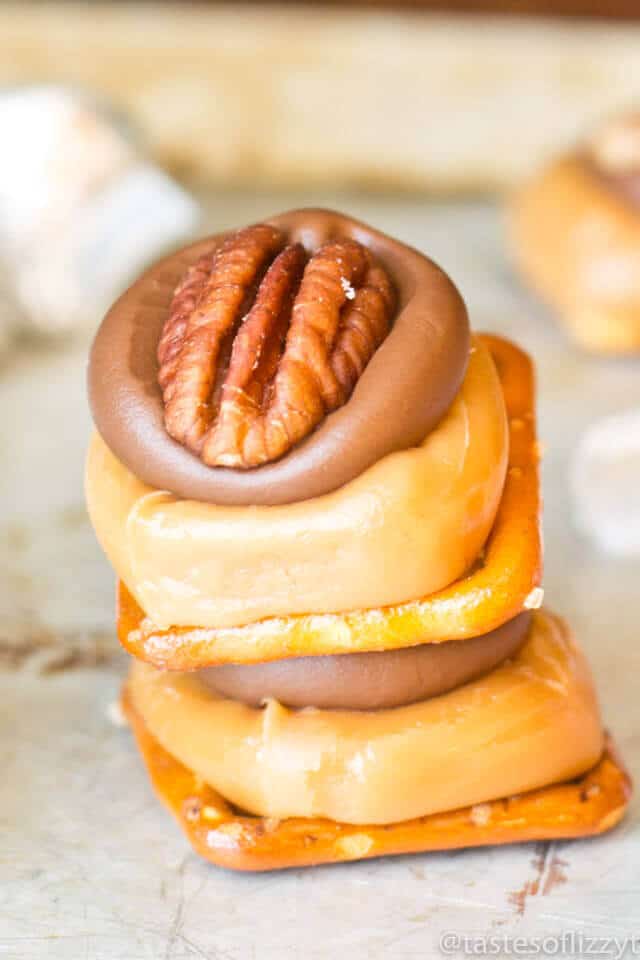 Once the Hershey Kiss is soft, you'll remove the pan from the oven and press a pecan on top. You're done!
These little salty & sweet bites are so poppable…you're going to want to keep them under lock and key.

Not a bad way to start one of my favorite months.
Q: Do you like the month of February? What are your Valentine's Day plans? I'd love to hear them!
Caramel Pretzel Turtles
Calling all caramel lovers! You'll love these Caramel Pretzel Turtles which focus more on the caramel than on the chocolate. Simple 4-ingredient, bite-size treats.

Ingredients
35

waffle pretzels

35

soft caramel candies

35

Milk Chocolate Hershey Kisses

35

pecans
Instructions
Preheat the oven to 350.

Lay the waffle pretzels (or other small shaped pretzel) down on a baking pan. Unwrap the caramels and place them on top of the pretzels.

Place the pan into the preheated oven and bake them for 4-7 minutes. Watch the caramels carefully. Different brands of caramel will melt at different times. Remove the pan from the oven and immediately press a Hershey Kiss into the caramel. Place these back into the oven for just 1 minute.

Take the pan back out of the oven and place a pecan on top of each of the Hershey Kisses.

Allow the chocolate to set completely before storing in an airtight container.
Nutrition