Chocolate Peanut Butter Braided Coffee Cake
Tastes of Lizzy T participates in affiliate advertising programs. We may earn a commission when you make a purchase through links on our site.
A sweet peanut butter filling stuffs this soft, braided coffee cake. Top with a chocolate glaze for a decadent breakfast treat.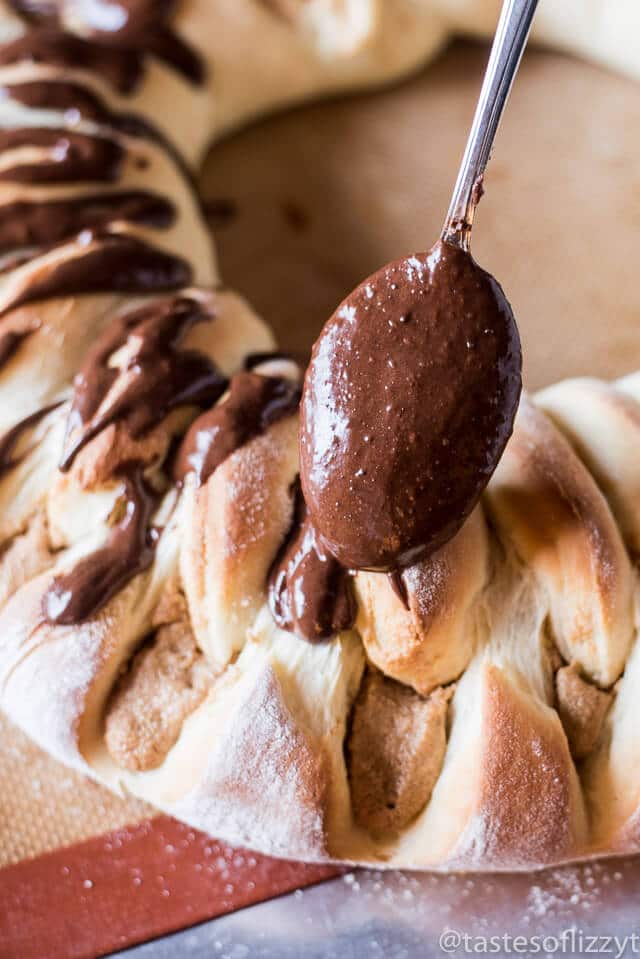 Do you know what Sunday is?
Yes, it is January 24th, but do you know what is special about this day?
It's National Peanut Butter Day!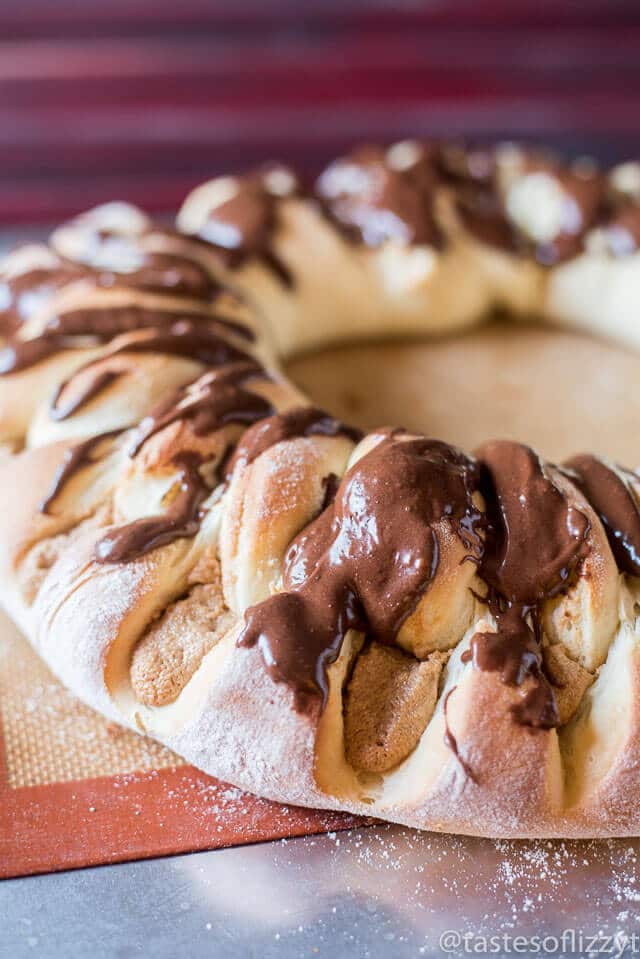 That's right, the day we've all been waiting for! If you're like me and usually behind on the "National Days", here's a head's up! And what's better than some chocolate-peanut butter braided coffee cake to wake up to on National Peanut Butter Day??
One of the things that I love the most about this recipe is how soft the dough is. It's a yeast dough. When you mix it up (which I like to do in a stand mixer, but you can certainly knead the dough by hand if you'd like), the dough is going to be a little sticky. Don't be tempted to add more flour. If you are kneading by hand, you might have to add a touch so that it doesn't stick to your hands, but be sure not to add too much or your dough will be tough.
Mix the dough. Allow it to rise in a warm place. I like to turn the oven on to the lowest setting, let it heat to about 110 degrees, then turn it off. Pop the covered dough into the oven (make sure the oven is actually off!) and it has a toasty room to rise in.
Once it has risen, roll it into a long rectangle, about 24″x5″. Then spread your peanut butter filling down the center of the dough.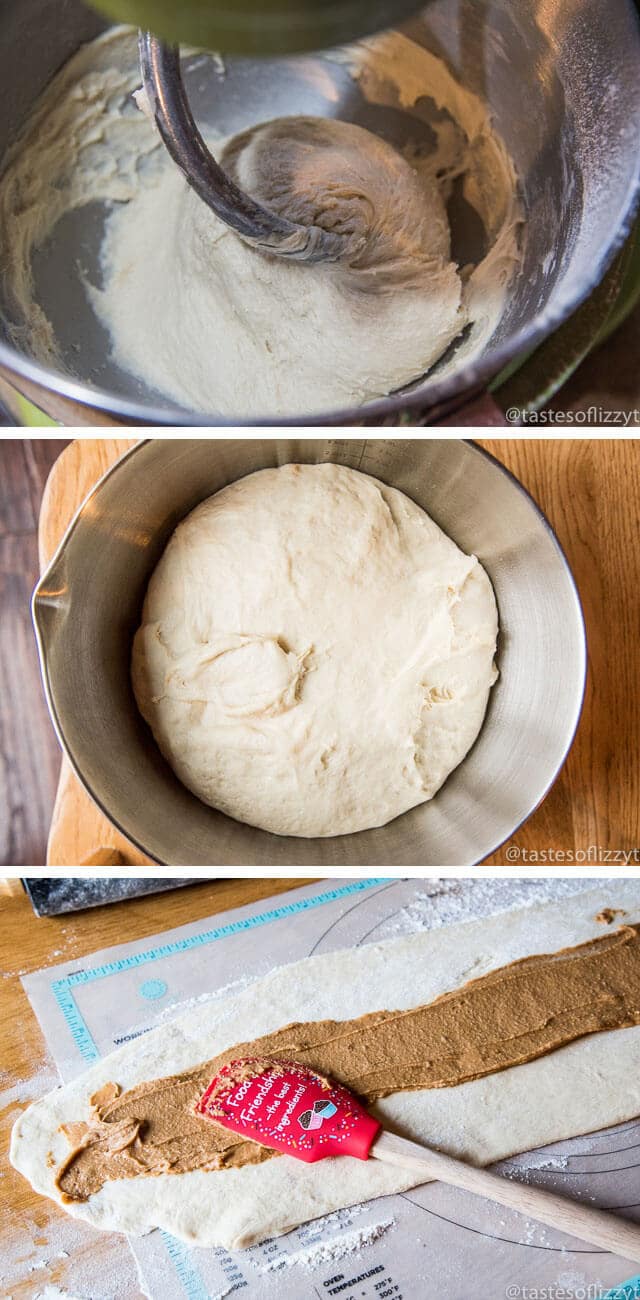 Now this is where I would get a little lost…I'm not one for confusing, twisted braids or anything. But even if it LOOKS hard, doesn't mean it is! Let's give it a try:
Cut 1 1/2″ strips on either long side of the rolled out dough, in 1″ intervals as shown.
Then, being careful that it doesn't rip, take turns folding each side over into the middle, creating a long braid.
Finally, take the two ends of the braid and tuck ends in to make them come together in a circle. Press those ends together the best you can to seal the circle. It may not look the best in the spot where you pressed the ends together, but if you drizzle the top with chocolate, no one has to know. 😉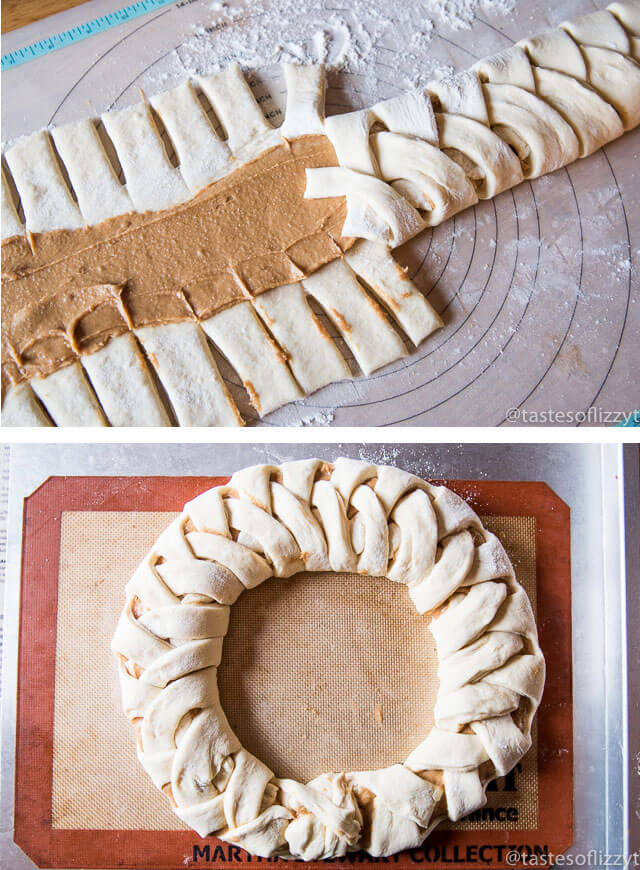 So now you have yourself a whole ring of deliciousness. Your hands are messy, your legs are tired from standing up for so long (Is that just me?) and the whole house is about to smell like peanut butter braided coffee cake. That's what I call a day's work!
This is going to rise one more time, then bake for about 20 minutes to a beautiful golden brown.
Make the simple chocolate glaze and drizzle it over top the slightly cooled braided coffee cake.
Yep, this is officially making me wish that I hadn't eaten it all so soon…I want some more!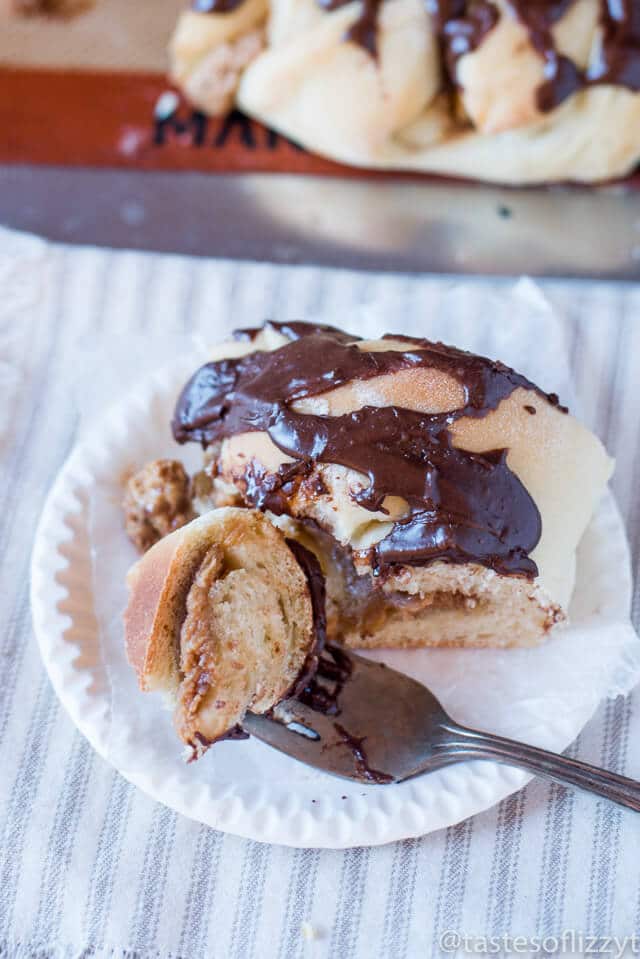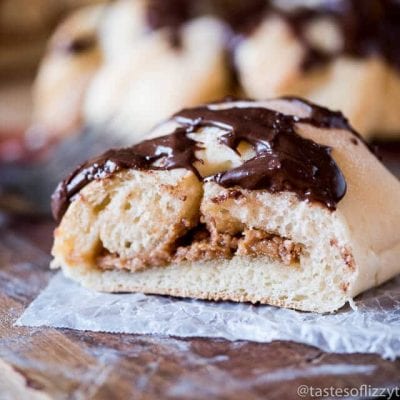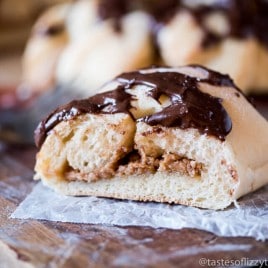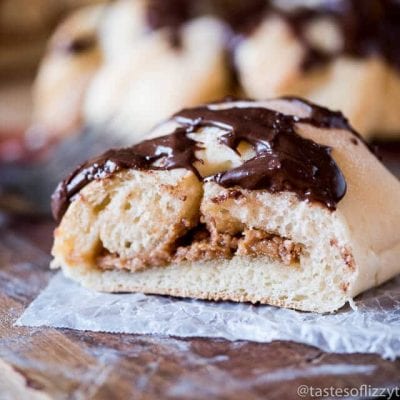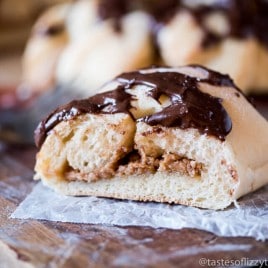 Chocolate Peanut Butter Braided Coffee Cake
A sweet peanut butter filling stuffs this soft, braided coffee cake. Top with a chocolate glaze for a decadent breakfast treat!
---
Ingredients
1

package active dry yeast

1/2

cup

warm water

1

cup

sour cream

3

tablespoons

granulated sugar

1

teaspoon

salt

1

tablespoon

butter

softened

1

large

egg

3 1/2

cups

all-purpose flour
Peanut Butter Filling:
1/4

cup

packed brown sugar

2

tablespoons

butter

softened

3/4

cup

creamy peanut butter
Cocoa Glaze:
1

cup

powdered sugar

1/4

cup

cocoa powder

4

tablespoons

heavy cream*
Instructions
Dissolve the yeast in warm water in a large bowl.

Heat the sour cream in the microwave until it is lukewarm.

Add the sour cream to the yeast mixture along with the sugar, salt, butter, egg and 1 ½ cups of flour.

Beat until this mixture is smooth.

Mix in the remaining flour.

Using the dough hook, beat the bread on medium speed for 5-7 minutes. The dough will be very soft.

Place the dough in a greased bowl and cover with plastic wrap.

Allow it to rise in a warm place for 1 hour or until doubled.

On a floured surface, roll the dough into a rectangle that is 25"x6".

Make 1 1/2" cuts on the long (25") sides of the dough at 1" intervals.

In a small bowl, mix together the brown sugar, butter and creamy peanut butter.

Spread this peanut butter mixture down the center of the dough.

Criss-cross the strips over the filling.

Carefully shape the ring into a circle and pinch the ends together.

Place the ring on a silicone baking mat or a greased baking sheet. Cover the braided ring with plastic wrap and allow it to rise for 1 hour.

Heat the oven to 375 degrees.

Bake about 20 minutes or until the braided coffee cake is golden brown.

In a small bowl, sift together the powdered sugar and cocoa.

Add the heavy cream, one tablespoon at a time, until you get a thick (but still able to be drizzlefrosting.

Drizzle the frosting over top the braided coffee cake that has slightly cooled.

We liked this served warm, but it kept well until we finished it the next day, too!
Notes
*You may substitute milk for cream, but start by adding only 3 tablespoons, then add an additional one if needed.
*If you don't have a stand mixer, just mix the dough by hand, then when it comes time to knead the dough, knead by hand for at least 10 minutes.
Nutrition
Serving:
113
g
|
Calories:
384
kcal
|
Fat:
17.9
g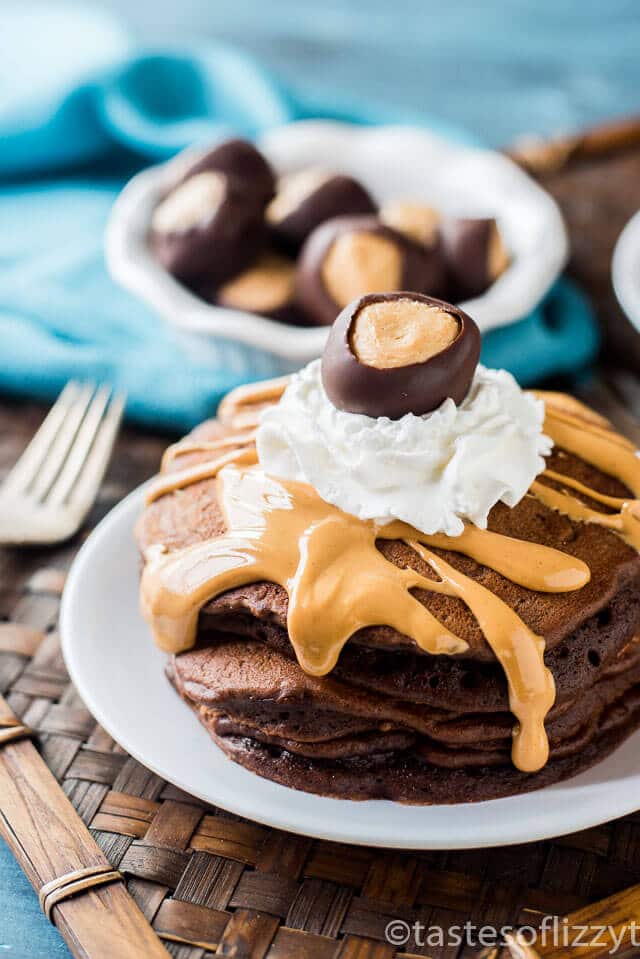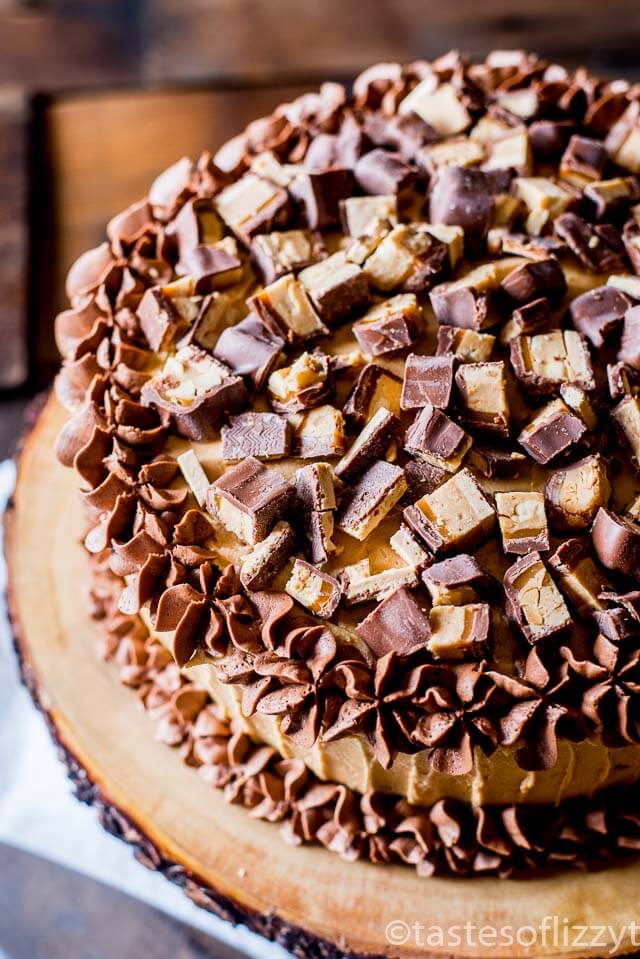 Chocolate Peanut Butter Marshmallow Bars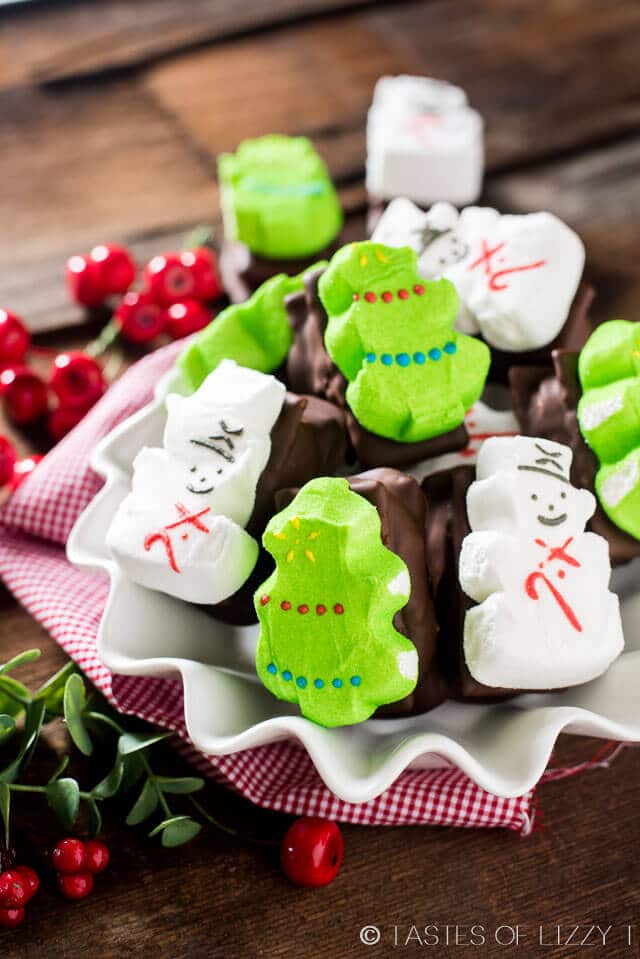 Thanks to Blue Sky Family Farms for sponsoring this post. All opinions are mine.