Tastes of Lizzy T participates in affiliate advertising programs. We may earn a commission when you make a purchase through links on our site.
This Tik Tok coffee recipe has taken the internet by storm! Dalgona coffee, made with only 4 ingredients, is the perfect whipped coffee drink you can make in minutes.
We're giving our 5 ingredient iced mocha coffee drink a run for its money today.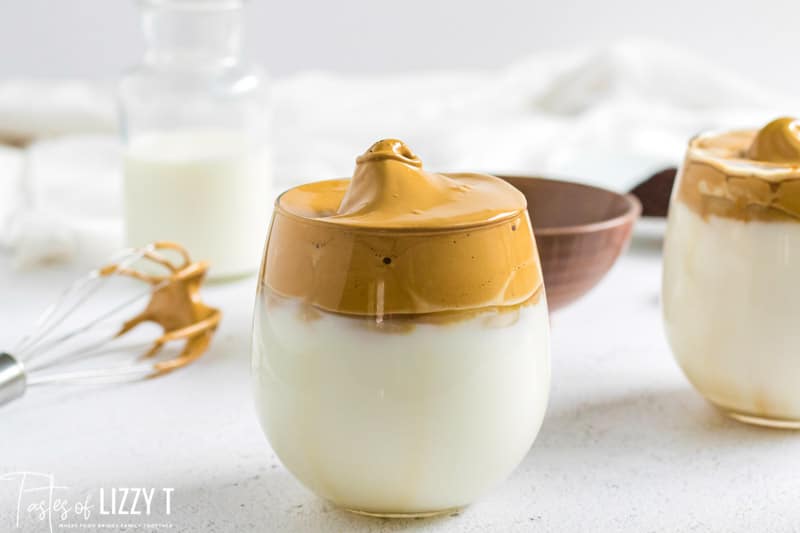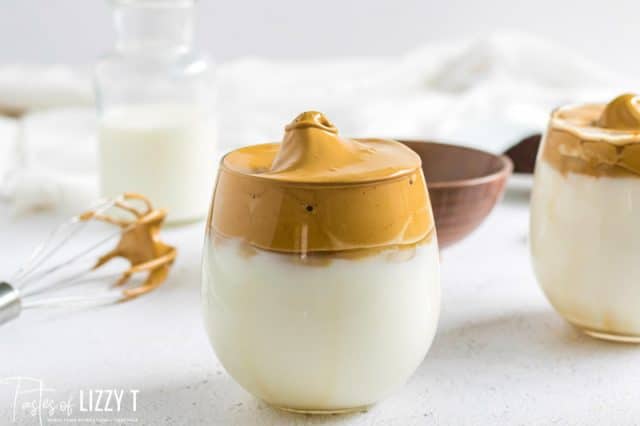 Why you'll love this:
Ever have a craving for a whipped coffee drink, but no desire to drive to pick up a cup? If so, here's some good news:
Instant! Uses instant coffee granules for a no fuss coffee drink recipe.
Less is more! This Tiktok coffee only needs 4 ingredients and either muscle power or an electric whisk!
Can be customized! Add in ground cinnamon or pumpkin pie spice for more depth of flavor. (Or add in a little bit of Dutch cocoa for a mocha Dalgona coffee drink.)
Dalgona Ingredients
White or brown Sugar
Instant Coffee
Hot Water
milk (cold or hot)
For a keto Dalgona recipe, use Stevia or Splenda for a sugar substitute. You can also swap out milk with your favorite nut milk or lactose milk for a dairy free recipe.
Instructions
To make this TikTok whipped coffee drink you will need a small whisk or a hand mixer, with only one of the whisk attachments.
In a small or medium sized bowl, whisk together the sugar, Instant coffee, and water.
Continue whisking the mixture until stiff peaks form. This process only takes about 4-5 minutes, if whisking vigorously.

The mixture will start out grainy and very dark, it will lighten and blend as the coffee thickens into whipped coffee. (Think of it like Cool Whip!)

In a glass cup, add in ice and splash in milk, top with the coffee mixture and serve!
Tips For Making Dalgona Coffee
This easy whipped coffee recipe is pretty straight forward. To make it even better, here are some simple tips!
Use an electric hand mixer. Your arms will thank you later!
Taste for sweetness. Depending on the kind of instant coffee you use, your Dalgona coffee mixture may end up bitter if you're using an espresso mixture or strong blend of coffee.
Opt for cappuccino. For a sweet iced coffee drink to make at home, grab an instant cappuccino mixture. This allows you to broaden your flavor variety as well.
Add spices. Ground nutmeg, cinnamon, or pumpkin pie spice will warm things up with it's earthy taste.
Top it off! Some TikTok coffee videos shows creative makers topping their Dalgona coffee with fresh raspberries. Be brave! Fresh chocolate shavings would also be great.
Splash more in. If you enjoy adult beverages, you can add in a splash of Kahlua or Bailey's for a creamy adult Dalgona coffee drink.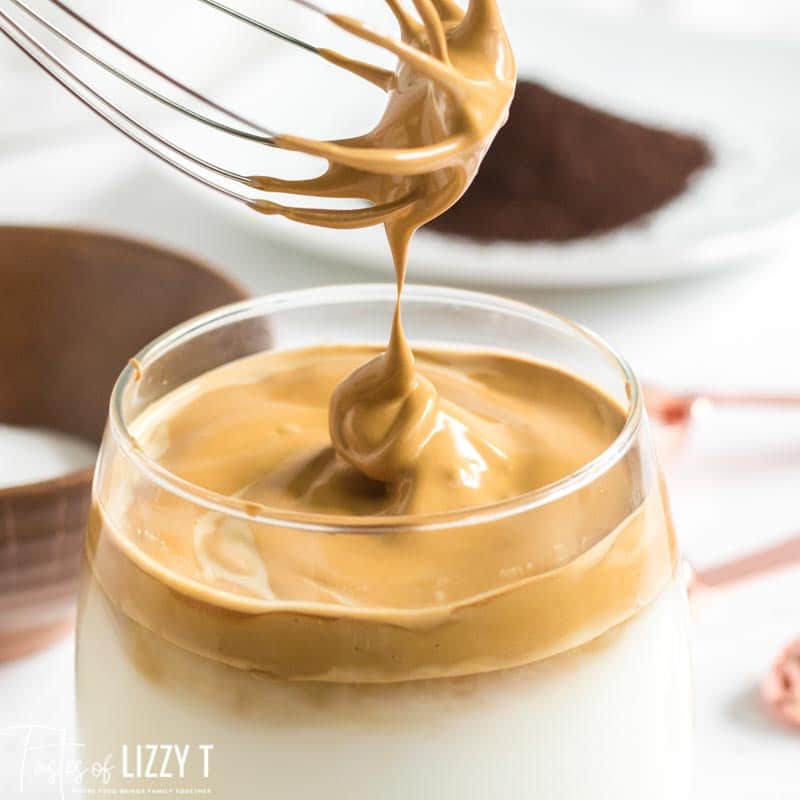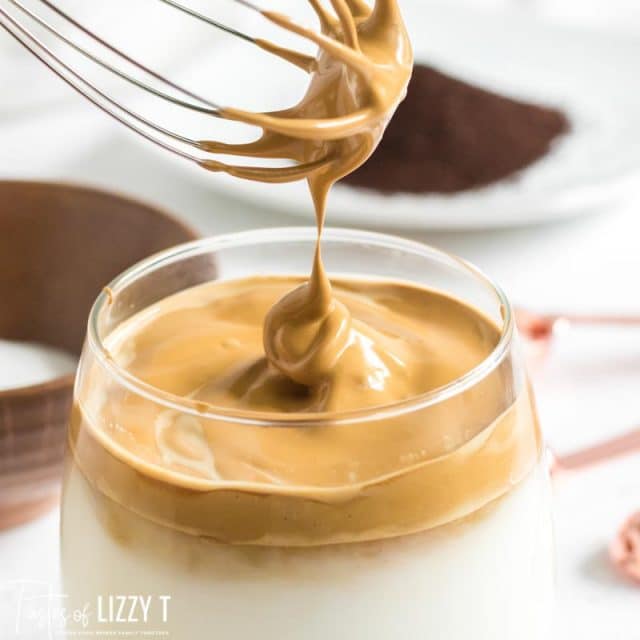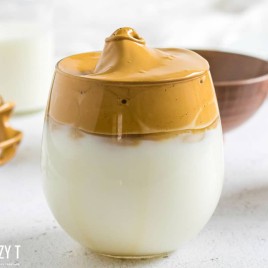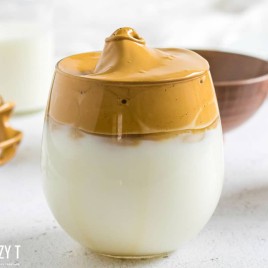 Make Dalgona Coffee at Home
This Tik Tok coffee recipe has taken the internet by storm! Dalgona coffee, made with only 4 ingredients, is the perfect whipped coffee drink you can make in minutes.
---
Ingredients
4

tablespoons

granulated sugar

4

tablespoons

instant coffee

4

tablespoons

hot water

milk

(hot or cold)
Instructions
Add the sugar, coffee and water to a small mixing bowl.

Blend with a hand mixer for 3-4 minutes, without stopping.

The mixture will start out dark but will start to lighten up as you continue to mix. The more you mix, the thicker the whipped topping will become.

Fill a small cup or glass with hot or cold milk. (I like to add ice cubes to my cold milk) Fill the glass about 3⁄4 of the way full. Carefully scoop and top the milk with the whipped topping.

Have leftover whipped topping? Store it in the refrigerator for up to 3 days before discarding.
Nutrition
Calories:
405
kcal
|
Carbohydrates:
75
g
|
Protein:
10
g
|
Fat:
8
g
|
Saturated Fat:
5
g
|
Cholesterol:
24
mg
|
Sodium:
113
mg
|
Potassium:
1029
mg
|
Sugar:
60
g
|
Vitamin A:
395
IU
|
Calcium:
304
mg
|
Iron:
1
mg
FAQ
What is Dalgona coffee?
Dalgona coffee is an whipped coffee mixture that tops iced milk.
It's a recipe that originated in South Korea and has become viral through the platform of TikTok.
What's in this coffee?
Instant coffee, water, and sugar makes the whipped coffee. It's then topped over a cup of ice filled with milk.
Does Dalgona coffee taste good?
Depending on the brand and blend of instant coffee you use, it is a bit bitter, but can be easily adjusted to your preference.

Keep in mind, Dalgona coffee is bitter. Coffee in general is bitter. If you're a "give me a cup of cream and sugar with coffee" kind of person, choose a light coffee blend or an instant cappuccino blend over a strong instant coffee.
Why is my coffee not fluffy?
If your coffee is not thickening into a fluffy whipped cream consistency, it's most likely due to not having had whisked it hard or long enough,
More Coffee Inspired Recipes