Tastes of Lizzy T participates in affiliate advertising programs. We may earn a commission when you make a purchase through links on our site.
Everything you need to know about how to cook a ham for your holiday dinner. Start with a spiralized ham and make a homemade honey ham glaze for a deliciously flavorful tender & juicy ham.
We LOVE making a comforting country ham dinner. Here we're sharing a complete guide on how to cook a ham. Find a recipe for honeybaked hams and cranberry ham on our site also. They're both delicious!
Table of Contents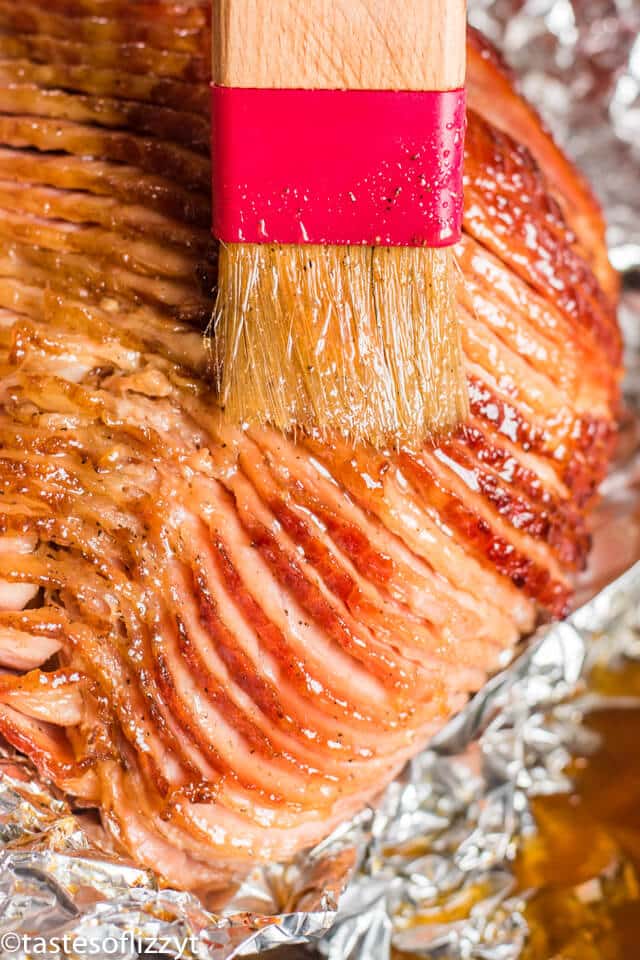 Thanks to the Ohio Pork Council for sponsoring this post. As always, all opinions are my own.
Easy Baked Ham Recipe
For the first 10 years of our married life I cooked everything in the slow cooker. Have a roast? Slow cook it. Pork chops? With gravy in the slow cooker. Stew? Yes, you guessed it….pull out the slow cooker. Since starting this website over 5 years ago, I've loved learning how to cook a tender roast in the oven, grill a perfect steak and cook stew in the dutch oven.
Learning how to cook a ham is no different. Don't get me wrong…I still love a good slow cooker ham. But every now and then I buy a spiral sliced ham and let it do its "slow cooking" in the oven. We're talking today about how to make a tender, juicy ham with delicious glaze.
How to Choose a Ham
There are three types of ham you'll generally find in a store: spiral cuts, bone-in ham, boneless hams. Bone-in unsliced hams allow you to cut slices to your own desired thickness. Boneless hams obviously have the bone removed, then during the curing process the ham is pressed back together to get a uniform shape. Sometimes boneless ham will have a slightly different texture than traditional spiral-cut ham.
My favorite type of ham is spiral sliced. They are super easy because it comes perfectly sliced in sizes ideal for sandwiches or serving. It also makes a beautiful centerpiece on your dinner table. Spiral sliced hams often come with a seasoning packet. I normally throw that seasoning packet away and make my own glaze, which we'll talk about next.
Shank end vs Butt-end
The shank end of the ham is the lower part of the leg while the butt-end is the higher part. The shank end is the funnel-shaped piece of ham that is lean and makes a beautiful presentation. You are most likely familiar with the shank end for an Easter ham dinner. That is the cut featured in this post.
The butt-end cut is rounder and has a t-shaped bone in it. It is a fattier meat which means it is flavorful and rich.
Ham Glaze Recipe
I like to make a glaze with my 3 favorite sweeteners: honey, brown sugar and maple syrup. Add a touch of dijon mustard and black pepper for just a little spice. If you'd like you can add ¼ teaspoon of cloves or ginger. I've done this occasionally to give the ham a "Christmas" flavor, but most of the time I leave out those two spices.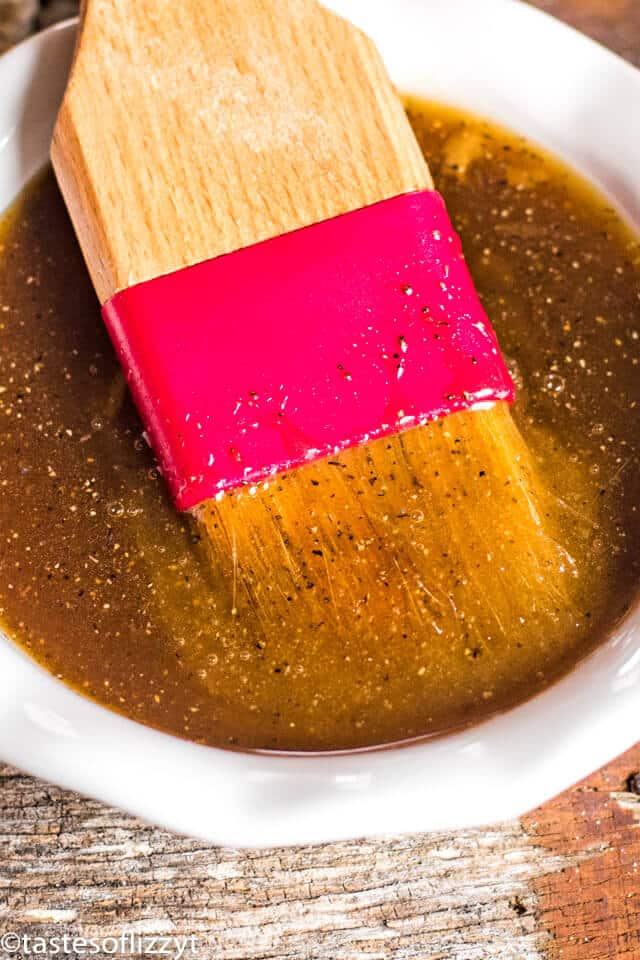 How to Cook a Ham
Baking a ham is easier than you may think. Follow these simple steps:
Place the ham in a shallow roasting pan (or 9×13″ pan), I don't use a rack in my pan because I want the ham to soak in the added and natural juices, but you can if you'd like.
Pour a cup of ginger ale and a cup of orange juice overtop the ham. This not only adds to the flavor but helps keep the ham juicy while it cooks.
Cover either the ham itself or the pan with foil. Make sure it is covered well so the ham doesn't dry out.
Set the oven to 350ºF and bake the ham, basting every 15-20 minutes. Uncover the ham when you baste it, but then cover it back up when you put it back in the oven.
How Long to Bake Ham
It will normally take about 10-15 minutes per pound to heat the spiral sliced ham to 140ºF. In a 350ºF oven, plan for it to take about 1 ½ to 2 hours for a 10 pound ham.
**We LOVE our Thermoworks ThermaPen to quickly test burger temperatures. This probe thermometer is AMAZING. Get it here.**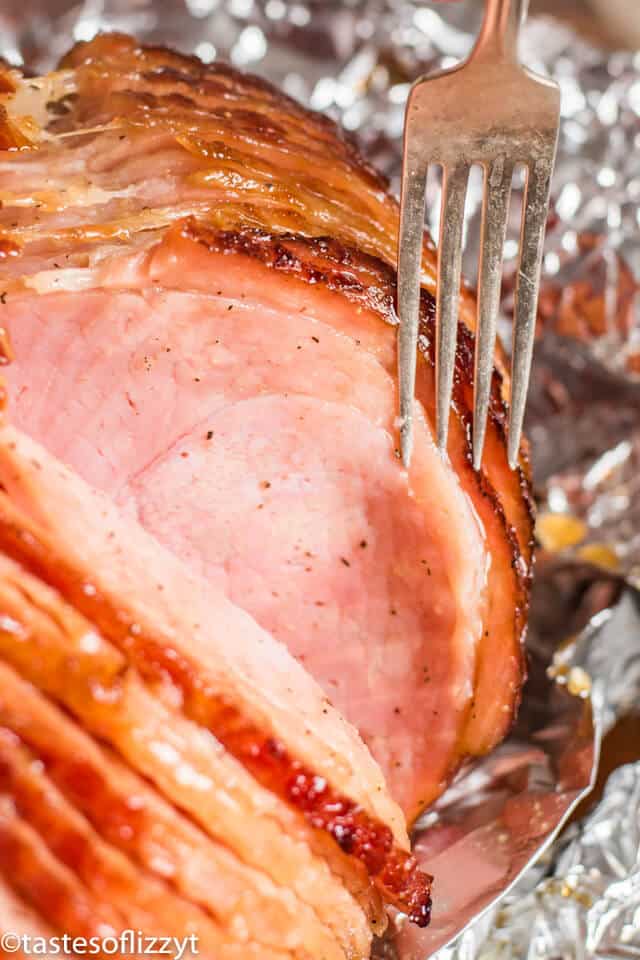 Can I make this ham in the slow cooker?
Yes! You can make this ham in the slow cooker. I set the slow cooker to low, place the ham in the crockpot, and pour the ginger ale and orange juice overtop. Then I mix up the glaze and pour it over the ham. After about 4-5 hours the ham should be warmed through.
Baste it several times while it cooks so that those delicious flavors get distributed all through the meat. The part of the ham that is soaking in the juices will have the most flavor though. You could always turn the ham over part way through cooking so the whole ham has time to simmer in the juices.
Slow cooker ham will not look as pretty as oven baked ham, but it will be tender and flavorful.
How to Use the Ham Bone
Once you're done serving the ham, you can use the ham bone leftovers to make one of these two delicious soups.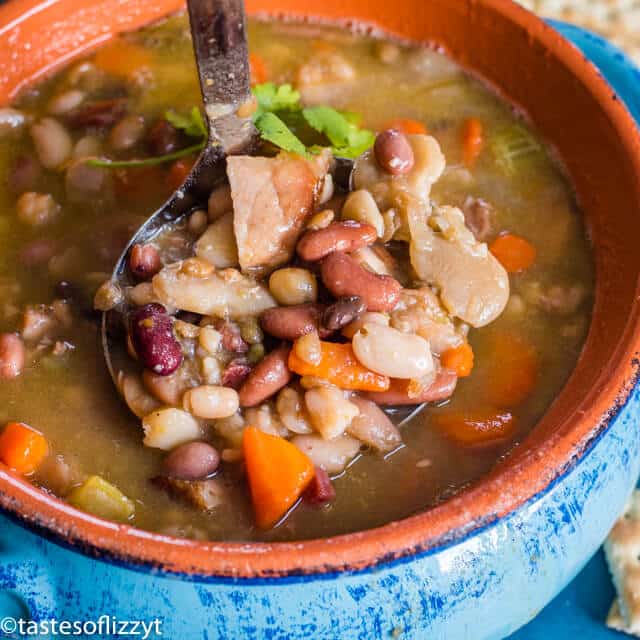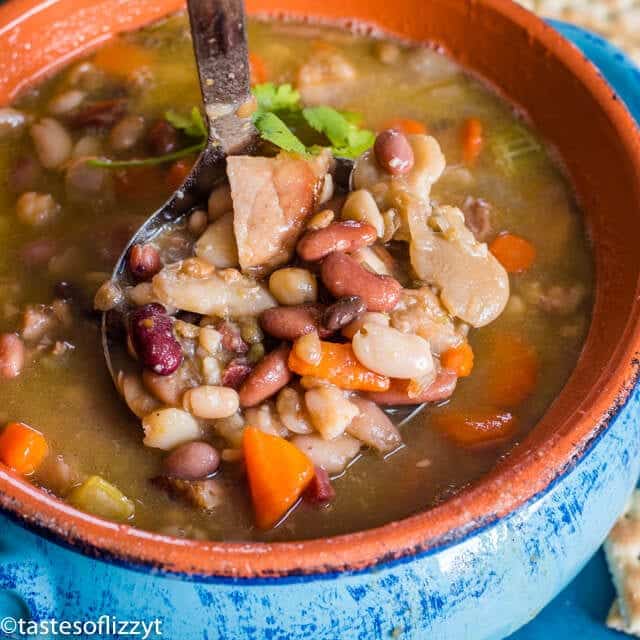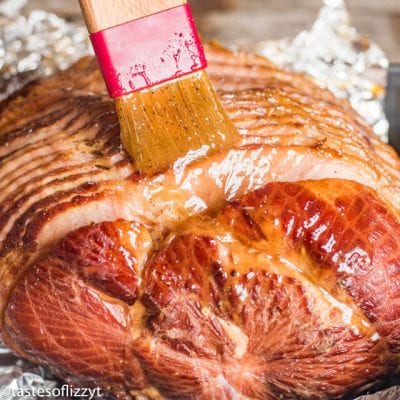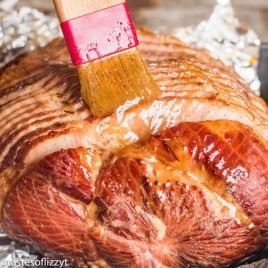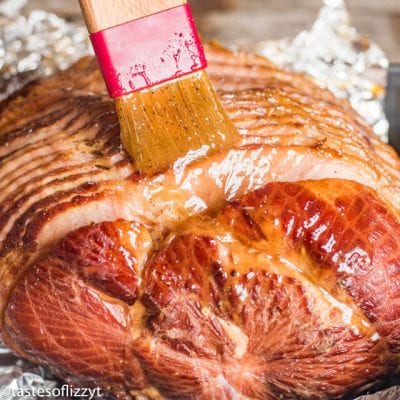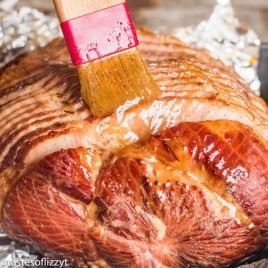 How to Cook a Ham
Everything you need to know about how to cook a ham for your holiday dinner. Start with a spiralized ham and make a homemade honey ham glaze for a deliciously flavorful tender & juicy ham.
Total Time
3
hours
10
minutes
---
Ingredients
10

pound

fully cooked spiral sliced ham

(weight is approximate)

1

cup

orange juice

1

cup

ginger ale
Ham Glaze
1/2

cup

maple syrup

1/2

cup

honey

1/2

cup

brown sugar

2

tablespoons

dijon mustard

1/2

teaspoon

ground black pepper
Instructions
Remove the ham from the refrigerator 1 hour before cooking.

Preheat the oven to 350 degrees.

Place the ham sliced side up in a roasting pan.

Pour the orange juice and ginger ale overtop the ham.

Cover the pan tightly with foil and bake for 20 minutes.

In a small bowl, combine the syrup, honey, sugar, mustard and pepper. Mix well.

Baste the ham with juices and brush with ham glaze. Bake again for 20 minutes.

(Be sure to leave about ½ cup of ham glaze for basting again right before serving.)

Continue baking them ham, basting with the honey glaze every 15 minutes until the internal temperature of the ham reaches 140 degrees Fahrenheit. This will take about 10-15 minutes per pound of fully cooked ham. Plan for about 90-120 minutes of cooking for a ham.

Remove the ham from the oven and allow it to rest covered for 10-15 minutes.

Baste with the remaining ham glaze right before serving.
Notes
Other juice options are pineapple juice and apple juice or apple cider.
Refer to the article above for more tips and tricks.
The calories shown are based on the ham and the seasonings, juices (serving 30), but the accurate calorie count is difficult to judge based on the fat content of the ham slice and the juices in the bottom of the pan that you won't use. Since different brands of ingredients have different nutritional information, the calories shown are just an estimate. **We are not dietitians and recommend you seek a nutritionist for exact nutritional information. The information in the nutrition box are calculated through a program and there is room for error. If you need an accurate count, I recommend running the ingredients through your favorite nutrition calculator.**
Nutrition
Calories:
420
kcal
|
Carbohydrates:
13
g
|
Protein:
33
g
|
Fat:
25
g
|
Saturated Fat:
9
g
|
Polyunsaturated Fat:
3
g
|
Monounsaturated Fat:
12
g
|
Cholesterol:
94
mg
|
Sodium:
1808
mg
|
Potassium:
471
mg
|
Fiber:
0.1
g
|
Sugar:
13
g
|
Vitamin A:
17
IU
|
Vitamin C:
4
mg
|
Calcium:
22
mg
|
Iron:
1
mg
Side Dishes for Ham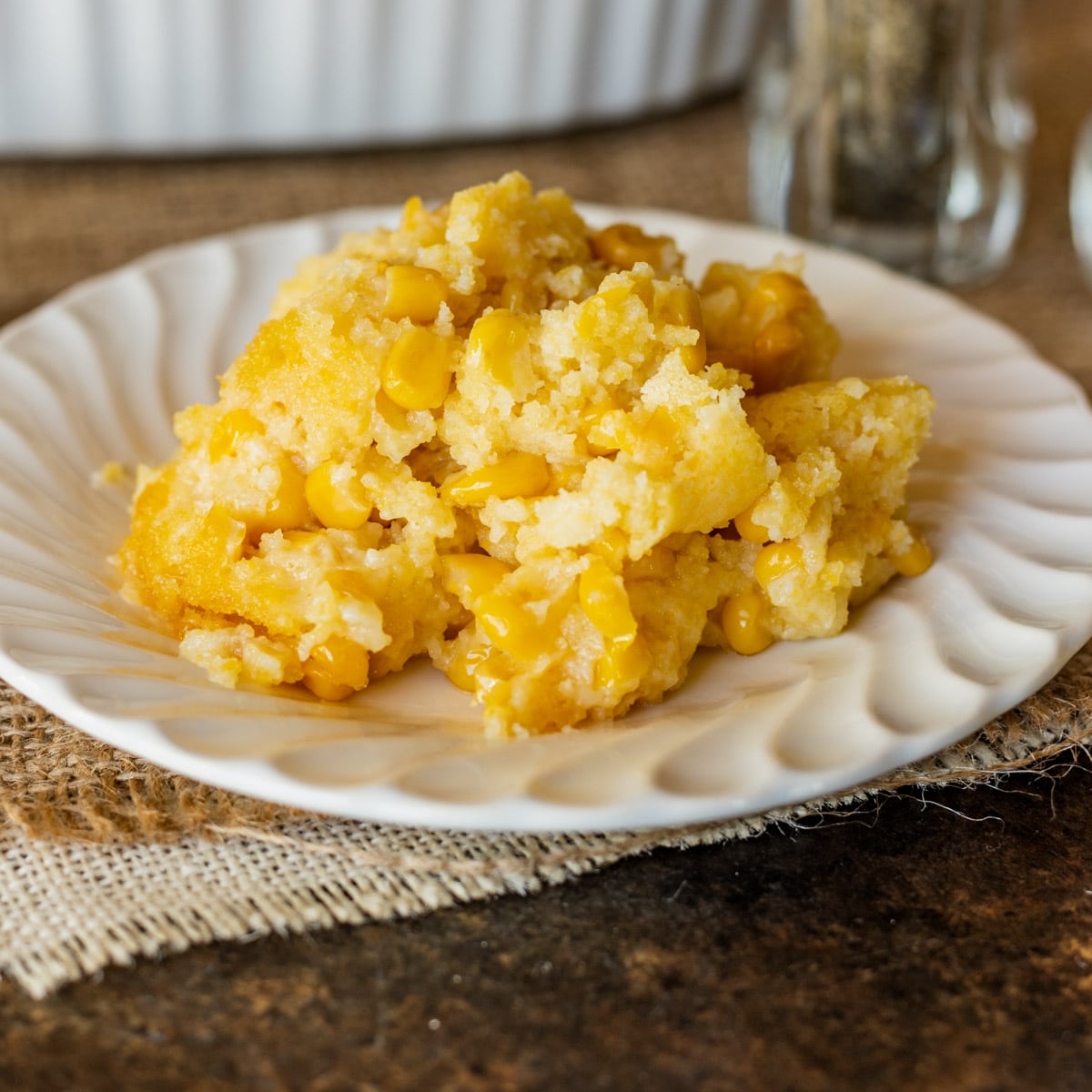 Leftover Ham Recipes
Try one of our popular leftover ham recipes: