Pesto pasta bake is the perfect Meatless Monday recipe that the whole family will love. An easy 30 minute dinner recipe.
Meatless Monday recipes can seem taunting, but with recipes like our tomato basil pasta and our rigatoni with tomato Parmesan sauce to fill in your menu plan, we know it's going to turn into a favorite weeknight dinner day!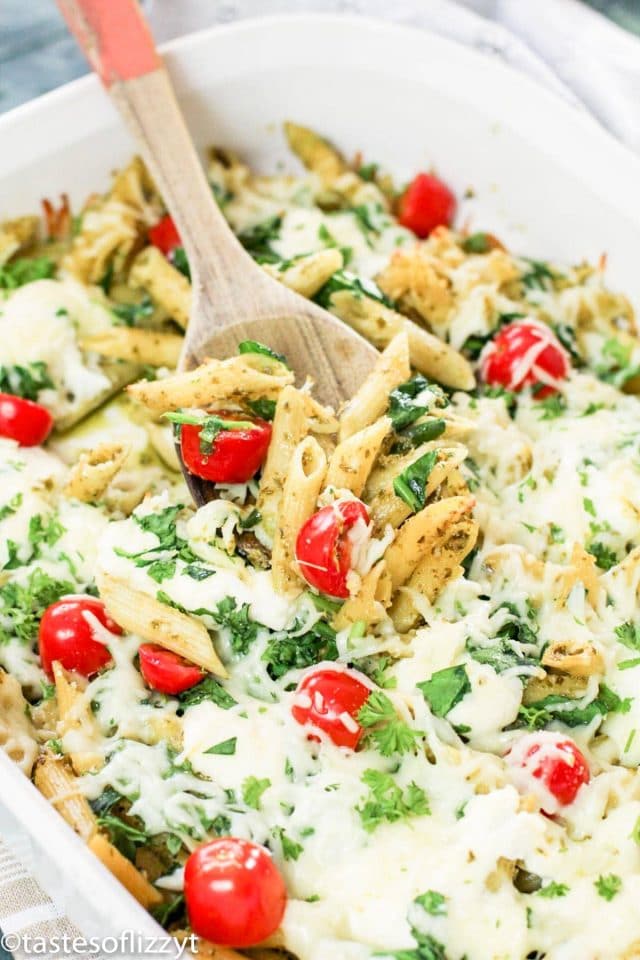 This pesto pasta bake is a simple pasta casserole recipe that has pasta dressed in a basil pesto sauce, and topped with ricotta cheese, spinach, tomatoes, and lots of shredded mozzarella cheese.
This baked pasta recipe is a caprese lovers dream! If desired, when you serve your portion, drizzle balsamic glaze and fresh basil over your serving to really entice the senses!
What is pesto?
Pesto is a sauce that is traditionally made of fresh basil leaves, pine nuts, and Parmesan cheese, olive oil, and garlic.
The fresh basil is what gives basil pesto it's green hue. You may have seen that there are also red pesto sauces that are made with sun dried tomatoes, red peppers, and either pine nuts or almonds.
We have a deconstructed red pesto recipe with our chicken alfredo pasta dinner recipe. By deconstructed I mean, the ingredients have not been pulsed together to create a paste, but are still incorporated into the recipe, whole.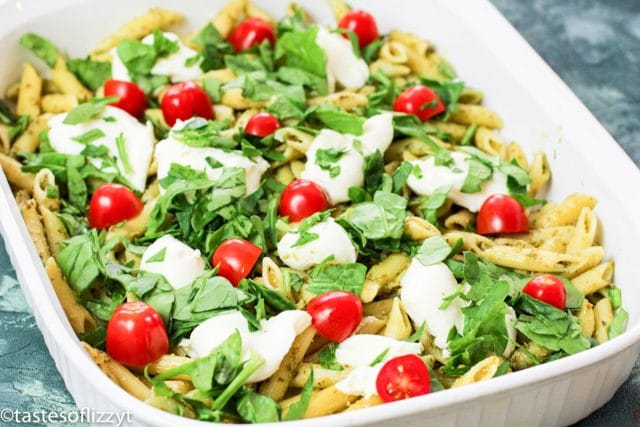 What does pesto taste like?
Pesto tastes like a bold dressing made of basil and garlic. It's creamy and soft, has a hint of nuttiness from the pine nuts and is slightly silky from the olive oil. The strong flavors seem to be balanced out by the Parmesan cheese.
Recipes using pesto usually are super simple where the pesto is the star attraction. Pesto usually goes hand in hand with tomatoes, mozzarella cheese, and balsamic vinegar (think caprese).
Pesto sauce can be used to coat chicken before grilling for a beautiful grilled chicken salad, or chicken can be stuffed with a thin layer of pesto sauce and cheese.
The possibilities for recipes using pesto are endless!
How do you make pesto?
To make pesto sauce at home you take the basil, pine nuts, cheese, olive oil, and garlic and you traditionally crush it with a mortar and pestle until it's ground and combined to create a thick and rough sauce.
Thankfully, with a food processor you can make the perfect amount of homemade pesto sauce in seconds with a few pulses!
For this easy pesto pasta bake, we are using jarred pesto sauce that can be found at your local market.
Want to make homemade pesto? Check out this recipe.
Ingredients For Pesto Pasta Bake
There are just seven ingredients for this easy pesto pasta bake! Feel free to add a source of protein, if desired, such as rotisserie chicken!
short noodle pasta, cooked
ricotta cheese (or cottage cheese)
jar of pesto sauce (or homemade sauce)
fresh spinach, roughly chopped
grape tomatoes, halved
mozzarella cheese, shredded
How To Make Pesto Pasta Bake
To make pesto pasta bake, we'll start with cooked short noodles. We're using penne, but rigatoni pasta would make a great choice as well!
Just like in our Italian pasta salad recipe, short noodles with grooves is a great way to pack more sauce into each bite!
Quick tip on cooking the noodles for this pesto pasta bake; cook the noodles to just under al dente! Remember, the noodles will continue to cook when it bakes.
Once your short noodles have cooked, toss it into a bowl with pesto sauce. Be generous with your sauce, you can also add in a tablespoon of olive oil if you like your casseroles a little on the moister side.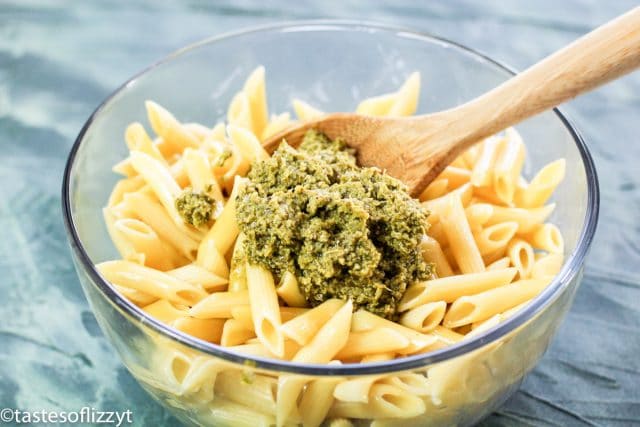 Pesto sauce is already bold and flavorful, and since we're adding shredded cheese and ricotta cheese, this easy pesto pasta bake aka best vegetarian casserole is well-seasoned and not needing additional salt and pepper.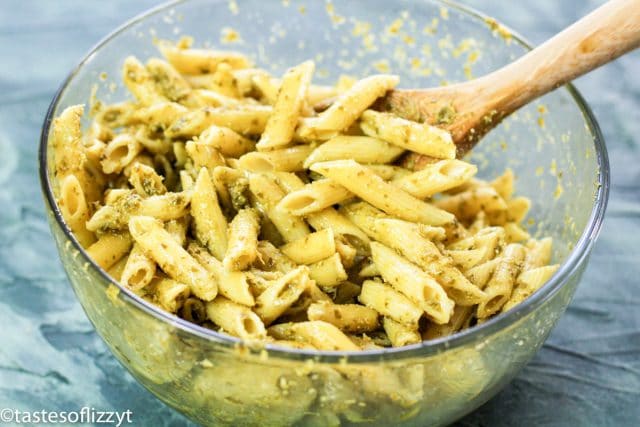 Next, pour your pesto coated noodles into a well-greased casserole pan and sprinkle over the spinach, tomatoes, and dollops of ricotta cheese on top.
You can get creative here and add in mushrooms or black olives if you're working on a pantry and fridge clean out.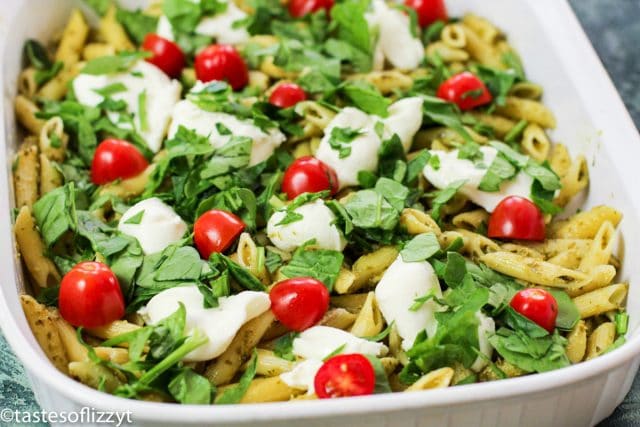 Finally, top your pesto pasta bake with shredded cheese and bake!
You're only baking this pasta casserole for about 20 minutes, or until the cheese melts. Serve right away!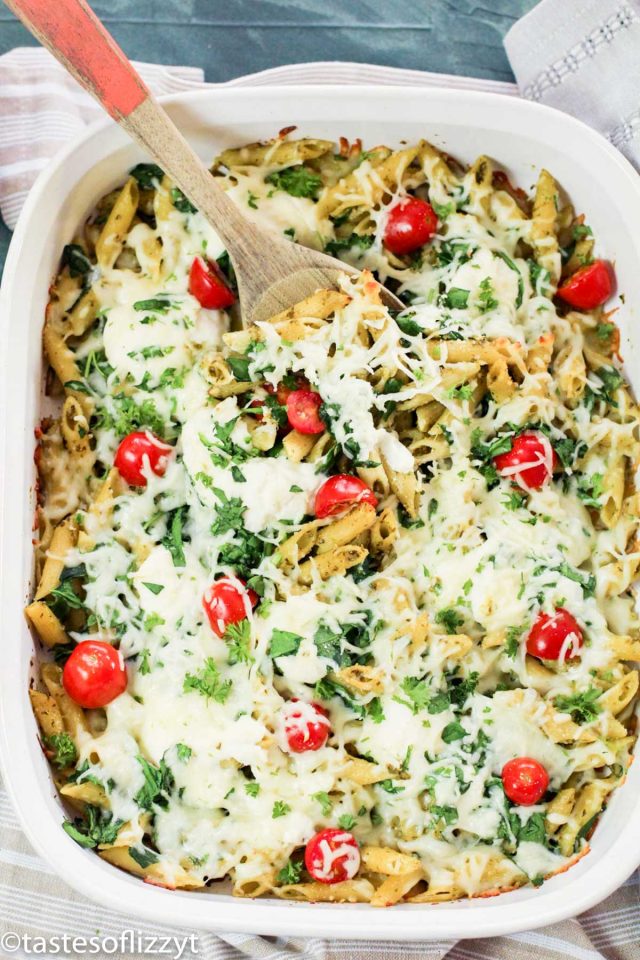 Can I freeze pesto pasta bake?
I would not advise freezing this pesto pasta bake. If you want to save this pasta casserole for leftovers, I highly suggest placing any leftover of this pasta casserole into a sealed container and refrigerating up to three days.
To reheat this pasta casserole, you can portion out what will be eaten and either microwave it or place on an oven safe pan and bake on 350 degrees Fahrenheit for about 15-20 minutes, or until it heats through.
Feel free to top leftovers with additional shredded cheese when reheating it. Fresh melted cheese is always best!
What to serve with pesto pasta bake?
This pasta casserole is pretty hearty. For a side dish, I would suggest a light soup or salad and finish it off with a fresh fruit salad for dessert!
Here are some side dishes to serve with pesto pasta bake: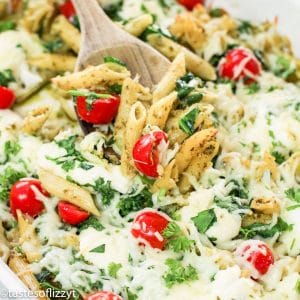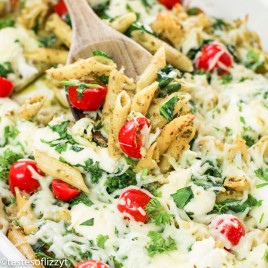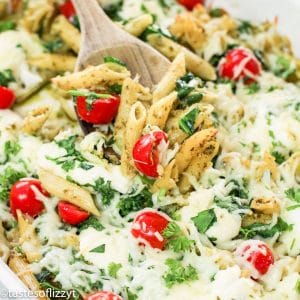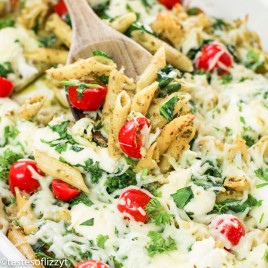 Pesto Pasta Bake
Pesto pasta bake is the perfect Meatless Monday recipe that the whole family will love. An easy 30 minute dinner recipe.
---
Ingredients
8

ounces

cooked penne or short noodles

6

ounces

pesto sauce

1

cup

fresh spinach

(chopped)

¾

cup

ricotta cheese

2

cups

mozzarella cheese

(shredded)

diced tomatoes

for garnishing
Instructions
Preheat oven to 375 degrees Fahrenheit. Spray a 9×13 baking pan with cooking spray.

In a large bowl, toss together cooked pasta and pesto sauce.

Add pasta to a 9×13 casserole pan.

Layer spinach over the pasta and add dollops of ricotta cheese over the pasta. Top with shredded cheese.

Bake for 20 minutes or until cheese is melted.

Garnish with diced tomatoes if desired.
Notes
You can use low fat ricotta and low fat mozzarella if you'd like. 
Use gluten free noodles for a gluten free dinner!
Nutrition
Calories:
336
kcal
|
Carbohydrates:
16
g
|
Protein:
15
g
|
Fat:
23
g
|
Saturated Fat:
9
g
|
Cholesterol:
47
mg
|
Sodium:
529
mg
|
Potassium:
105
mg
|
Fiber:
1
g
|
Sugar:
2
g
|
Vitamin A:
1430
IU
|
Vitamin C:
1
mg
|
Calcium:
305
mg
|
Iron:
1
mg