St. Patrick's Day Frosted Shamrock Cookies
Tastes of Lizzy T participates in affiliate advertising programs. We may earn a commission when you make a purchase through links on our site.
Make cute Mr. & Mrs. Shamrock Cookies for St. Patrick's Day! Soft, thick buttermilk cut out cookie recipe and fluffy vanilla buttercream.

I told you I had fun decorating cookies. 🙂 You all loved the rainbow cookies and I think these Mr. & Mrs. Shamrock cookies will be no different!
I first got the idea of making Mr. & Mrs. Shamrock cookies from this pin. Unfortunately the website doesn't seem to be working anymore, which is a bummer because this baker is so talented! She made her cookies with royal icing, but I decided to make things a little quicker and use buttercream. They're a little more whimsical. And mouth-watering delicious. 🙂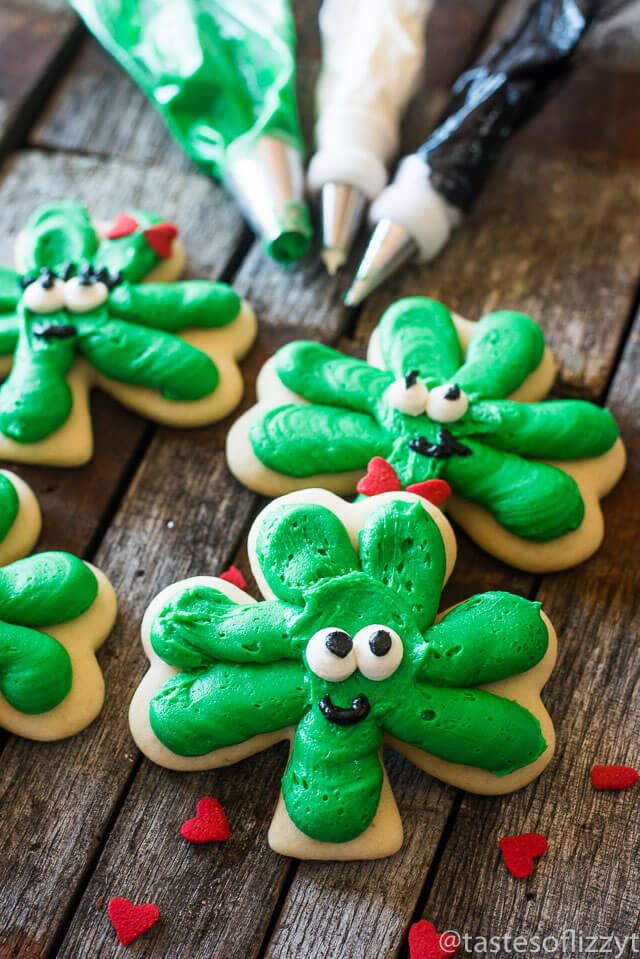 I won't insult your intelligence by giving you all of the same tips I gave you last week about how to make decorated cookies quickly and easily. I'll just refer you to this post where you'll find the timing I use, why you should color the frosting a day in advance and other important info.
Let's get right to the details of these adorable Mr. & Mrs. Shamrock cookies!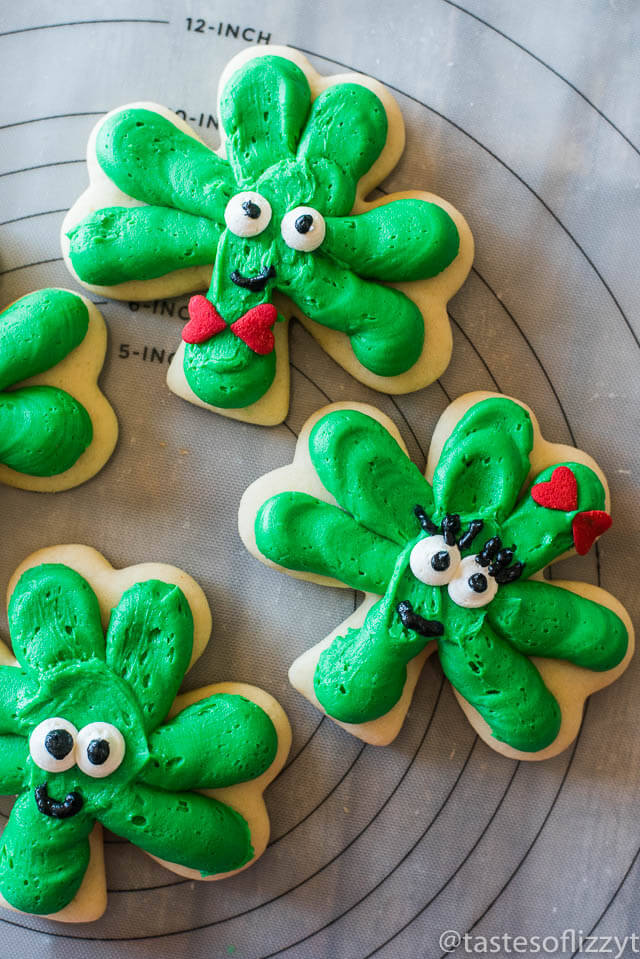 Supplies you'll need for Shamrock Cookies:
4 1/2″ shamrock cookie cutter (Or smaller if you'd like. I find bigger is easier to work with.)
Wilton #12 tip (For the whites of the eyes)
Wilton Tip 1A (For making the base of the shamrock.)
Wilton #3 tip (For the black eyes and mouth.)
Jumbo Heart Sprinkles (For the bow tie and bows in hair. Or you can just pipe them with red frosting.)
Decorating Couplers (You'll want as many of these as you have tips for any certain project.)
Disposable decorating bags (Disposable are so easy…throw them away after using or wash them if you feel like it!)
Food Coloring (I can't live without Americolor food coloring. Super Red, Super Black, Electric Yellow…I love them all!)
Soft Buttermilk Cutout Cookies (One batch will probably make 3-4 dozen, depending on how thick you roll the dough and how big your shamrocks are.)
Simply Vanilla Frosting (Make a double batch since you need lots of colors!)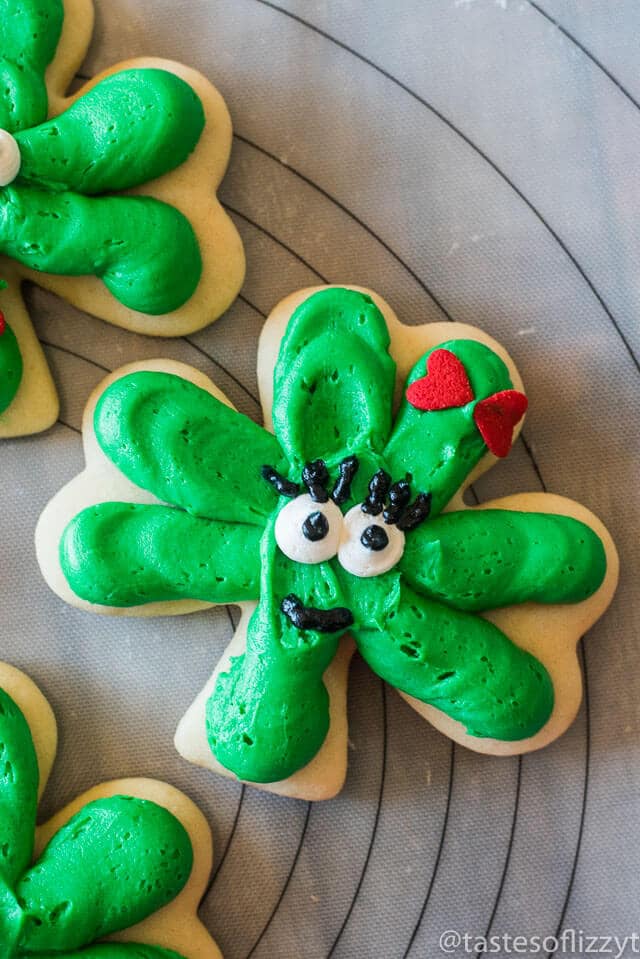 Frosting the Shamrock Cookies:
Fill the decorating bags with frosting. The green frosting will go in the bag with the 1A tip (which does not need a coupler since it is so big!). Remember this tip for filling frosting bags with easy cleanup. White goes in a decorating bag with #12 tip and black goes in a bag with a #3 tip.
Pipe the green base of the shamrock, starting on the outside and pulling towards the center.
Pipe the whites of the eyes, the black part of the eyes, mouth and eyelashes, if desired.
Place jumbo heart sprinkles to look like a bow tie or a bow in the hair.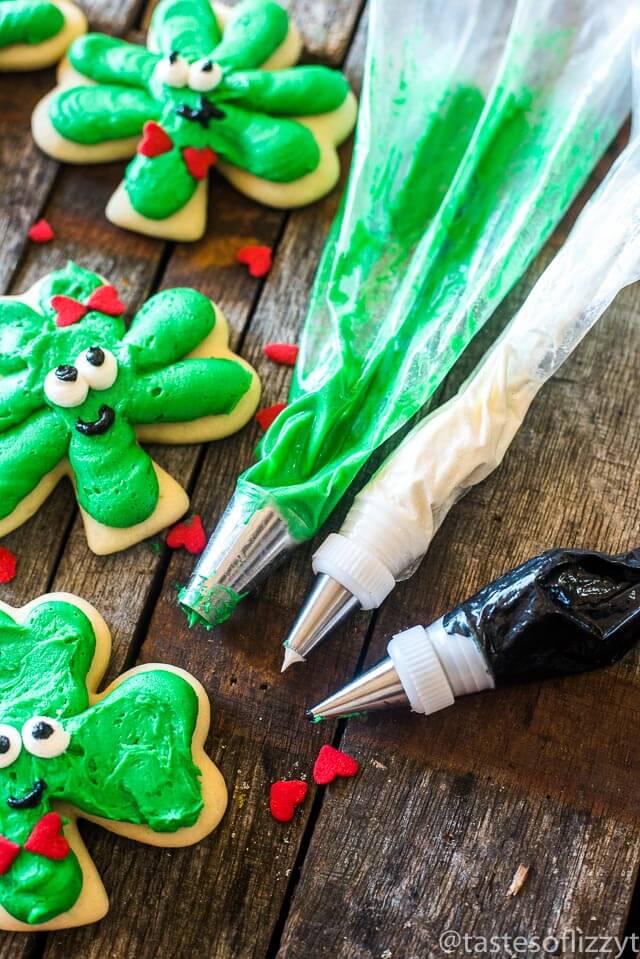 You can also leave off the red hearts if you'd like for a simple shamrock cookie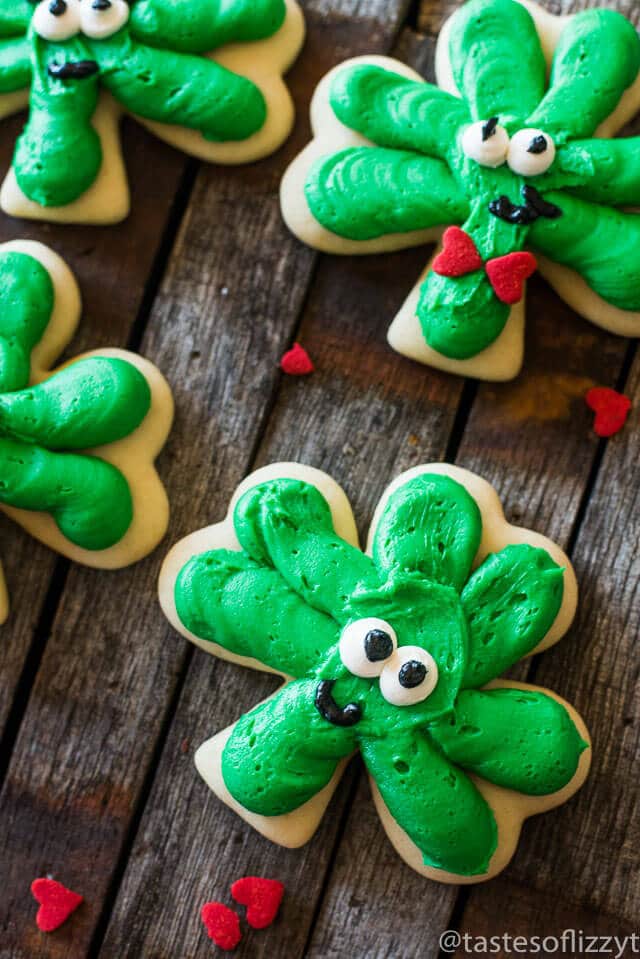 And here's a video to show you how easy this technique is. Yes, it may take practice, but you'll get it in no time!
Looking for more recipe ideas? You've found the right place!
Frosted Rainbow Cutout Cookies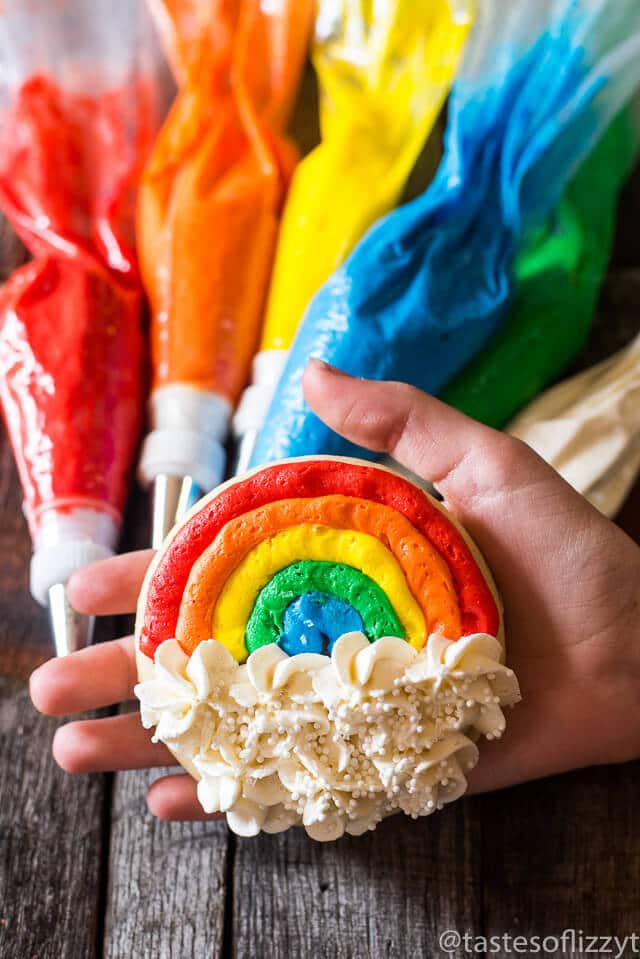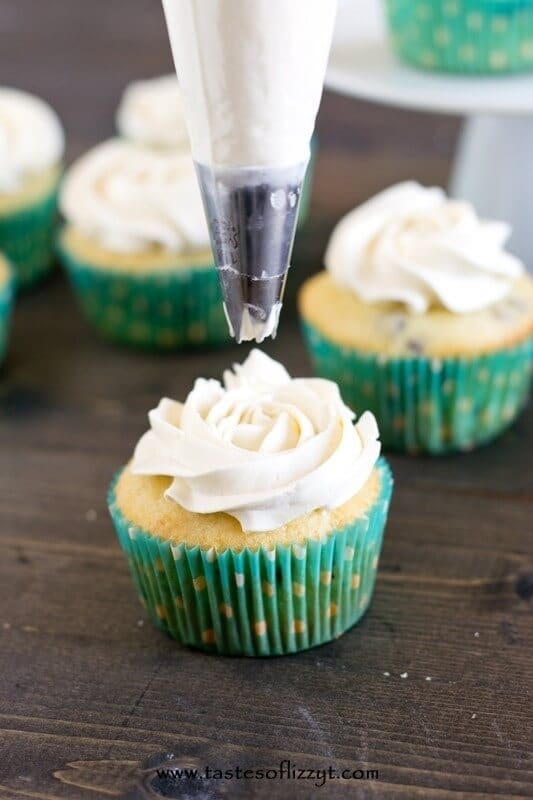 Peppermint Patty Stuffed Chocolate Cookies