Frosted Cutout Rainbow Cookies
Tastes of Lizzy T participates in affiliate advertising programs. We may earn a commission when you make a purchase through links on our site.
Soft, Lofthouse-style cutout sugar cookies in simple circle shapes make easy decorated rainbow cookies that anyone can do. Uses just two decorating tips!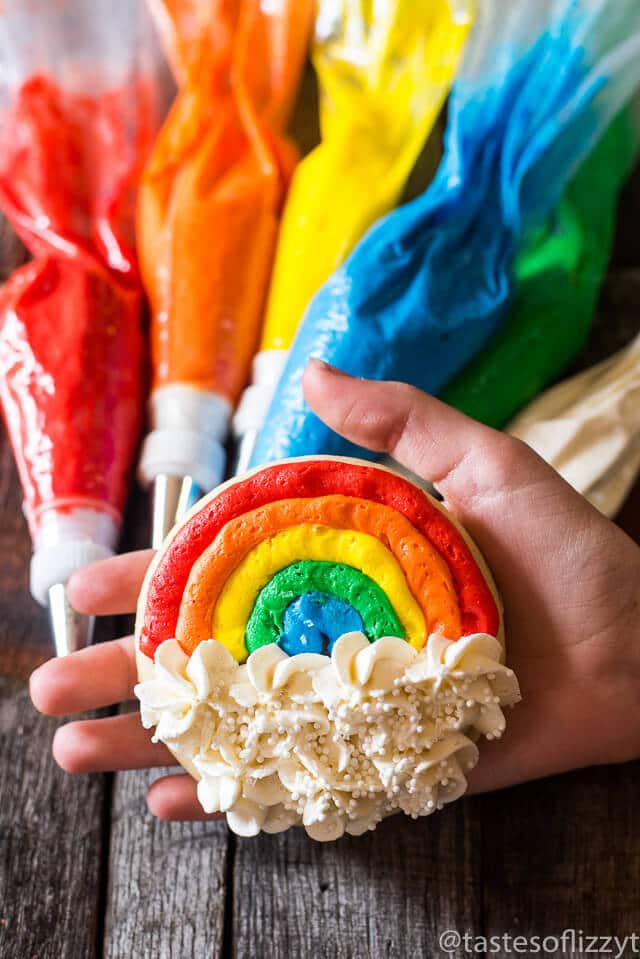 I have a crazy love for decorating cookies.
I don't always share our cookie creations on the blog, but many times I'll share pictures on Facebook. And ya'll seem to love them.
The problem is that although I could spend all day, every day making edible cookie creations for every holiday, my schedule doesn't allow for that. Really, when you have sweet frosted cookies, who needs a clean house and educated children? Cookies for dinner every night? A dream.
But when I do block off a bit of time to decorate cookies? You can bet that it is a deliciously happy day.
Especially when cheerful rainbow cookies are sitting around.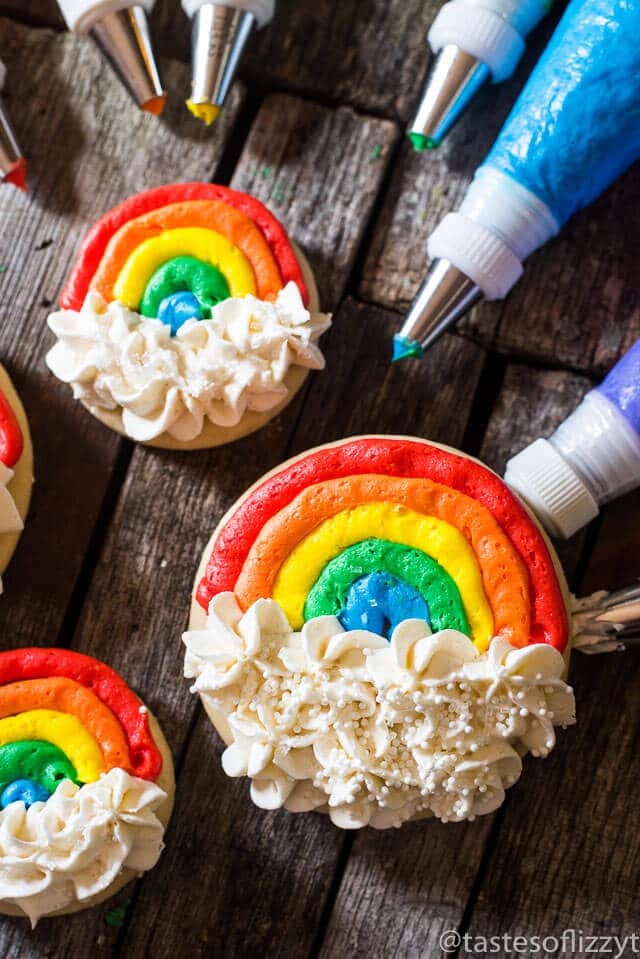 My hope in sharing these rainbow cookies with you is that you see how easy decorating cookies can be. Especially with buttercream frosting. Easy enough that you won't have to block out a huge chunk of time.
The most difficult part of making these cookies is baking the cookies and preparing the frosting. And even that is not difficult, it is just takes time. How do I combat this problem? I do things in stages.
Bake up the cookies in advance. Allow them to cool, wrap them well and freeze them. These buttermilk cookies freeze beautifully after they are baked. When you're ready to decorate them, remove them from the freezer and allow them to come to room temperature before you unwrap them. They'll be soft as ever!
Another time saver is to make up the frosting a day in advance. It took about 30 minutes to make the frosting and color it. I was sick that day and 30 minutes is about all the energy I had, so that is the only step I did. Another reason to make the frosting up the day before you frost the cookies is because it allows the color in the frosting to deepen.
See how bright and vibrant these colors are? Make the frosting ahead of time and you can use less food coloring to achieve the deep color you desire. And less food coloring is a good thing.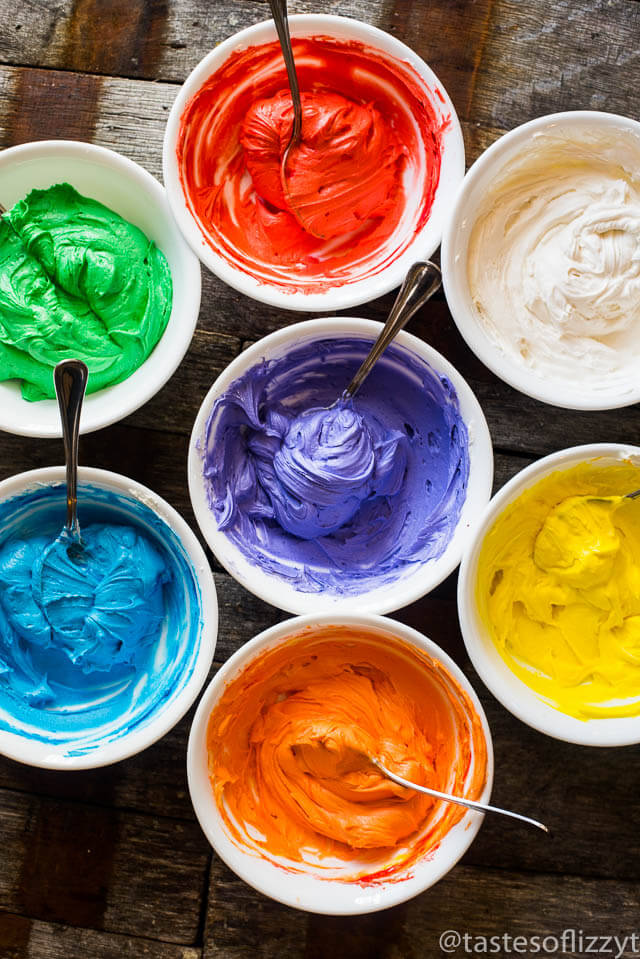 What frosting colors do you need for a rainbow?
Red, Orange, Yellow, Green, Blue and Purple.
Unfortunately my cookies didn't fit the purple color so I had to leave it out. So sad. 🙁
Plus, you'll want white frosting for the fluffy white clouds. I actually color my white frosting white. Weird, right? Not really. I use butter in my buttercream, so it always has a bit of a yellowish cast. And if you use white color in your frosting, it helps the other colors not bleed into the uncolored frosting.
Confusing? Sorry. Just trust me. You can find white food coloring here.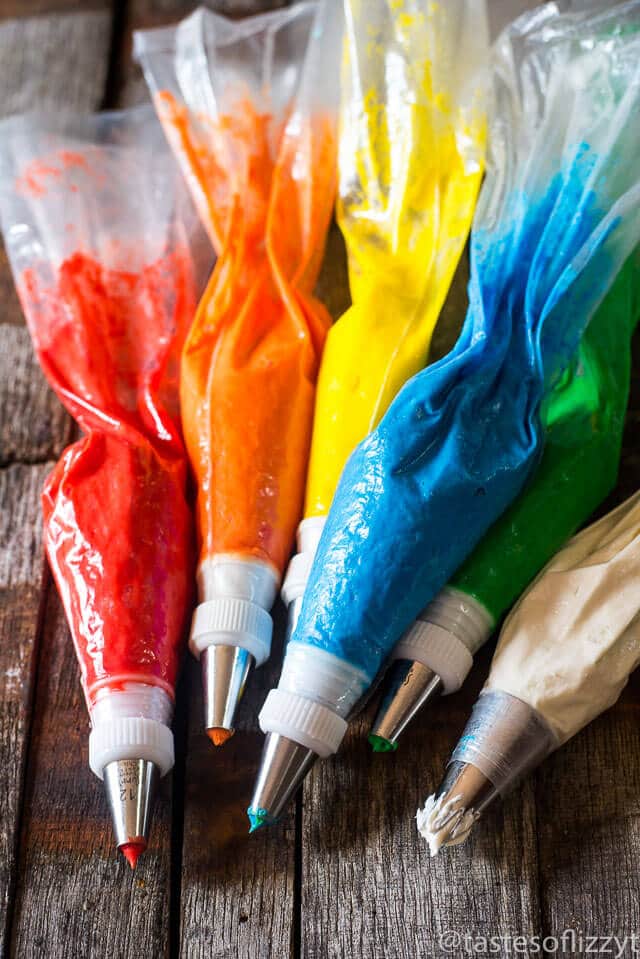 Once the cookies and frosting were made, I whipped out decorating these cookies in less than an hour.
Supplies you'll need for Rainbow Cookies:
4″ circle cookie cutter (or really any size, but I like big cookies and I cannot lie.)
Wilton #12 tips (I have about 6 of these so I don't have to switch out tips. It is just easier for this recipe.)
Wilton Tip 1M (For making those puffy clouds.)
White sprinkles, optional
Decorating Couplers (You'll want as many of these as you have tips for any certain project.)
Disposable decorating bags (Disposable are so easy…throw them away after using or wash them if you feel like it!)
Food Coloring (I can't live without Americolor food coloring. Super Red, Super Black, Electric Yellow…I love them all!)
Soft Buttermilk Cutout Cookies (One batch will probably make 3-4 dozen, depending on how thick you roll the dough and how big your circles are.)
Simply Vanilla Frosting (Make a double batch since you need lots of colors!)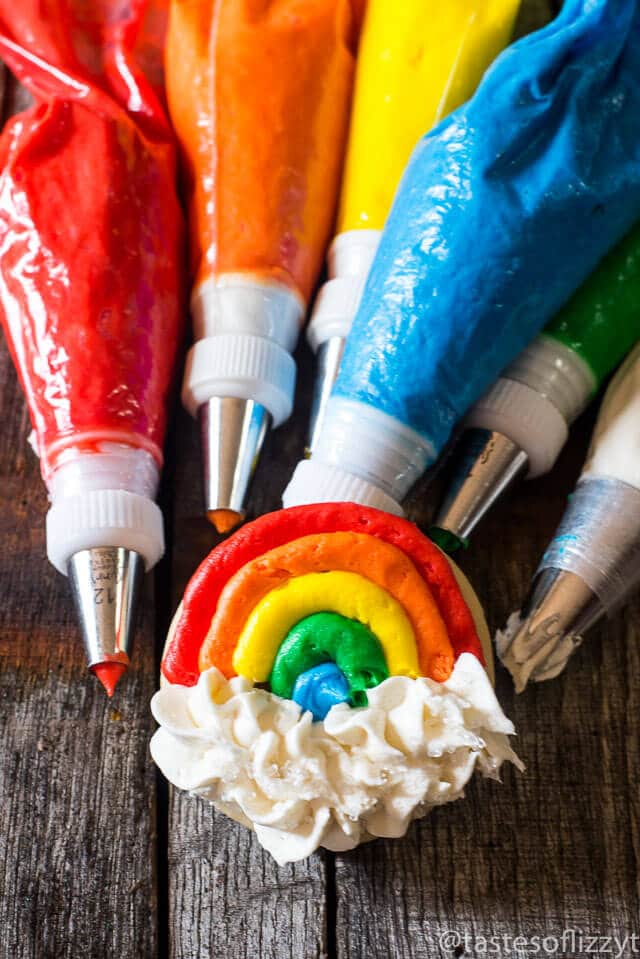 And then comes the super easy part of frosting.
Fill the bags. The colors will go in bags with #12 tips. The white will go in a bag with the 1M tip (which does not need a coupler since it is so big!). If you need a super easy technique for filling frosting bags with easy cleanup, watch here and be amazed. Isn't she the cutest?!
Pipe the red, orange, yellow, green, blue and purple (if you have room) on half of the circle, following the outline in an arc shape.
Pipe fluffy clouds with the 1M tip. You really can't mess this up.
Sprinkle with white sprinkles if you'd like!
And just so I know you know how easy these rainbow cookies are….here's a video. 🙂
Happy spring and many rainbows to you!
More Cookies You'll Love…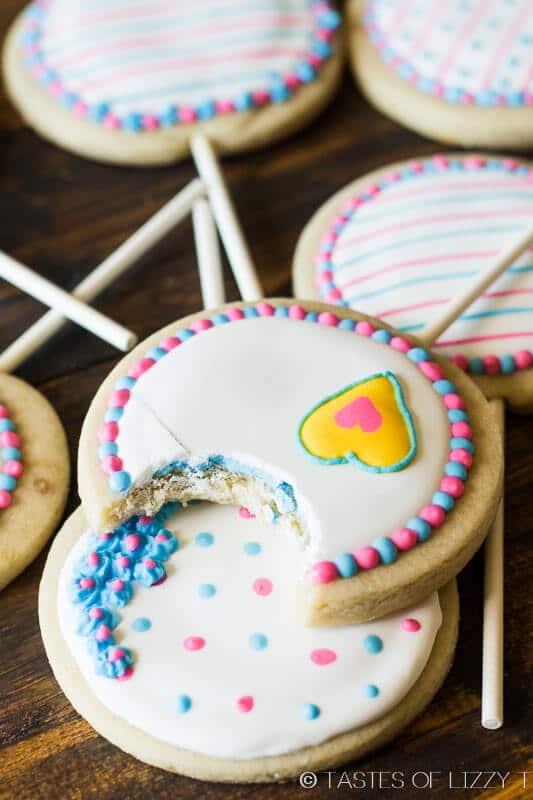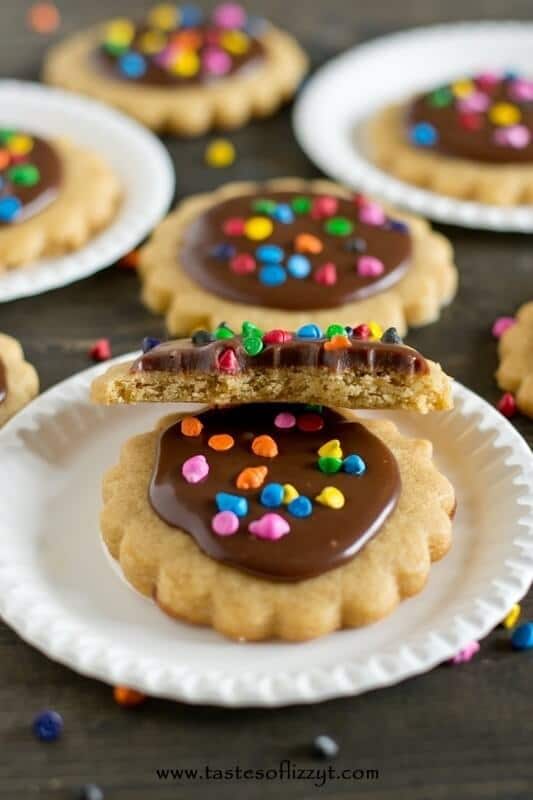 Turkey Cookies for Thanksgiving