If you are taking your family to Kauai, Hawaii, you need to be prepared in advance with all of the many different ideas there are of activities! Here are our favorite things to do in Kauai including beaches, luaus and hiking. You may enjoy reading about our favorite Kauai restaurants too!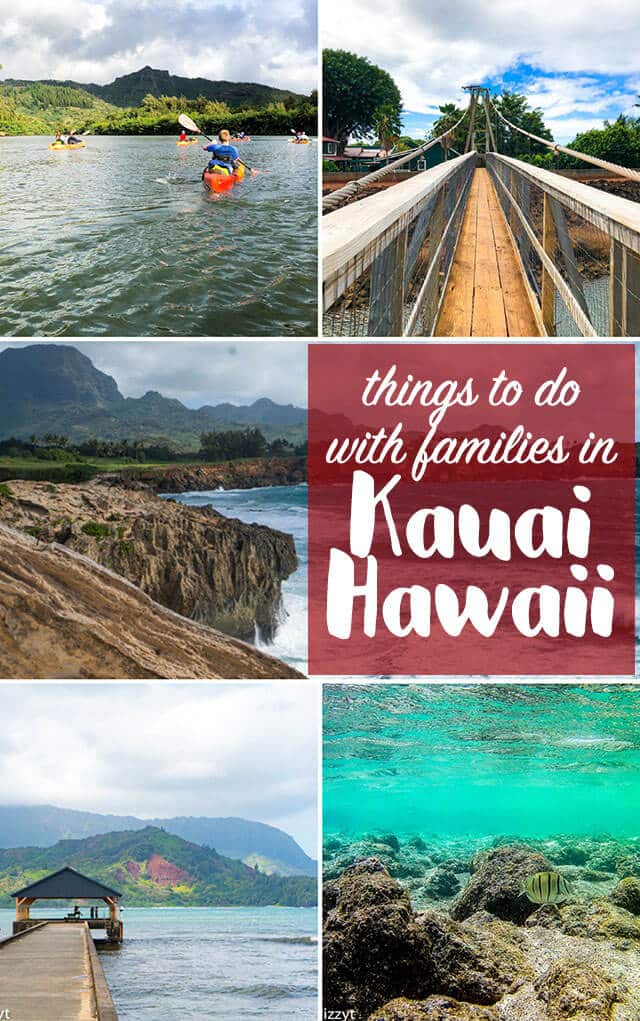 Things to Do in Kauai, Hawaii
The natural beauty of Kauai is what drew me in. Although I wouldn't label myself as an adventure-seeker, I do like to explore and see amazing sights. Generally we are a pretty chill family when it comes to vacations. We like to go and rest, ya know? I knew with Kauai, however, that we might never actually be back to the island as a family, or anytime soon at all, so we wanted to make the most of our 5 days and see as much as possible. We stayed in Poipu, the southern part of the island. The island is small enough that you can travel up to the north and back in one day. It will be a long day, and be prepared for traffic, but even the drive is beautiful and so worth it.
Here are our favorites, in no particular order.
Waimea Canyon State Park
The entrance to Waimea Canyon only took about 20 minutes to get to from our house, but the drive up into the park to hit a few of the trails was quite long. If your kids easily get carsick, be ready with some motion sickness medicine! You are curving around hills and climbing, climbing, to catch a peek of the canyon. But…as with the rest of Kauai, there are gorgeous views along the way and spots you can get out to snap a few photos.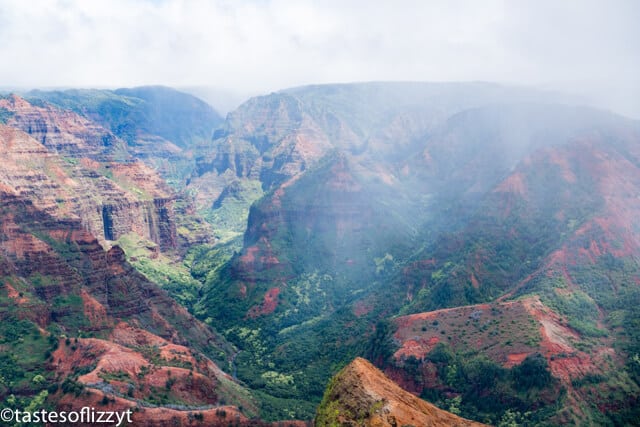 The week we were on Kauai the clouds definitely hung over the park. It sprinkled likely while we were hiking, but nothing that stopped us. Pack water and snacks…and be careful if your kids are little and tire easily. Some of the hikes take quite a bit of energy!
Hanalei Bay
We took one day and drove north to Hanalei Bay. Here you can swim or watch the surfers. Braden flew his drone and got some great shots of the guys surfing the waves. So cool! This is a great place to picnic and it has bathrooms for changing, etc. There is a pretty pier and unbelievable views of the mountains. You'll also see people kayaking down the peaceful river.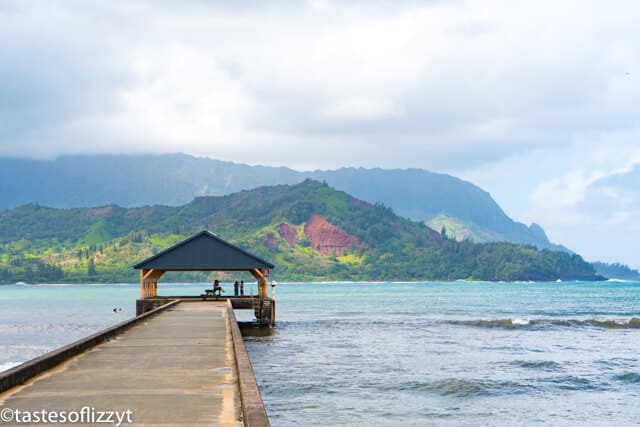 Queen's Bath
Queen's Bath is a beautiful rock formation on the north part of the island that you can swim in during low tide. You want to be very careful of this. In the winter months (which was when we were there), the waves and current can be quite treacherous. The water is a powerful thing and there was no way we were getting anywhere near Queen's Bath to take a dip. I hear that at the right time though, it is a great little swimming hole.
The hike to Queen's Bath was terribly muddy. Wear good shoes and take a hiking stick to help yourself along. This was my favorite picture of the whole trip, though, so it was definitely worth the hike.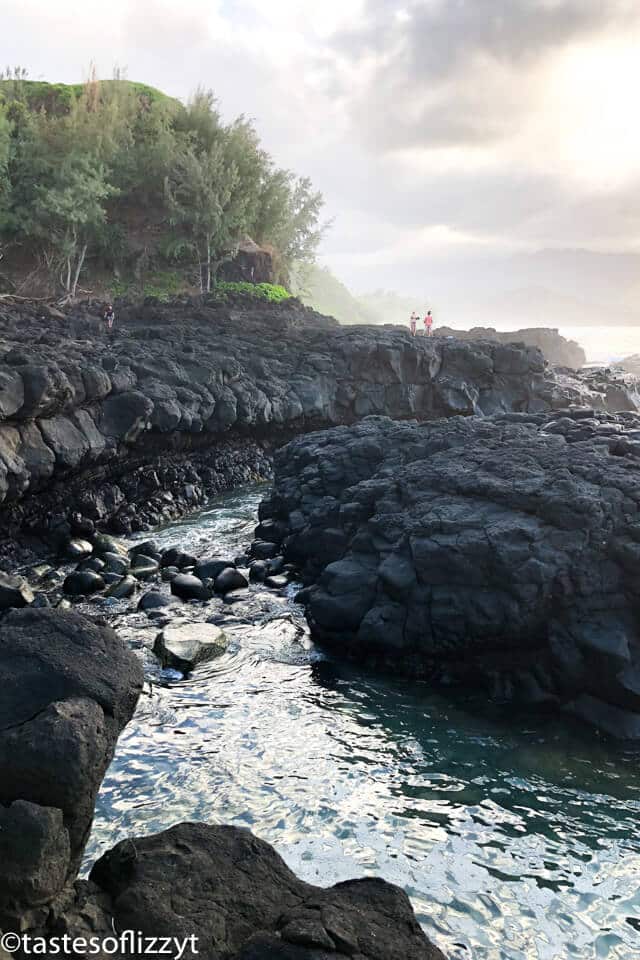 Luau
If you're going to Hawaii, you must go to a Luau! Our week was cut a day short because of a flight delay, so our Luau ended up being on the first day which worked perfectly. The music, dancing and delicious food really helped us get in the Hawaiian groove! We booked our Luau through the Auli'i Luau, which is held at a Marriott hotel in Poipu. As long as the weather cooperates, the hold the luau right next to the beach so you can see the sun set during dinner. The food was amazing. The buffet allows you to try things that you may not normally try on the island. You learn all about the different Polynesian cultures and even get to watch a man climb to the tip top of a coconut tree. They put on a great show and I highly recommend it!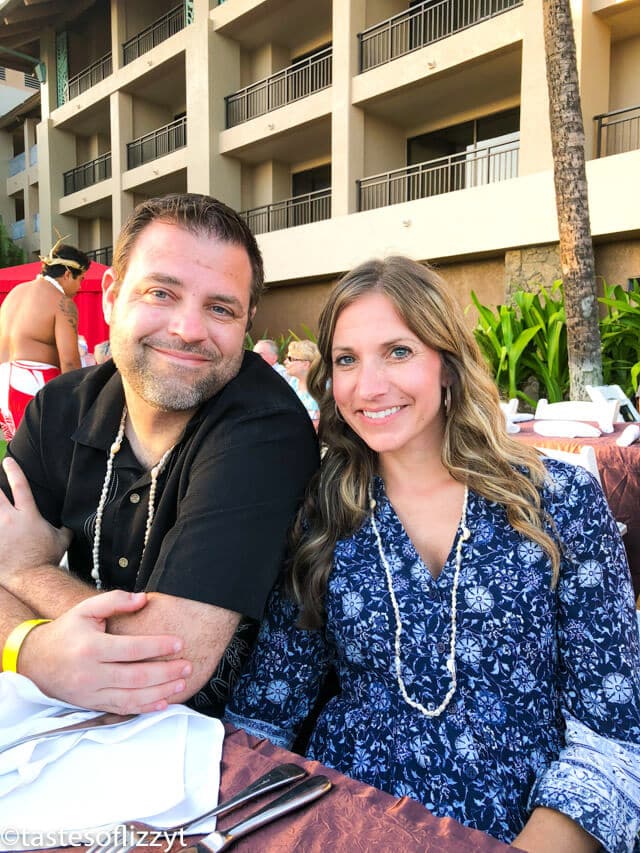 And yes, we look tired because we were. Almost 48 hours in an airport and airplanes were a little much.
Hanapepe Swinging Bridge
The Hanapepe bridge is a quick stop, but it is in a cute town and you'll want to plan time to visit the shops. They had a cooking shop there with spices, etc, that you can imagine we spent quite a bit of time in. Kinslee ended up crawling on hands and knees across the swinging bridge. But even if you're a little nervous about it, don't forget to look up to see the gorgeous river views!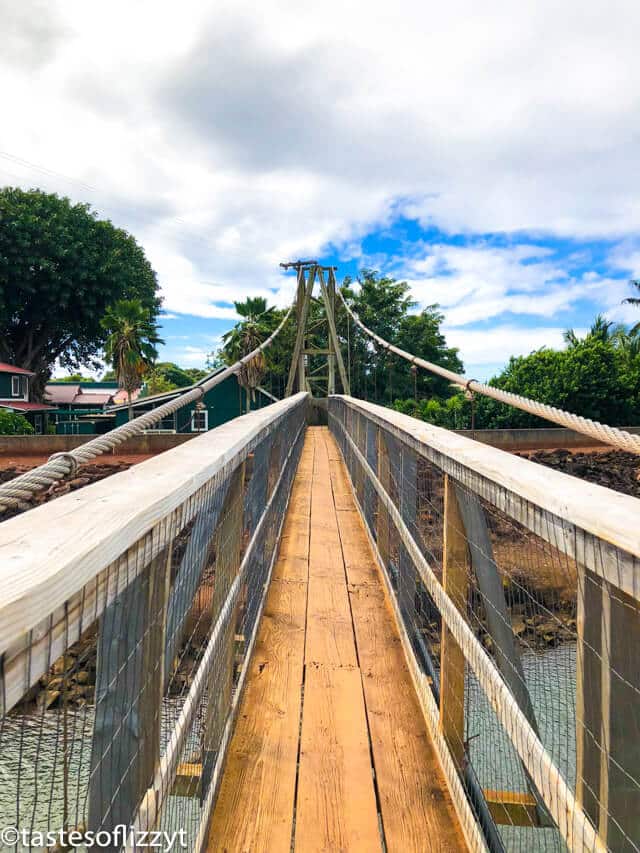 Maha'ulepu Heritage Trail
Our first morning, we decided we wanted to get an overview of the beautiful island we were on, so we headed down by the water in Poipu to the Maha'ulepu Heritage Trail. This is a fairly easy trail to hike and offers breathtaking views. You can get adventurous and climb some rocks if you'd like…or stay on a gravel path. Either way, this trail is 100% worth it.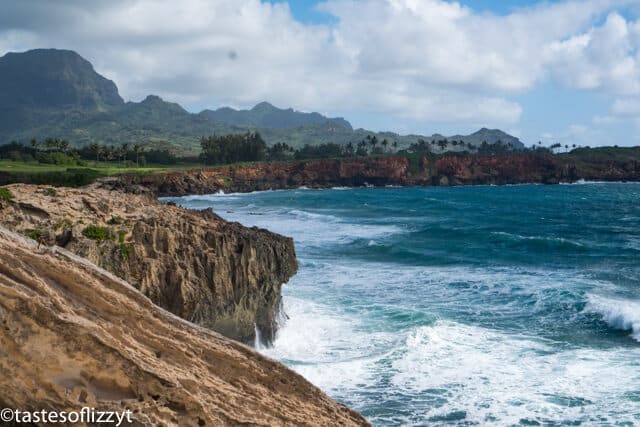 Na Pali Coast
Although we didn't get to see the Na Pali Coast because we ran out of time, you can find beautiful images online of what you're missing if you don't get to take a helicopter or boat ride. There is hiking in the Na Pali park, but in order to see the massive views that have been featured in several movies, you'll want to take a tour. Be sure to have your camera!
There are several snorkeling tours that take you past the Na Pali Coast, or you can opt for the helicopter ride that may also go through Waimea Canyon. If we ever go back, we'll be doing one of these tours to see the beauty first hand.
Snorkeling on Poipu Beach
We had thought about taking a snorkeling tour, but after one visit to Poipu Beach (which was just a few blocks from our house), there was really no reason to. You can rent a snorkel mask if your house or hotel does not offer them. Wade out into the crystal clear water and fish will swarm you! It's amazing.
You'll also see monk seals and huge turtles sunning themselves on the beach. And if you have kids who like to dig in the sand, you may find one of these cute little crabs!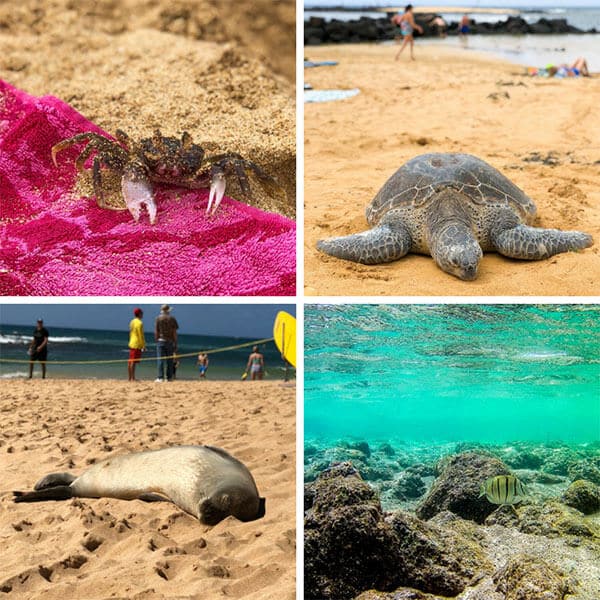 Farmer's Markets
From what we saw and understand, there are farmer's markets all over almost every day in Kauai. If you can find one at the beginning of your trip and pick up some fresh produce, it is totally worth it! We happened by a farmer's market on the north shore near Hanalei Bay. Beautiful flowers, food trucks and freshly made malasadas. Mmm….Go hungry if you decide to go!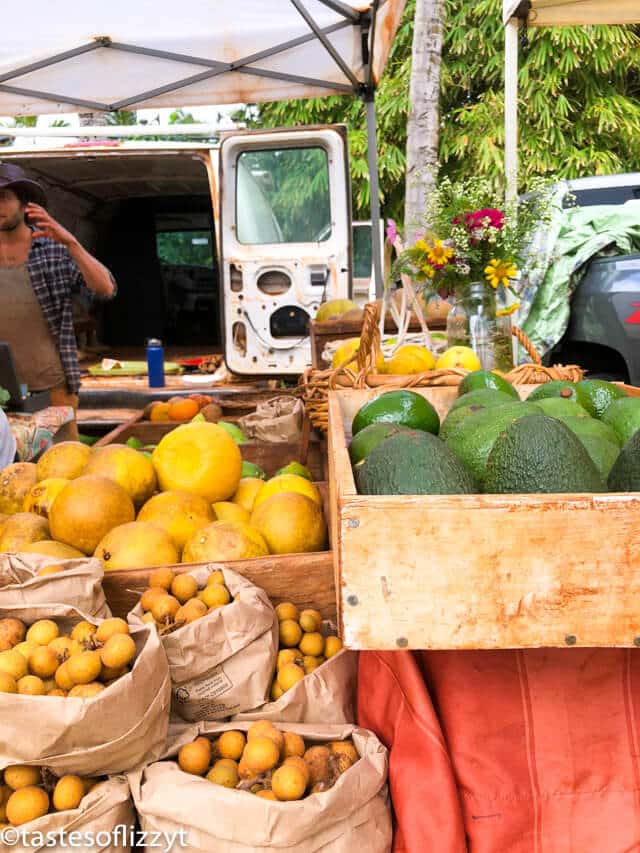 Kauai Coffee Plantation
Love coffee and learning? Visit the Kauai Coffee Plantation. They have an absolutely beautiful setting and you can find out everything you want to know about Hawaii coffee production, plus get free samples of their coffees. They have a bakery and a gift shop. Be careful not to buy too much coffee or you may have to throw away some tennis shoes and clothing at the airport so that your suitcase can manage to bring it all home. Don't ask me how I know this.
We got to the plantation a few minutes before the opened, looked around outside and got to visit inside before it got too busy.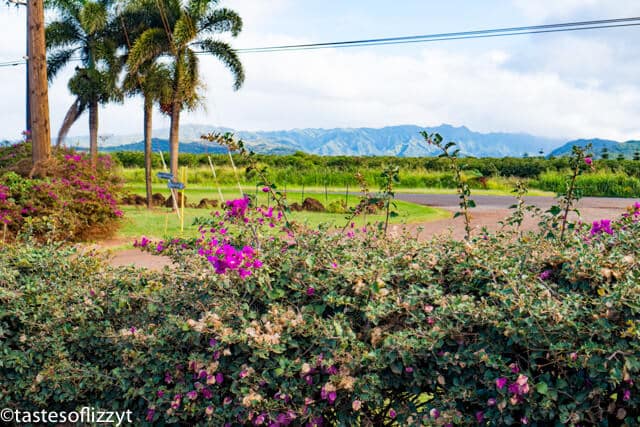 Canoeing on Wailea River
The one adventure tour that we paid for was kayaking down the Wailea River. We booked through Kayak Adventures and had an early set off time of about 8AM. With about 2 hours of kayaking and 2 hours of hiking, this meant the whole adventure was about 4 hours. The kayaking is fairly easy on the way inland, but on the way back we were working against the wind and it got a little tricky.
The hike to the falls was very, very mudding and you have to cross a river (that came up to our shorts) at one spot. It was fun, but slightly unexpected! Wear your swim suit even if it isn't a hot day. You may want to go stand under by the waterfalls. It makes a gorgeous picture!
Kayak Adventures provided a fresh lunch (sandwich, fruit, chips and lots of water) that we ate while resting at the waterfalls. The day we visited was cloudy and cool, so at one point we were the only people at the falls. But I hear it can get really, really busy during high vacation season.
I don't know that the kids would be on board to do this again, but we're glad we experienced it and had quite a few things we can laugh about now that we are home, dry and rested.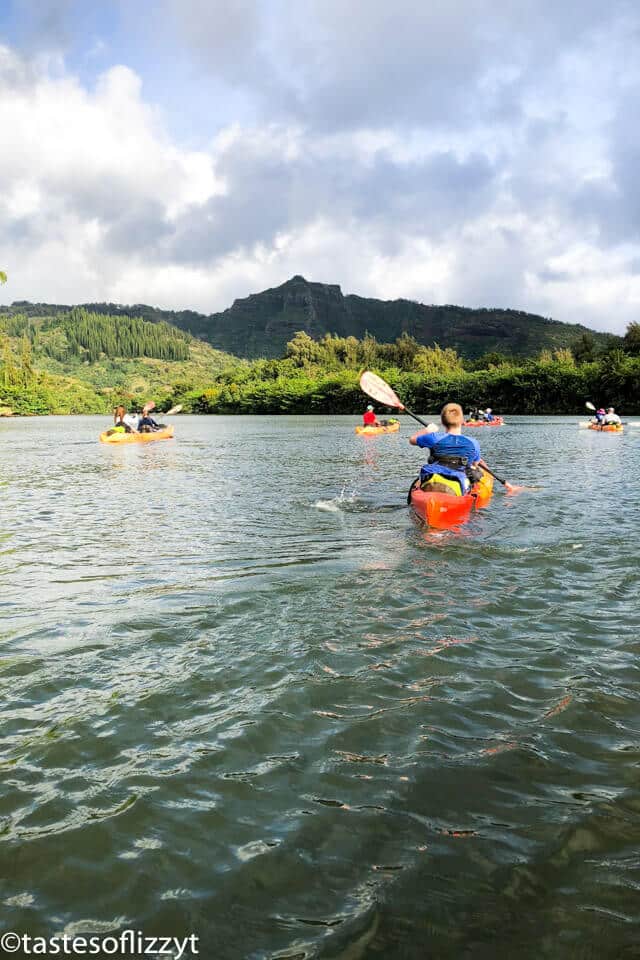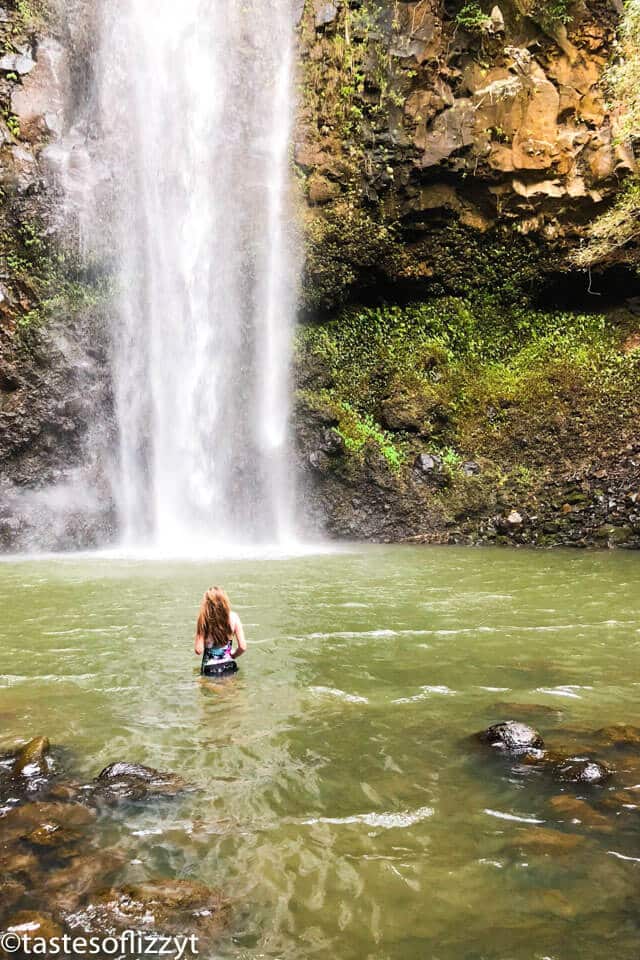 **The flooding that occurred during spring of 2018 shut down the canoeing operations for awhile, so check to be sure they are up and operating again before you plan for this trip.
Do you have favorite things to do in Kauai? I'd love to hear about them so we can visit next time we head to this beautiful island!