Make a bang at your July 4th party with these Twizzler Firecracker Cupcakes! These patritotic treats are a fun, edible craft for kids to make.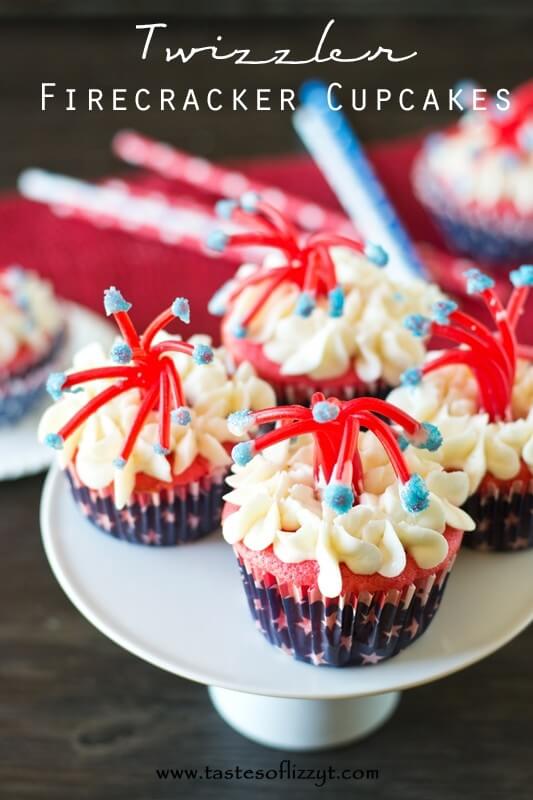 I have a special treat for you today! Two special treats, actually.  Not only am I sharing with you how to make these adorable Twizzler Firecracker Cupcakes that would be perfect for your July 4th party, but my youngest daughter is going to be answering some questions for you since she was the brains behind these cute creations! Kinslee is almost 9 years old. She's the free-spirited, creative baby of our family. And she absolutely cannot wait to start working with us on Tastes of Lizzy T.
Listen in as Kinslee answers some questions about these cupcakes!
How did you come up with this idea?
"One day I came in and told Mommy that I wanted to make a Twizzler cake for the blog. We thought about the Twizzler cake and Mommy had the idea of making firecrackers out of Twizzler Pull-n-Peel Licorice Twists.  I knew I could put those Twizzlers on the top of some cherry cupcakes."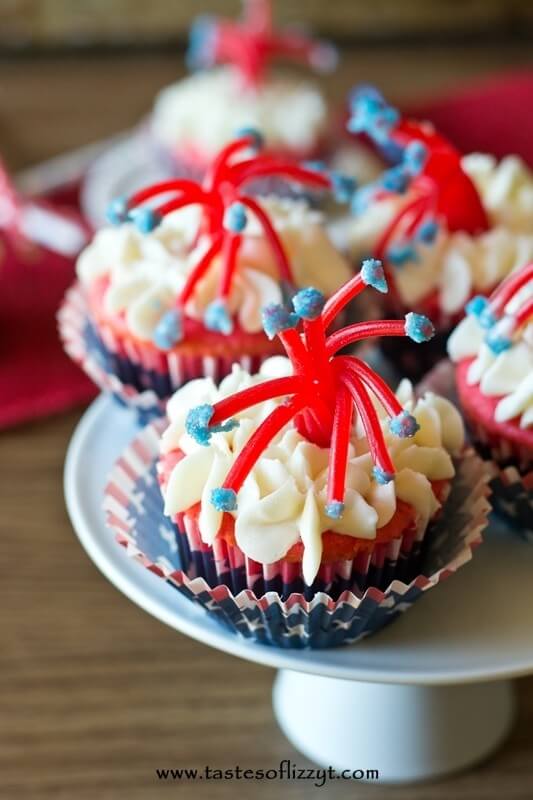 Were the cupcakes difficult to make?
"The cupcakes themselves were really easy.  We used a Pillsbury boxed cake mix and a box of cherry Jell-O to make the cake taste like cherries and to color it red for the 4th of July. You can also use just regular cupcakes of any flavor you'd like!"
Were the Twizzler firecrackers difficult to make?
"The Twizzler firecrackers took a little time to make. First you cut the Twizzler Pull-n-Peel Licorice Twists into 3-4 inch sections. Then you peel down each string of Twizzler to about 1/3 of the way down. Then you dip the separated ends in melted vanilla Candiquik. Dip the coated ends in blue sprinkles. Lastly, you'll separate all of the Twizzler ropes so they fan out like a firecracker. Oh yeah….then you stick your firecracker in your iced cupcake!"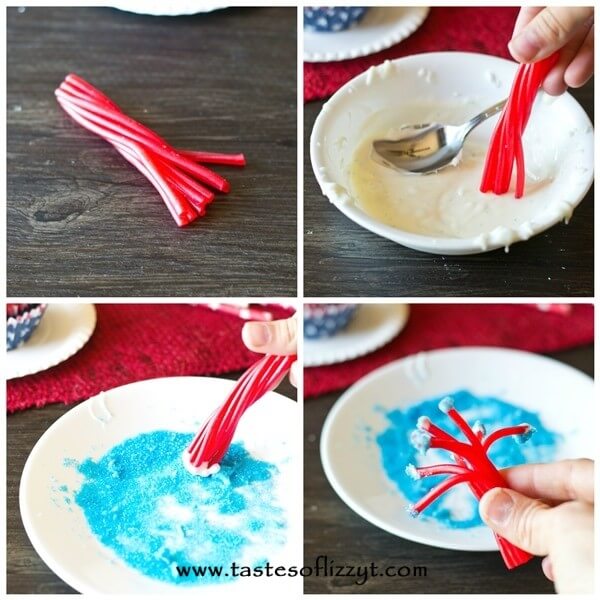 How did you frost the cupcakes?
"The easiest way to frost a cupcake is just to spread the frosting with a knife. We wanted to be a little fancy.  We took a decorating bag and used Wilton tip 2D to make stars on the top of the cupcakes."
What frosting is best?
"We like our Simply Vanilla Buttercream or just buy some Pillsbury vanilla frosting."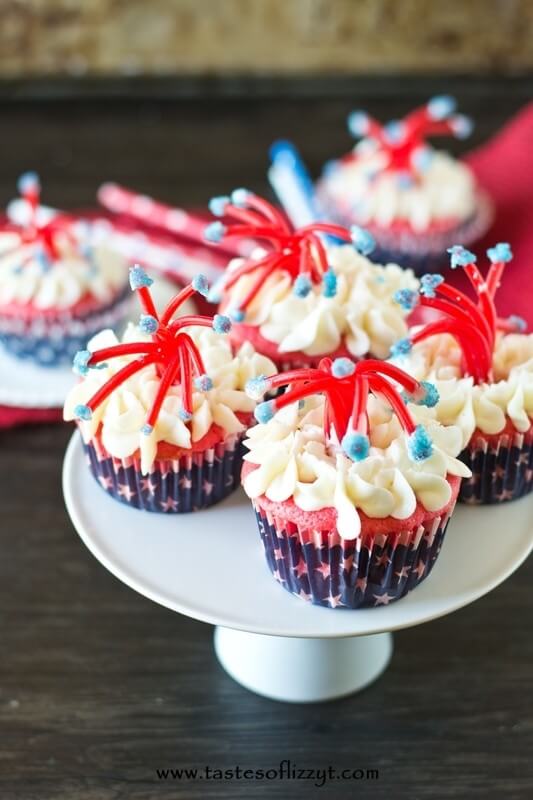 How did these cupcakes taste? Did you eat them all yourself?
"I was surprised because the cherry flavor wasn't very strong.  Because I like cherry flavor, next time my mom said maybe we could add some cherry extract. But these cupcakes were amazing.  No, I didn't eat them all myself. I shared some with my Sunday school class and the youth group at my church. Everybody in my class guessed that the Twizzlers were firecrackers right away.  But the youth group kids didn't get it right away. I thought the older you got, the smarter you were supposed to get!"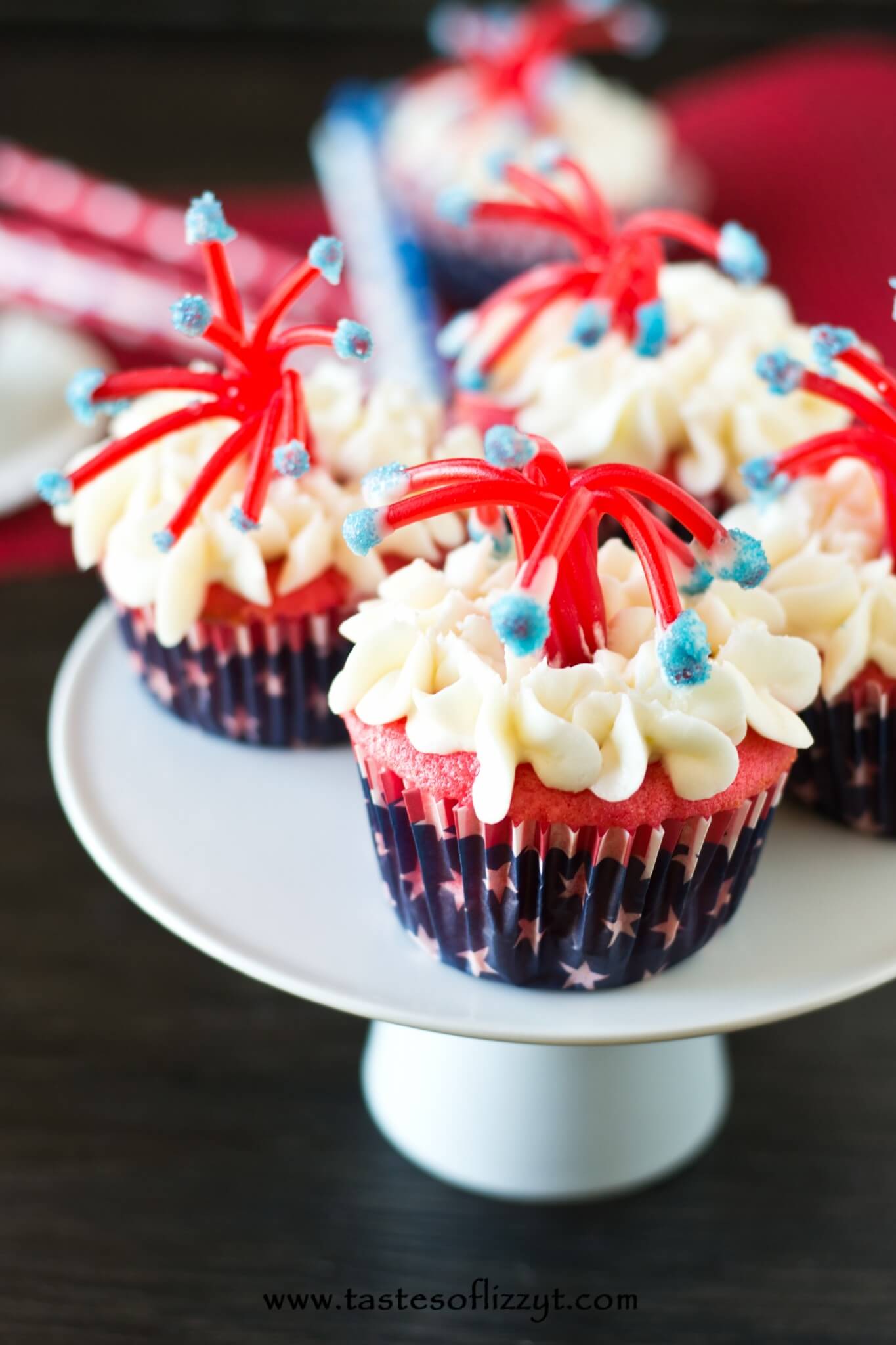 I hope you enjoyed Kinslee's interview!  We girls had fun making these cupcakes together. It was fairly hot the day we made them, so by the next morning, the firecrackers were starting to droop.  I'd suggest making these and serving them the same day, and be sure to keep them out of the sun!
Enjoy!
Julie and Kinslee