Chocolate Peanut Butter Ooey Gooey Bars
These irresistible "everything" chocolate peanut butter ooey gooey bars have something everyone will love: peanut butter, caramel, melted chocolate, oats and cream cheese.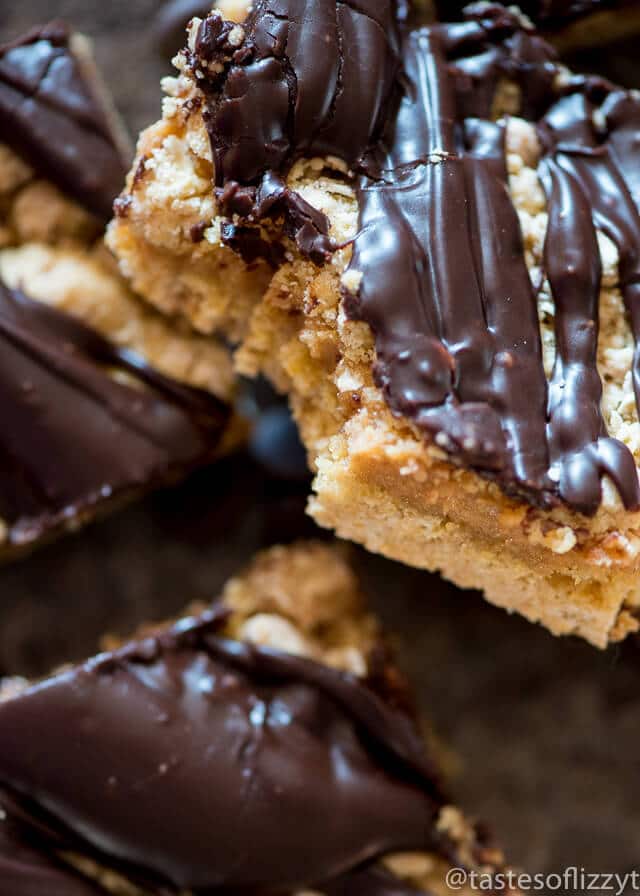 What's got peanut butter, chocolate, caramel, cream cheese, yellow cake mix, and oats?
When we say that there's everything in these bars, we really do mean everything! With all of these crazy delicious flavors, these chocolate peanut butter ooey gooey bars are the real deal. And if you've thought before that all of those flavors are too strong to be together, well, you're just like me! But somehow, magically, these flavors came together and worked beautifully with each other.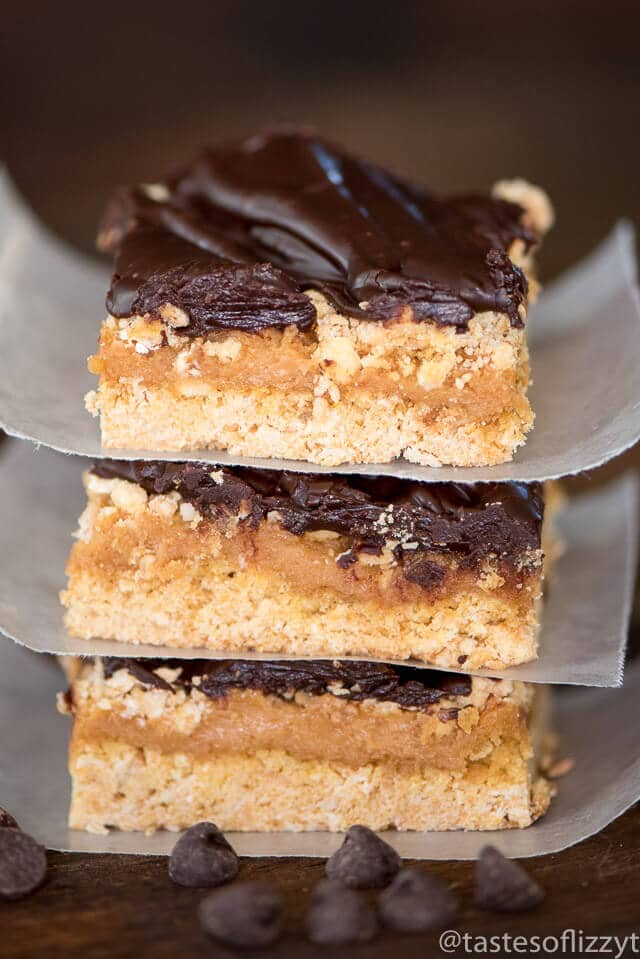 Take a bite into these delicious bars and what do you get? The rich peanut butter and chocolate flavor, followed by a caramel…cheesecake sort of vibe. And all of that within the soft, chewy oat texture that is not just the crust, but also the topping on these ooey gooey bars. What seemed like a delicious disaster turned out to be quite the masterpiece, didn't it?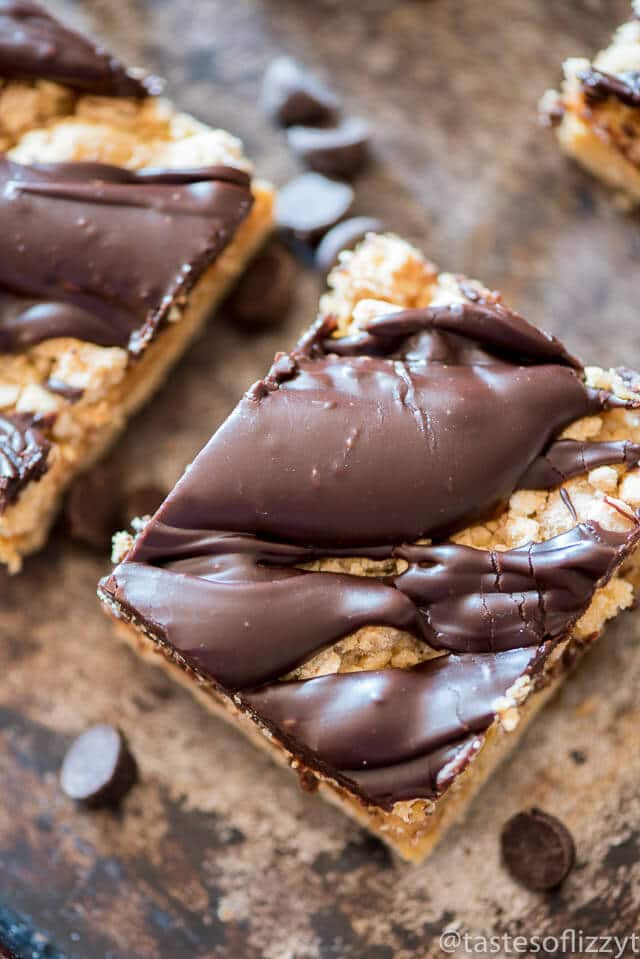 We got this recipe from an old kids cookbook that we've had for years. The recipe had said to put just plain chocolate chips on top before you bake it. So, being obedient bakers, that's what we did. Unfortunately, those bars didn't turn out the way we wanted them. The chocolate chips didn't melt in and just kind of all fell off the bars. What good is chocolate if it falls off your ooey gooey bar before it hits your mouth? A good different, but definitely a flavor combination that we were not used to.
We could have just scrapped the recipe, but I'm glad we didn't. I mean after all, this is chocolate and peanut butter. They're worth another shot, right?
The second time we made them, melted chocolate chips into warm heavy cream to make a chocolate ganache that we could drizzle in a thick glaze overtop the ooey gooey bars.  Brilliant. It worked like a charm. That extra boost of chocolate brought the peanut butter, caramel and cream cheese flavors together beautifully.
I'm so glad we gave them another chance. They ended up being one of my favorite dessert bars yet!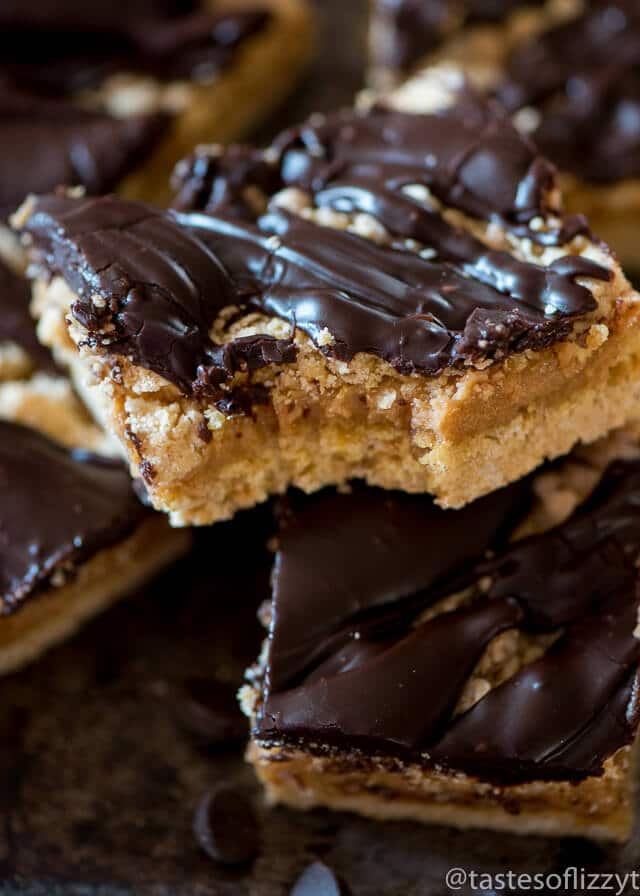 Confession: I ate WAY too many of these! They were so delicious…
Let's just say they disappeared quickly, and that was mostly my fault. Oops. Heed my warning, readers! If you're gonna make these…beware. These are just one of the dangers of being a baker. 😉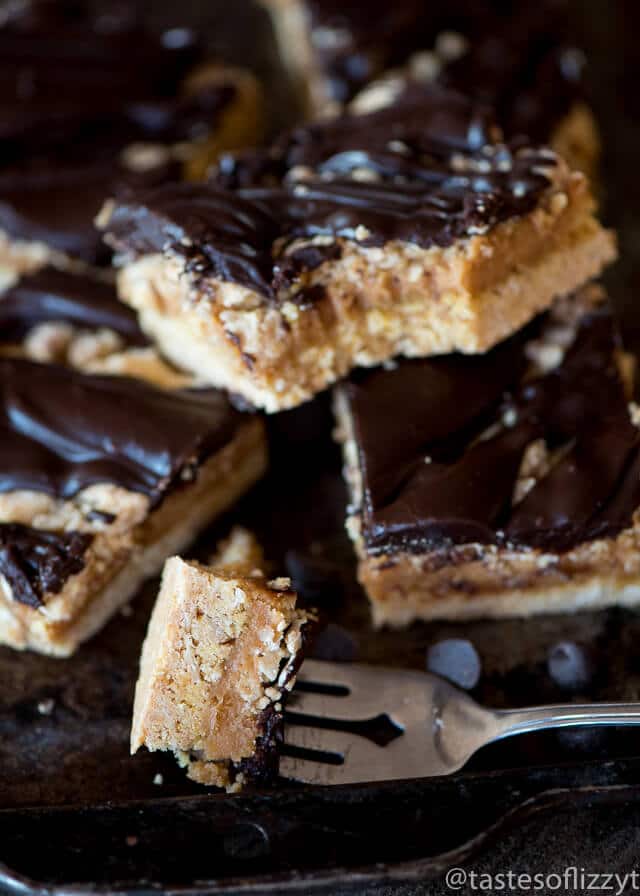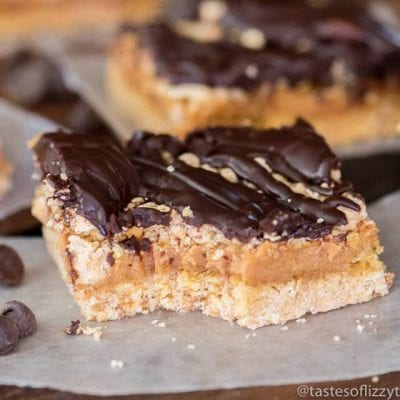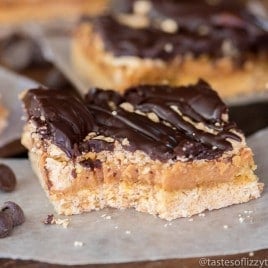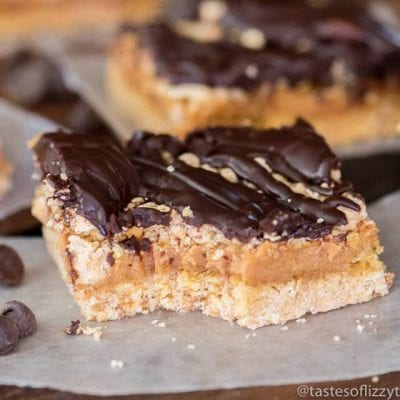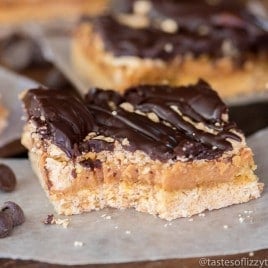 Chocolate Peanut Butter Ooey Gooey Bars
These irresistible "everything" chocolate peanut butter ooey gooey bars have something for everyone: peanut butter, caramel, melted chocolate & oats!
---
Ingredients
1

package

Pillsbury Classic Yellow cake mix

(15.25 ounces)

1

cup

uncooked quick oats

2/3

cup

creamy peanut butter

1

large

egg

slightly beaten

2

tablespoons

milk

8

ounces

cream cheese

softened

1

jar

caramel ice cream topping

(12.25 ounces)
For the topping:
1 1/2

cups

dark chocolate chips

1/2

cup

heavy cream
Instructions
Preheat the oven to 350 degrees.

Spray a 9x13 pan with cooking spray.

In a large bowl, combine the dry cake mix and oats. Cut in the peanut butter with a pastry blender until the mixture is well mixed but crumbly.

In a small bowl, whisk together the egg and milk. Add this to the peanut butter mixture and stir just until combined.

Measure out 1 ½ cups of the mixture and set aside.

Press the remaining peanut butter mixture into the bottom of the prepared pan, forming a crust.

In a small bowl, beat the cream cheese with an electric mixer until fluffy and smooth, about 1-2 minutes.

Add the caramel topping and beat just until combined.

Spread the caramel mixture over the peanut butter layer in the pan.

Sprinkle the reserved peanut butter mixture over the cream cheese evenly.

Bake for 30 minutes or until the center is nearly set.

Cool on a wire rack.

To prepare the topping:

Pour the chocolate chips into a medium-size bowl and set aside.

Heat the heavy cream in the microwave for 30-40 seconds, until the cream is very hot but not boiling.

Pour the heated heavy cream overtop the chocolate chips, cover the bowl and allow it to sit for 3 minutes.

Stir the chocolate and cream mixture. If the chocolate is not completely melted, heat it in the microwave in 10 second intervals*, stirring between each time, continuing until the chocolate is completely smooth.

Drizzle the chocolate overtop the bars.

Allow the chocolate to set, then cut into bars.
Notes
Be sure to take your time melting the chocolate. Use just 10 second intervals and stir well between each time. If the chocolate gets too hot, it will harden, so be sure to take your time!
Nutrition
Serving:
64
g
|
Calories:
245
kcal
|
Carbohydrates:
35
g
|
Protein:
4
g
|
Fat:
10
g
Chocolate Peanut Butter Braided Coffee Cake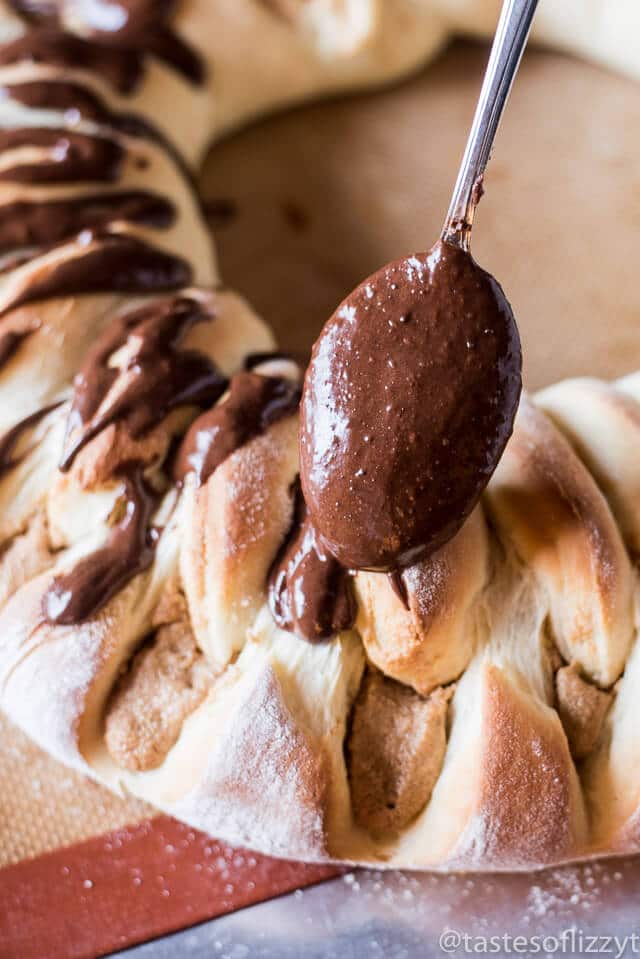 Reese's Chocolate Peanut Butter Cookies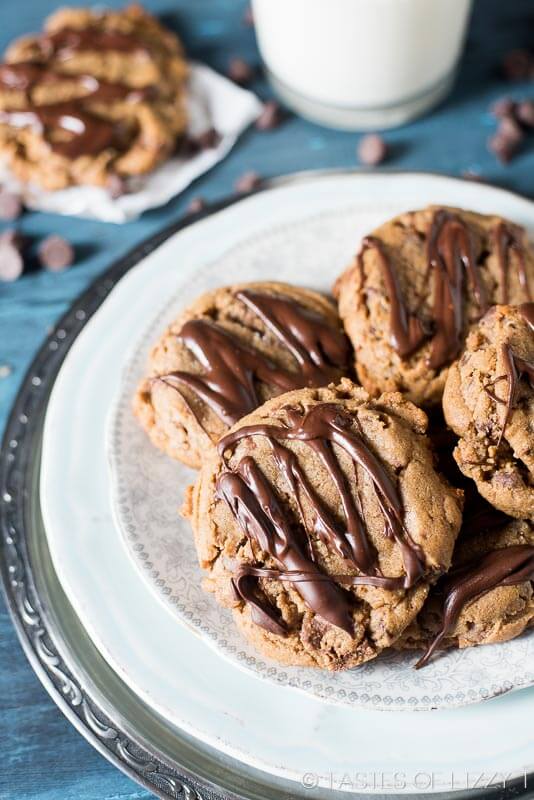 Reese's Chocolate Peanut Butter Brownies