The simplest, most delicious side dish recipe and the best way to eat green beans! These Italian Green Beans are sauteed in butter, bread crumbs and Parmesan cheese.
We're suckers for buttery parmesan recipes! Easy dinner recipes like Parmesan chicken, buttery breadsticks and baked wings are some of our favorite go-to recipes. Why not try that classic Parmesan + butter combo on green beans?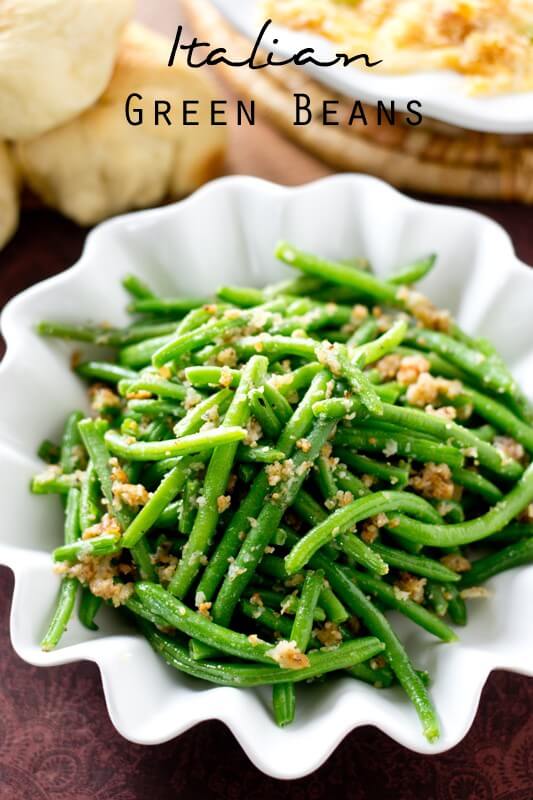 Italian Green Beans Recipe
The traditional veggie casserole on the dinner table at many family gatherings is Green Bean Casserole. It definitely is a hit in our family. But these Italian Green Beans? They're something else. Matt isn't usually jumping with excitement if I serve green beans for dinner. But he loves these Italian Green Beans sauteed in buttery parmesan. When I serve these green beans is one of the only times that we fight over who gets the last little bit of green beans in the bowl.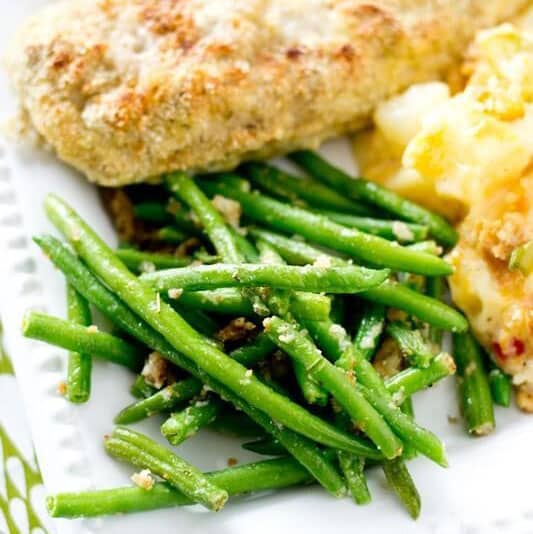 Are green beans good for you?
Yes! Green beans are a great option for a side dish because they are low calories, packed full of Vitamin C and K, fiber and folate.
What are the differences between frozen and canned vegetables?
Green beans are normally picked and processed (either frozen or canned) at their peak of freshness, usually within a few hours of processing. This means they are both packed full of nutrients and vitamins. The canning process takes longer than freezing, but both are great options if you can't choose fresh garden veggies.
One thing to remember if you choose canned…often times the vegetables will be packed with added sodium or sugars. If you choose canned, be sure to read the labels to know exactly what you are buying.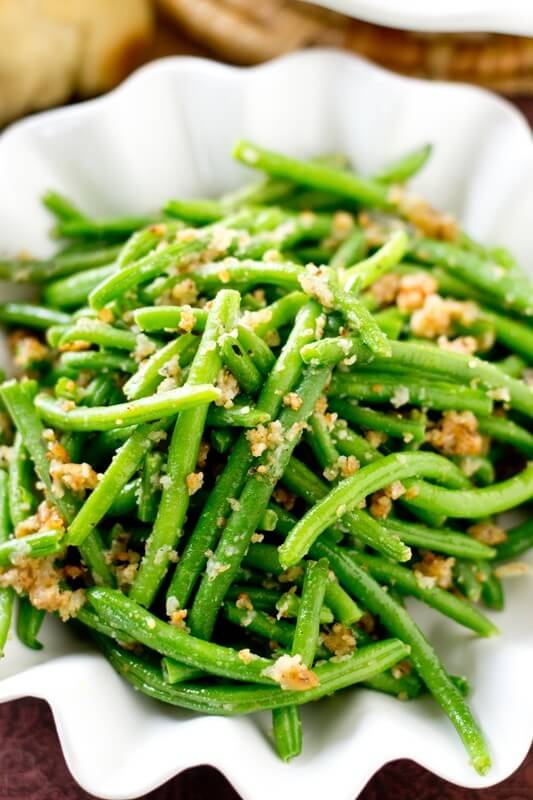 Can I use canned green beans in this recipe?
As you'll see, this recipe calls for frozen green beans. But we often get asked "Can I use canned green beans?". Canned green beans may fall apart a little bit because they are "softer" than frozen green beans. Because of that reason (and that frozen veggies have a prettier color) we recommend frozen for this recipe.
How to Cook Green Beans
As you can read in the recipe below, we use a Ziploc Zip 'n Steam bag to steam our green beans. We find this is the quickest and easiest no-fail method. You can also steam green beans in the Instant Pot, microwave or stovetop.
Easy Green Bean Recipe
Here are a few hints for making green beans:
We love to use freshly grated parmesan cheese. It really adds to the flavor and texture of this recipe. The freshly grated cheese will melt a little better than pre-packaged Parmesan.
You may use store-bought bread crumbs if you'd like, but I usually like to crumble my own bread. We always have spare hot dog or hamburger buns in our freezer. Crumbling one or two up for homemade bread crumbs is a great way to use those random buns.
Saute the bread crumbs and Parmesan cheese in the butter for 3-4 minutes until they are well coated and starting to brown a bit.
While the bread crumbs are sauteing in the frying pan, you can prepare your green beans. You'll need a 1 pound bag of frozen green beans. I love using Ziploc Zip'N Steam Cooking Bags to steam our veggies. You can use the bags more than one time and you get perfectly steamed veggies in just minutes. You can also cook the green beans in a pot of water if you'd like.
Once the green beans are cooked, add them to the frying pan and mix until they are coated with that buttery, garlicky, cheesy mixture.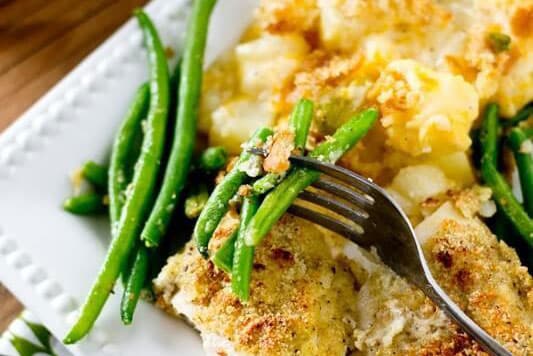 What to serve with green beans?
Serve these green beans with cheesy potatoes and baked chicken.
Although these green beans are called "Italian" Green Beans, they are versatile and can be served as a side to just about any dinner. Their flavor is so savory and your family will love them!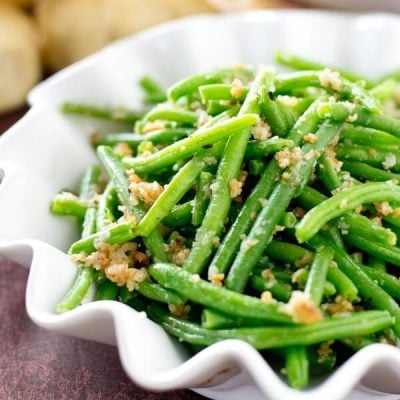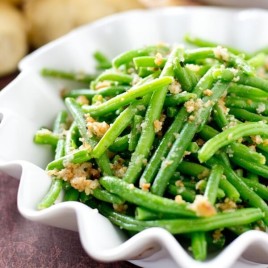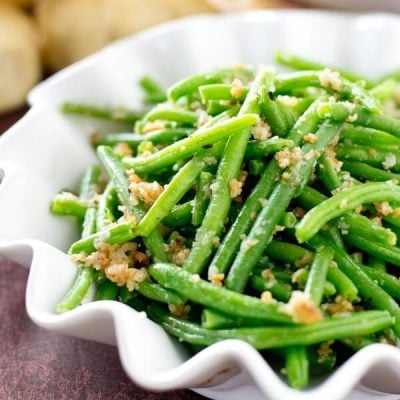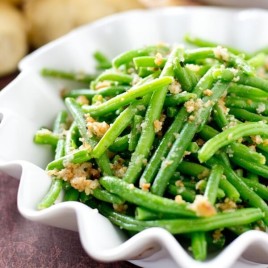 Italian Green Beans
The simplest, most delicious way to eat green beans! These Italian Green Beans are sauteed in butter, bread crumbs and Parmesan cheese.

---
Ingredients
2

tablespoons

butter

1/2

teaspoon

minced garlic

1

teaspoon

Italian seasoning

1/2

cup

bread crumbs

1/2

cup

Parmesan cheese

16

ounces

frozen green beans

Salt

to taste
Instructions
In a frying pan, melt the butter over medium heat. Add the minced garlic, Italian seasoning, bread crumbs and parmesan cheese. Stir to coat and saute over medium heat until the bread crumbs start to brown, about 3-4 minutes.

While the bread crumbs are sauteing, cook the green beans, either in a Ziploc Zip 'n Steam bag (according to package directions) or in a pot of water.

Add the green beans to the frying pan and stir to coat.

Season with salt, to taste, and serve hot.
Nutrition
Calories:
151
kcal
|
Carbohydrates:
14
g
|
Protein:
6
g
|
Fat:
7
g
|
Saturated Fat:
4
g
|
Cholesterol:
18
mg
|
Sodium:
284
mg
|
Potassium:
221
mg
|
Fiber:
3
g
|
Sugar:
3
g
|
Vitamin A:
845
IU
|
Vitamin C:
11.1
mg
|
Calcium:
178
mg
|
Iron:
1.7
mg