Tastes of Lizzy T participates in affiliate advertising programs. We may earn a commission when you make a purchase through links on our site.
The easy way to enjoy fruit cake! Fruit Cake Cookies stuffed with pineapple and candied cherries. Top with powdered sugar or cream cheese frosting.
Fruit cake…yes or no? If you said no, I'm here to change your mind with these cookies. Things like meatloaf, beans, mushrooms and stuffing often get a bad name. Although I didn't grow up eating fruit cake, I quickly fell in love with these easy fruit cake cookies.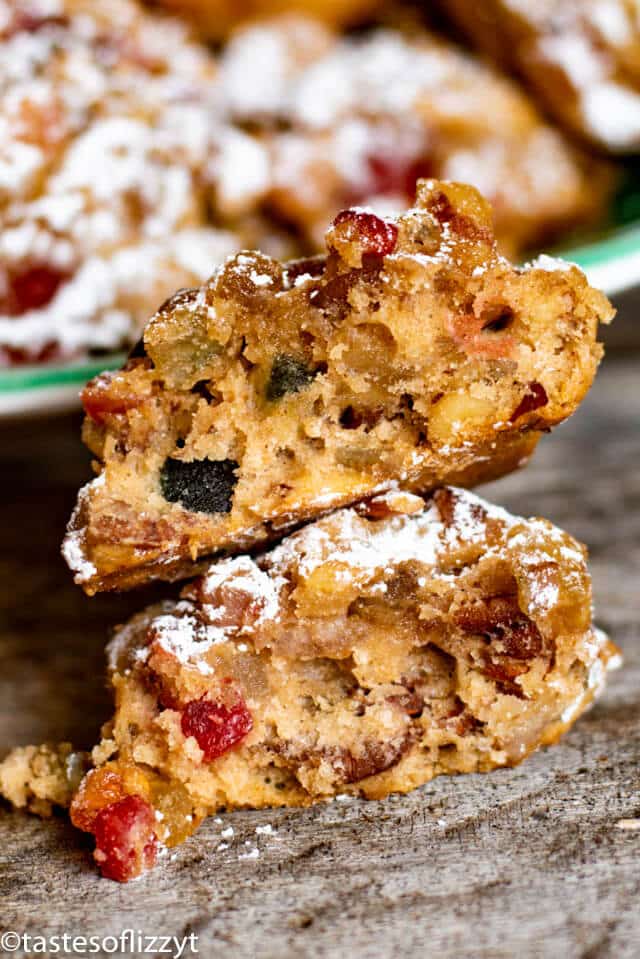 Fruit Cake Cookies Recipe
If you always find yourself rushed during the holiday season, fruit cake cookies come to the rescue. Fruit cake tends to be better as it sits. These cookies freeze really well and the fruit helps keep them tender.
Where do you buy candied fruit?
Candied fruit can seem like a strange thing, but normally you can find it either in the dried fruit section of your grocery store, or in the baking aisle. During the holidays you can often find candied fruit by the holiday baking supplies.
And if you see it after Christmas on the clearance racks, pick some up for next year. Candied fruit is good for about 24 months if you store it in a cool, dry place.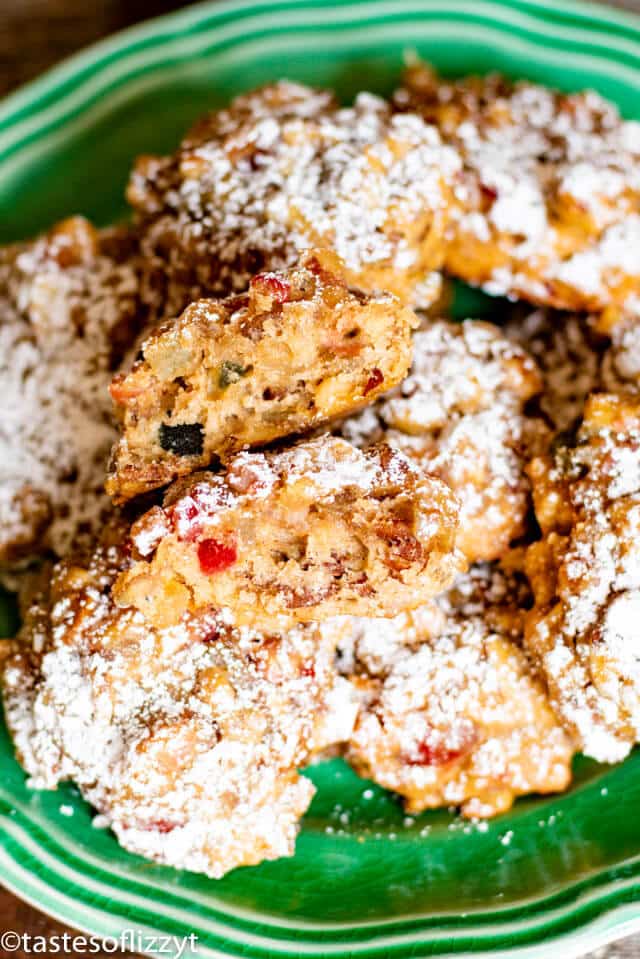 How do you make fruit cake cookies?
Just as with many other cookie and cake recipes, mix the dry ingredients and the wet ingredients separately. This helps to not overdevelop the gluten in the flour, creating a softer texture to your cookie.
Alternate adding the flour mixture and the milk to the butter & egg mixture. Mix just until it is all combined, then fold in the fruit and nuts. Make the cookies as big as you'd like them, but we dropped them by rounded tablespoons, giving us 24 cookies. If you make them smaller or larger, you'll have to adjust the baking time.
Baking Fruit Cake Cookies
Use a parchment paper lined cookie sheet for baking the fruit cake cookies so you are sure they won't stick.
You'll notice that fruit cake cookies take a little longer to bake than traditional cookies. Set the oven to 300º Fahrenheit and bake for about 25-27 minutes. You don't want to overbake the cookies.
What do you put on fruit cake cookies?
A simple dusting of powdered sugar is good for these fruit cookies, but if you love cream cheese frosting, whip up a batch of our homemade frosting and spread it on the cookies. Not only does it look pretty, but it tastes delicious. Top with a pecan half as shown below for a festive look.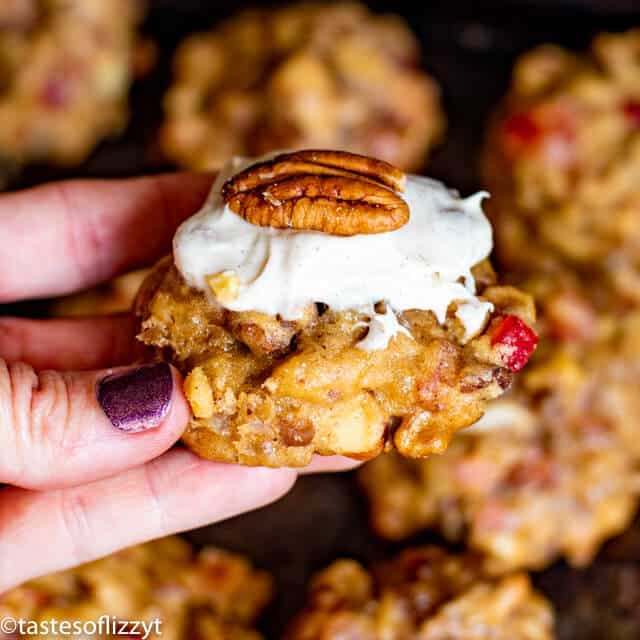 How to Store Fruit Cake Cookies
Store the cookies in an airtight container. You can freeze them if they are wrapped well. Just let them come to room temperature before unwrapping them. Then all the moisture will stay in the cookie.
Other Fruit Cake Recipes
Christmas Fruit Cake Bars
Tools to Make Cookies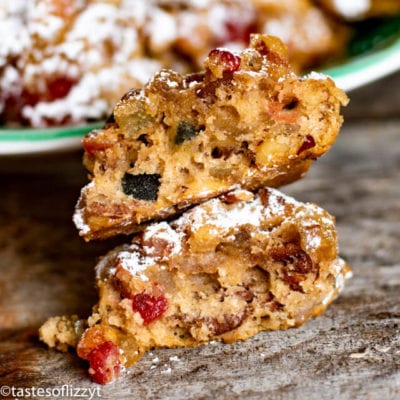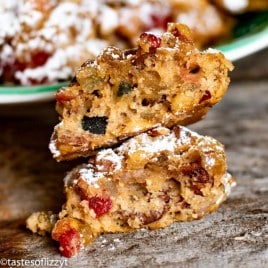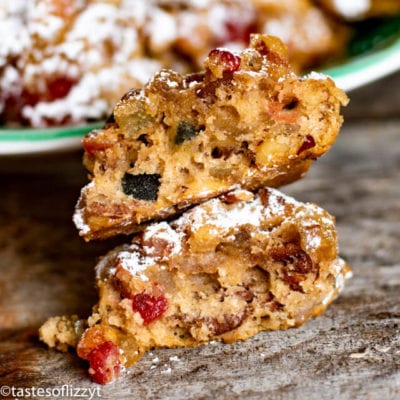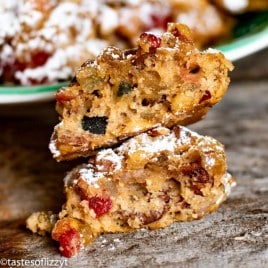 Fruit Cake Cookies
The easy way to enjoy fruit cake! Fruit Cake Cookies stuffed with pineapple and candied cherries. Top with powdered sugar or cream cheese frosting.
---
Ingredients
1 ½

cups

all-purpose flour

½

teaspoon

cinnamon

¼

teaspoon

baking soda

½

cup

butter

(room temperature)

½

cup

brown sugar

2

large

eggs

(room temperature)

¼

cup

milk

3

cups

chopped mixed nuts

1

pound

deluxe mixed candied fruit

½

pound

candied pineapple

(finely chopped)
Instructions
Preheat the oven to 300 degrees. Line a baking sheet with parchment paper or non-stick baking mats.

Sift together the flour, cinnamon and baking soda. Set aside.

Cream together the butter and sugar.

Add the eggs.

Add the flour to the dough, alternating with milk and mixing until all of the flour and milk is incorporated.

Add the nuts and candied fruit. Mix well.

Drop the dough by rounded tablespoons onto the baking sheets. You should get about 24 cookies.

Bake until the cookies are set, about 25-27 minutes.

Allow the cookies to cool on the pan for about 3-4 minutes, then move to a wire rack to cool completely.