Tastes of Lizzy T participates in affiliate advertising programs. We may earn a commission when you make a purchase through links on our site.
The best hamburger buns around…and you can make them at home! Tips for making soft, fluffy white rolls for any sandwich.
One of the most popular bread recipes on our site is our whole wheat hamburger buns. Since everyone has been at home baking bread more these days, ya'll reminded me of those hamburger buns….and I wanted to try making a light and fluffy white flour version.
About 32 hamburger buns later and we ended up with what my dad claimed to be "the best hamburger bun ever". And today I'm sharing it with you, just in time for summer grilling and picnic season.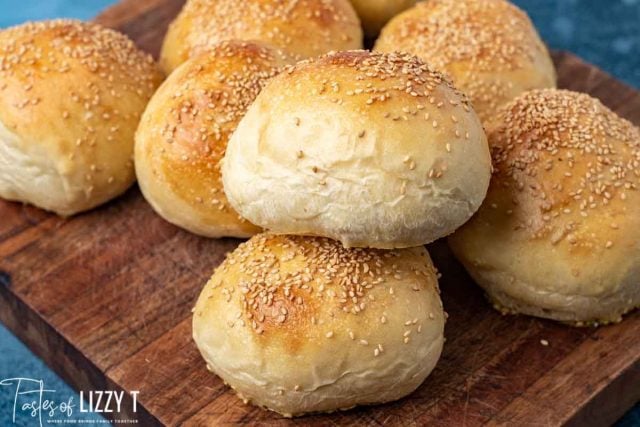 What you'll love about this bun recipe:
fluffy & light
chewy texture
homemade flavor
versatile (see below for size different buns!)
freeze well
Have sourdough? Try our sourdough hamburger buns.
Key Ingredients for Hamburger Buns
Let's first talk through ingredients. Because there are ingredients that will just get the job done. And there are specific ingredients that will get the job done perfectly. And we want you to have 100% success!
Unbleached Bread Flour. We started keeping unbleached flour on hand regularly when we made sourdough starter. Since then I've realized I love it for yeast breads. Unbleached flour (which is actually still bleached, but it is bleached naturally) has a dense grain. This gives baked goods more structure, meaning it is perfect for yeast breads and pastries. Bread flour is a high protein flour that gives breads a high rise and chewy texture. We recently fell in love with Honeyville Alta Artisan Bread Flour. You can buy it on Amazon in 50 pound bags. Yes it is a lot, but it works beautifully!
Instant Yeast. We prefer instant yeast because there is no need to proof it. We recommend Red Star Platinum Yeast. It's a no-fail yeast that will give you beautiful results every time. Read all about baking with yeast here.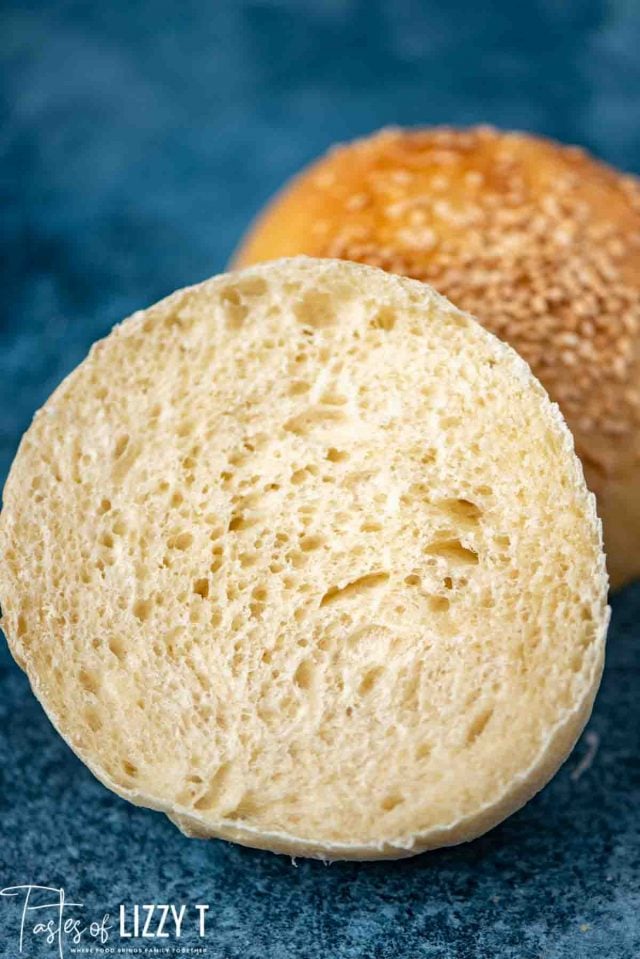 How to Make Hamburger Buns
Mix the dough.
There are 3 ways to go about making the dough. We'll go from hardest to easiest:
Mix and knead with your hands. This is the old fashioned way. No special tools needed, but your arms will get a workout. What to watch out for with this method? Don't add too much flour. The dough needs to stay sticky, and that can be tricky when you are kneading by hand.
Mix and knead with a stand mixer. This is the way we usually do it. The dough hook attachment for your stand mixer works beautifully to knead the dough, and it keeps you from adding too much flour. Plus, it is hands-off so you can clean up the kitchen while the dough kneads.
Mix and knead with a bread machine. Two years ago we bought a bread machine. I rarely use the machine to actually bake a loaf of bread. But I use it on the "dough" setting on a weekly basis. It takes 5 minutes to throw in the ingredients and two hours later I have dough that is not only perfectly kneaded but also perfectly risen. This is by far the easiest method. Need a bread machine? This one is amazing.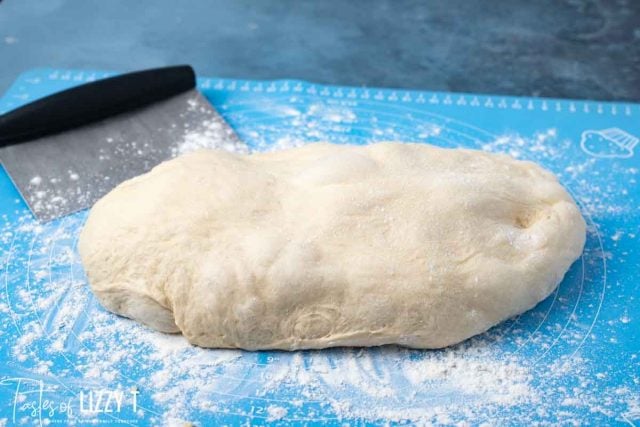 Note about the yeast. If you choose to use active dry yeast, that's fine. But read the back of your yeast packet to see if the yeast needs to proof first. If it does, add it to the warmed water and honey and let it sit for 5 minutes. The back of the yeast packet will tell you how to do it!
Shape the buns and rise again.
You'll let the dough rise until double, then you'll shape the buns. If you cut the dough into 8 equal pieces, you'll get nice sized burger buns. Remember that they'll rise a second time after shaping. This second rise usually goes faster for us, but takes at least 30 minutes.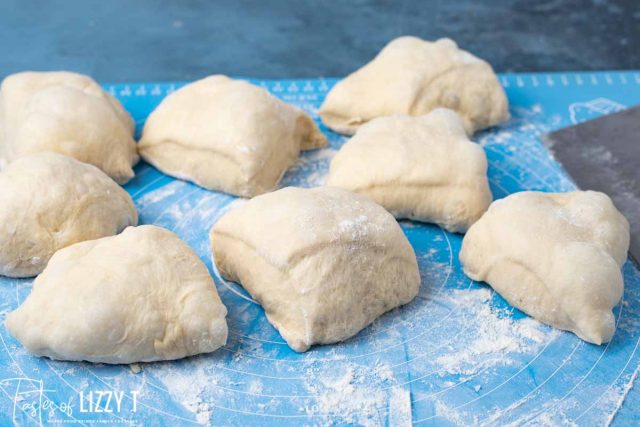 Bake the rolls.
To get the beautiful golden top to the bun, you'll want to brush the buns with the egg wash. Use a pastry brush to do this, then immediately sprinkle on sesame seeds.
The rolls will only take about 10-12 minutes to bake. If you make them smaller they may take less time. And if you make them bigger they'll take more time.
Allow the rolls to cool completely before you cut them.
Variations on This Homemade Bun Recipe
This is a basic dough recipe that you can make into any shape you'd like! Here are some ideas:
make 16 dough balls instead of 8 for sliders
split the dough in 6 pieces for large hoagie buns
shape 8 long dough pieces for hot dog buns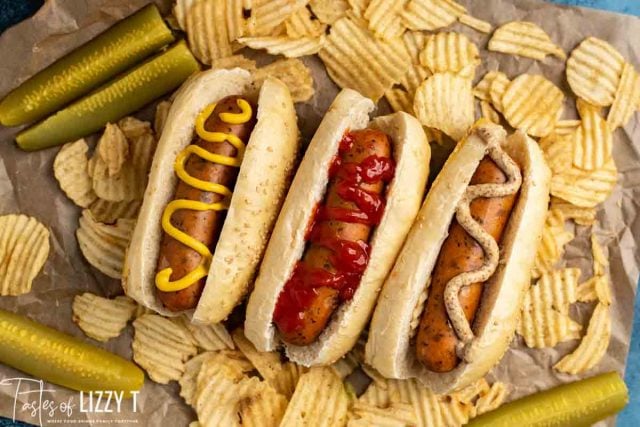 What sandwiches are these buns good for?
Try one of these amazing sandwiches: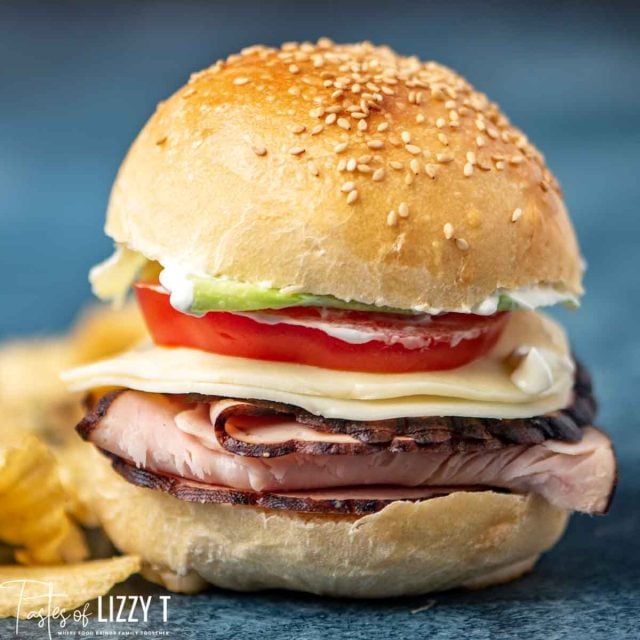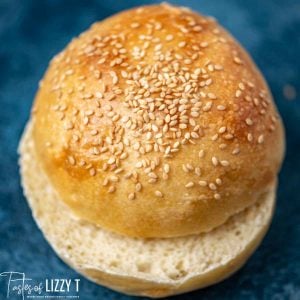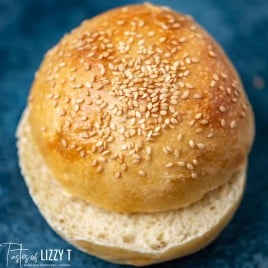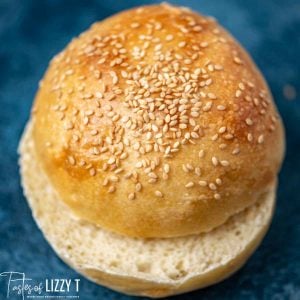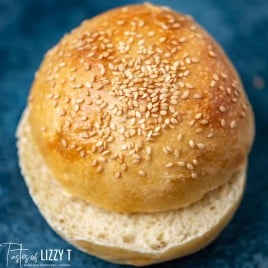 Best Ever Homemade Hamburger Buns
The best hamburger buns around…and you can make them at home! Tips for making soft, fluffy white rolls for any sandwich.
---
Ingredients
3 1/2

cups

unbleached bread flour

(divided)

2 1/2

teaspoons

instant yeast

1 1/2

teaspoon

salt

1 1/4

cup

warm water

3

tablespoons

honey

3

tablespoons

vegetable oil

1

large

egg

(room temperature)
Topping
1

large

egg

1

tablespoon

water

2

tablespoons

sesame seeds
Instructions
In the steel bowl of your stand mixer , mix together 3 cups flour, salt, and instant yeast. Set aside.

In a small bowl, microwave the water and honey together until warm. The temperature should be around 120-125º F degrees.

Add the water-honey mixture now to the flour mixture and mix.

Add the whisked egg and oil, then mix.

Start adding the remaining flour little by little, a couple tablespoons at a time. Stop adding the flour, when the dough just starts coming together from the sides. You may or may not need all the flour. Do not add more flour than required. The dough will be little sticky and shaggy. That is okay.

Knead on medium-low speed for around 10 minutes using the dough hook attachment of your stand mixer. If you don't have a stand mixer you can knead by hand.

The dough will be smooth and little sticky but after you have kneaded it well, it will spring back back if you poke it.

Transfer this dough to a oiled bowl, cover with a light kitchen towel and keep at a warm place for 1-2 hours or until double in size. If it's really cold when you are making these buns, preheat oven to 200º F degrees and then switch if off. Place the dough inside the oven (with the oven being off) and let it rise there.

After the dough has risen, punch it down to release the air.

Divide it into 8 equal portions. You can use a kitchen scale to make sure all dough balls are equal. Roll each dough portion into a ball and place on baking sheet, around 3 inches apart.

Cover with a light kitchen towel and let them rise for an hour or till almost doubled in size. Meanwhile preheat oven to 400º F degrees.

In a small bowl, whisk together the egg and tablespoon water for the topping. Once the dough balls have risen, brush each with egg wash mixture, then sprinkle sesame seeds on top.

Bake at 400º F degrees for 10-12 minutes, rotating the pan once after 5 minutes. The tops of the buns will appear golden brown when done.

Remove from oven, brush them immediately with melted butter. Transfer onto a wire rack to cool completely.

Store in an airtight container.
Notes
The calories shown are based on the recipe making 8 buns, with 1 serving being 1 bun. Since different brands of ingredients have different nutritional information, the calories shown are just an estimate. **We are not dietitians and recommend you seek a nutritionist for exact nutritional information.**
Nutrition
Calories:
308
kcal
|
Carbohydrates:
48
g
|
Protein:
10
g
|
Fat:
9
g
|
Saturated Fat:
5
g
|
Cholesterol:
47
mg
|
Sodium:
457
mg
|
Potassium:
117
mg
|
Fiber:
3
g
|
Sugar:
7
g
|
Vitamin A:
68
IU
|
Calcium:
35
mg
|
Iron:
1
mg