Raspberry Tarts with Mascarpone Cream
Tastes of Lizzy T participates in affiliate advertising programs. We may earn a commission when you make a purchase through links on our site.
Bite-size Raspberry Tarts with Mascarpone Cream. These petite treats have a simple homemade raspberry pie filling with a lightly sweetened mascarpone cream on top.
My favorite pie of all time is raspberry pie. It's sweet, tart and hasa beautiful color. It's pure comfort food. With this recipe, you can have bite-size raspberry pies!
Raspberry Tarts with Mascarpone Cream
I've always loved the idea of little pie tarts. Small, cute, dangerous little two-bite delicacies, tarts are one thing that I love to eat when I get my hands on them. "Mini" foods are always addicting; you never know when to stop. Grab one, grab two, grab two more, until you suddenly realize how much you've actually indulged.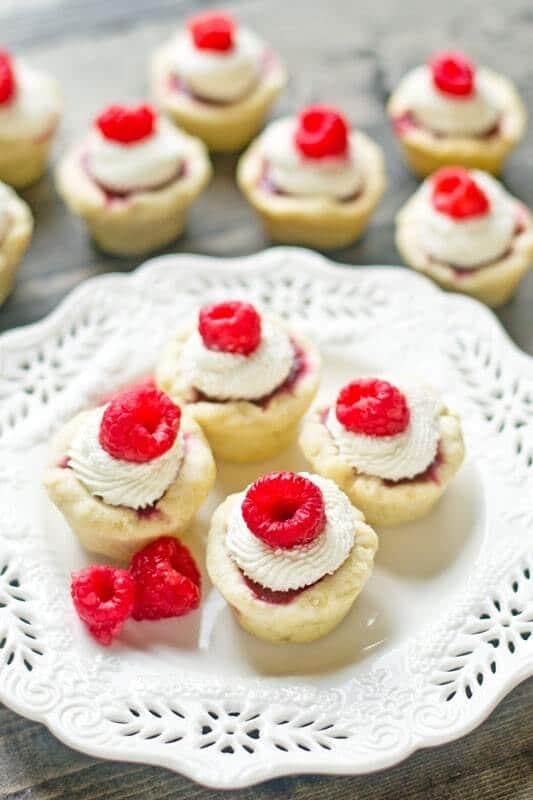 Mini Desserts
Did I mention how cute and adorable these little tarts are? I'm a little obsessed. So tiny, so delicate, no one would suspect how much flavor and deliciousness is packed into these bite-size treats. If you're looking for something to take to a birthday party, maybe a work party, a cookout, or whatever, these raspberry tarts are just the thing. They're sure to be a hit, wherever you take them!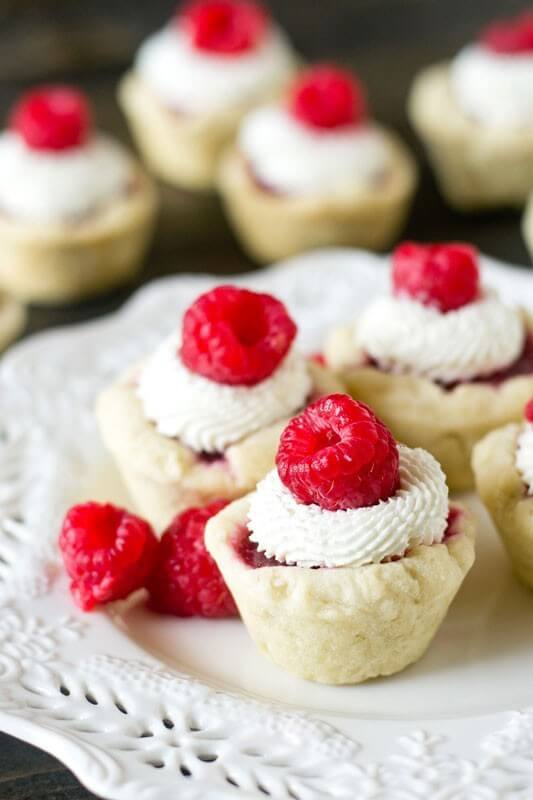 Raspberry Pie Filling
The raspberry filling is completely homemade, which makes it so good! Don't worry, it's not that hard. You're just going to boil together some fresh raspberries, sugar and water and add a bit of flour to thicken the sauce. It's not too time consuming, and it's WAY better than any other store bought concoction.
And guess what? You can use this raspberry syrup for all kinds of things! Just think of putting it on pancakes, ice cream, or homemade bread. It also freezes well, so you don't have to use it all too quick.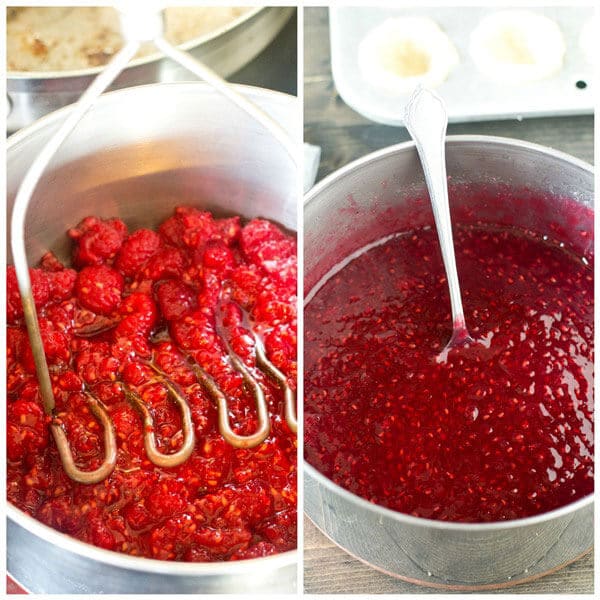 Pie Tarts
Now. Do not get scared off by homemade pie crust. It's so easy, simple and oh so good! Just follow this recipe for a delicious and easy way to make these tarts the best they can be.
If you really don't have the time to make homemade pie crust, a store-bought pie dough would be just fine. But I'm telling you, if you're buying a store-bought pie dough just because you don't think you can make a homemade one, then brave up and do it! It's not that hard and the results are fabulous.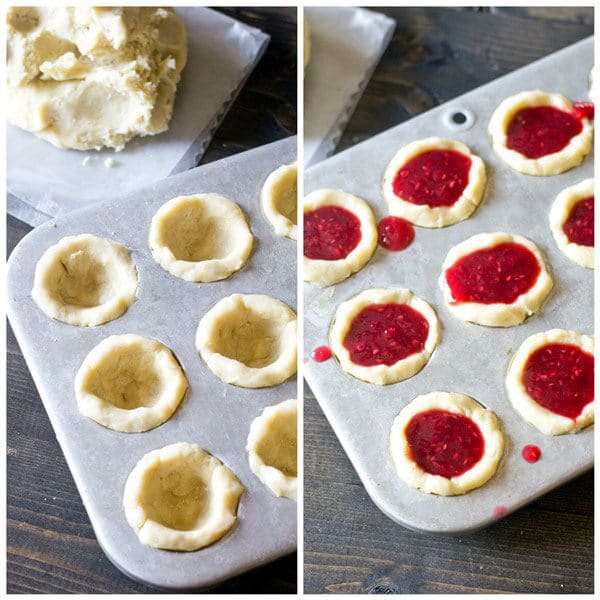 Mascarpone Cream Frosting
Okay, now for my favorite part of this whole recipe! This mascarpone cheese cream topping is so light, sweet, and goes perfectly with the tartness of the raspberry. Just think of how this recipe works, and you'll get what I mean. Mascarpone cheese though, is definitely the way to go when you want a light topping for a fruit dessert.
What is mascarpone?
Have you ever tried mascarpone? I sort of think it tastes like cream cheese, but then again a little different. Mascarpone cheese is really thickened cream, not actually cheese. It's the step right before cream turns to butte, and apparently you can make it right at home! I didn't make my own, but I might have to soon….;) Mascarpone is slightly sweet, milky, and smooth. Its texture makes for a very smooth and soft topping for these tarts.
We had a little bit of a hard time finding this 'cheese', but we finally found it at our local Kroger in the deli where the fancier cheeses and meats are. Swirl some of this delicious cream on top of each tart and top with a fresh raspberry to make a fabulously addicting and amazing dessert that everyone will enjoy!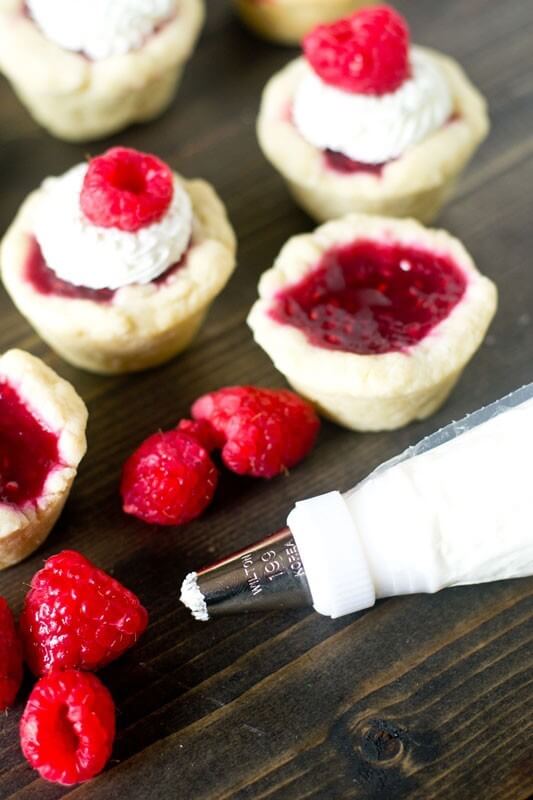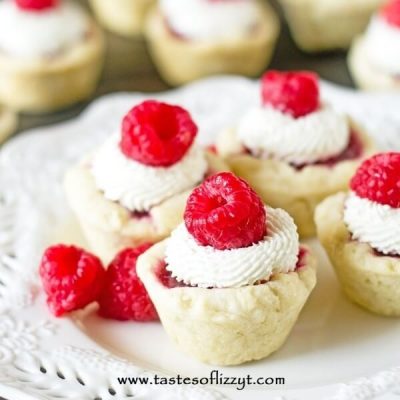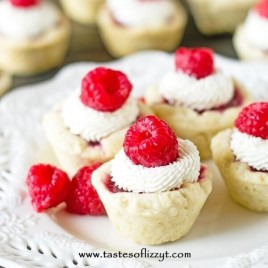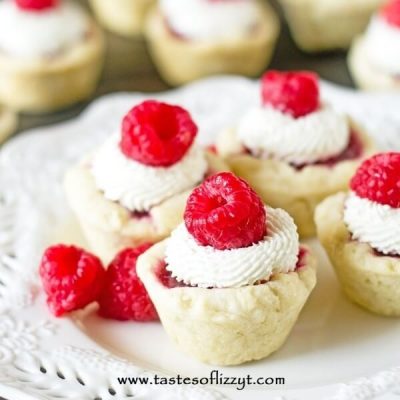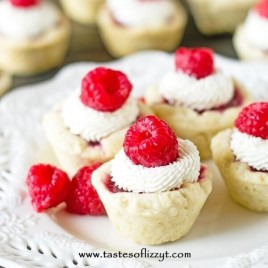 Raspberry Tarts with Mascarpone Cream
Raspberry Tart with Mascarpone Cream. Bite-size sweet treats with a homemade raspberry pie filling and light cream on top.
---
Ingredients
12

ounces

fresh raspberries, plus extra for topping the tarts, if desired

(about 2 ¼ cups)

1

cup

white sugar

1/4

cup

water

1 1/2

tablespoons

all purpose flour

1

pie crust recipe
Mascarpone Cream Topping:
4

ounces

mascarpone cheese

2

tablespoons

white sugar

1/4

teaspoon

vanilla

1

cup

heavy whipping cream
Instructions
Place a saucepan over medium heat. Pour the raspberries in the saucepan and gently mash them with a potato masher. Heat for 5 minutes or until the raspberries start steaming.

Add 1 cup of sugar to the raspberries and heat the mixture until it is boiling, stirring constantly. This will take 3-4 minutes.

Add ¼ cup water and 1 ½ tablespoons of flour. Boil gently, reducing heat to medium-low and stirring constantly, until thickened, about 4-5 minutes.

Once the mixture has thickened, remove the pan from the heat and allow it to cool.

Prepare my crust recipe . You can also use a store bought double pie crust.

Spray mini muffin tins with cooking spray.

Split the prepared pie dough into about 30-35 balls, depending on how thick you want the dough. We made 30.

Press each dough ball onto the bottom and up the sides of each muffin cup.

Use a tablespoon to fill each cup with raspberry filling.

Bake at 375 degrees for 15-17 minutes. Allow the tarts to cool for 10 minutes, then remove them from the pan to cool completely.

While the tarts are cooling, prepare the mascarpone cream.

In a stand mixer with the whisk attachment, mix the mascarpone, sugar and vanilla on medium speed until completely smooth. Add the whipping cream and mix on low until it is mixed in with the cheese mixture. Scrape the sides of the bowl, then whip the mixture on high for 2-3 minutes or until stiff peaks form.

Spoon the cream on top of the cool tarts or pipe it using a decorating bag and Wilton tip #199.

Top each tart with a raspberry.

Store the tarts in the refrigerator until serving.
Nutrition
Calories:
106
kcal
|
Carbohydrates:
12
g
|
Fat:
6
g
|
Saturated Fat:
3
g
|
Cholesterol:
14
mg
|
Sodium:
28
mg
|
Potassium:
28
mg
|
Sugar:
7
g
|
Vitamin A:
175
IU
|
Vitamin C:
3.1
mg
|
Calcium:
14
mg
|
Iron:
0.3
mg