Tastes of Lizzy T participates in affiliate advertising programs. We may earn a commission when you make a purchase through links on our site.
Rhubarb crisp and rhubarb pie in one delicious dessert recipe! The buttery oatmeal crumble on this easy rhubarb pie will melt in your mouth. Serve this rhubarb crisp pie with ice cream for the ultimate summer treat.
We were gifted some rhubarb last week, so we pulled out all of our rhubarb recipes. We had to choose between rhubarb slab pie, coffee cake,  rhubarb jam and blondies…but in the end, this Rhubarb Crisp Pie one out.
It's a beautiful combination of two of our favorites…crisp and pie. The best of both worlds!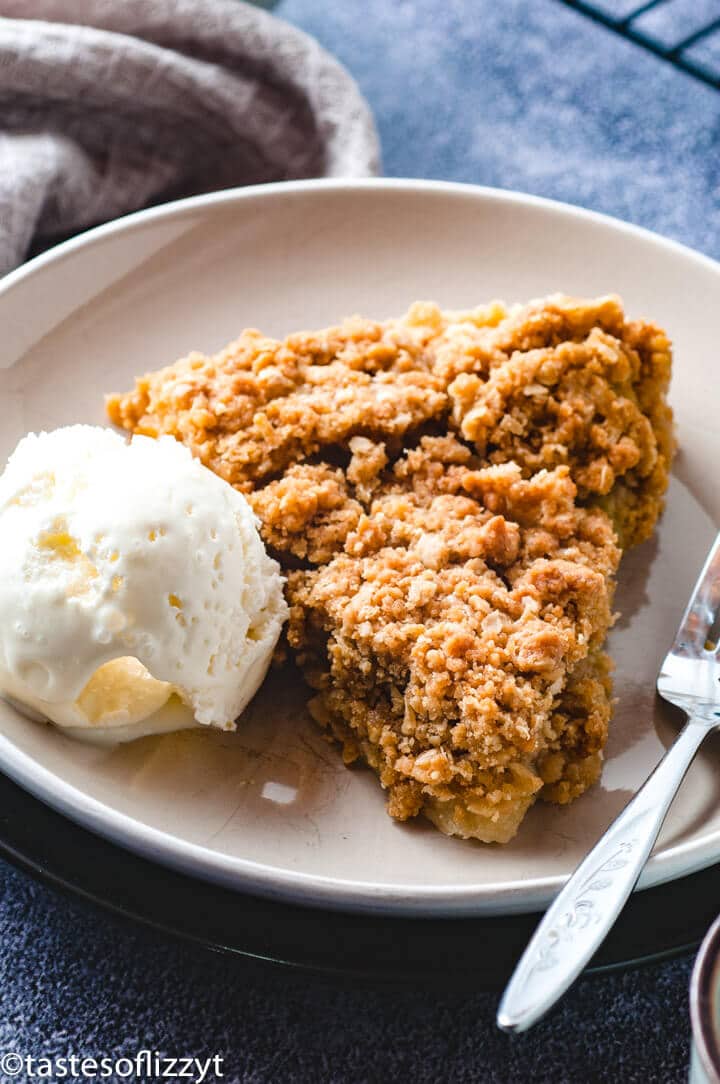 Is rhubarb a fruit or a vegetable?
Although rhubarb is often paired with fruits and used in desserts, rhubarb is actually a vegetable. Rhubarb has a very tart flavor so people don't usually eat it by itself (although I don't mind it…it tastes like a Granny Smith apple!). (source gardena.com).
Why is rhubarb used in pies?
Years ago, rhubarb was sometimes referred to as "the pie plant" because it was used mostly in pies (source landolakes.com). As mentioned above, rhubarb is tart when eaten by itself, but it is delicious when paired with sugar. This makes it a great option for pies and crisps because it makes the dessert not overly sweet.
What does a rhubarb pie taste like?
Rhubarb pie is a tart pie. It reminds me of an apple pie made with granny smith apples. With this pie recipe, you'll add sugar into the filling, but also put a sugary butter crumb topping on it, giving it a sweet & tart flavor that is unbeatable.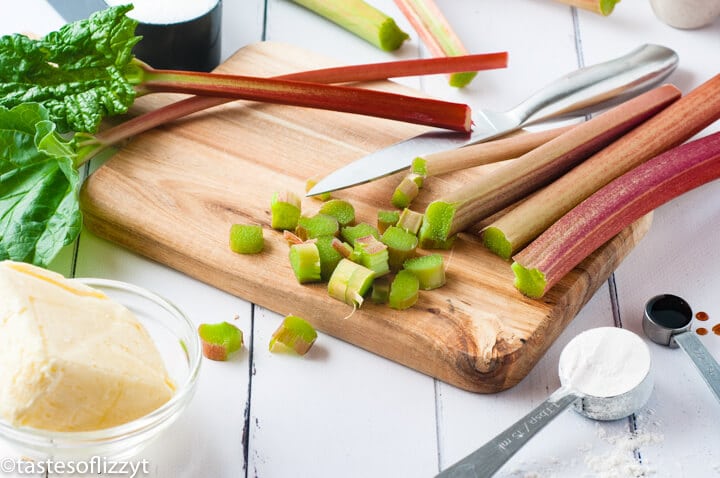 Do you have to peel rhubarb for pie?
Rhubarb is very similar to celery in the way that it looks. Rhubarb also has "strings" like celery has. When you chop rhubarb, you'll find that those strings easily start to peel off. So should you peel rhubarb? It's not necessary. We never take the time to do it and we've not noticed that it changes the texture of our pie. But you can peel it if you'd like.
How to Make Rhubarb Pie
This isn't a traditional 2 crust rhubarb pie. Instead, it's a cross between a rhubarb crisp and rhubarb pie. The first step is to mix up the filling.
Chop the rhubarb. You'll need about 2 cups.
Mix together the other filling ingredients in a bowl.
Add the rhubarb.
Line a 9″ pie plate with a pie crust. You can use a store bought crust to make it easy, or make our grandma's pie crust recipe (or even a whole wheat pie crust). You'll just need a single crust. **Pro Tip…This is not a thick pie so you can use a shallow pie plate or tart pan if you'd like.**
Pour the rhubarb filling into the crust.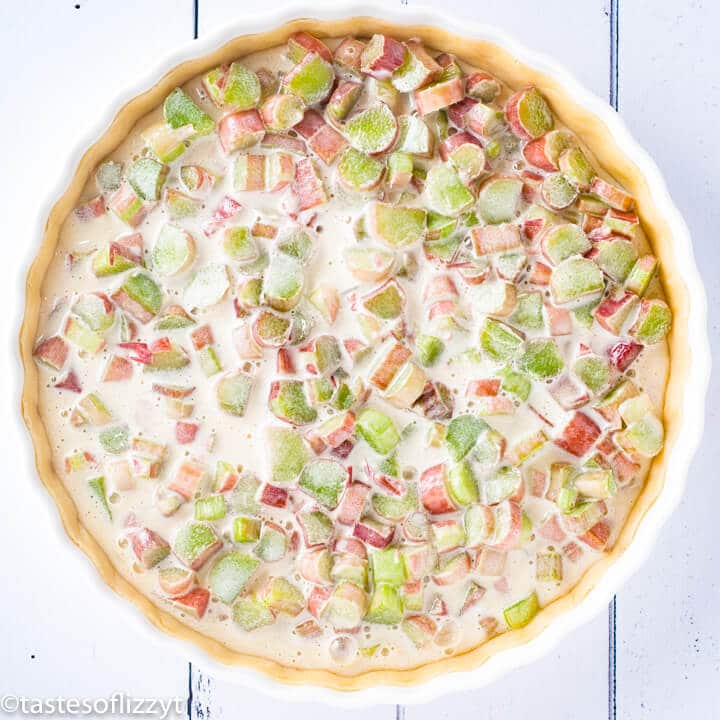 Rhubarb Crisp Topping
The next step is to make the crumb topping.
Cut the butter (use cold butter) into the flour, oatmeal and brown sugar using a pastry cutter. If you don't have a pastry cutter you can use 2 knives to cut the butter in. If you'd like…add a touch of cinnamon to this topping. Delicious!!!
You'll end up with coarse crumbs. 
Sprinkle the crumbs on top of the pie.
Then it is ready to bake!
How do you bake a rhubarb pie?
Preheat the oven to 350º Fahrenheit. Place the pie on the center rack in the oven. Depending on the depth of your pie plate, this pie may bubble over, so place the pie plate on a baking sheet to prevent any spillovers.
This pie will take about 50-60 minutes to bake.
How do you know when a rhubarb pie is done?
The filling should be bubbly and top should be lightly browned. Don't pull the pie out when the filling first starts bubbling. It needs to bubble for at least 6 minutes in order for the rhubarb to become tender. The exact timing really depends on how thick you sliced the rhubarb. Thicker slices will take longer to become tender than thinner slices.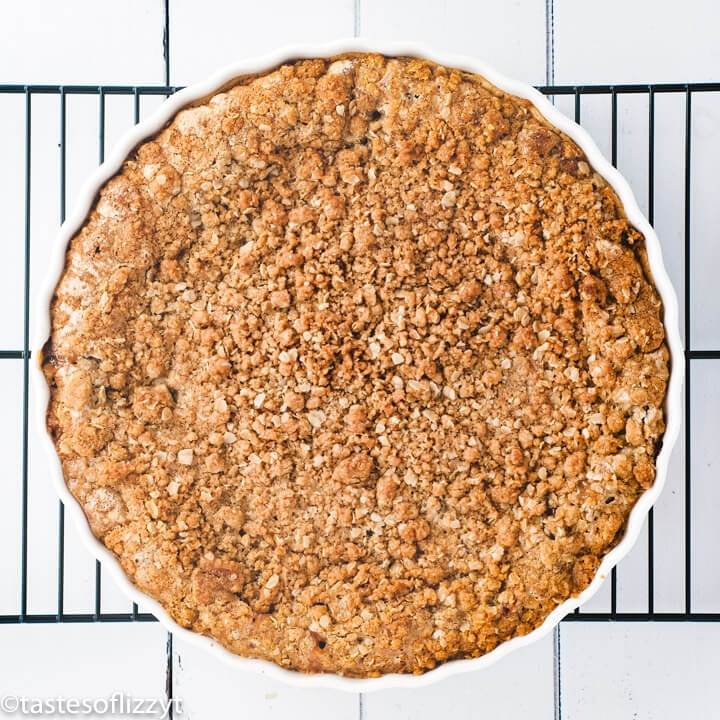 How do you reheat rhubarb pie?
We find it easiest to reheat slices of rhubarb pie in the microwave. However, if you'd like to reheat pie in the oven, preheat the oven to 350º Fahrenheit. Cover the pie plate with foil and heat the pie for 15-20 minutes in the oven. This is for a 9″ pie. If half of the pie is gone, it may take less time to reheat.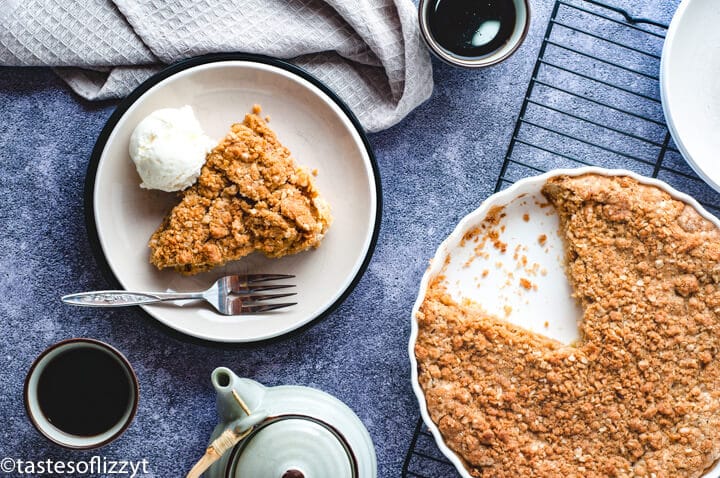 Do I refrigerate rhubarb pie?
You can refrigerate rhubarb pie to make it last longer. Rhubarb pie will keep at room temperature (when covered) for 2 days. If you cover it and store it in the refrigerator, you can extend that to 4-5 days.
Can I use frozen rhubarb in pie?
Yes! Rhubarb freezes well. If you have rhubarb in your freezer and want to use it in a pie recipe, defrost the rhubarb in your refrigerator overnight. After the rhubarb has thawed, drain off any excess liquid, then make the pie as the recipe states.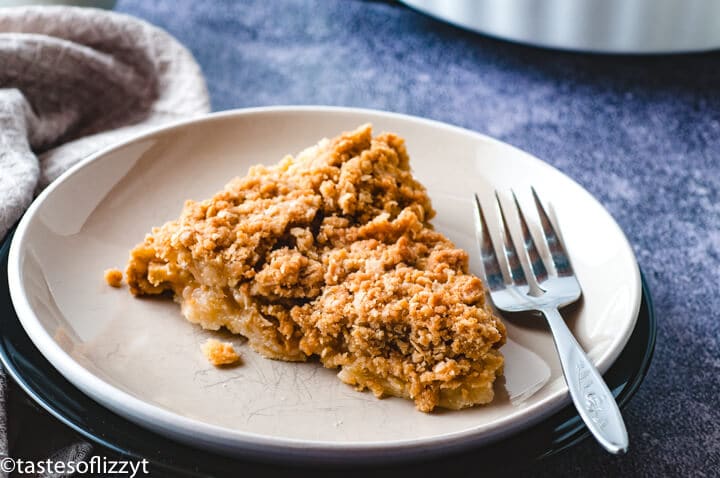 Other Pie Recipes
Tools Used to Make Rhubarb Crisp Pie
Pastry Cutter: I use this tool all the time. It cuts butter into flour perfectly for streusels, crusts and other pastries.
Pastry Mat: This silicone mat keeps your cupboard clean and makes rolling out pastries so easy.
Cute Pie Plate: Because if you're taking the time to make pie, serve it up in style!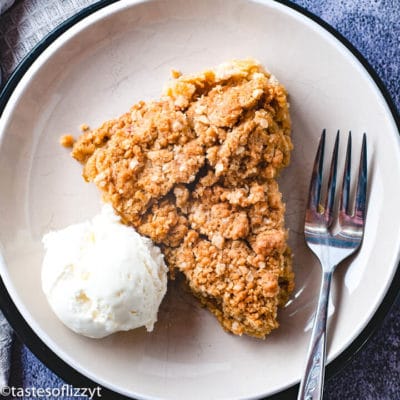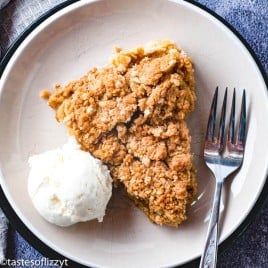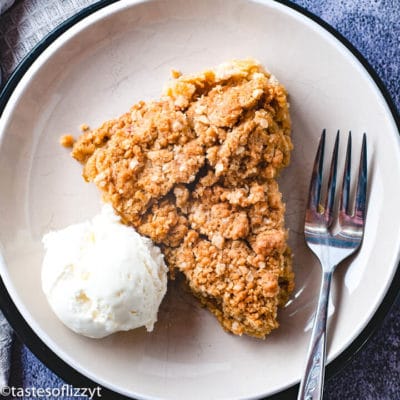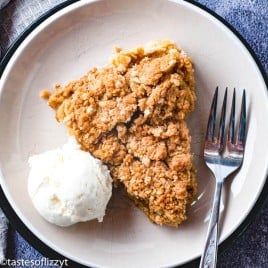 Rhubarb Crisp Pie
Rhubarb crisp and rhubarb pie in one delicious dessert recipe! The buttery oatmeal crumble on this easy rhubarb pie will melt in your mouth. Serve this rhubarb crisp pie with ice cream for the ultimate summer treat.
Total Time
1

hour
15

minutes
---
Ingredients
For the pie:
One 9 inch prepared pie shell
For the filling:
1

cup

sugar

2

tablespoons

flour

1

large

egg

½

teaspoon

vanilla

2

cups

rhubarb

(chopped)
For the topping:
¾

cups

flour

½

cup

brown sugar

½

cup

rolled oats

1/3

cup

butter
Instructions
Preheat oven to 350º Fahrenheit. Prepare a 9" pie plate by lining it with pie dough. (This pie only has crust on the bottom.)

Beat together sugar, 2 tablespoons flour, egg and vanilla.

Stir in the cut up rhubarb.

Pour into unbaked pie shell.

In a small bowl, mix together the flour and brown sugar. Add the butter and use a pastry cutter (or fork) to blend the mixture into small crumbs.

Place pie on a baking sheet in case it bubbles over. Bake at 350º Fahrenheit for one hour, until the filling is bubbling and the topping is golden brown.

Let the pie cool before slicing. Serve as is or with vanilla ice cream or whipping cream.
Notes
The calories shown are based on the pie being cut into 8 pieces, with 1 serving being 1 slice of pie. Since different brands of ingredients have different nutritional information, the calories shown are just an estimate. **We are not dietitians and recommend you seek a nutritionist for exact nutritional information.**
Nutrition
Calories:
303
kcal
|
Carbohydrates:
54
g
|
Protein:
3
g
|
Fat:
9
g
|
Saturated Fat:
5
g
|
Cholesterol:
47
mg
|
Sodium:
84
mg
|
Potassium:
147
mg
|
Fiber:
1
g
|
Sugar:
39
g
|
Vitamin A:
305
IU
|
Vitamin C:
2.5
mg
|
Calcium:
48
mg
|
Iron:
1.1
mg