100% from scratch, banana cream pie. Making homemade cream pie is easier than you may think! Creamy banana filling, homemade whipped cream and fresh banana slices in the pie and on top. 
Banana Cream Pie Recipe
This recipe is for my husband because he LOVES cream pie. Especially banana cream pie. (Although coconut cream pie is a close second.) I can usually pass up cream pies, but he is a crazy pudding lover…and when cream pies show up at family gatherings baked by his aunt who is a fantastic cook, he's so excited. I thought it was time I made him a few cream pies!
Best Crust for Banana Cream Pie
Although we prefer our favorite homemade baked crust for banana cream pie (find our recipe here), there are several different things you could do.
Oatmeal pie crust. Yes. This would be so.good.
Oreo crust. Buy golden Oreo cookies and crush them along with a little butter and a few tablespoons of sugar. Mmm…what a sweet crust!
Traditional graham cracker crust. Buy one from the store if you'd like a shortcut! Easy peasy.
Whole wheat pie crust. If you're looking to add a little whole wheat to your diet.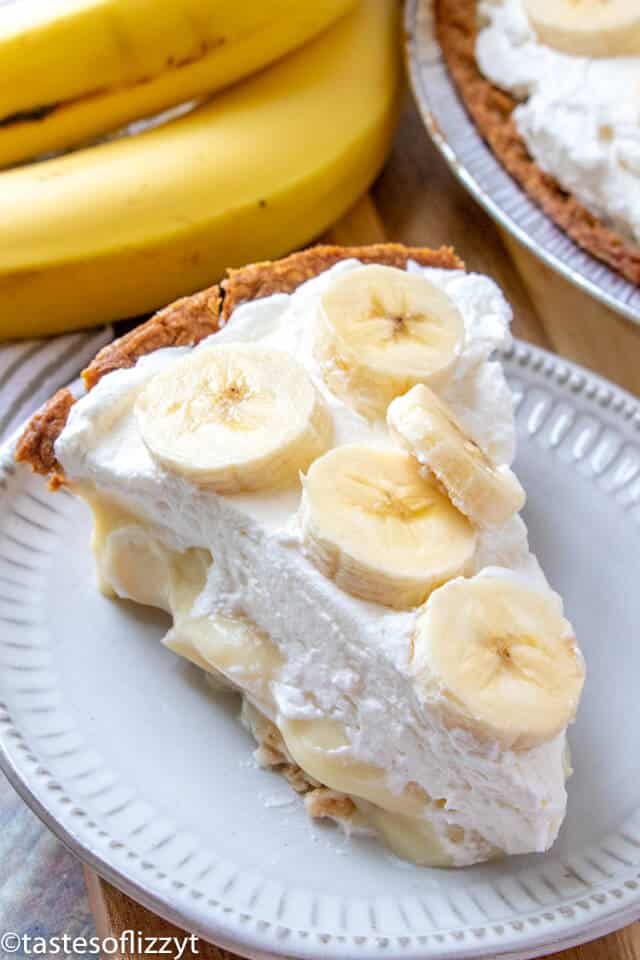 How do you make banana cream filling?
Cream pies are a no bake pie, but not a "no cook" pie. You make the filling in a double boiler on the stovetop. Why use a double boiler? It helps keep the milk at a perfect temperature so it doesn't scorch on the pan.
Some hints:
Don't use skim milk. We normally have 2% milk and that works just fine, but we often prefer whole milk in this recipe.
The cornstarch is what thickens the pie, so don't skip it! Be sure to mix the cornstarch in with the cold milk and drizzle it into the hot milk. This will help prevent any lumps.
Stir constantly while the milk mixture is thickening so that it doesn't burn on the pan.
This recipe only uses egg yolks. Whisk the egg yolks in a small bowl, then temper them by adding 3 tablespoons of the hot milk directly to the eggs. Why do you have to temper eggs? It helps keep your cream filling smooth and not have egg clumps.
Drizzle the tempered eggs back into the hot milk, stirring constantly.
Add the butter and vanilla after the pan comes off the heat. These add both richness and flavor to the pie.
If you can find banana flavoring in your local store, use that instead of vanilla to bump up the banana flavor. Or you can use a teaspoon of both flavors!
How do you keep the bananas from turning brown in a pie?
We've never had much of a problem with bananas inside the pie turning brown. If you find that you do, lightly brush the bananas with lemon juice before adding them to the pie. Will you be able to taste the lemon juice? Not if you don't use too much of it.
If you are decorating the top of the pie with banana slices as shown, add them right before serving so they are fresh.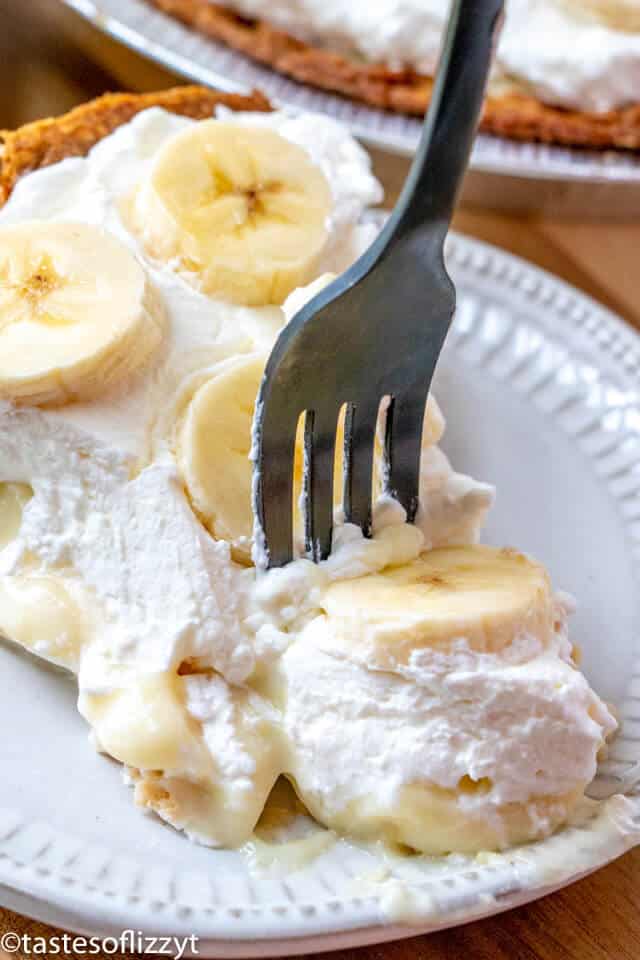 Do cream pies need to be refrigerated?
Yes! All cream pies should be refrigerated and are best served cooled. They are a refreshing dessert for summertime and the holidays!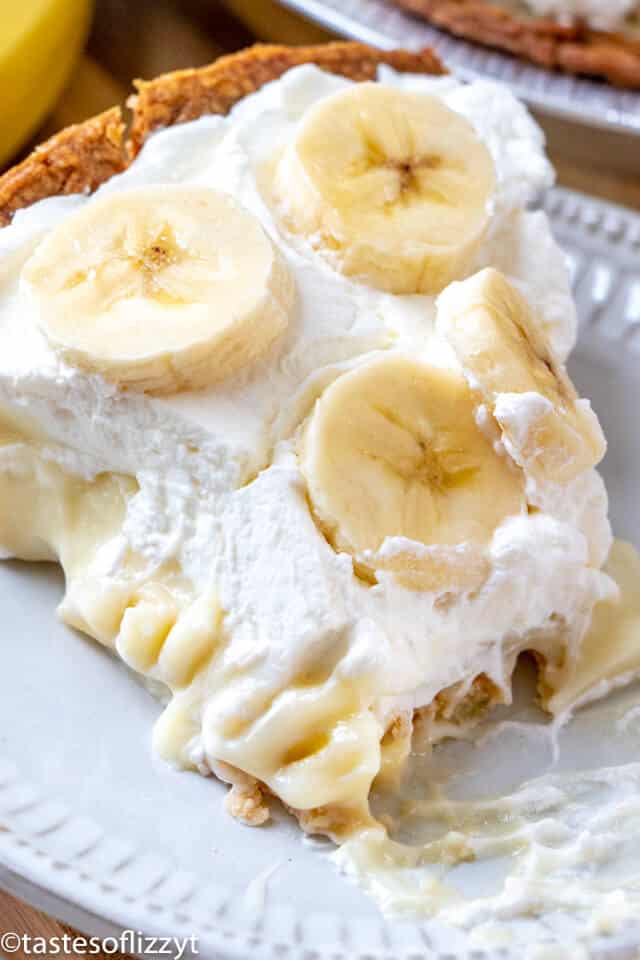 Other Pie Recipes
TOOLS I USE TO MAKE Pie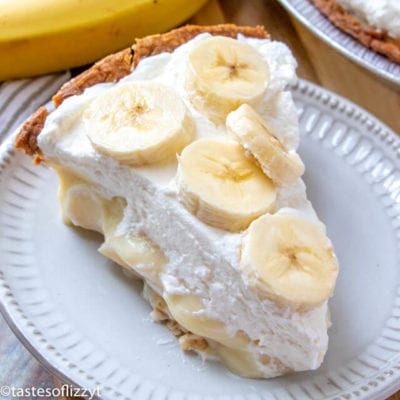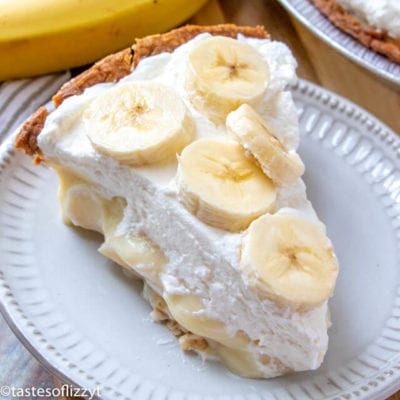 Banana Cream Pie
100% from scratch, banana cream pie. Making homemade cream pie is easier than you may think! Creamy banana filling, homemade whipped cream and fresh banana slices in the pie and on top.
---
Ingredients
9"

pre-baked pie crust

3

large

bananas,

sliced (two for the bottom of the pie and one for garnishing the top)
For the filling:
2 ¼

cups

milk

(divided)

1/2

cup

granulated sugar

¼

teaspoon

salt

2

tablespoons

cornstarch

3

tablespoons

all-purpose flour

3

large

egg yolks

(beaten)

1

tablespoon

butter

1

teaspoon

vanilla extract

(or banana flavoring)
For the Topping:
1

cup

heavy whipping cream

2-3

tablespoons

powdered sugar

½

teaspoon

vanilla extract

(or banana flavoring)
Instructions
Using a double boiler, heat 1 ¾ cup milk to boiling over medium heat.

While the milk is heating, mix together the sugar, salt, cornstarch, and flour. Add the remaining ½ cup of milk and whisk until smooth.

Drizzle the milk/sugar mixture into the hot milk, whisking as you drizzle it in.

Cook, stirring constantly until it starts to thicken, then reduce heat to low, cover the pan and cook for an additional 5 minutes, stirring often.

Place the egg yolks in a small bowl and whisk them to break up the yolks.

Remove 3 tablespoons of hot cream and add it to the eggs, whisking as you add it to temper the eggs.

Add the egg mixture into the hot cream. Whisk and cook for an additional 2 minutes or until thick.

Remove the pan from the heat.

Add in the butter and vanilla. Stir well.

Slice 2 bananas and arrange them in the bottom of the baked pie crust.

Pour the cream over the bananas into the pie crust. Smooth the top.

Allow it to cool for 10 minutes, then cover the pie and refrigerate.

Once the pie is cool, prepare the whipped cream.

Use a high powered hand mixer or stand mixer to beat the cold cream, sugar and vanilla until stiff peaks form.

Spread the whipped cream over the cooled pie.

Decorate the top of the pie with sliced bananas right before serving.

Refrigerate until serving and refrigerate any leftovers.
Notes
The calories shown are based on the pie being cut into 8 pieces, with 1 serving being 1 slice of pie. Since different brands of ingredients have different nutritional information, the calories shown are just an estimate. **We are not dietitians and recommend you seek a nutritionist for exact nutritional information.**
Nutrition
Calories:
396
kcal
|
Carbohydrates:
44
g
|
Protein:
5
g
|
Fat:
22
g
|
Saturated Fat:
11
g
|
Cholesterol:
120
mg
|
Sodium:
216
mg
|
Potassium:
323
mg
|
Fiber:
1
g
|
Sugar:
24
g
|
Vitamin A:
715
IU
|
Vitamin C:
4.6
mg
|
Calcium:
112
mg
|
Iron:
1
mg