Tired of graham cracker crusts? This 5 ingredient, brown sugar, easy oatmeal pie crust makes the most delicious and unique base to creamy, no-bake pies. It tastes like an oatmeal cookie!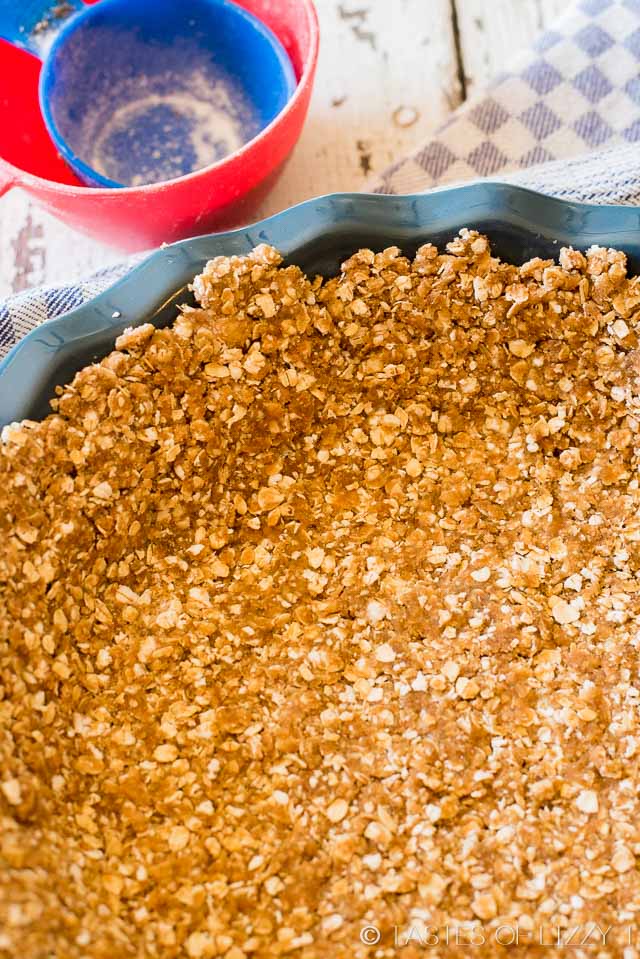 Easy Oatmeal Pie Crust
Did you all have a great Thanksgiving Day yesterday? Get out those cozy pants. I'm sure you need them after indulging in all of the wonderfulness called Thanksgiving.
I'm so thankful to be spending the weekend with family. 20 of us plus one dog under 1 roof for most of the weekend. Cousins playing. Memories being made. 4 generations. That's something to be thankful for.

OUR LATEST RECIPES
And what better to do when you are with family? Eat.
Although our Thanksgiving dessert table is filled with baked pies such as apple, pumpkin and cherry, I know many families love creamy, no-bake pies. Many times those pies have a graham cracker crust, but today I'm kicking things up a bit and inviting you to try this easy oatmeal pie crust as a base for your cream pies.
It's just 5 ingredients. The brown sugar gives a deep, rich flavor. It's easy. And the best part? It tastes like an oatmeal cookie. 
This oatmeal pie crust is a welcome change to traditional cream pies!
Oatmeal Cookie Crust > Graham Cracker Crust
And that's a fact!
Ingredients in Oatmeal Pie Crust:
quick-cook oats
all-purpose flour
brown sugar (I like to use dark brown sugar, just because it deepens the flavor. Light brown sugar works just as well!)
salt
cold butter, cut into cubes (Use real, 100% butter!)
Throw all of these ingredients into a bowl and use a pastry cutter (affiliate link) to cut all of the ingredients together.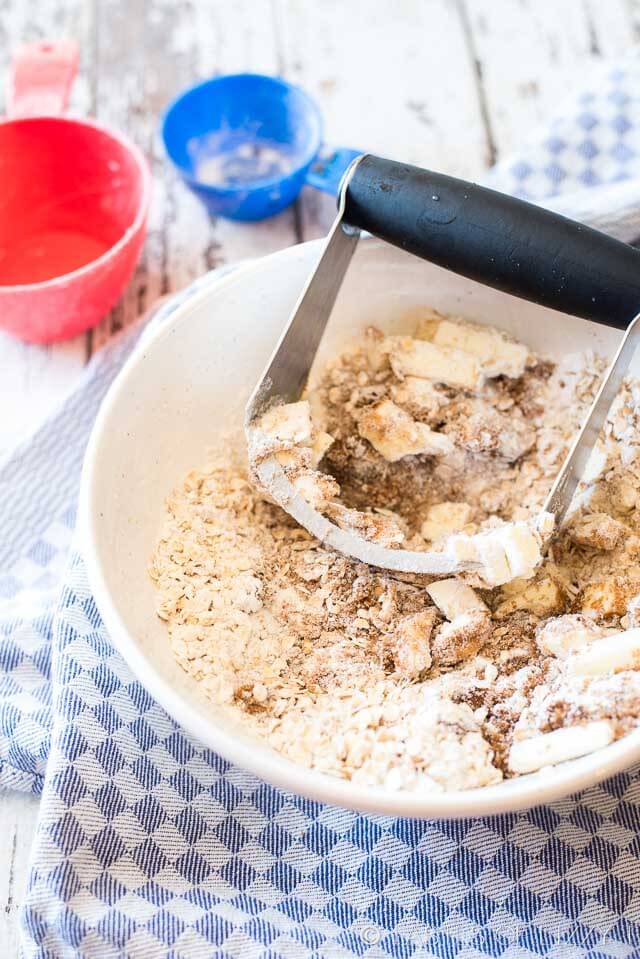 You'll end up with coarse crumbs looking like this. I warn you…don't taste this pie dough. You won't be able to stop eating it. And then your poor little pie will be without a pretty crust.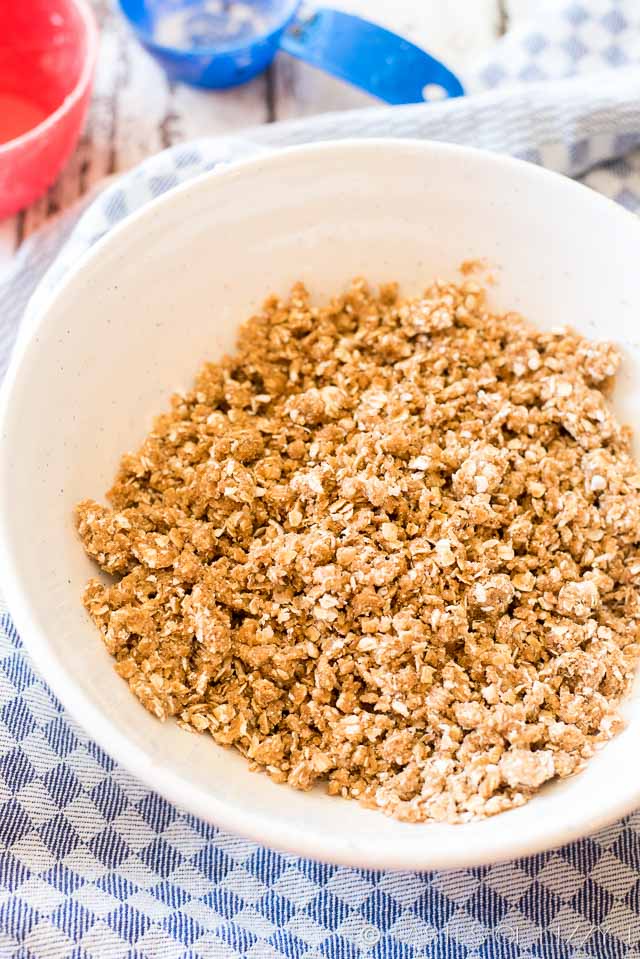 Pour these oat crumbles into a 9″ pie plate. Because I am paranoid about crusts sticking to the pie plate, I put a very light coating of cooking spray on the insides of the pie plate before I add the crumbs.
Then just press the crumbles together to form a crust along the bottom and up the sides of a pie plate.
Bake this simple pie crust recipe for about 15 minutes or until it looks lightly golden brown. Don't worry if the crust shrinks back while baking. As it starts to cool off, you can press it back up the sides.
Fill this crust with one of your favorite cream pie fillings and you've got a most delicious twist on the standard cream pie!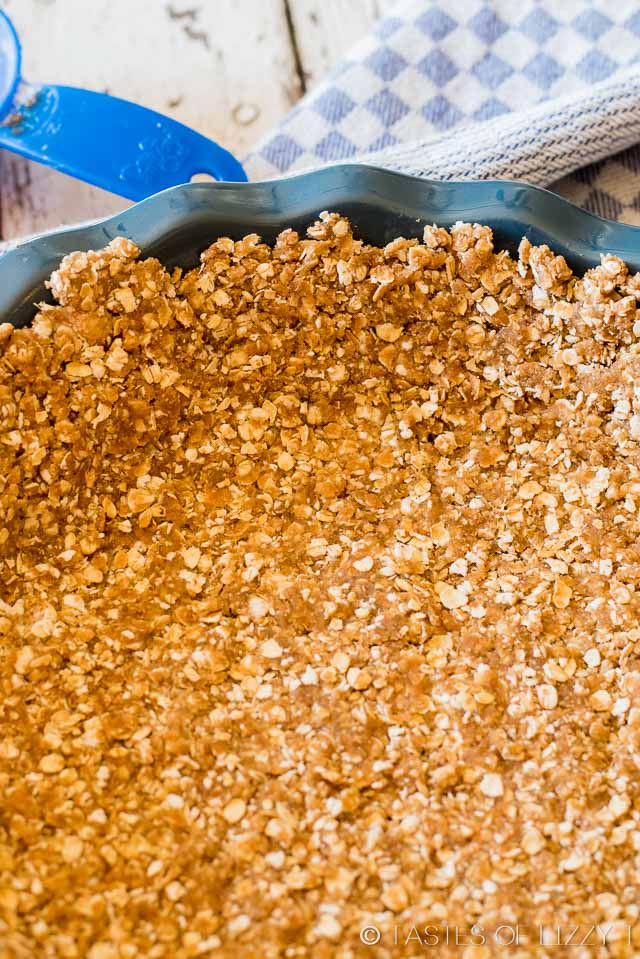 Q: Are baked pies or cream pies your favorite?
Q: If you like cream pies, what is your favorite cream pie?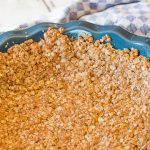 Easy Oatmeal Pie Crust
Tired of graham cracker crusts? This 5 ingredient, brown sugar, easy oatmeal pie crust makes the most delicious and unique base to creamy, no-bake pies.
Ingredients
1

cup

quick-cooking oats

1/3

cup

sifted all-purpose flour

1/3

cup

dark

or light brown sugar

1/2

teaspoons

salt

1/3

cup

cold butter

5 tablespoons plus 1 teaspoon
Instructions
Combine the oats, flour, sugar and salt.

Using a pastry cutter, cut in the butter until the mixture is crumbly.

Press it firmly on the bottom and sides of lightly greased 9" pie plate.

Bake at 375 for 13-15 minutes or until the crust is lightly browned.

If the crust has slid at all, as the crust cools slightly, gently push the crust back up the sides of the pie plate.

Once the crust has cooled completely, fill it with any desired cream filling.
Nutrition Facts
Easy Oatmeal Pie Crust
Amount Per Serving
Calories 129
Calories from Fat 72
% Daily Value*
Total Fat 8g 12%
Cholesterol 20mg 7%
Sodium 227mg 9%
Potassium 23mg 1%
Total Carbohydrates 7g 2%
Protein 1g 2%
* Percent Daily Values are based on a 2000 calorie diet.