Peanut Butter M&M Monster Cookies are full of peanut butter, oatmeal, M&M's, chocolate chips and….no flour! That makes them healthy, right?

It's getting warmer, and it looks like it will stay warm this time. All moms know what that means: Garage Sales! As a kid, I know that the best garage sales are the ones with homemade cookies and lemonade. So, when it came our turn to bring out all the boxes and have our own sale, I decided that I wanted to make a bake sale.
My brother and sister, of course, wanted to do their own sale. They made a pop stand, while I spent all day making cinnamon rolls, caramel corn, fudge, peanut butter squares, the famous  Potato Chip Cookies, and one of my families favorites: Monster Cookies.
This time, I didn't want to make just monster cookies. They needed a little change.  We were looking in the candy aisle at the store when I spotted Peanut Butter M&Ms. Have you ever tried them? They are perfection.
I knew immediately that this is what I had to put inside my cookies. They make the peanut butter in these Peanut Butter M&M Monster Cookies stand out, and the peanut butter is my favorite part.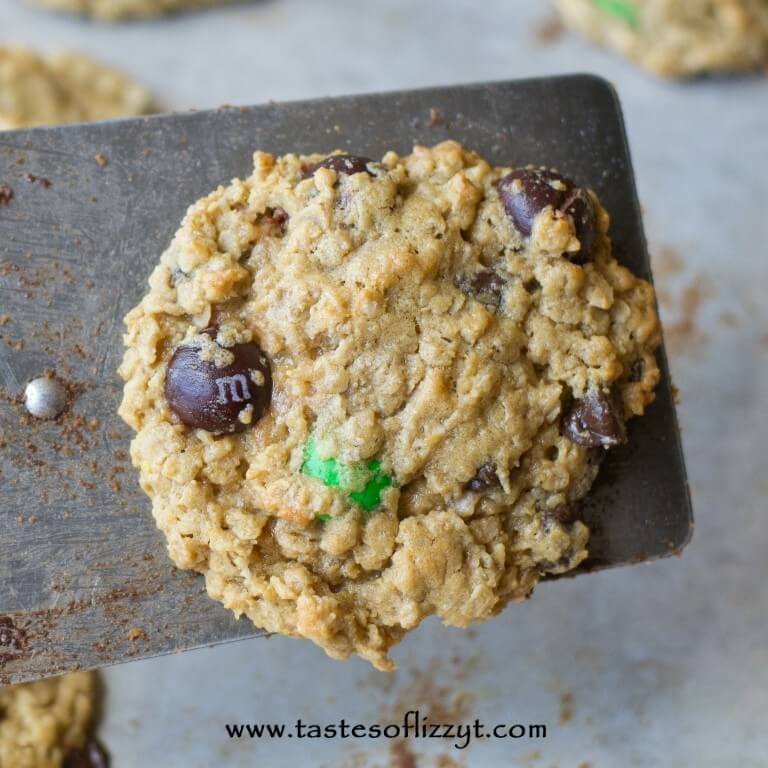 I really like soft, gooey cookies. Not the "fall apart in your hand" kind, and not "crispy around the edge" kind. I like the kind of cookie that has the melted chocolate chips and the  M&Ms exploded inside. And absolutely no brown around the edges. The recipe for these Peanut Butter M&M Monster Cookies says to cook for 12 minutes, but if you like gooey cookies, I recommend cooking them for 10 minutes.
These cookies are unique because they don't have any flour in them.  I like to think that makes them healthy:)

This is one of our family's favorite cookie recipes, because they are full of oatmeal, peanut butter, and chocolate. They stay soft and they freeze well.
The recipe makes a big batch.  You can freeze any you don't need at the time, or even half the recipe. We've done both.
Get creative with what you add to this Monster Cookie recipe.  Nuts, raisins, regular M&M's, white chocolate chips, butterscotch chips…the possibilities are endless!
My bake sale is going great, and I think that I will be doing this every year! It's so much fun baking, and it's also fun to sell the goodies to customers!

Crispy M&M Cookie Cups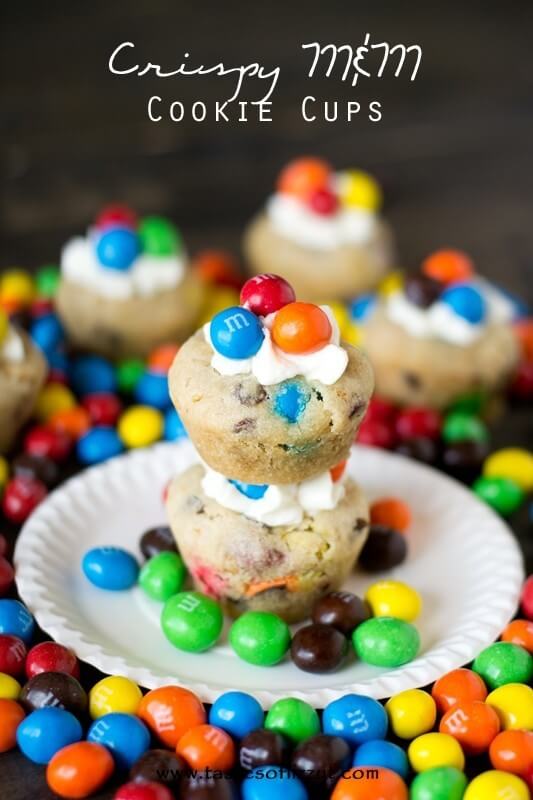 White Chocolate M&M Cookie Bars