Cinnamon Crunch Pumpkin Knots
Tastes of Lizzy T participates in affiliate advertising programs. We may earn a commission when you make a purchase through links on our site.
Cinnamon Crunch Pumpkin Knots a soft, mild flavor and pretty golden color, thanks to the pumpkin puree they are made with. You'll love the buttery, cinnamon sugar crunch that covers the outside! These pumpkin knots are one of our best easy pumpkin recipes for a fall breakfast.
We've been working hard for you the past couple weeks, and I think you'll be proud of us! After original struggles to make variations of our ever so popular egg twist bread, we finally tried something new. A pumpkin flavor. And not only that, but with loads of cinnamon and sugar on top! And boy, do I mean LOADS.
Just take a look at these beauties. Cinnamon Crunch Pumpkin Knots. They are kind of like a sweet roll and kind of like a donut. Wouldn't they make such a delicious Thanksgiving breakfast?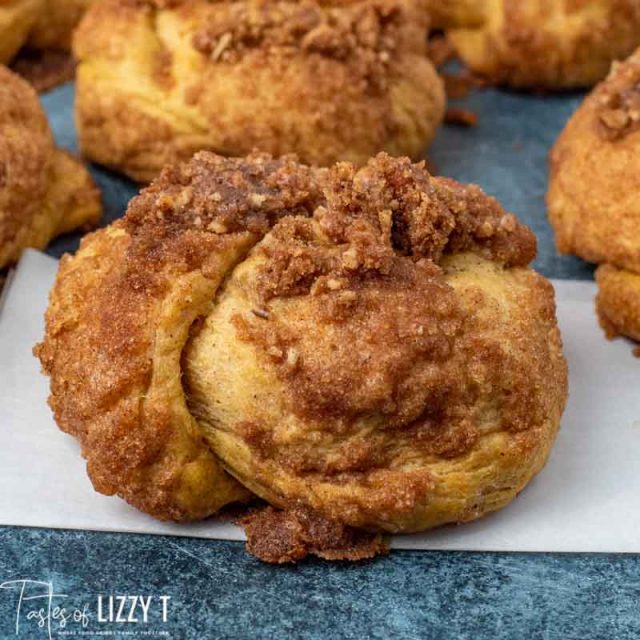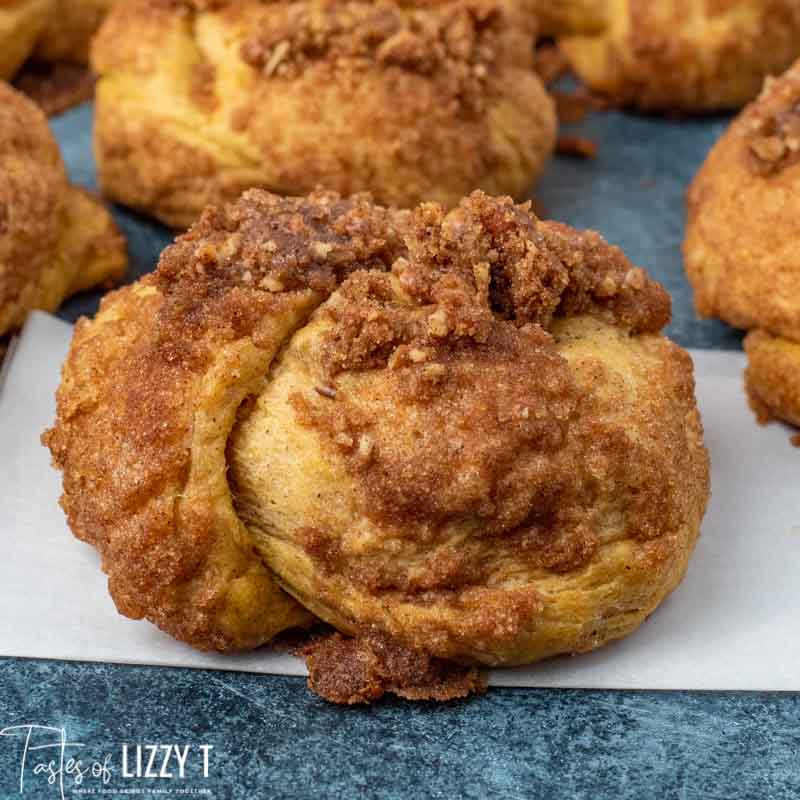 Why you'll love this recipe:
pillowy soft pumpkin spice dough
dough dipped in butter, then cinnamon brown sugar
cinnamon crunch topping pressed into the tops
sugary crisp on the outside, soft and chewy on the inside
egg free sweet rolls!
Cinnamon Crunch Topping
This incredibly soft and sugary pumpkin bread was partly a remix of our egg twist bread, and partly inspiration from Half Baked Harvest.
Her cinnamon crunch braided bread caught my eye immediately on Pinterest. It's really no wonder. With a name like "cinnamon crunch", you know it has to be good.
In her recipe, Tieghan shares how to make a cinnamon crunch topping for her bread. With pumpkin on the brain, I knew I had to use her technique to create something special for fall.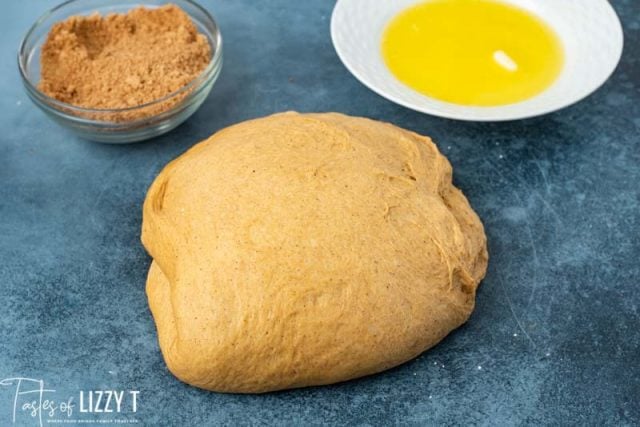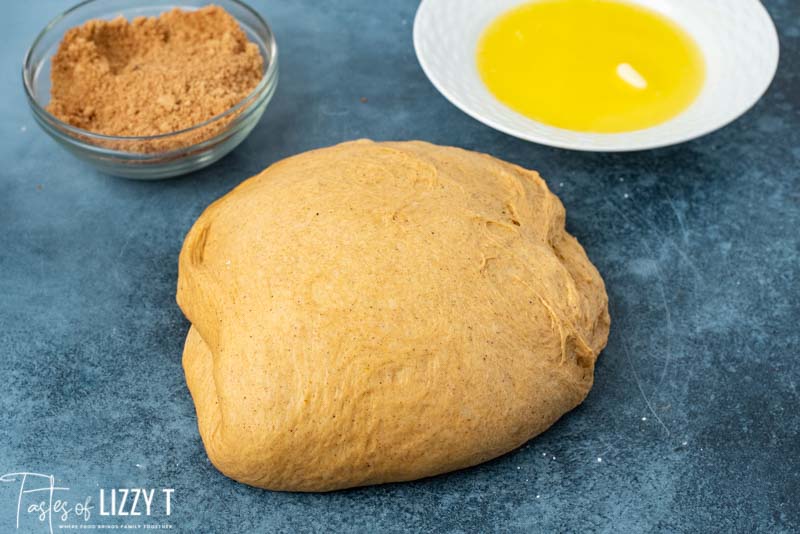 Tips for Making Cinnamon Crunch Pumpkin Knots
What we did was quite simple.
Take the pumpkin bread dough that is infused with vanilla, pumpkin spice and cinnamon split it into 14 balls.
Roll out each one into a short rope and carefully tie each one into a knot. Or shape any way you'd like.
Dip the knots into melted butter and roll them in a cinnamon-brown sugar-pumpkin spice mixture.
After they are all covered in sugary goodness, top with the cinnamon crunch streusel to give it one more cinnamon sugary boost.
Whew! That's a lot of sugar, right?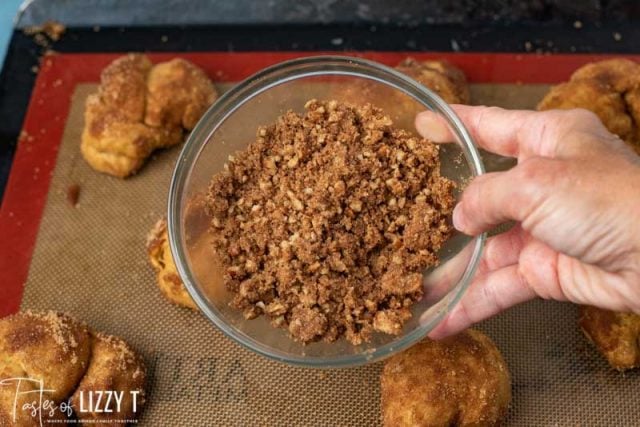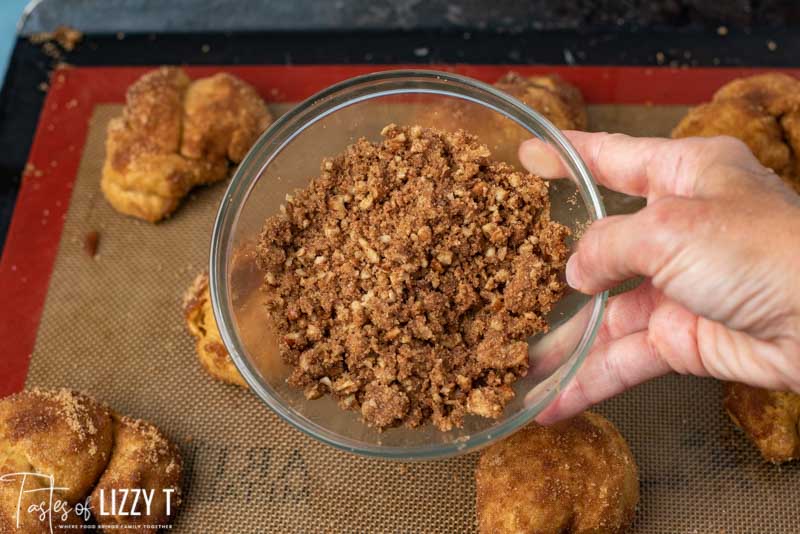 Recipe Notes:
The rise times are estimated. Higher humidity and temperatures both play a part in helping dough to rise more quickly.
I'd like to point out that these Cinnamon Crunch Pumpkin Knots are egg free. So guess what? If you love pumpkin and can't eat eggs, then you're in luck! I think it's an advantage that pumpkin is such a good substitute for eggs, so whenever we make a pumpkin version of something, we try to not add eggs. It works great! This bread is still the same fluffy, soft wonderful bread without the eggs. And I am in love with it.
We put pecans on the top of some of our pumpkin knots, so it you'd like to do the same, go right ahead. If you don't prefer nuts, then you can always skip on that part. I honestly don't like nuts on everything, but I'm beginning to like them more and more. Just maybe not on my pumpkin bread, yet!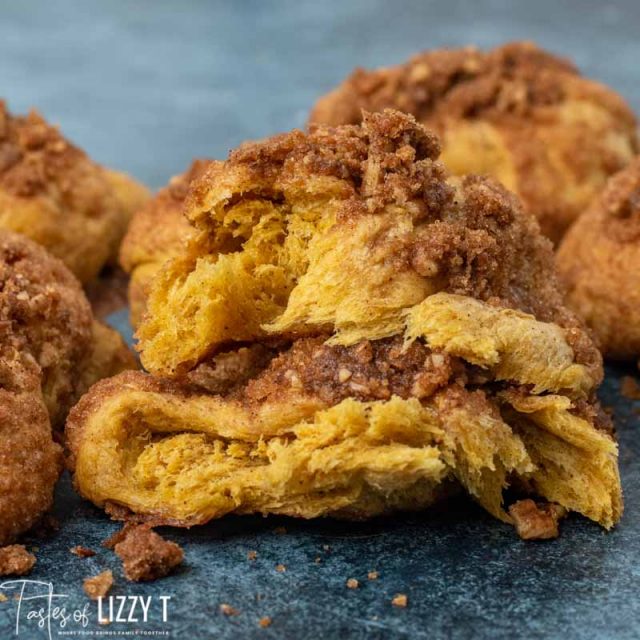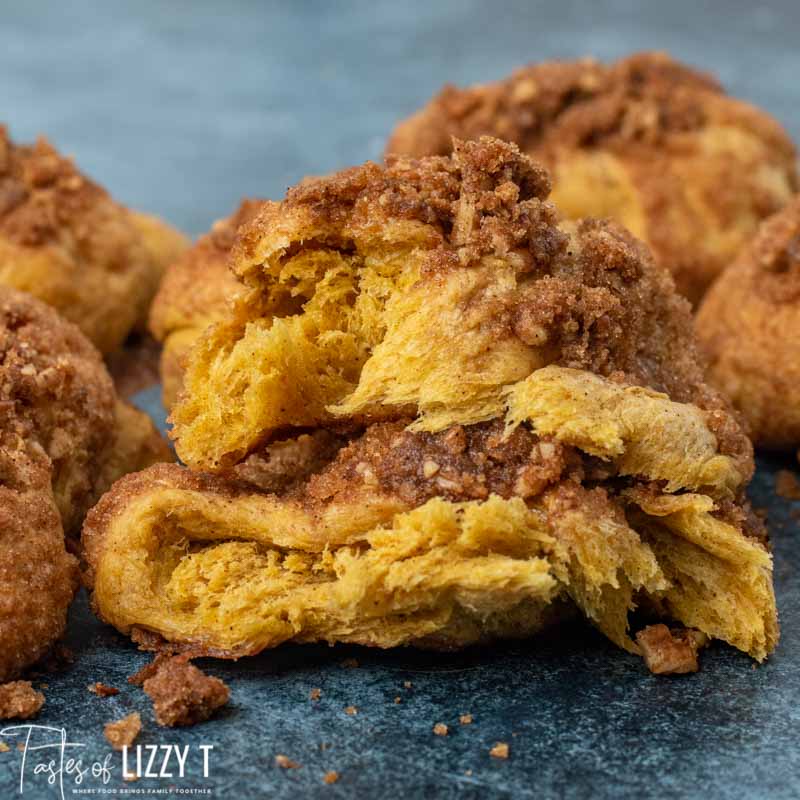 Oh my goodness…when you bite into that cinnamon crunch, you guys. I don't even care how much sugar is on these Cinnamon Crunch Pumpkin Knots, and you shouldn't, either. It's fall, after all! Celebrate fall by eating some great pumpkin recipes this year!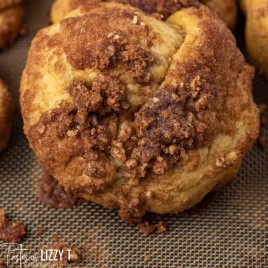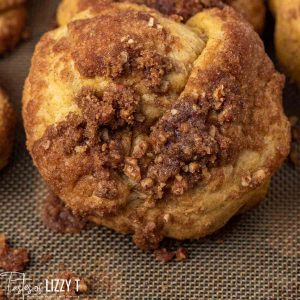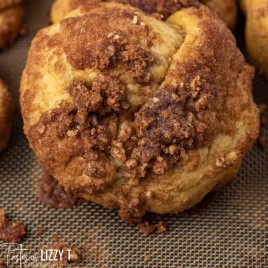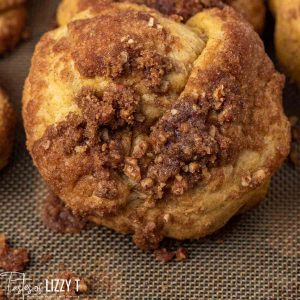 Cinnamon Crunch Pumpkin Knots
Canned pumpkin puree gives these Cinnamon Crunch Pumpkin Knots a soft, mild flavor and golden color. You'll love this sweet pumpkin roll recipe!
Rise Time
1

hour
30

minutes
---
Ingredients
1

cup

warm milk

1/2

cup

brown sugar

1/2

teaspoon

salt

1

package

Red Star yeast

1/2

cup

pumpkin puree

1/2

cup

salted butter

softened

2 1/2

teaspoons

pumpkin pie spice

2

teaspoons

cinnamon

2

teaspoons

vanilla

4 1/2

cups

all-purpose flour
Coating:
1/2

cup

butter

melted

1

cup

brown sugar

2

teaspoons

cinnamon
Cinnamon Crunch Topping:
1

tablespoon

cold butter

1/4

cup

brown sugar

1

teaspoon

cinnamon

1/4

cup

chopped pecans

optional

1/2

teaspoon

pumpkin pie spice
Instructions
Warm the milk in a bowl in the microwave for just about 1 to 1 ½ minutes until it is warm. Add in the sugar and salt, then stir the mixture. Allow it to sit until it is warm, but not too hot (if you have a thermometer, it should measure about 105-110 degrees in order to proof active dry yeast). Add 1 package of yeast right to this milk. Allow the yeast to proof for about 5 minutes. It should get nice and frothy.

Add the softened (almost melted) butter, pumpkin, pumpkin pie spice, cinnamon and vanilla. Stir this well until it is all blended together.

Gradually add in the flour,1 cup at a time. Add in the last ½ a cup and start to knead the dough with your hands until the last ½ cup of flour is incorporated in. Turn the dough out onto a floured surface and continue to knead the bread for about 7 minutes until it is smooth and elastic. Add a bit more flour as you need to during kneading. The dough should still feel sticky, but it will not stick to your hands.

Place this dough in a greased bowl and cover it. Allow the dough to rise in a warm place until it has doubled, about 1 hour.

Split the dough into 14 balls. Roll each ball into about an 8″ "rope", then make a knot in the rope. Repeat this with all of the dough balls.

Melt one stick of butter in a small bowl. In a separate bowl, combine the brown sugar and cinnamon for coating the pumpkin knots.

Take each pumpkin knot, dip them in the butter, then cover them in the cinnamon sugar mixture. All sides of the pumpkin knot should be coated in cinnamon and sugar.

Place the pumpkin knots on a non-stick baking mat or a pan that has been sprayed with cooking spray. Cover with plastic wrap and allow them to rise in a cool place for 20-30 minutes.

While the knots are rising the second time, prepare the cinnamon crunch topping. In a small bowl, mix together the cold butter, brown sugar, cinnamon and pecans until crumbly.

Heat the oven to 350 degrees.

Before baking, sprinkle the cinnamon crunch mixture on the tops of the pumpkin knots.

Bake, uncovered, for 15-17 minutes, or until they are cooked through and lightly browned.
Notes
If you have a bread maker, you can prepare the dough in the bread maker on the dough setting and then remove it, form the knots, and bake in the oven. If you have a stand mixer, you can use the dough hook to knead the bread for 5-7 minutes using the mixer.
The calories shown are based on the recipe making 14 rolls, with 1 serving 1 roll. Since different brands of ingredients have different nutritional information, the calories shown are just an estimate. **We are not dietitians and recommend you seek a nutritionist for exact nutritional information.**
Nutrition
Calories:
406
kcal
|
Carbohydrates:
60
g
|
Protein:
5
g
|
Fat:
16
g
|
Saturated Fat:
9
g
|
Cholesterol:
38
mg
|
Sodium:
222
mg
|
Potassium:
128
mg
|
Fiber:
1
g
|
Sugar:
28
g
|
Vitamin A:
1820
IU
|
Vitamin C:
0.4
mg
|
Calcium:
66
mg
|
Iron:
2.4
mg