4 Ways to Make Caramelized Bananas
Tastes of Lizzy T participates in affiliate advertising programs. We may earn a commission when you make a purchase through links on our site.
Warm, sweet, chewy and sinfully good, caramelized bananas are the perfect topping for your breakfast pancakes, afternoon snack, or midnight craving.
Table of Contents
Certain desserts can stand on their own with no toppings, like our molten lava cake. However, sometimes you just have to go wild and add a sweet and buttery topping to your breakfast recipes or desserts.
That's where this simple recipe for caramelized bananas comes in. Eat them on their own, yes, or sprinkle them with some homemade granola. But adding them to the top of just about any old fashioned pound cake, yogurt, homemade crepes, creamy cheesecake or even a bowl of oatmeal is 100% a good idea.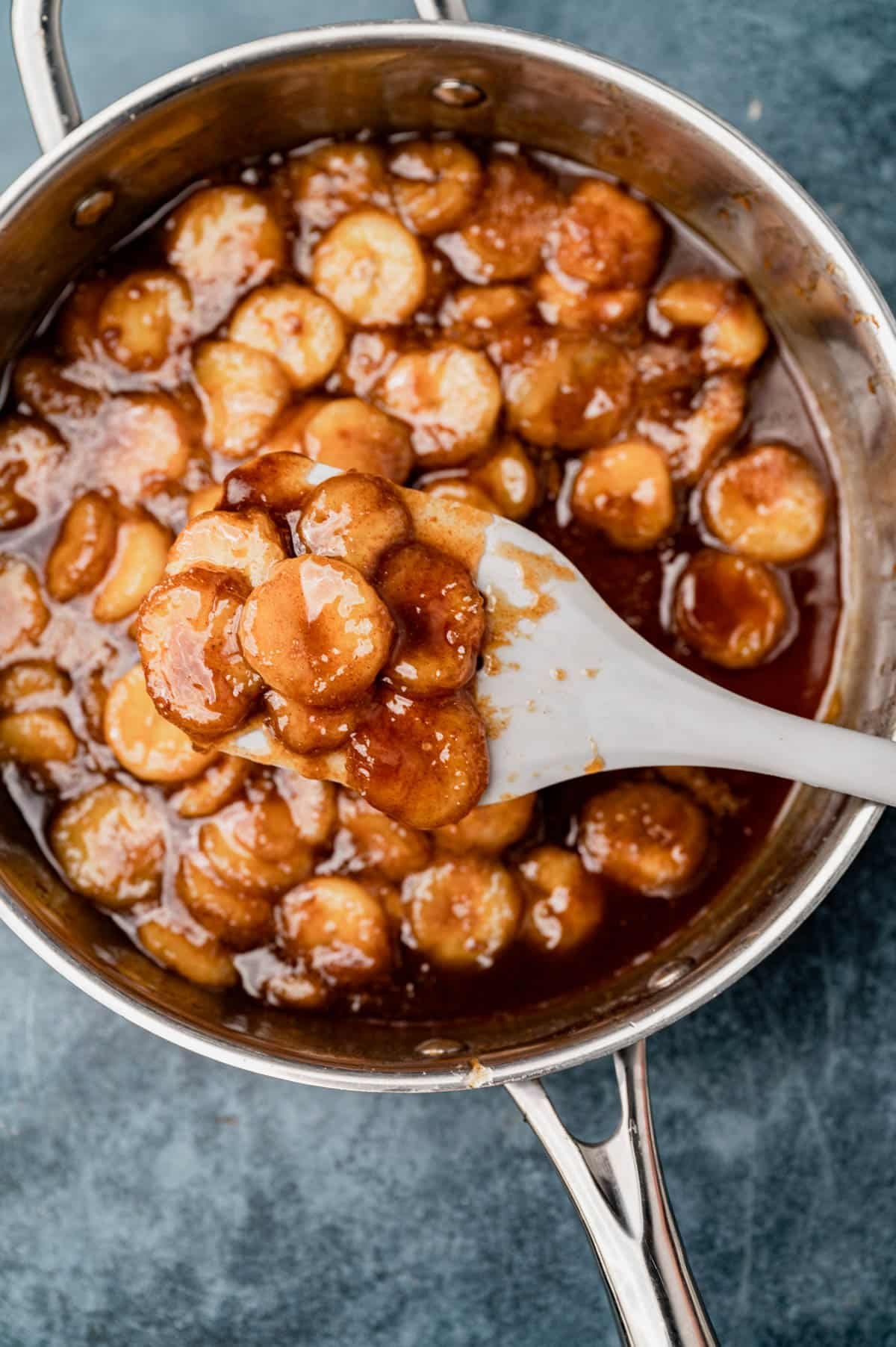 What are caramelized bananas?
Caramelized bananas are bananas that are cooked in a butter and sugar mixture until the bananas are slightly crisp on the edges and the sugar mixture becomes a heavy caramel sauce.
What are caramelized bananas served with?
Made on occasions such as birthdays or for gatherings, caramelized bananas is served on top of pancakes, pudding, waffles, a bowl of ice cream, or over pie. You can ultimately choose what to serve it with.
Here are some of our favorite ways to serve caramelized bananas on breakfast recipes:
Cinnamon Roll Pancakes – the cinnamon in the pancakes will be complimented well by the banana caramel sauce.
French Toast Waffles– It's usually a given that bananas should be served with french toast or waffles (or in this case the best of both worlds are served in one), why not take it up a notch with serving caramelized fried bananas with waffles!
Instant Pot Steel Cut Oats– Oatmeal is the perfect breakfast recipe that really can take on any flavor profile. Strawberries and cream is a tried and true favorite, and banana cream oatmeal is a must-have, so adding a small topping of caramelized bananas over a warm bowl of oatmeal is brilliant and a must-make breakfast combination.
Pound Cake – That syrup will soak into a pound cake and taste fantastic.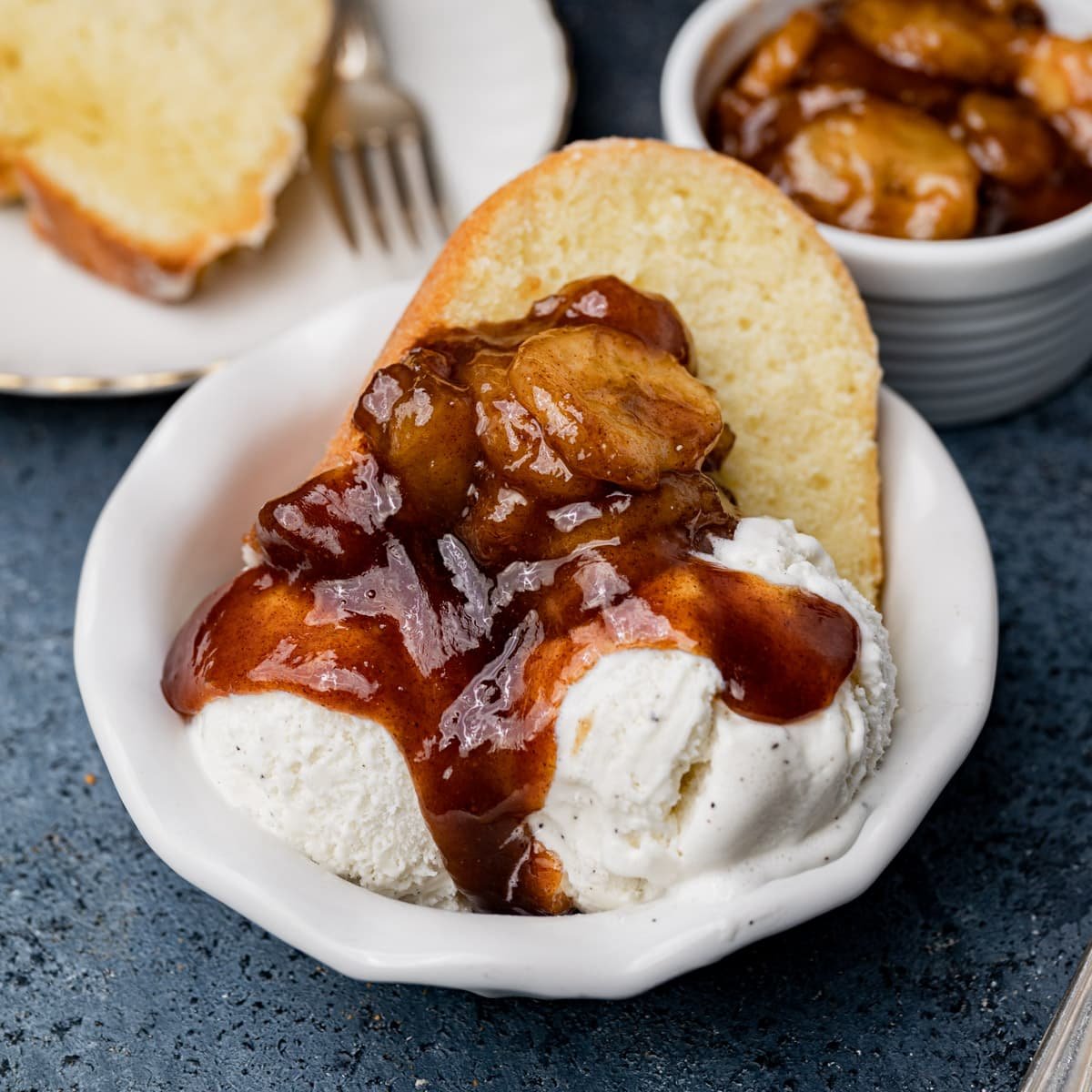 What kind of banana should I use?
Choosing the right banana to make caramelized bananas is pretty important.
I highly suggest that use bananas that are yellow and firm. You want them to no longer be green, but you don't want them to have brown spots either – a perfect yellow is the goal.
What happens if I use overripe bananas?
Overly ripe bananas tend to be mushy. When making a banana caramel sauce, you want to have firm slices of bananas to hold onto its shape through the cooking process that will naturally soften them.
Using very ripe bananas will cause the bananas to break during the caramelizing bananas process.
Is it edible? Yes.
If you only have ripe bananas, feel free to still make this banana caramel sauce, just know that it will be almost more of a compote in texture. (Think of a heavy chunky applesauce -perfect to top over pies or under ice cream!)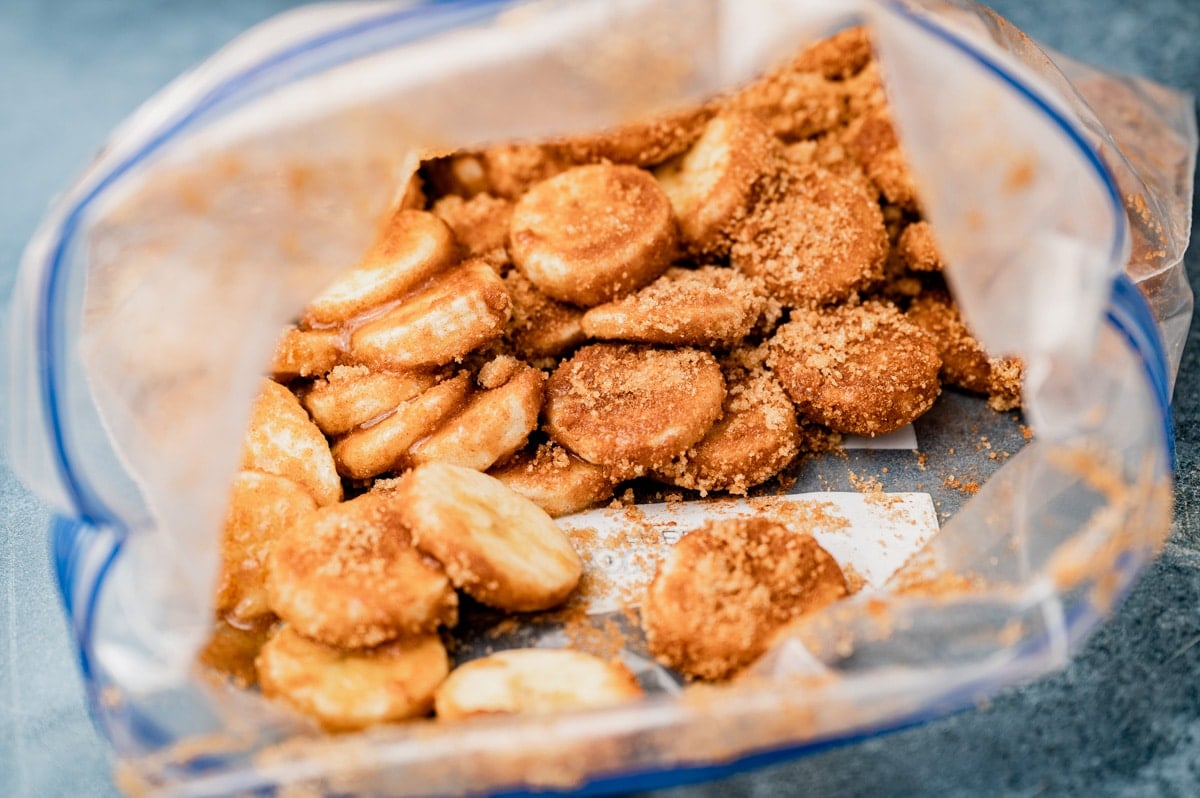 How To Make Easy Caramelized Bananas
Slice a ripe banana diagonally into about 6-9 slices (about half an inch thick).
In a large Ziploc bag, add in your sugar and cinnamon mixture. If you want to make caramelized bananas without sugar, you can use Stevia or an alternative sugar substitute.
Drop in a handful of banana slices. (This will be done in batches.)
Seal the Ziploc bag and gently shake the bag with the sugar and bananas in to coat the bananas.
Melt butter in a skillet over medium heat and add in slices of bananas in a single layer coated in sugar and the vanilla extract.
Lower heat to medium and cook bananas for about 2-3 minutes per side, or until the edges become a beautiful golden color.
By the time you're done with your batches, the butter and sugar sauce should have thickened to become a beautiful thick caramel sauce that has an infused banana flavor. Be sure to pour it over the caramelized bananas when serving!
Pro tip
The soft chewy center with crispy edges are absolute perfection, so allow the edges to get crispy. But don't let the bananas burn! Flip it a few times, or hold onto the banana with a fork and rotate the bananas so the sides are only touching the pan for that perfect crisp.
What else can I add to my banana sauce?
Here are some popular add-ins for a caramelized banana sauce: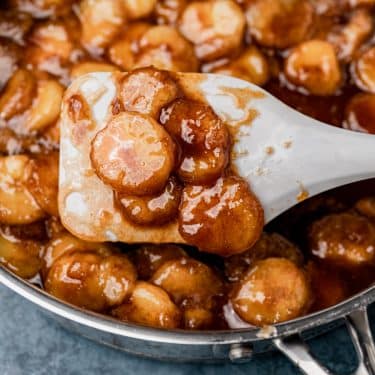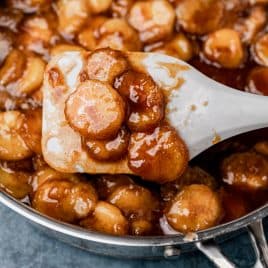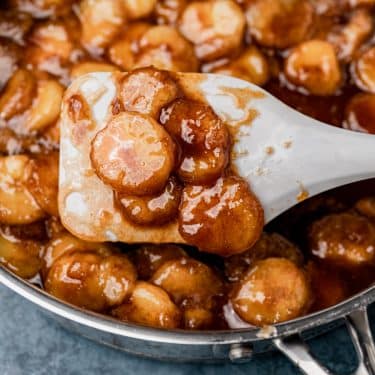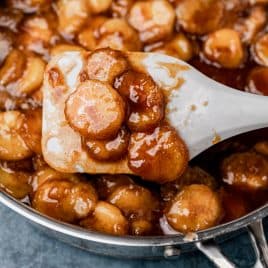 Caramelized Bananas
Warm, sweet, chewy and sinfully good -caramelized bananas is the perfect topping for your breakfast pancakes, afternoon snack, or midnight craving.
---
Ingredients
3

bananas

(sliced)

1/2

cup

salted butter*

1

cup

brown sugar

3

teaspoons

ground cinnamon

1

teaspoon

bourbon vanilla extract
For serving (optional):
vanilla ice cream

pecans

caramel sauce
Instructions
Add brown sugar and cinnamon to a gallon sized Ziploc bag, add in banana slices and seal.

Shake bag to coat bananas.

Melt butter over medium high heat in a pan. Add in banana slices once butter has melted.

Pour in bourbon vanilla extract and cook banana slices for 2-3 minutes on the first side. Once the banana has browned, flip and repeat on the other side.

Serve the caramelized bananas warm however you'd like!

We like to place ice cream over rice cakes, pour bananas on the bottom of the ice cream, garnish with pecans and caramel.

These bananas are best served immediately after making them, but if store leftovers in an airtight container in the fridge for up to 48 hours.
Notes
*Make vegan caramelized bananas by using vegan butter or coconut oil. And if all you have is unsalted butter, add a dash of salt.
The calories shown are based on the recipe serving 4 people, with 1 serving being ¼ of the bananas and syrup. Since different brands of ingredients have different nutritional information, the calories shown are just an estimate. **We are not dietitians and recommend you seek a nutritionist for exact nutritional information.**
Nutrition
Calories:
498
kcal
|
Carbohydrates:
76
g
|
Protein:
1
g
|
Fat:
23
g
|
Saturated Fat:
15
g
|
Cholesterol:
61
mg
|
Sodium:
219
mg
|
Potassium:
390
mg
|
Fiber:
3
g
|
Sugar:
64
g
|
Vitamin A:
766
IU
|
Vitamin C:
8
mg
|
Calcium:
72
mg
|
Iron:
1
mg
Frequently Asked Questions
How long will caramelized bananas keep?
Caramelized bananas should be eaten right away. Due to the nature of a banana (fresh fruit out of its skin), the integrity of the banana will not hold for long, just like an avocado.
Can you freeze caramelized bananas?
I would keep caramelized bananas at room temperature up to an hour or up to a day in a fridge with a tight fitting lid. You can freeze the leftover caramel sauce if desired, but not the actual bananas. To thaw out the banana sauce, place the bag or jar over a bowl of warm water.
Are caramelized bananas good for you?
Known for being an occasional treat, caramelized bananas are a high in carbs. This is the perfect banana topping to be eaten in moderation and on special occasions for a sweet treat.
Alternative Ways To Make Caramelized Bananas
We have shown you how to make stove top caramelized bananas. Here are some alternative ways to make caramelized bananas:
Make in the oven
If your stove top is being occupied, you can easily make this caramelized banana recipe in the oven.
Preheat oven to 400 degrees Fahrenheit.
Slice bananas however you'd like.
Top with small chunks of butter.
Sprinkle on the sugar and cinnamon.
Bake for about 18-20 minutes, or until the bananas are a beautiful golden color and the butter sauce has slightly caramelized. -Be warned, the sauce will not be as thick as cooking it on the stove.
During the last 2-3 minutes, add in your vanilla extract or bourbon, if desired.
Make in the microwave
For a super quick midnight snack to go with your Pint of Ben and Jerry's ice cream (no judgement here), caramelizing bananas in the microwave is the way to go!
Slice bananas however you like.
Dab bananas with a few chunks of butter.
Sprinkle with cinnamon and sugar.
Cook for 2 minutes and stir.
Let your caramelized bananas cool for a minute or two to thicken before adding it to your midnight snack.
Make in the slow cooker
Now, this is only to be done if you're making a large amount of caramelized bananas. Think summer camp or a family reunion breakfast or church potluck (more than 10 people).
Grease your slow cooker. (Heavily grease it, use margarine or butter to really get it coated.)
Add 2-3 sticks of butter to the slow cooker.
Top butter with a lot of bananas! (Basically 4x the amount of this recipe!)
In a separate bowl, mix together the sugar and cinnamon.
Pour sugar and cinnamon mixture over the bananas.
Add a tablespoon of vanilla extract.
Cook on high for about 2 hours, or until butter melts.
Once butter melts, stir to coat bananas.
Cover and continue cooking until bananas have browned or the sauce has thickened.
Keep on warm until served.