This Pear Cranberry Pie is the perfect balance of sweet, tender pears and tart, fresh cranberries encased in an all-butter, flaky, crisp crust. Plus, there's a touch of fresh ginger that gives this fruit pie a bright, fresh taste. It's the perfect non-traditional pie to celebrate Thanksgiving.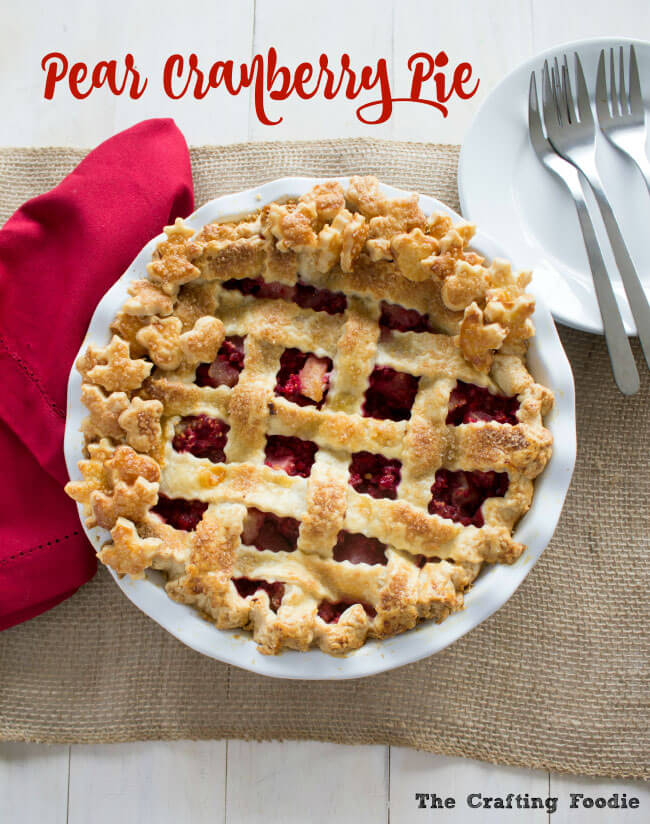 Pear Cranberry Pie
Hi Everyone! This is Aida from The Crafting Foodie, and I'm so excited to be back at The Tastes of Lizzy T's to share another delectable dessert. If you've been to The Crafting Foodie, you know I've been on a fall baking spree. This month I've been taking traditional autumn flavors and turning them upside down to create unexpected, original desserts that use fall flavors in new, interesting, and delicious ways, like these Apple Fritter Cakes, this Brown Butter Pumpkin Cake with Caramel, and this Chocolate Pecan Pie Cake. And today I have this gorgeous Pear Cranberry Pie to share with you.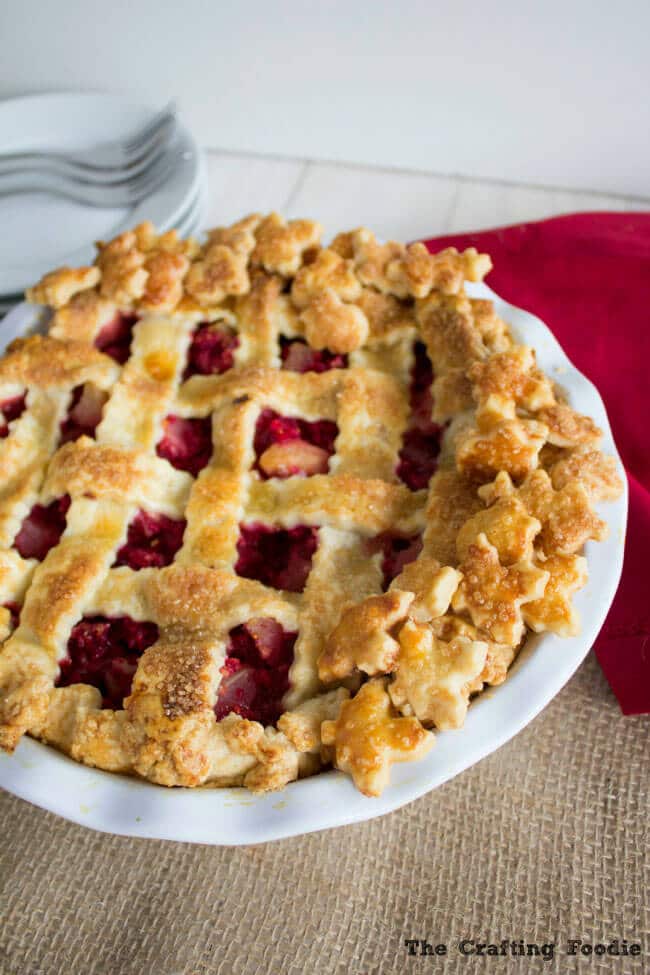 I feel like apples and pumpkin get all the glory in fall themed desserts, and why not? After all they're pretty darn delicious. But what about pears? They're in season from late summer all the way through winter, so I decided to use the often-overlooked pear to create a perfectly delicious pie for your Thanksgiving table.
All Butter Pie Crust
Like always, I'm a fan of an all-butter crust. When it comes to making a crust from scratch, I'm in the camp of the more butter, the better. Butter makes a flaky, crisp, flavorful crust that pairs beautifully with almost any filling, and this pear and cranberry filling is no exception.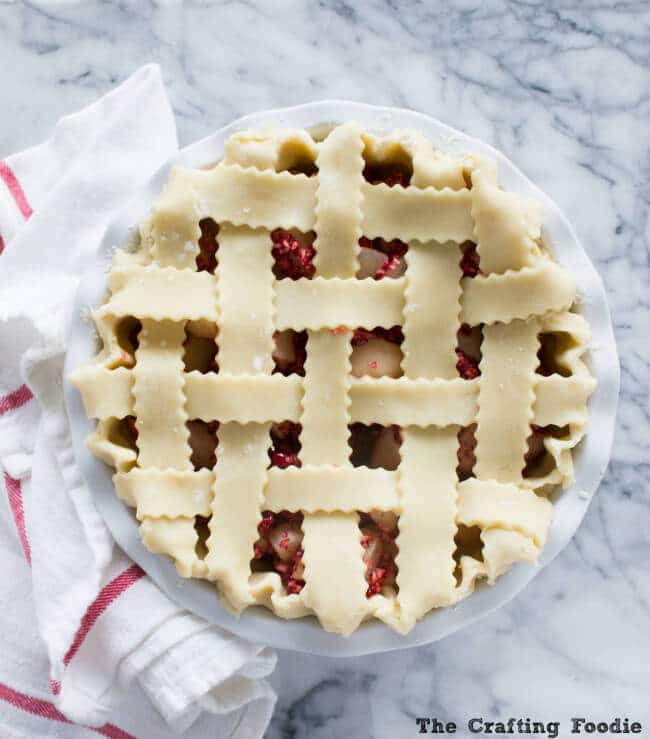 Pear Cranberry Pie Filling
The filling for this pie is the perfect balance between juicy, sweet pears and tart, crisp cranberries. And while most apple pies have lemon juice or zest to brighten up the pie, this Pear Cranberry Pie has a bit of fresh ginger grated right into the filling. If you're worried about a sharp, overwhelming ginger taste, I promise that is not the case. The ginger is subtle.
Lattice Top Pie
The original recipe for this pie asks for a crumble topping, but I'm a crust kinda-gal, so I switched it up to a double crust creation. For the top crust, I wanted something a little fancy, so I made a basic lattice top. Not wanting to waste any of that delicious crust dough, I used the scraps to make some mini-leaf and acorn cut-outs, and I loved how they turned out! They made an already pretty pie into a gorgeous one.
There's so much about this Pear Cranberry Pie that I love, but I'd have to say that my favorite part of the pie is getting the perfect bite with the buttery, crisp crust, sweet, juicy pears, tart cranberries, and bright fresh ginger. It's such a satisfyingly delicious autumn treat!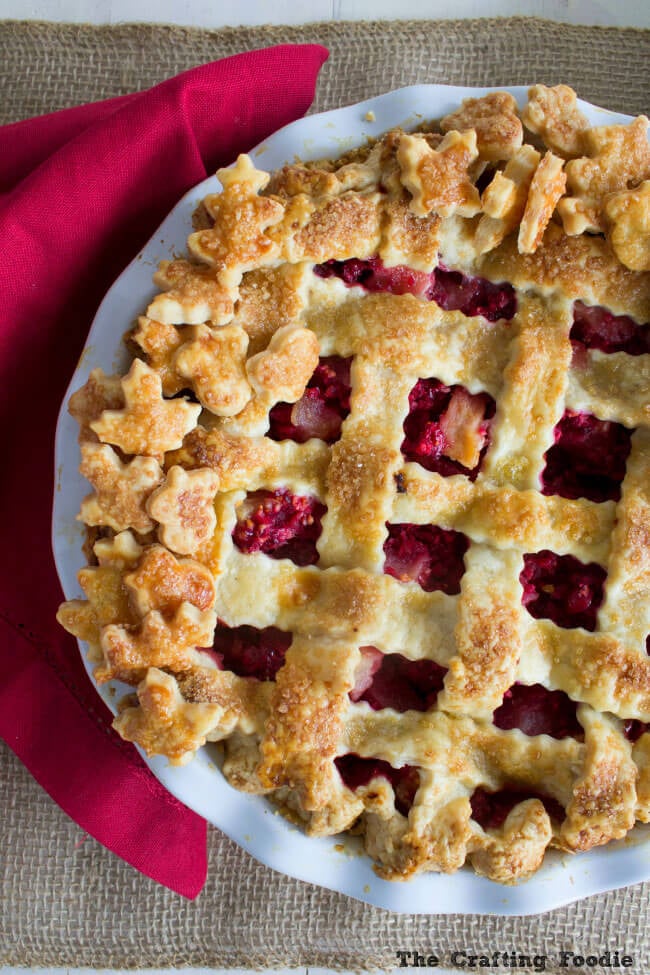 Tools Needed to Make Pie
Pastry Cutter

: I use this tool all the time. It cuts butter into flour perfectly for streusels, crusts and other pastries.

Saigon Cinnamon

: This is our favorite cinnamon. You can't beat its flavor!

Pastry Mat:

This silicone mat keeps your cupboard clean and makes rolling out pastries so easy.

Cute Pie Plate

: Because if you're taking the time to make pie, serve it up in style!

Pie Crust Decorator Wheel

: Makes beautiful edges to your pie!

Pastry Guide:

Makes perfectly round crust, every time.

Ninja Food Processor

: This blender/food processor system can do it all! We use ours for everything from smoothies to milkshakes to crushing ice to chopping veggies.

Crimped Cutter

: To make beautiful lattice crusts.
Pear Cranberry Pie
This Pear Cranberry Pie is the perfect balance of sweet, tender pears and tart, fresh cranberries encased in an all-butter, flaky, crisp crust. Plus, there's a touch of fresh ginger that gives this fruit pie a bright, fresh taste. It's the perfect non-traditional pie to celebrate Thanksgiving.
Ingredients
For the Crust:
2 1/4

cups

all-purpose flour

1

teaspoon

salt

2

tablespoons

granulated sugar

18

tablespoons

butter

cold, cut into cubes

4 to 5

tablespoons

ice water
For the Egg Wash
1

large

egg

beaten

1

teaspoon

water
For the Filling:
3

lbs

Bosc pears

peeled, halved, cored and sliced

8

ounces

fresh cranberries

1/2

cup

granulated sugar

1/4

cup

brown sugar

1

teaspoon

fresh grated ginger

1/4

teaspoon

ground cinnamon
Instructions
For the Crust:
In a medium bowl, combine the flour, sugar, and salt. Mix to combine.

Add the cold, cubed butter. Using her fingers or a pastry cutter, cut the butter into the flour. You will rub the flour and butter together until the mixture resembles cornmeal. (There should still be chunks of butter in tact in the final mixture.)

Add the ice water one tablespoon at a time. Add enough water in until the mixture comes together to form a dough.

Divide the dough into two equal pieces. Flatten each piece to a disk. Wrap in plastic wrap. Refrigerate for at least 30 min or up to 24 hours.

While the dough chills, place a sheet pan on the lost rack of your oven. Preheat the oven to 400 degrees with the pan in the oven.

Once the dough is chilled, roll it out one disk of dough on a work surface dusted with flour. Roll it out to about a 12-inch circle.

Transfer the rolled dough into a 9-inch round pie plate. Fold over any hanging edges and crimp to your desired design.

Place the dough lined pie plate in the refrigerator to cool, for about 1 hour.

While the dough chills, make the filling.
For the Filling:
Place the pears and 2 tbs sugar in a large bowl.

Mix to combine.

Cover with plastic wrap and microwave for 4 to 8 minutes or until the pears are translucent and release their juices. Stir once, half way through cooking. (I cooked mine for a total of 6 minutes.)

Remove the pears from the microwave and allow to cool, uncovered for about 30 minutes.

While the pears cool, make the cranberry portion of the filling.

Place the cranberries in the work bowl of a food processor.

Add the remaining granulated sugar, 1/4 up brown sugar, ground cinnamon and grated fresh ginger to the processor.

Pulse the cranberries about 5 times until roughly chopped.

Mix the cranberries with the now cool pear mixture.

Turn the filling into the chilled crust lined pie plate. Return to refrigerator while preparing the top crust.
To Assemble the Pie:
Roll out the second disk of dough to about a 10-inch circle on a lightly floured work surface.

Using a pizza cutter or knife (I used a crimped cutter) cut out strips about 3/4 of an inch wide.

Place strips of dough on top of the pie filling, weaving the strips to make a lattice pattern.

Place the pie back in the refrigerator while making the leaves and acorn.

Re-roll the extra dough into about an 1/8 inch thick. Using mini-cookie cutters, cut the dough out.

Place the shaped on a lined sheet pan.

Remove the pie from the refrigerator and brush the crust with egg wash and sprinkle with coarse sugar.

Do the same with the dough cut-outs.

Bake the pie on the pre-heated baking sheet that was in the preheated oven for about 50 to 55 minutes.

Bake the dough cut outs for about 15 to 20 minutes or until golden brown.

Allow the pie to cool for about 4 hours until serving.

Before serving, arrange the cut-outs on the pie.
Nutrition
Calories:
559
kcal
|
Carbohydrates:
78
g
|
Protein:
5
g
|
Fat:
26
g
|
Saturated Fat:
16
g
|
Cholesterol:
90
mg
|
Sodium:
529
mg
|
Potassium:
284
mg
|
Fiber:
7
g
|
Sugar:
40
g
|
Vitamin A:
880
IU
|
Vitamin C:
11.1
mg
|
Calcium:
40
mg
|
Iron:
2.2
mg